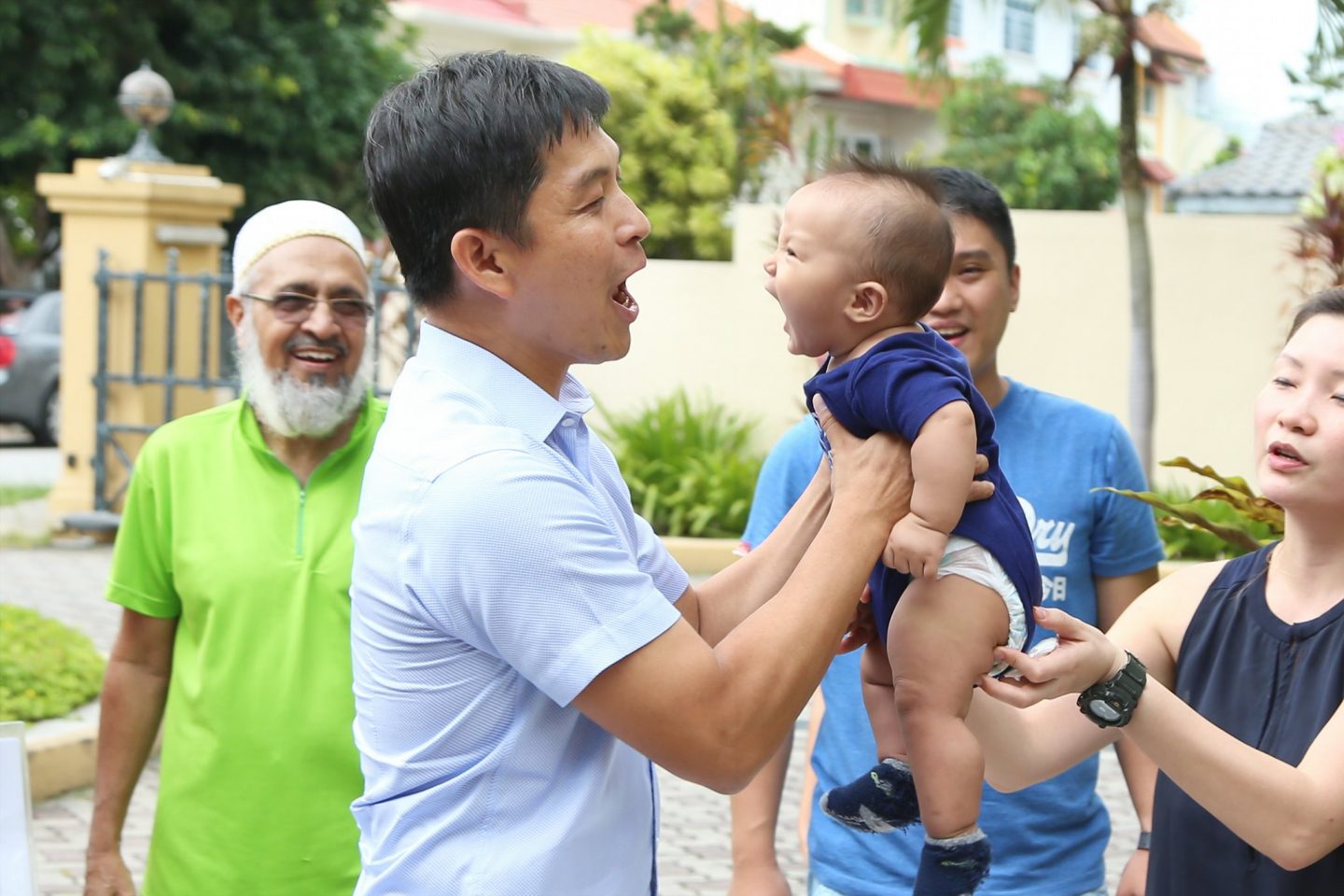 Mr Tan Chuan-Jin in a self-described "shouting match" with a young resident of Kembangan-Chai Chee. Photo from Tan Chuan-Jin's Facebook page.
NOTE FROM THE EDITOR (17 JULY, 2023):
Dear reader,
We apologise that the articles with Mr Tan Chuan-Jin were temporarily offline while we took in the news developments and contemplated how best to approach them.
These articles were published before any allegations came to light, and so we trust these articles will now be read in the appropriate context.
As faith-based websites, we do our best to highlight examples of people living out their faith. While these are often everyday, everyman examples, in some instances, the newsmakers are high-profile figures, including politicians.
But while we all aspire to be blameless (Daniel 6:3-5, 1 Peter 2:12), the sad reality is that we are all aware of the fallenness of all man and the reality that no one is exempt from temptation and sin.
We believe that while missteps may be made, lessons can be learnt. We believe that where repentance is shown, grace and forgiveness can follow. We strongly believe that our heart should never be to tear people down, always to build people up (Ephesians 4:29).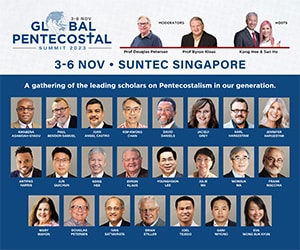 We believe that those of us looking on as believers should adopt a restorative posture. Do join us in praying for the people involved, and for this nation. May love guide our hearts and righteousness be our hallmark.
Grace be with you,
Edric Sng
---
To commemorate the Bible Society of Singapore's 183rd Anniversary, Mr Tan Chuan-Jin was invited to speak to pastors and church leaders on the topic of  Faith Conversations on Servant Leadership.
Organised as a four-part series covering topics on leadership, missions and language-based ministries, Mr Tan addressed over 450 participants at the Zoom webinar on June 24.
After sharing his journey of how he became a believer and how he found himself in politics, Mr Tan took questions from participants in a Q&A session facilitated by Rev Ezekiel Tan, general secretary of the Bible Society of Singapore. 
Here is an excerpt of the Q&A where Mr Tan spoke openly about faith as an integral but distinct aspect of his life.
You served in the army before joining politics. What helps you live a Christian testimony and stay true to your faith?
I think this applies to every job – whatever we do is actually about how we reconcile our own faith and our own journey with God while in the secular world, because we live in a secular world with distractions and stumbling blocks, regardless of profession.
"You need to be constantly vigilant because of your own vanity, ego, social pressures and expectations."
In many ways, the public office is very much in service of the public good. Private sector, I imagine, there are different challenges – (for instance) when you operate in other countries with business practices that can be quite different.
We need to be clear of our own faith – what is it we believe in, and how grounded we are.
And it comes back to God's Word and our study of it because it helps to reinforce and remind us of what it entails. And that's where I guess fellowship with fellow believers would help us remember what matters and what's really important.
It is very easy to lose yourself in the process. Not just in politics. In any job, when you become successful, you can mistake success for many things.  You can get too consumed by your stature, by your wealth, chasing a lot of things.
You need to be constantly vigilant because of your own vanity, ego, social pressures and expectations – that weighs on us.
It applies to all of us. It's an ongoing journey, and the journey is challenging.
It is refreshing to hear a political leader speak freely about his faith, but it must be challenging for you.
I am not shy to share information, so I do post on Facebook, sharing my reflections and thoughts on issues. And that's my way of sharing my faith.
"I believe that we can participate in our secular nation without compromising our faith."
I do get attacked by those who criticise me: "Minister, how can you post this and that." I don't see a problem with that. I'm not proselytising.
But, as some of you will notice, I'm quite public about what I do – it doesn't mean that I'm perfect or that my journey with God is all well and good.
But it is something that I feel is important to not shy away from.
And I think there's a space for that. Even though you get criticised from time to time.
Are there times you feel you have to compromise? How do you contend with this?
My perspective is this: We live in a secular nation and society, and I think it's important to remember that.
As an individual Christian, I may choose to believe what I wish and interpret my faith in particular ways. But from a governance perspective, we have a society that's secular, and it means that we have citizens from different backgrounds, and it's about recognising their stakes, their contributions, their cultures, their religion. 
I believe that we can participate in our secular nation without compromising our faith.
That's one level. Then for policy – for example, about prostitution, gambling, or abortion — from a Christian perspective, what our position is, is quite clear in the Bible. Imagine if we were in office in a Christian nation, then it would not be allowed, and you may then pass laws.
But from a secular perspective, there are practical (considerations) we need to figure out, how to deal with this. Perhaps regulating it so that we have laws to manage that space.
"Politics is still very consistent with what it used to be in public service."
For example, gambling is legalised and managed. Some of that money goes to the Tote Board and is put to good use, which some of you might feel is not so "palatable".
But if we didn't have this space that is managed, then gambling continues to go on illegally and the money goes wherever it goes, and that's the practical reality of it.
Same with prostitution. "Oh, we shouldn't allow that at all." I can understand that, but it's one of the oldest professions, and (if) it goes underground, you're not able to manage it from a health screening perspective, or try to manage where it takes place so that it doesn't proliferate.
So I can imagine that individuals will struggle and feel that you can't sit with that – that makes it difficult for these individuals who then participate in this space.
But, like I said, I take the approach that it is a secular nation. I don't feel that it necessarily is awkward, but I can imagine some Christians might, and I respect that.
I understand from my own Christian values how I should look at that. And from a practical, policy application, I see that these are some of the things that we need to do and how then do we implement that.
So that's my viewpoint.
What was one of your biggest challenges in office? How would you advise the younger generation who might consider joining politics?
It's like any job: It's not just a job. The question is what is it that drives you? So it's about purpose, about where it sits with your own journey with God. Is that God's calling for you and how do you reconcile that. That clarity is really important, because that is everything.
Actually a lot of things in politics are still very consistent with what it used to be in public service, and the reasons for my service have not changed. (Read more here.)
"Being anchored in your faith isn't rocket science, but it isn't easy either."
The biggest thing I deal with is that politics is much more public, especially in today's social media where you're being constantly exposed and attacked every day. And that is the part I find difficult.
With time it gets a bit better but on days where you're physically tired, it does wear you down, because we are human beings dealing with comments that are negative and hostile – and sometimes coming from Christians. I guess that's the part that I find challenging.
For example, many of you would know this whole thing about cardboard-collecting old people – it's an area that I care a lot about. When I'm on the roads, running, or when I drive and see old folks, I stop, I follow up to find out what's happening and I get agencies to follow up.
Those of you who followed me on Facebook in the earlier years, I posted quite a number of such cases. And I've stopped posting that because people come round, latch on to one thing you said, and judge you on that. And that can be quite trying, because you are literally there at the mercy of the public.
So this is where it comes back to, again, your calling and your purpose, because that's the only thing that makes sense.
And for me as well, I know that God is sovereign, and it's part of the process, it's something I need to learn to take in my stride. But it's a constant struggle.
"We may not always know how our route will unfold …. But we do know the way in which we should walk."
So I think whatever that we do – whether (we're) young people, or those of us who are not so young,  it's important for us to constantly remind ourselves what exactly we are doing and why. Because it's so easy to lose track of things and lose the sense of self, and especially in our own journey with God. And I think reminding ourselves of that helps us to be anchored. 
It's a useful exercise to imagine ourselves at the tail end of our lives, where at some point, we have to go and meet and answer to God.
I volunteer at a hospice. And every week, you're dealing with people who are passing on. Invariably, they tend to be older and sometimes you get a chance to talk to them and their reflections. People whom you get to know but, the next week you go, the bed is empty. And you can't help but also think about your own life.
When we are confronted with that – I think for all of us – when we go through that whole mental exercise, we all kind of know that some of these things we chase on a day-to-day basis actually aren't very important. And it comes back to the same few fundamentals.
Being anchored in your faith isn't rocket science, but it isn't easy either.
We may not always know how our route will unfold. Like, for example, which pathway to go and what we ought to do. But we do know the way in which we should walk.
I know that I need to walk that journey in a particular way and do it as best as I can until that journey changes.
"I learn more from my failures and inadequacies": Speaker Tan Chuan-Jin on what it means to be a leader
We must never abandon our values for the sake of political expediency: Gerald Giam
If you have enjoyed reading Salt&Light...
We are an independent, non-profit organisation that relies on the generosity of our readers, such as yourself, to continue serving the kingdom. Every dollar donated goes directly back into our editorial coverage.
Would you consider partnering with us in our kingdom work by supporting us financially, either as a one-off donation, or a recurring pledge?
Support Salt&Light