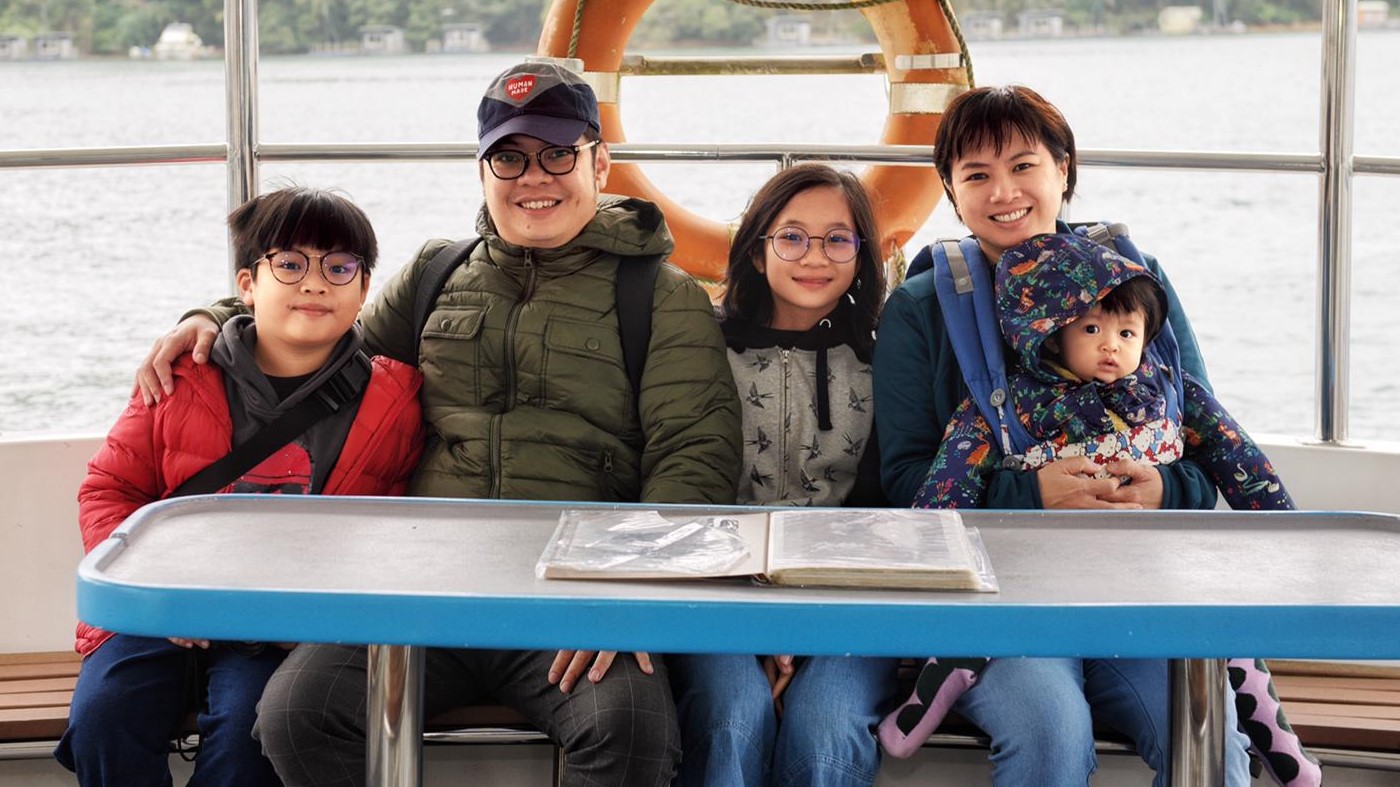 (Left to right) The Low family: Toby, Edwin, Donna, Mei Ling and Natalie. Co-founders of Supermama Edwin and Mei Ling spent an hour in prayer daily before opening their shop. All photos courtesy of Edwin Low.
It started with the Lows wanting to spend more time with their young children – two-year-old Donna and three-month-old Toby.
Explained 42-year-old Edwin Low: "We always read about people on their death beds who are asked about their greatest regrets and it's always about not having spent time with their family watching their kids grow up."
He didn't want to have the same regret.
A father's presence
Having grown up with a father who "gave us the security of his presence", Edwin wanted the same for his children.
"I don't come from a well-to-do family. My father was a karung guni man (rag-and-bone man). But he was always around for the family.
"When I had kids, I thought, What better way to be a father than to give them my presence?'"
To do this, he decided to take a year off work. But he first wanted to run the idea by his wife, Mei Ling, 42, because "one thing I learnt from church is that when two become one, whatever decision we make, both must agree".
He half expected her to tell him he was "xiao" (crazy in Hokkien). Instead, she decided to join him.
"God had shown the way. Do you still want to run away?"
Said Mei Ling: "At the time, we were just clocking in the hours, going through the motions – work, ferrying the kids to and from my parents', busy with the kids. It was a vicious cycle that never ended.
"There was just no meaning to it. A lot of people go through this but we were not satisfied."
So, Edwin left his position as a lecturer in a polytechnic and Mei Ling quit her civil servant job.
It may seem a reckless decision for a couple with two mouths to feed but Mei Ling was resolute: "It was just for a year. Money can always be earned back."
To fund their sabbatical year of "no agenda except to spend time with the kids", the Lows sold their four-room HDB flat and downgraded to a three-room one.
"We're very simple. We don't need much to live on," maintained Edwin.
If not God, then who?  
But the year of doing nothing became one of doing a pet project together instead.
"When you only spend time with the kids and do nothing, you really have a lot of time on your hands," said Edwin.
An industrial designer by training, he had always wanted to have a shop of his own to showcase his works. But he was pragmatic enough to know that "it wouldn't work".
"I did my research years before. Design stores in Singapore tend to go bust," said Edwin.
Yet, open a little design and gift store of his own was just what he did during his sabbatical. What tipped the scales was a series of events that the Lows believe was not mere chance.
"We looked back, we joined the dots. If it's not God moving, then who?" said Edwin.
"We didn't even have a sign board for the store because it was too expensive."
First, there was the location of the shop. With time on his hands, Edwin had gone to a boutique store called Actually which he really admired.  
"I came back and told Mei Ling it would be nice to have a shop like that. We did our calculations and felt that we could afford rentals of S$2,400," Edwin recalled.
After committing the spark of an idea to God in prayer, Mei Ling started looking for a location in that price range.  
"Lo and behold, we found a unit that was right beside Actually going for exactly S$2,400. God had shown the way. Do you still want to run away?" mused Edwin.
Chase my dream?
The S$150,000 they had gotten when they downgraded their home to tide them through their sabbatical became seed money for the business. 
For an hour before they opened their shop, they prayed together.
"My dream is just to support him," said Mei Ling when asked if she hesitated to sink all that money in a venture that might not have panned out.
"We expected the worst but hoped for the best. We were fully prepared to go back to work after the year. So, we were prepared to lose that S$150,000," said Mei Ling.
For her willingness to help him build his dream, Edwin named their store Supermama.
"I wanted my kids to grow up knowing the decision their mum made to support me, without even blinking," said Edwin.
"People thought we were so spiritual but we were really quite desperate!"
Supermama started out carrying designs imported mainly from Japan. Edwin had been to several trade fairs there when he was an industrial designer and had gotten to know many Asian designers. When they got wind of his store, they asked him to carry their products.
The early days of the business were dismal. "We didn't even have a sign board for the store because it was too expensive," said Edwin.
In the first month, their revenue was S$600.
"I told God, 'I thought you said to chase after my dream?'"
For the first year, the Lows went to their store every day and, for an hour before they opened their shop, prayed together.
"People thought we were so spiritual but we were really quite desperate!" laughed Edwin.
Added Mei Ling: "Praying together in the morning, sharing our different ideas, having a common goal, working together – it was actually very helpful to our relationship.
In that first year, they made no profits.
"Our relationship became better. We really understood each other. And when parents have a healthy relationship, the kids benefit, too."
They also fulfilled their desire to spend more time with their children.
"We brought them to the store every day. They were running around," smiled Mei Ling.
In that first year, they made no profits. But miraculously they made no losses either. Faced with a decision to fold or stay, the Lows prayed. Edwin decided to carry on with Supermama for another year while Mei Ling went back to work.
"Then, out of the blue, people would walk into our store. It was on the second level of a shophouse. So, it was not a place people walk in by chance," noted Edwin.
With no social media then, the Lows counted on word-of-mouth recommendations.
And God moved some more
At the end of year two, they thought it was finally time to close shop. But the unexpected happened. Twice. And it gave Supermama the lifeline it needed.
First, they were offered a new location at the Singapore Art Museum (SAM) that gave them more visibility and "helped business". Then, Edwin met his future business partners – Japanese porcelain-makers – all by chance right on Orchard Road.
"They were selling Japanese porcelain at half the price I was and I was already not earning much from the mark-up. They said they were able to do it because they were the ones making it."  
The conversation ended with an exchange of name cards and nothing more. But the very next day, while the Lows were clearing up at their new location at SAM "we had just shifted in and there was newspaper all over the place", Edwin chanced upon the same Japanese porcelain-makers.
"I opened the glass door of the store and these two people walked by. They got a shock when they saw me."
"This was really divine. We didn't look for them and they didn't look for us."
The two men, it turned out, were from Kihara, an established Japanese porcelain manufacturer from the town of Arita which has a 400-year history of porcelain manufacturing. That day, though, theirs was a tale of woe. Business had been bad the previous day and they "couldn't even sell one porcelain cup".
"I said, 'Leave your products with me and I will try and sell them'."
When Supermama opened their doors the next week, the porcelain items from the Japanese makers sold out. A wonderful partnership for both had begun.
That was how the Lows ended up getting Singapore designers and Japanese porcelain-makers to work together.
"I had wanted to produce Singapore designs with Japanese craftsmanship for two years but everyone I approached had said no," said Edwin.
"This was really divine. We didn't look for them and they didn't look for us."
Designed to tell Singapore's story
A few months after they began their collaboration, Supermama became one of nine recipients of the President's Design Award 2013. Their first in-house collection – Singapore Icons which sold 10,000 pieces – won the Design of the Year.
"It was beyond anyone's imagination. It was another miracle," said Edwin.
The accolade did not, however, translate into brisk business. Supermama continued quite modestly till year five. That year, Singapore celebrated SG50 and things turned around for the business.
"That was the time when Singaporeans' appetite for locally-produced design increased."
"As a product designer, we need to enrich the material culture landscape of our country."
That also became the turning point for Supermama's vision. "When things like these happen, you have to ask, 'Why did it happen? Why are these opportunities opening up to you? What is your purpose in this?'"
The purpose, Edwin believed, was to look at Supermama as more than a business. He wanted to position the design store as a vanguard of Singapore design.
Comparing the country to Japan, Edwin said: "When you go to Japan, you buy their lacquer, kimono, washi paper. Take this from Japan's culture, they would have lost a part of their identity.
"As a product designer, we need to enrich the material culture landscape of our country."
Edwin's dream is to etch Singapore's story onto porcelain and create products that have a very strong Singapore identity, "tell stories" and unite people by "giving them a common talking point".
"We actually don't need more products. We don't need another t-shirt, another cup. We already live in a world full of things.
"It's about aligning the condition of my heart to God. It's no longer about rights but responsibilities."
"I want to use the products as a medium to document stories about Singapore, our stories."
His choice of porcelain is more than mere aesthetics as well.
"Porcelain can last a very long time. Years from now, when archaeologists dig up the plates with our collaborators' names, dates and the designs of Singapore, it is going to inform them about us."
He likens this new business direction – thinking beyond himself to how his role and responsibility as a designer can influence other designers – to his Christian journey.
"When we were young, we pray, we quote a verse and ask God for things as if it's our God-given right.
'Now, when I pray, I don't ask God for things anymore. Instead, it's about aligning the condition of my heart to God. It's no longer about rights but responsibilities."
Today, Supermama is known for its beautifully-designed giftware that showcase Singapore icons. It has expanded to two stores with their flagship store at Beach Road. The Singapore designers they work with have also grown to number nearly 100.
Mei Ling has returned to helm the administrative and financial aspects of Supermama. And their family of four has a new addition – 18-month-old Natalie.
True blue Singapore 
That mindset of aligning to God rather than expecting circumstances to bend helped steel the Lows against COVID-19 as well. Since much of Supermama's client-base are tourists or locals buying for friends abroad whom they are visiting, "business was bad" when the pandemic hit.
"When it happened, we thought xiao liao (things have gone mad), we were going to have to close shop," said Edwin.
But, unplanned and unexpectedly, Supermama's online business boomed. "We started having locals buying from us."
Though the worst is not over, Supermama is already planning for the future with a new project dubbed Singapore Blue. Set to launch towards the end of the year, the new collection features blue and white plates designed by 20 different local personalities and brands. Each will tell a unique story.
Likening the collection to the products of famous Danish porcelain brand Royal Copenhagen, Edwin said: "We want these plates to be deeply ingrained in our society and our nation's culture so that when people visit, they have to buy them as keepsakes.
"This is our life. God has given us this call to design."
"In a few years when tourism begins, we will be ready."
The Lows never expected that their year of rest would lead them on this business journey. But they "can never say we regret it".
"We have learnt so much – business experience and acumen, relationships, friends that we made – that has made us who we are today," said Mei Ling.
Added Edwin: "This is more than a business. This is our life. God has given us this call to design and continue to design Singapore products. It has become a responsibility."
---
This is the first story in a series on the role God played in Singapore brands. You can read the other stories below.
Mr Lee Kuan Yew and his CYC shirt: "God moments" in the journey of an iconic Singapore brand
"How my two fathers helped launch my career": Singapore designer Sabrina Goh
If you have enjoyed reading Salt&Light...
We are an independent, non-profit organisation that relies on the generosity of our readers, such as yourself, to continue serving the kingdom. Every dollar donated goes directly back into our editorial coverage.
Would you consider partnering with us in our kingdom work by supporting us financially, either as a one-off donation, or a recurring pledge?
Support Salt&Light