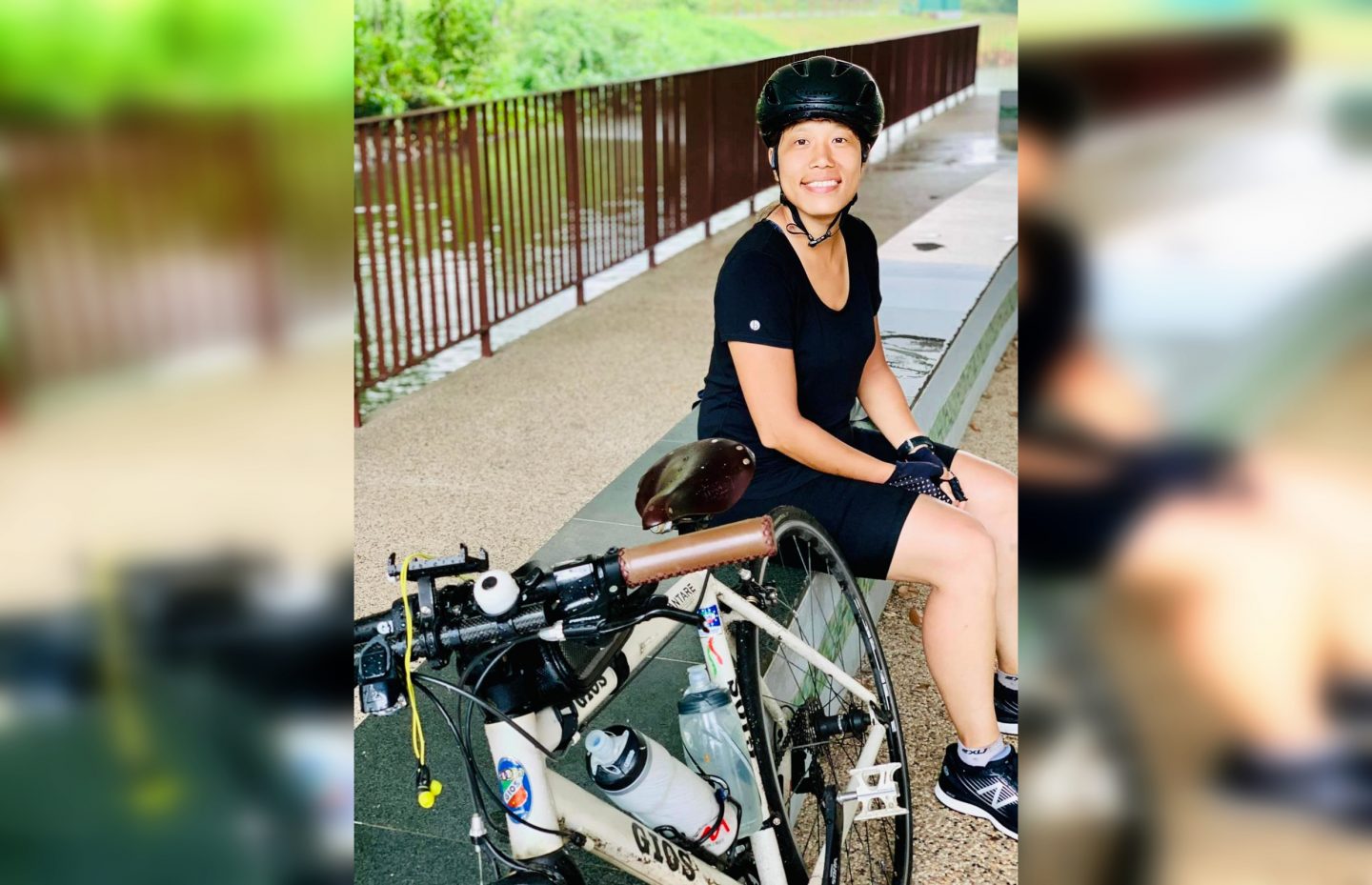 Mercy Ho challenged herself to a solo ride, circling her estate 100 times over 14 days to raise awareness for a building project. All photos courtesy of Mercy Ho unless otherwise stated.
How would you spend your birthday week?
Celebrating with friends over drinks? Throwing a party with the maximum number of guests currently permitted? 
Mercy Ho spent the two weeks leading up to her 39th birthday cycling 1,000km around Punggol – alone. 
She embarked on what she called an "impossible task" as part of her personal initiative to raise awareness for Project Gateway – Youth With A Mission (YWAM) Singapore's efforts to raise funds to redevelop their newly-purchased shophouses and overhaul their existing unit. They are next to each other at Lorong 9 in Geylang. 
Ho is a staff in the leadership circle of YWAM Singapore. She was encouraged and inspired by her colleagues' personal initiatives to raise awareness for the project.
A ride of faith 
It is often said that a journey of a thousand miles begins with one step.
For Ho, it was a big step of faith. 
"I wanted the ride to be one where I ponder on commitment in the hardest moments"
According to her athletic friends, professionals would cycle 100km and then rest for the next three days.
How was Ho going to complete 1,000km in 14 consecutive days without a day of rest? She described herself to Salt&Light as "the kind who cannot even complete a full marathon".
Ho started her 1,000km bike ride on October 28, 2020. Her goal was to complete it by her birthday on November 10. 
Her initial "grand plan" was to cycle an average of 70km each day. However, she was unable to do that as she had work meetings in the day and could only start cycling in the evening. She ended up cycling less than 200km in the first seven days. 
Thankfully, a sabbatical from work in the second week gave her the time she needed. She started cycling at 8am in the morning and would only end at 10 or 11pm. The greatest distance she covered in a day was 175km.
Ho, who had been exercising regularly, ensured that she had eight hours of sleep every night, and had regular meals two weeks prior to the ride. 
Still, cycling for more than 12 hours a day was a challenge. In weeks after the ride, she was not able to turn her car key or open door knobs. 
(Ho would not recommend anyone who is not used to frequent exercise to undertake any extreme activity; proper training and preparation is necessary for such an endeavour. Anyone thinking of embarking on strenuous exercise should also consult their doctor beforehand.)
"It's about challenging the idea of 'impossible'."
So how – and why – did Ho persevere?
After all, she could have just given up.
"I wanted the ride to be one where I ponder the idea of faithfulness to God and the commitment to tenacity in the hardest moments," said Ho.
Her initial target was 100km, but she felt that it was "too easy" a goal. 
"It's about challenging the idea of 'impossible'; the Christian walk was never meant to be a bed of roses," she explained.
She originally planned to cycle a few loops each day from her estate in Punggol to East Coast and back. But after promptings from the Holy Spirit, she decided to focus on Punggol.
That meant cycling the same route 100 times. 
And so she cycled and cycled and cycled.
Never alone
After each ride, Ho would journal her thoughts and reflections of the day. She would send them to a close group of friends, who would encourage, support and pray alongside her. 
"There are times where you have to walk alone, but yet you never really walk alone."
"I was riding alone but I didn't feel alone," Ho said. "In the Christian faith, there are times where you have to walk alone, but yet you never really walk alone."
Her husband, Daniel Ho, 44, who works in the IT industry, made berry juice for her every morning. He also ensured that she had a substantial breakfast that gave her the energy to cycle.
On some days after work, he would wait at a bridge along the cycling path with dinner for his wife. After a few minutes, he would watch her cycle off. 
"My husband has been my greatest support. All his small acts of love done faithfully adds up to a big thing," said Ho. 
Ho also felt God's love and presence throughout the 14 days. She thought it was important to constantly question: How do you see God over and over? How do you get excited about God in the simple things of life? How do you see an extraordinary God in the ordinary?
"This bike ride was a call of obedience to God. We can only get the deepest satisfaction and greatest contentment if we pursue God's highest will," said Ho. 
There were times when she felt like giving up.
"We glory in our sufferings, because we know that suffering produces perseverance; perseverance, character; and character, hope." 
On the last but one day, Ho's bike skidded on a wet metal drain cover while turning a bend. The fall left her with a deep cut on her left knee and bruises on her legs, shoulders and lips. 
And she still had another 80km to complete that day.
Verses from Romans 5:3-5 kept her going: "We glory in our sufferings, because we know that suffering produces perseverance; perseverance, character; and character, hope. And hope does not put us to shame, because God's love has been poured out into our hearts through the Holy Spirit, who has been given to us."
God also sent an angel to Ho's rescue: A Bangladeshi stranger who helped pick up her bicycle and asked after her. 
"Every day is a step of obedience," Ho reflected. "Do I realise that there are new mercies everyday? Do I see the grace of God carrying me through?"
The ride's end
On the last day of her quest – Ho's 39th birthday – she cried a little prayer: "I'll ride with you, Jesus".
On completing her personal marathon, Ho felt a mix of happiness and amazement.
"I know my body physically and mentally. How is this even possible? Where did the strength come from?" 
Looking back in awe of God's grace and mercy, Ho said: "I know my body physically and mentally. How is this even possible? Where did the strength come from?" 
Ho wrote in her journal: "Today, I got to live another 24 hours with Jesus, on this temporary earth. Every new day is very precious."
"It's moments when we find ourselves completely dependent on God and realise again that we are nothing without God, that He reminds us that He is always with us and we are called to simply abide in Him each day."
Ho also drew parallels between commitment to the 1,000km bike ride and running life's race. When she takes her final breath in this life, she wants to know that she lived out Christlikeness and loved others faithfully through her life.
Ho's journey with YWAM began in 2009 when she went to Hong Kong for a Discipleship Training School programme. She was prepared to be a full-time missionary. But God called her back to Singapore to get married and find a job.
"The heart is not about what we can do, but about doing whatever we can."
Five years later at the height of her career in advertising and sales at a publishing company, she attended a Christian conference where God broke her heart over matters of the poor, broken and marginalised. She soon quit her job as she felt the call to go back to missions and subsequently joined YWAM Singapore as a staff. 
Ho previously served as the head of the ministry that reaches out to pimps, street ladies and their children, bringing hope to people in the red light districts of Asia. She recently passed the baton on to another leader in September 2020.
As part of YWAM's leadership circle, Ho now serves on the ground in prayer and mentoring younger leaders. She also helps out in seemingly mundane things like cooking lunch, delivering coffee, working in the garden and moving furniture.
Ho's 1,000km bike ride is one of the many initiatives to raise awareness of YWAM's Project Gateway. 
"It's our five loaves and two fishes," Ho said. "The heart is not about what we can do, but about doing whatever we can and seeing God move through that." 
YWAM's Project Gateway
Youth With A Mission (YWAM) is looking to raise a total of S$8 million to redevelop the newly-purchased shophouses and conduct a major overhaul of the existing and adjoining unit at 4 Lor 9 Geylang. This includes construction costs of around S$4 million, and repayment of the loan to purchase the building.
Project Gateway is not just a building project. It is about fulfilling and answering God's call to be known amongst all nations. And to bring fruition to YWAM Singapore's vision:
To expand YWAM Singapore's training to be a campus, offering specialised training in various streams in the mission field
To explore expanding their field targets, reaching the least evangelised and most difficult places in Asia and beyond
To expand their reach in Geylang and to go deeper in the transformation of the community
To raise servant leaders through the integration of discipleship, servanthood and community outreach amongst the broken
If you feel led to be a part of Project Gateway, click here to find out more and here to donate.
RELATED STORIES:
"If you heal me, Hallelujah. If you don't heal me, also Hallelujah"
"Stay, expand your work in Geylang," God tells YWAM, who is building Project Gateway in obedience
If you have enjoyed reading Salt&Light...
We are an independent, non-profit organisation that relies on the generosity of our readers, such as yourself, to continue serving the kingdom. Every dollar donated goes directly back into our editorial coverage.
Would you consider partnering with us in our kingdom work by supporting us financially, either as a one-off donation, or a recurring pledge?
Support Salt&Light