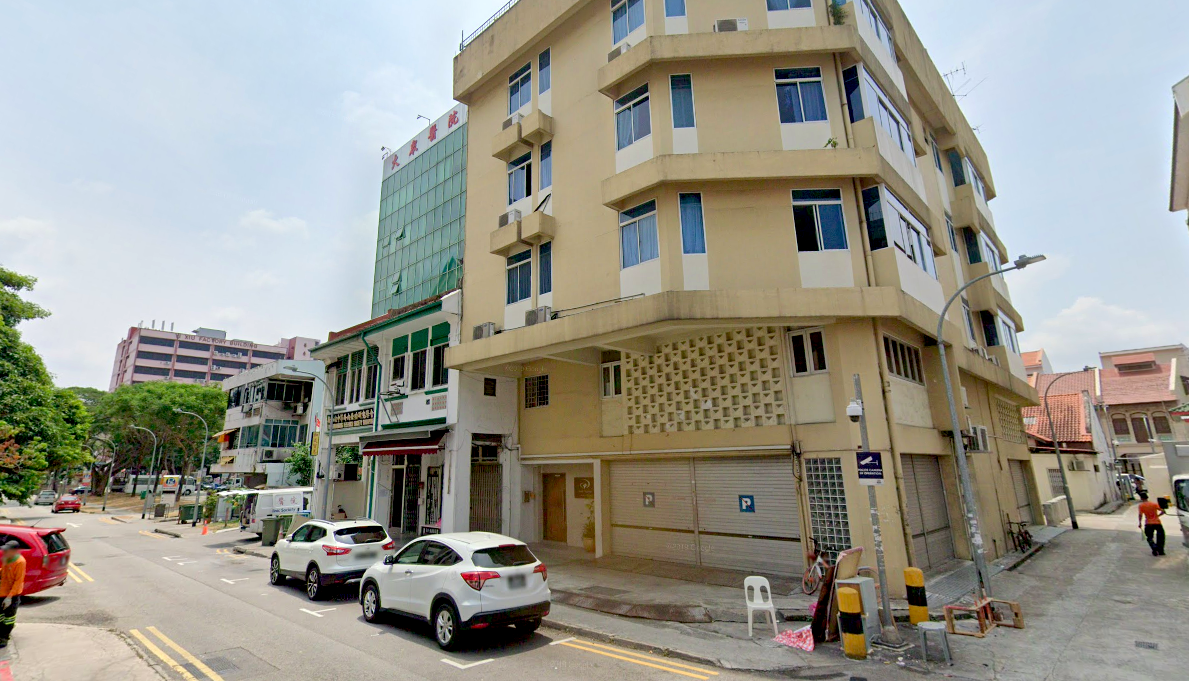 YWAM's first property purchased in 1996 along Geylang Lorong 9. The adjacent shophouses were recently bought over as part of Project Gateway which will convert these into YWAM's new campus. Photo retrieved from Google Maps.
Anchored on Isaiah 65:1, which describes God's longing to be revealed and known, Youth With A Mission Singapore's latest undertaking, Project Gateway, is about fulfilling God's call and His longing to be known amongst the nations, and amongst the last, the least and the lost, said Joseph Chean, National Director of YWAM Singapore in a video introducing Project Gateway.
YWAM has received provisional approval from the government to develop a property located in the heart of Geylang into a new campus, dubbed Project Gateway, offering missions training.
Under Project Gateway, a total of three shophouses at Lorong 9 Geylang will be converted into a seven-storey building that will house the new campus. Two of these shophouses (No. 6 and No. 8), which were recently acquired in August 2019, sit adjacent to No. 4, Lorong 9 Geylang, the first property bought by YWAM in 1996.
Construction is scheduled to start in the first quarter of 2020 and is expected to take between 12 to 15 months.
Making God known to neighbours
YWAM Singapore, which marks its 40th anniversary this year, purchased its first property in 1996 and has been based in various locations around Geylang ever since.
Mercy Ho, who is part of the YWAM Singapore leadership, said: "YWAM always thought we would move (out of Geylang), but we have been brought back to it."
Traditionally a missions-sending organisation focused on overseas efforts, it was only in the last 10 years that God led YWAM Singapore to "embrace the neighbours" on their doorstep.
Soon, YWAM started several outreach ministries in Geylang to street ladies, the homeless and even youth, whom they welcomed like family.
In 2018, the YWAM leadership team found out that two shophouses next to the current one were for sale. At one of their weekly Monday worship gatherings, Project Gateway was mooted to about 80 staff and students of YWAM Singapore.
At that meeting, just over $100,000 was pledged by the staff and students to the project, said Roland Duhlian, who is in charge of YWAM's communications.
"God is writing a new chapter for the next wave of YWAM-ers."
YWAM staff and students are missionaries or missionaries-in-training who have to raise their own support. Many are known to live hand-to-mouth. In any building project where the funds often amount to millions, the vision takes time to develop and form, said Dulian.
"They probably emptied everything to commit to face this project. For us to give so much in those early days – that speaks volumes!" he said. 
But as the whole of YWAM – the leadership team, board of directors and staff – prayed and sought God's direction, they clearly sensed the Lord telling them to stay and expand their work in Geylang and to trust Him for financial provision.
YWAM's next wave
Ho, who is the head of Tamar Village and overseeing fundraising efforts for Project Gateway, said that, with the campus located in one of the most desperate parts of our nation, all that is learnt in the classroom can be lived out right where they are.
"God is writing a new chapter for the next wave of YWAM-ers from many nations and different generations."
"(Students) learn to show practical ways of justice and mercy, like giving out a drink and spending time with people for days or months," she said, noting how this trains up a "tenacity" in long-term missionaries.
"For example, if someone cries in front of you in the street, what do you do?"
Practical training means less burnout and less shock amongst missionaries. More and more, we need missionaries who go and stay, said Ho. 
Chean wrote in a fundraising letter sent out to YWAM supporters that S$4 million in funding is needed – with half due by the first quarter of 2020 and the remaining half by September 2020.
He acknowledged the targets are "huge in our eyes", but they have experienced His provision and they can "trust God to show up".
He said: "God is writing a new chapter for the next wave of YWAM-ers from many nations and different generations.
"He continues to lead us in fulfilling our mission to be a vibrant discipling community of nations and generations committed to raise a harvest force for missions into Asia and beyond."
Project Gateway
YWAM is targeting to raise S$4 million to redevelop the newly-purchased shophouses and conduct a major overhaul of the existing unit at No. 4 Lor 9 Geylang. If you feel led to be a part of Gateway Project, click here to find out more and here to donate.
If you have enjoyed reading Salt&Light...
We are an independent, non-profit organisation that relies on the generosity of our readers, such as yourself, to continue serving the kingdom. Every dollar donated goes directly back into our editorial coverage.
Would you consider partnering with us in our kingdom work by supporting us financially, either as a one-off donation, or a recurring pledge?
Support Salt&Light