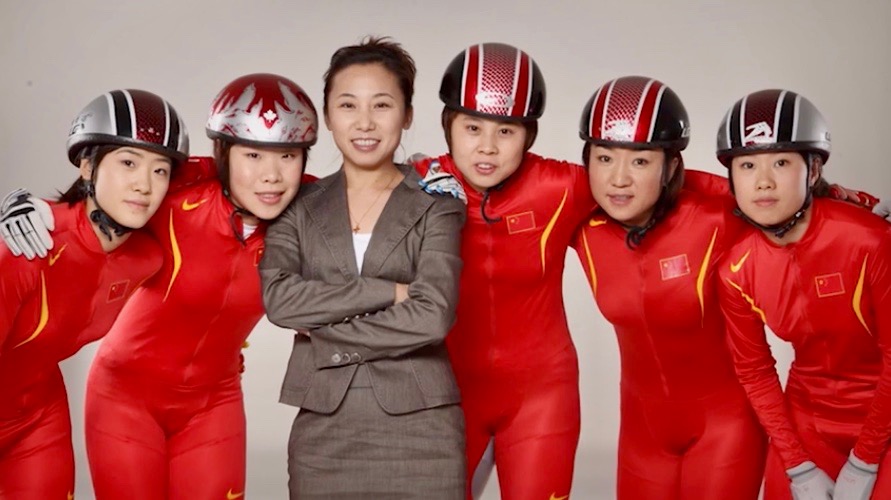 Li Yan (centre) is one of the most decorated coaches in the history of the sport of short track speed skating, but her road to success hasn't been smooth. Photo from athletesinaction.org.
She was the first Chinese athlete to make it to the Winter Olympics, breaking the 1000m and 1500m short track speed skating records at the 1988 Calgary Winter Olympic Games in Canada.
She was a sought after gold medal coach in Europe. Westerners made a poster with her figure on it, and the characters for "soaring dragon."
She made history with the American team, helping Apolo Ohno to reach the heights of his athletic career. She is called the "iron ice maiden with a touch of gold", who is crafting the legends of the Chinese short track ice skating team.
And yet, she believes that "glory is temporary, but growth is lifelong".
Li Yan is the head coach of the Chinese short track ice skating team. She who will quietly pray "God is my stronghold, I have no fear" during every big competition; a Christian who trusts in God's plans for the best, both in times of victory and struggle.
An iron ice maiden
In 1966, Li Yan was born in the northern city of Dalian. In the winters of the great northern wilderness, the temperature regularly falls below -30 Celsius. The only outdoor games for active children would be ice skating.
At age 13, Li Yan left her parents and went for professional skating training at Hejiang Sports School at Jiamusi. Professional athletes in China start their careers very early, often leaving home at 12 or 13, or even younger.
In the Albertville Winter Olympics of 1992, Li Yan won a silver medal on the 500m short track speed skating competition, which was a breakthrough for China in the Winter Olympics. Such victory and honour opened a new door for Li Yan beyond athletics. Two years later, she left the team and entered Dongbei University of Finance and Economics, studying finance.
"I really didn't have enough understanding of the Bible or the faith at the time. But I was obedient."
After graduation, she moved smoothly to a job at the local tax bureau. Soon after, she got married. The peaceful, quiet life seemed a good destination after the struggles of the arena.
A chance work trip to Beijing brought Li Yan back to the race track.
"I opened the doors to the ice rink, and the cold air washed over me. It was such familiar air. My heart started beating," she said.
Because of this, when the Slovakia short track team sent their request to China in 1999, Li Yan did not hesitate for long, but accepted the invitation, and followed her heart to leave for Europe to coach.
In the quaint and quiet little towns of Europe, people came from all over town to attend church every Sunday. People came from all different socio-economic classes, all different environments, and yet met together at the same meeting place, holding to the same faith. To Li Yan, this was incomprehensible.
Stepping out from her status quo, standing once again on the familiar ice, she wondered if her only challenge was to achieve higher results.
On an ordinary day, a friend who was also in Europe invited Li Yan to a gathering of Chinese people. She went happily. The friend took her to the World Prayer Center, and Li Yan was immediately attracted by the people there.
The Christians' friendliness and enthusiasm were deeply attractive to Li Yan. She recalled the days when back at the athletic arena, athletes would sometimes pray for the best results, or even seek blessings together as a team. But who were they praying to?
Perhaps this God that Christians talked about was a true God.
After she completed her coaching in Europe, Li Yan accepted an invitation to coach the American youth team in 2003. Within three months she became the lead coach of the American Olympic speed skating team.
In her four years in America, not only did she single-handedly cultivate America's speed skating star, Apolo Ohno, who broke the Korean monopoly on this particular ice sport, but she also decided to follow this true God, and was baptised as a Christian.
"I really didn't have enough understanding of the Bible or the faith at the time. But I was obedient. From the depths of my heart, I believed that this was the right faith. In the Bible Jesus told His disciples, 'Whoever has my commands and keeps them, he it is who loves me.' (John 14:21)
 "In these four years I grew a lot, and I know that there is one true God," said Li.
Leading by example
After the Turin Winter Olympics in 2006, Li Yan declined America's request to renew the contract, and instead returned to China to be lead coach of the Chinese short track speed skating team.
In the beginning, champion athlete Wang Meng thought that Coach Li did not give enough attention to the older teammates but spent too much of her energy on cultivating young teammates instead.
Li Yan felt very discouraged at encountering athletes with strong personalities. She was not sure how to help the team better understand her coaching philosophies, and even wondered if it was a mistake to come back, leaving behind her husband and child for the time being. Li Yan fell silent.
"Change yourself first, then forgive others."
When she was back in America for a vacation, the pastor of the church she used to attend came to visit.
As soon as he walked in the door, he said: "Let's pray together. With the strength that comes from praying, you can let go."
Li Yan learned to let go of her own pride and her own stress, and also learned how to forgive others. She began to acknowledge that she was an imperfect person, and she needed the Lord Jesus' help to lead this team.
"Change yourself first, then forgive others." The pastor's words were a reminder to her.
After returning to China, Li Yan seemed like a completely changed person. She moved into the training dormitories, spending 24 hours a day with the teammates, and took the initiative to share her thoughts with them and understand their needs.
The teammates began to feel that this coach, known for her strictness, was somehow really different from other coaches.
"Mutual respect is an expression of love. I urge teammates to encourage one another. When one teammate contributes in some way, other teammates benefit.
"If only the coach has something to say, and everyone else blindly follows, there would be no real, new growth out of it. When each person connects with the others, we are working toward a common goal.
"I encourage teammates to love one another, forgive one another, and cherish one another. Even though I cannot raise their salary, I can do my best to bring them what is best."
Unprecedented challenges
On the icy-cold rink raced a team warmed by love. They were invincible and never faced defeat.
In the Vancouver Winter Olympics, Li Yan helped veteran Wang Meng win the gold medal for 500m short track speed skating, making Wang Meng the first Chinese gold medal winner in the Winter Olympics. After the race, Wang Meng thanked Coach Li Yan on her knees, and teacher and student hugged each other in excited celebration. The victory that comes from within is greater than any outward crown.
"Forgetting what is behind, pressing on toward the goal" (Philippians 3:13) is a great help when facing the stress of competition.
In the same Vancouver Winter Olympics, the Chinese women's short track speed skating team won four gold medals altogether, creating a Winter Olympics record.
Li Yan also won "Best Coach" award in the athletic world.
In praising Li Yan for her second great leap in life, the media quoted from the movie My Night at Maud's: "Christianity is not a moral code. It is a way of life. It is no ordinary experiences, but the most amazing life journey. It is an adventure in sanctity."
Wang Meng referred to Coach Li Yan as "the woman who changed the history of Chinese Short Track Speed Skating"!
"Each day has enough trouble of its own."
Li Yan loves to quote this line from the Gospel of Matthew (6:34), which helps her calmly face challenges.
The many tensions within the team, as well as a series of unforeseen events, brought unprecedented challenges to the short track team. Merely 24 days before the opening of Sochi Winter Olympics, Wang Meng was seriously injured in an accident. All this was a great setback to Li Yan.
There are still times when she finds it difficult to understand God's plans for her life.
When she telephoned the pastor in America, he told her: "All this is for the best. God gives you these trials to test your team. Do they truly love one another? Support one another? Is there true cohesion? He grants you these great challenges so that you may become a person of perseverance."
The team watched as Li Yan arranged the positions of the teammates, so that the entire team might maximise their potential. Under her arrangement, the teammates may not have achieved their personal desires, but it guaranteed the victory of the team as a whole.
Under such unexpected circumstances, the short track speed skating team once again performed brilliantly. Of all eight sports, both men and women teams made it into the finals, and won two golds, three silvers, and one bronze.
Victory from within
Some say that ice rink competitions have the most accidents of any competition. Collisions and falls may happen at any time.
But for Li Yan, she no longer worries about good times or bad times, but has surrendered her heart to the God who controls all things.
"In good times you might be a bit happier, but you might also lose your self-control. And in bad times you might lose the grounding of your heart," she said.
"This honour does not belong to us. On our own we could not achieve this. It all comes from God."
During one interview, Li Yan repeatedly mentioned that the Scripture passage "forgetting what is behind, pressing on toward the goal" (Philippians 3:13) is always a great help when she faces the stress of competition.
"It was this verse that helped me overcome the devil within."
After achieving a series of good results, Li Yan reminded herself and the entire team that they ought to be humble.
"The better we get, the more humble we should be. As for me, this honour does not belong to us. On our own we could not achieve this. It all comes from God. God gave me this strength. I continually see my own flaws, my own imperfections, and this kind of seeing guides me to strive for growth in Christ.
"I do not trust in myself. I do not boast in my abilities or believe in my own strength. I rely solely on the power of God.
"I compete for the pleasure of my Heavenly Father, the honour of Christ and the Holy Spirit."
This is the creed of the Fellowship of Christian Athletes. On the ice rink, Li Yan continues practising "forgetting what is behind, pressing on toward the goal".
This article was first published in Chinese from the Manna of God publication and was translated by the ChinaSource team. It has been reproduced with permission from ChinaSource.
If you have enjoyed reading Salt&Light...
We are an independent, non-profit organisation that relies on the generosity of our readers, such as yourself, to continue serving the kingdom. Every dollar donated goes directly back into our editorial coverage.
Would you consider partnering with us in our kingdom work by supporting us financially, either as a one-off donation, or a recurring pledge?
Support Salt&Light