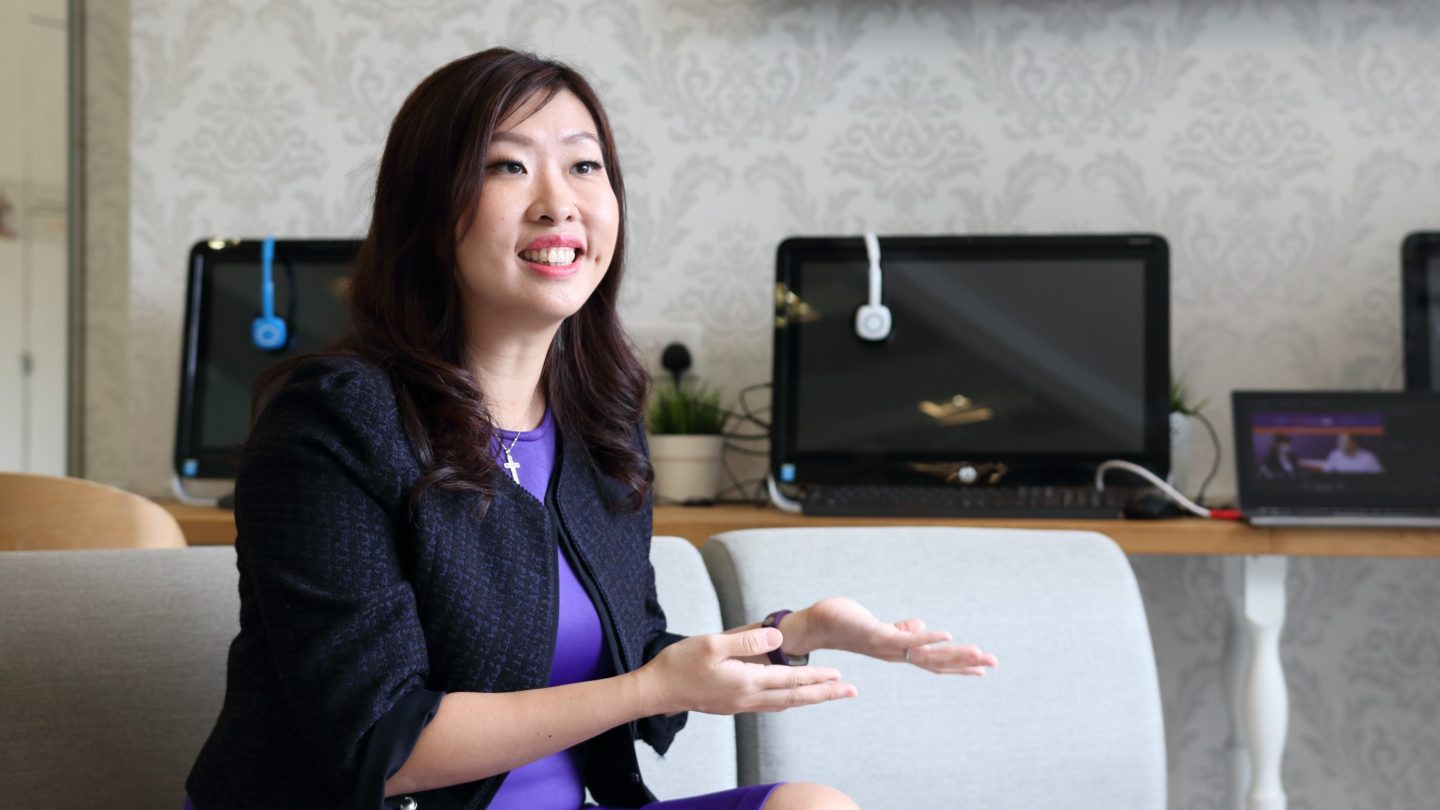 The coronavirus situation set Lunch Actually back briefly, until CEO Violet Lim and her team got a hang of the virtual dating space. All photos courtesy of Violet Lim.
Co-founder of dating agency Lunch Actually, Violet Lim, 40, had entered 2020 buoyant with hope.
2019 had been tough-going. Hong Kong was one of the company's "biggest revenue driver", and the territory's political instability had affected business.
"We thought in 2020 we were going to get things back on track," said Lim, also the company's chief executive officer. "We had awesome projects, great ideas and we were looking to launch two new products."
Then, COVID-19 struck. Not just the world. Not just Singapore. But right in her household.
On March 26, Lim was diagnosed with the coronavirus and became Case 667. She suspects she may have contracted it during a work trip to the US.
Her husband of 15 years and business partner, Jamie Lee, 44, also tested positive.
Husband and wife were hospitalised. Their family, which included two children, in-laws, grandmother-in-law and helper, was placed under quarantine.
Wonders amid

st w

oes
Thankfully, no one else in the family came down with the virus.
"Super-supportive" friends stepped up to help.
"Super-supportive" friends stepped up to help buy groceries and more. Lim shared: "We didn't know if we could get out in time for our daughter's birthday, so they bought her a birthday cake and presents." 
She did manage to get discharged the day of her daughter's 11th birthday, in what the girl's best friend dubbed a "birthday miracle". Her husband, though, had to wait a few more days before he got the all-clear. 
The 13 days away from home with mild symptoms would turn out to be the least of COVID-19's ill effects for Lim.
Lunch Actually's reach spans five countries – Singapore, Malaysia, Indonesia, Hong Kong and Thailand. None of the places was spared the onslaught of the virus.
"Even though we have an app and online presence, 90% of our business is done face-to-face," explained Lim.
As the virus gathered momentum, and social distancing, curfews and lockdowns made meetings impossible, Lunch Actually saw business drop by more than 50%.
Strategic thinking
Because Hong Kong was one of the earliest business locations to be hard-hit, the team had started preparing for the eventuality of going virtual as early as February.
By the time Singapore's Circuit Breaker was enforced on April 7, Lunch Actually had already tried out virtual consultations and clients had been "quite receptive".
"Our clients were already doing Zoom calls for work. Now, Zoom calls for dates?"
"The team was very agile and managed to pivot very quickly," said Lim.
Dates went virtual as well. "When we first presented this idea to our clients, they were not very keen.
"They were already doing Zoom calls for work. Now, Zoom calls for dates?
"But the team was fantastic. They spent hours sharing with the clients to convince them," Lim said.
The company came up with different ways to make the online meet-ups fun. From questions for ice-breakers to themed dates – "we told them to prepare their favourite drink, then go on the Zoom call to share" – to tips on how to look good onscreen – "too high an angle and you look like a cartoon character, too low and you get a double chin".
Staff even sat in for initial introductions to ease the couples into the Zoom dates. Before long, they had managed to arrange hundreds of virtual dates, some going so well that they lasted up to four hours.
Changing mindsets
Lim shared: "In the first week of the Circuit Breaker, the singles would say: 'No, so awkward, so weird.'
"By the second and third week, when cabin fever set in, they became more open. Then people realised it was really not as awkward as they thought."
"There are so many things in a first date that can make people anxious. They just don't want to add COVID-19 into the mix."
A Lunch Actually survey found half of its attendees are keen to continue on the online platform even as Singapore opens up.
"There are so many things in a first date that can make people anxious. They just don't want to add COVID-19 into the mix.  
"Now, some are considering virtual dates, at least for initial meet-ups."
The other thing that Lunch Actually did was to ride the webinar wave during the Circuit Breaker. They launched a series of online seminars to coach people on dating.  
"We were asking ourselves: 'What else can we do for our clients now that we can't connect with them face-to-face?'"
The answer was to turn their regular one-on-one coaching sessions into mass events, free of charge to anyone interested in participating.
"We believe in not only finding the right one but being the right one as well," said Lim. "That's what the coaching sessions are about." 
A new buzz
Hundreds of singles signed up for the weekly regional webinars that covered everything from texting tips to developing the right mindset. In one webinar, there were as many as 750 singles.  
"We didn't realise it, but we were building an amazing community of singles."
Such creativity in the midst of COVID-19 has opened up new possibilities. "We didn't realise it but we were building an amazing community of singles.  They are very positive and it has been an amazing journey."
This is a breakthrough because, before the Circuit Breaker, it had been difficult to create such a community because "singles are shy".
Going online gave them accessibility but, more importantly, anonymity. "They know that there are other people around and they can chat with us privately yet remain unseen," said Lim.
Soon, Lunch Actually was organising language-specific webinars in Cantonese, Thai and Bahasa Indonesia to cater to its various markets.
The staff declared it "the best retreat ever".
Though Singapore is in Phase Two of its re-opening and other countries are emerging from their seasons of hunkering down as well, Lim thinks this modus operandi may linger. Indeed, Lunch Actually may have started a new way of reaching out to people.
"We did a survey and the response was really positive. The majority would still like weekly webinars."  
The company has gone with the flow and even made its quarterly retreats virtual. "We have always adopted a lot of tech in the way we run the business. So, it was easy," said Lim.          
Instead of flying the team from the various Lunch Actually offices across Asia into Singapore, they Zoomed. The staff declared it "the best retreat ever".
"We built in lots of breaks. We had breakout sessions for brainstorming, so it wasn't just one person talking all the time.
"We used the virtual rooms and had them move from room to room like speed-dating to share ideas. We even played games. It's amazing how tech can bring it all to fruition."
Sharing the load
As the business adjusted to a changing world, so did Lim. A micro-manager by her own admission, she "learnt to do things that only I can do that no one else can. Things that others can do, I let them do".
Empowering her team yielded "amazing results".
"The best outcome of this has been my walk with God – reading His word, trying to get close to Him, unreservedly relying on Him."
"A lot of the great ideas didn't come from me. The great implementation didn't come from me. They did a better job than I could have," said Lim, who credits her team for the success of Lunch Actually's virtual dates.
In the quiet enforced by the coronavirus crisis, she also learnt to look upward.
"I realised I've been very focused on busyness, needing to do this and that, and putting everything on myself.
"The best outcome of this not-so-good situation has been my walk with God – reading His word, trying to get close to Him, unreservedly relying on Him. Who else can I rely on? (Psalm 121:1)
"I can't control the crisis but I can control how I react to it."
Asked what has tried her most in this season, she said: "I tend to forget the bad things that happen. Instead, I remember the lessons learnt."
And the lessons have been many. For one, work-life integration became a reality – which her family has enjoyed, and which she intends to hold on to. In addition to her 11-year-old daughter, Cara, she has a son, Corum, who will turn 14 this year.
"They are growing up so fast. My daughter would definitely like to see more of me. It's something I want to make happen."
Secondly, Lim has been able to make time for passion projects.
"I'm keeping it open and learning to pray and wait on God."
During her work-from-home stint, Lim lived her dream of being a talk show host. She started her own online programme, Lunch Date with Violet, inviting women entrepreneurs like herself and other professionals to chat.
"It was a great way to catch up with friends, and get glimpses of their wisdom and what they are doing."
Despite the positive response to her hosting debut, she is not quitting her day job as matchmaker yet.
"I'm keeping it open and learning to pray and wait on God."
Her darkest moments prepared F&B CEO Jocelyn Chng to steer through COVID-19
Fashion entrepreneur Adriana Lim Escaño builds her business on Gospel values
"How do I lead by loving others?": Claire Wong, Head of DBS Foundation, on the key principle in her leadership