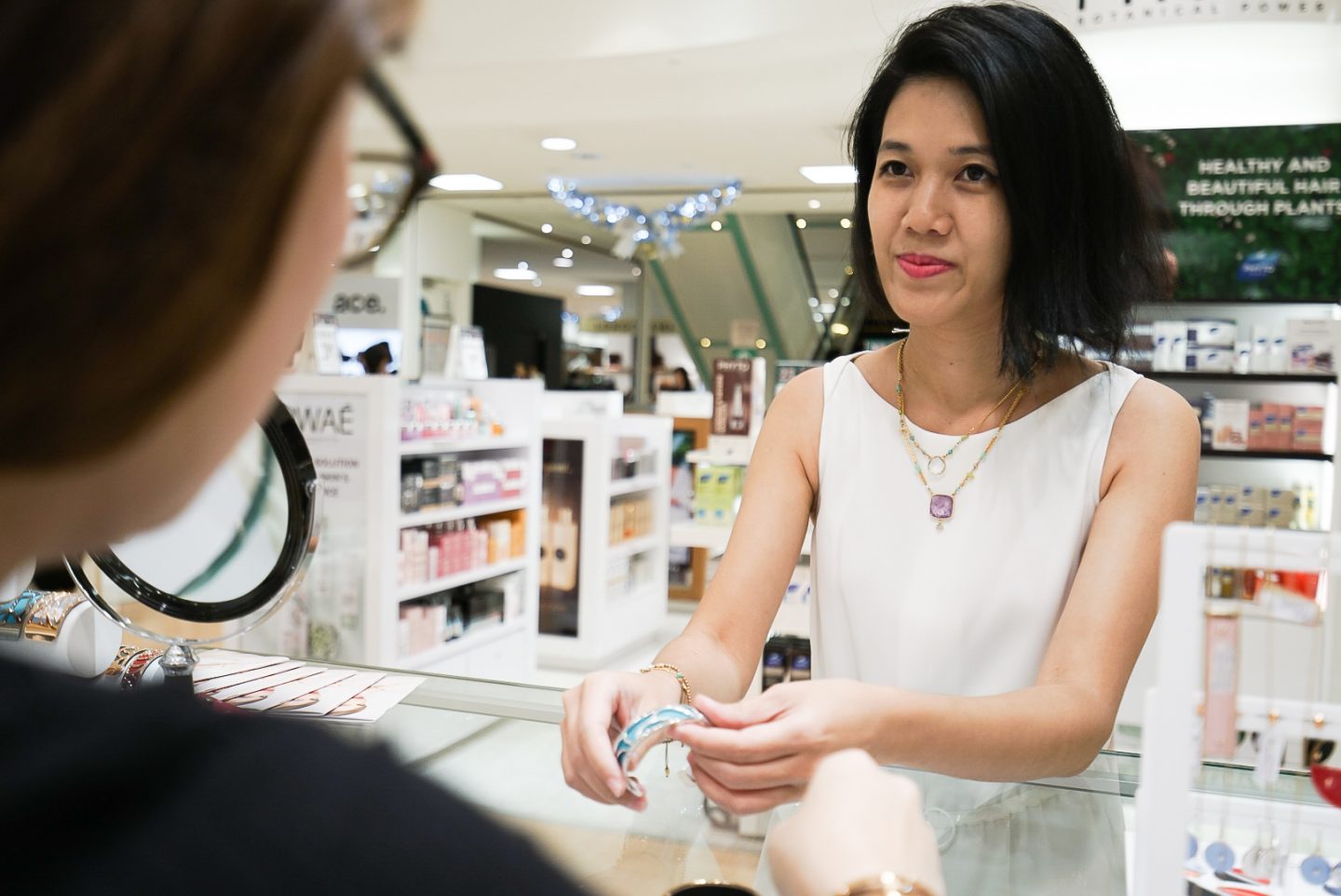 Adriana Lim Escano is the owner of Abry, a fashion accessories distributor in Singapore. Photo by Rachel Phua.
Adriana Lim Escaño is ecstatic. 
She just scored a contract to manage Chinese luxury brand Shang Xia in Singapore come next year.
The label was started in 2008 by a Chinese employee working for French fashion house Hermès, which now has a majority stake in Shang Xia. 
Lim Escaño, the candid founder of fashion and lifestyle accessories retailer and distributor, Abry, is still bewildered about why Shang Xia picked her over the local big boys.
Her own business is small, with 11 points of sale around Singapore, including retail counters at Marina Bay Sands and Ngee Ann City. The company sells jewellery from foreign labels including Zadig & Voltaire, Buckley London and Les Néréides. 
Visiting the Shang Xia showroom in Shanghai with the major players was "surreal". Clinching the deal still "blows my mind". She rapidly describes the milestone, which began at a trade fair where, she says, all she wanted to do was to say hi to a friend who had cancer.
"At the right time, at the right place, with the right person, the door opened. Unbelievable," she gushes. "God outdid what I could imagine (Ephesians 3:20)."
"At the right time, at the right place, with the right person, the door opened. God outdid what I could imagine."
At the same time, the 39-year-old entrepreneur is anxious.
"For one moment, I was like, 'Oh no, am I going to be one of those companies that opens stores where people walk in and don't feel comfortable because they don't feel worthy of the products?' I need to think about what we propagate." 
It is this air of exclusivity she wants to eradicate from the retail scene, and one of the reasons why God granted her this opportunity, she believes.
There is no backing down from Abry's current mission: To be a beacon of positivity in the retail industry.
A home for disadvantaged women

 
Fashion is no longer a matter of passion for her, says Lim Escaño firmly. The industry is merely one familiar enough for her to use as a platform to assist others, particularly marginalised women.
The Central St Martin's College of Fashion & Design graduate formerly worked as a merchandiser for companies that handle inflight sales catalogues. 
She started Abry in August 2008, six months after she married Centre for Fathering and Dads for Life's Bryan Tan. 
The driving force behind Abry comes from John 14:2: "In my Father's house are many rooms."
Newly unemployed, having left her previous role as a regional sales manager based in Hong Kong, she continued to hold on to Abry as a side project after she returned to corporate life in 2011.
Since day one of Abry, she made it a point to hire elderly women through the NTUC Women's Development Secretariat scheme.
As the business progressed, she partnered Daughters of Tomorrow in 2017 to offer jobs to the beneficiaries. The charity supports underprivileged women by helping them find employment and upskill themselves. 
These women are widows, single mums, ex-convicts, and people with mental health issues. Since the collaboration started, Lim Escaño has hired nine people from the organisation.
Lim Escaño knows that providing this invisible class of women a job, even a part-time one, could be the ticket out of poverty.
Many of them cannot hold a 9-to-6 job because of stigma, or familial obligations. Some of them have special needs children to take care of, or an elderly parent to look after. "I think it's also a confidence thing", she adds.
One of the verses that pilots the company's vision comes from John 14:2: "In my Father's house are many rooms".
Lim Escaño wants her firm to be a home where employees' idiosyncrasies are accepted. Office gossip is absolutely not tolerated. A family learns to love one another despite each person's flaws.
Bold evangelism
Although she is operating in a secular space, Lim Escaño has no qualms about openly responding to the evangelistic call.
In July and August this year, she ran CRU's Soaring course with eight of Abry's female staff, Christian and non-Christian. Over the two months, they met once a week to discuss their personal goals. The series delves into how individuals can find value in their identity, purpose in life and enter into a relationship with God. 
Besides discipleship courses, Lim Escaño indicates clearly that prayer is instrumental to her work.
She recently set up a "prayer altar" in October this year. It is a chat group on WhatsApp among the believers, so that they can pray for their colleagues, and to record testimonies of answered prayers. The participants also gather weekly to pray. 
"In the last few years, I made it a point that when I experience God's provision, the staff must see it, so that they start to see that God is real."
Several employees have come to Christ since she became more explicit about her faith, she says. Staff would sometimes spot her doing prayer walks around the counters.
One salesperson, a feng shui practitioner, became more interested in Christianity after the course. Lim Escaño recalls her asking: "How do I get that healing and deliverance? I want it." She had been with the firm for just two months. 
Later, the same employee wrote a Mandarin poem for Abry's 10th anniversary celebration, also in August. 
The poem said: "When I step into the company, I felt love. I felt like the angel's wings were with me."
Lim Escaño is still mirthful about the occasion. "There must be something in the presence of our work."
A business anointed by God
Abry's business appears to be doing well. After years of toggling between her day job and the firm, Lim Escaño started to scale the venture up in February 2016. 
That month, she got retrenched, while her husband resigned from the Singapore Armed Forces to join the non-profit organisation Centre for Fathering. Then news that she was carrying her third child came. It was time to focus on the enterprise.
Although the retail climate remains challenging, she has managed to open up new sales counters, including Mimento, a boutique-like outlet that houses several brands. It is her largest establishment so far.
But there are still "darkest-moments-of-the-soul type of days", Lim Escaño says. The latest bout manifested two nights before our interview. 
"This journey can be very lonely. When the day comes where I stare at the numbers and I don't know whether I'm going to hit my monthly target, who do I turn to?
"I have to be a mum to my three kids. I have to be there for my husband. And I need the capacity to love people. Does anybody even understand?"
There is no giving up though. There are enough miracles and signs to prove that Abry is "God's thing".
Usually it's a product that arrives from overseas in the nick of time for a press event, or a big-spender customer who comes on the last day and helps the team exceed their monthly sales target. Once, a French representative from a partner brand got pregnant after Lim Escaño prayed for her – the colleague had been trying for years. There are also conversions.
Small setup, great responsibilities
The next step is to make an impact on Abry's customers and the wider industry.
Lim Escaño recognises the power retailers have in influencing the socio-political climate. Multinational brands such as H&M and Topshop have taken advantage of their ubiquity to make a stand, for instance on sustainability issues. 
In spite of its small size and the potential pushback, Lim Escaño knows Abry has a part to play as the alternative voice.
"We can teach others that we can take a stand and yet our business is still growing," she says.  
"We can teach others that we can take a stand and yet our business is still growing."
There are many other problems the industry perpetuates. She lists them down: Identity crises, over-consumption, greed, hoarding, exploitation of customers, class consciousness and more.
These are broad and complex issues to tackle, and Lim Escaño is starting small.
Since October this year, she started to feature stories of patrons on its brands' Facebook page, providing a rare glimpse of intimacy in a transactional world.
This Christmas, she wants to come up with an "inner beauty" marketing campaign that encourages shoppers to learn more about the fruit of the Spirit (Galatians 5:22-23).
Perhaps soon she could come up with a loyalty programme based on their character rather than how much they spend, she muses. 
Where did that idea come from? The Gospel.
As human beings, we are always trying to get the best deal from others, she says. Christ-centred love is different, though. 
"Jesus didn't go for the best deal. He paid the highest price at the Cross, and He would pay any price for us."
If you have enjoyed reading Salt&Light...
We are an independent, non-profit organisation that relies on the generosity of our readers, such as yourself, to continue serving the kingdom. Every dollar donated goes directly back into our editorial coverage.
Would you consider partnering with us in our kingdom work by supporting us financially, either as a one-off donation, or a recurring pledge?
Support Salt&Light