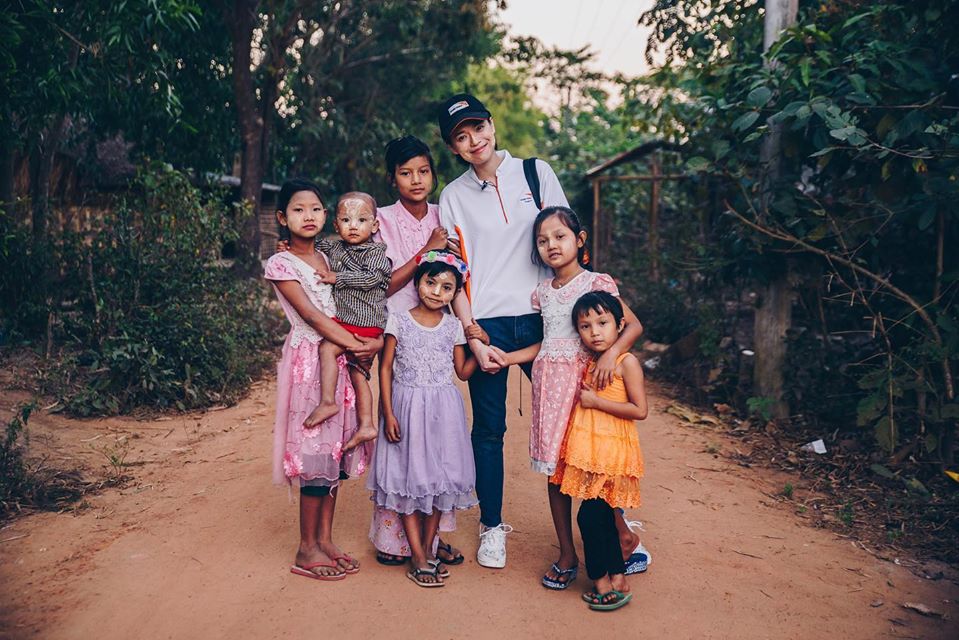 After encountering God five years ago, Felicia put her trust in Jesus and counts it the best decision she has ever made. She is also an ambassador for World Vision Singapore, and is pictured here with the beneficiaries of the charity during a trip to Myanmar. Photo courtesy of World Vision Singapore.
The first time I went down on my knees to pray to God was in a toilet cubicle. 
It was in mid-2015. At that time I was facing difficulties at work and my mind was constantly filled with worries and anxieties that just would not go away.
I'm a bit of a thinker, so various questions would pop up in my mind as I worked, distracting me from what I was doing.
This went on for three weeks. My friends tried to help me but nothing worked. The anxiety still overwhelmed me every day. I did not know who to turn to or what else what to do.
Crystal clear
One day in my desperation, I remembered this God that I had heard about earlier in the year while filming a travelogue in Australia with my softball coach.
During the long road trips, my colleagues and coach would pray to God and sing worship songs to Him in the car together. 
It was different from the first time I had heard about God. I was 17 then and my friend had invited me to church to attend a Good Friday service.
"God, if You are real, please help me with these worries and anxieties."
All I remember was that the preacher said that all who do not believe will go to hell. It was a bit too much for me to stomach then. I left in fear and never went back.
But my colleagues and coach weren't fearful of this God as they praised Him. Even though I didn't know who He was then, I enjoyed this time and felt a sense of peace.
This was the God that I thought about as I was in the bathroom one morning, dreading the day ahead as I prepared to take on yet another day of filming and anxiety.
It was quiet and nobody else was there, so in my desperation I knelt down in the cubicle, closed my eyes and said: "God, if You are real, please help me with these worries and anxieties."
Then I left for work.
Almost immediately, all the questions that filled my mind just disappeared. I felt so much clarity – like high definition, crystal clear clarity. I could even ask myself: "Where are the questions?"
It was quite amazing. I thought to myself: "Wow. Who is this God?"
Perfect love
The next day – I remember it was a Wednesday afternoon – I asked my coach to bring me to church. It wasn't a traditional-looking church, just a rented compound.
When I walked in there were some youths playing basketball, some studying. Just mundane things.
That was the first day that I knew God is love … I wish someone had told me that earlier.
But once I set foot in the place I felt all my fears disappear. There was an overwhelming sense of love, like waves of love were just crashing on me.
After telling the pastor how I felt, she told me that what I was experiencing is quite biblical, as the Bible says that perfect love expels all fears (1 John 4:18).
I realised that what I was feeling was God's perfect love.
That was the first day that I knew God is love. That was very powerful. It had never occurred to me before. I wish someone had told me that earlier.
Leap of faith
As I wondered more about God, I began to pray for things that I thought were impossible, asking God to prove Himself real to me.
For example, I vividly remember asking God to let fellow actor Li Nanxing come and share his faith testimony with me. This was not in arrogance. I was just thinking up a scenario that I thought would not be possible as he wasn't filming at that time and there was no way we would bump into each other.
God was hearing my prayers and answering them in ways I could not have imagined.
A few days later another fellow actor, Rayson Tan, whom I was filming with, shared that his faith testimony had been posted on YouTube. I went home to watch it and happened to find Nanxing da ge's testimony there too. 
As I was watching the video, it dawned upon me that he was actually sharing his testimony with me! That was my answered prayer! A few months later I also got a signed copy of his book, The Real Picture, which details his life story and faith journey.
Through other similar incidents, I began to realise how real God is. I knew that God was hearing my prayers and answering them in ways I could not have imagined.
So when Rayson Tan invited me to attend a church service a few weeks later, I agreed.
The night before the service, I prayed: "God, I know that You are real. If this is for me, can you give me a dream?"
That night I really had a dream where I saw myself walking away from my past, my old self, just away from it all. And then I woke up.
During the service's altar call, this dream came into my mind. Even though I was a little apprehensive at first, I took this leap of faith and gave my life to Jesus.
A Father's love
It's been about five years since I made that decision. I see more clearly now that we all need God's love. We all have hurts and need healing in our lives.
I can speak for myself as I have been through pain. I have also experienced His love and healing. 
I lost my dad to cancer when I was 17. Since then I always craved a father figure who could guide me in my life and in my search for purpose.
I have been through pain. I have also experienced His love and healing. 
I've always tried to live my life in the best way that I could. But there was only so much that I could do because there was only so much that I knew.
I always felt alone, like I had to fend for myself. There were times that I felt so broken, so sad and so lost, but had no one to turn to. I didn't want to speak to my mother about it as I didn't want her to worry for me.
When I was in my 20s, there were two nights that I went to the kitchen at midnight after my mother had slept, knelt on the floor and cried out into the night sky.
The sorrow and loneliness I felt were very powerful emotions. As I sobbed, I remember feeling an ache and a desperation just for a father.
After I received Christ, my pastor did a follow-up session with me. She shared with me that the Lord had told her to start the session at the third lesson: A relationship with the Father.
God had said to her: "Tell Felicia that I am her Father." 
Her words brought me right back to those two times more than five years ago where I was alone on the kitchen floor, crying out for a father.
God had said to my pastor: "Tell Felicia that I am her Father." 
God had heard me. He had always been there for me.
I immediately burst into tears and wept. He was always listening, even when I didn't know Him. Even though I was not perfect, even though I was in darkness, He was always so close.
I was never alone and I have an eternal Father in Him. I will always have a Father with me who loves me and who will guide me in my life.
Recently I asked God to let me feel what a Father's love feels like. As I was quiet before Him, I saw a vision of me resting in His lap, in His embrace.
I just want to encourage people who have lost their fathers when they were young. You may not have felt a father's love. But, not to worry, Father God knows what we are going through. 
His love is for all of us, no matter our background. He knows and His love is there to heal us, as long as we cry out to Him.
Sometimes we feel that we don't know where to go or what to do, sometimes we feel like we need to fend for ourselves, sometimes we feel alone and misunderstood. But He is there for us and He understands us 100%.
Though we are broken pieces, He lovingly picks up each piece and makes them into a beautiful vase. A vase that is valued. He wants to heal us and make us whole again.
Doesn't this make you want to know Him?
Abiding in Him
One of the verses I've been meditating on this year is John 15:5, which says: "I am the vine; you are the branches. If you remain in me and I in you, you will bear much fruit; apart from me you can do nothing."
I like to write verses on used pieces of cardboard and bring them around with me, pondering them whenever I have empty pockets of time.
I wondered: "What does it mean to abide in Him? Why did Jesus use the analogy of vines and branches?"
As I thought about this verse, I found that the image of vines and branches reminds me of fingers attached to a human body. So Jesus is the body and we are like the fingers.
"Please don't go away. You were made to be with me. Let's do this together."
When Jesus says "apart from me, you can do nothing", He's not saying it in a domineering or oppressive way.
He's saying it out of His love for us. He knows us and made us. He made us to remain in Him because that's the only way that we can have life, we can have joy, we can feel His heartbeat and receive His love and healing.
Can you imagine us detaching ourselves from the body? Of course the individual fingers cannot do anything and will die. It has no life (John 15:6).
But in our defiance we think, no. I want my way. Being with the body is not the best for me. I refuse to remain with the body.
There's a lot of joy and freedom in having His Word and presence in you.
God wants to love us. But if we choose to run away and disconnect ourselves from the body, then how is he supposed to? We are all given a choice.
From this verse, I feel like He is telling me out of His loving kindness: "Please don't go away. You were made to be with me. Let's do this together." (John 15:9)
What's most important is to be connected to Him first. Then we can draw strength from His love, know His heartbeat and carry out the good works that He has given to us (Ephesians 2:10).
Now whenever I look at my fingers, I'm constantly reminded of this truth. There's a lot of joy and freedom in having His Word and presence in me.
No one like Him
Sometimes I still feel like I have to be perfect for Him to love me. So, instead of running to Him, I run away from Him when I meet with problems.
But I know that because Jesus died on the cross for my sins, I no longer need to be perfect to be deemed worthy in God's eyes. I can experience this beautiful, deep process of knowing God.
Even in times when I mess up and am angry with myself, He's still there for me and is so patient.
I take comfort in knowing that God is my refuge and my strength (Psalm 46:1). Even when I do not feel it, I set my emotions aside and cling on to this truth. And as I worship Him, I feel His peace, His joy and His love.
Following Jesus is the best decision I've made in my life.
He's the only person in the whole wide world that knows me even more than I know myself. He understands me. He is there to hold my hand 24/7. The love that He showers on us is indescribable, and there is really no one like Him.
---
FOR MORE TESTIMONIES BY CELEBRITIES, READ:
"The devil came to kill, steal and destroy but God restored my life": Actor Li Nanxing
From party girl to World Vision ambassador: Belinda Lee's journey of faith
If you have enjoyed reading Salt&Light...
We are an independent, non-profit organisation that relies on the generosity of our readers, such as yourself, to continue serving the kingdom. Every dollar donated goes directly back into our editorial coverage.
Would you consider partnering with us in our kingdom work by supporting us financially, either as a one-off donation, or a recurring pledge?
Support Salt&Light