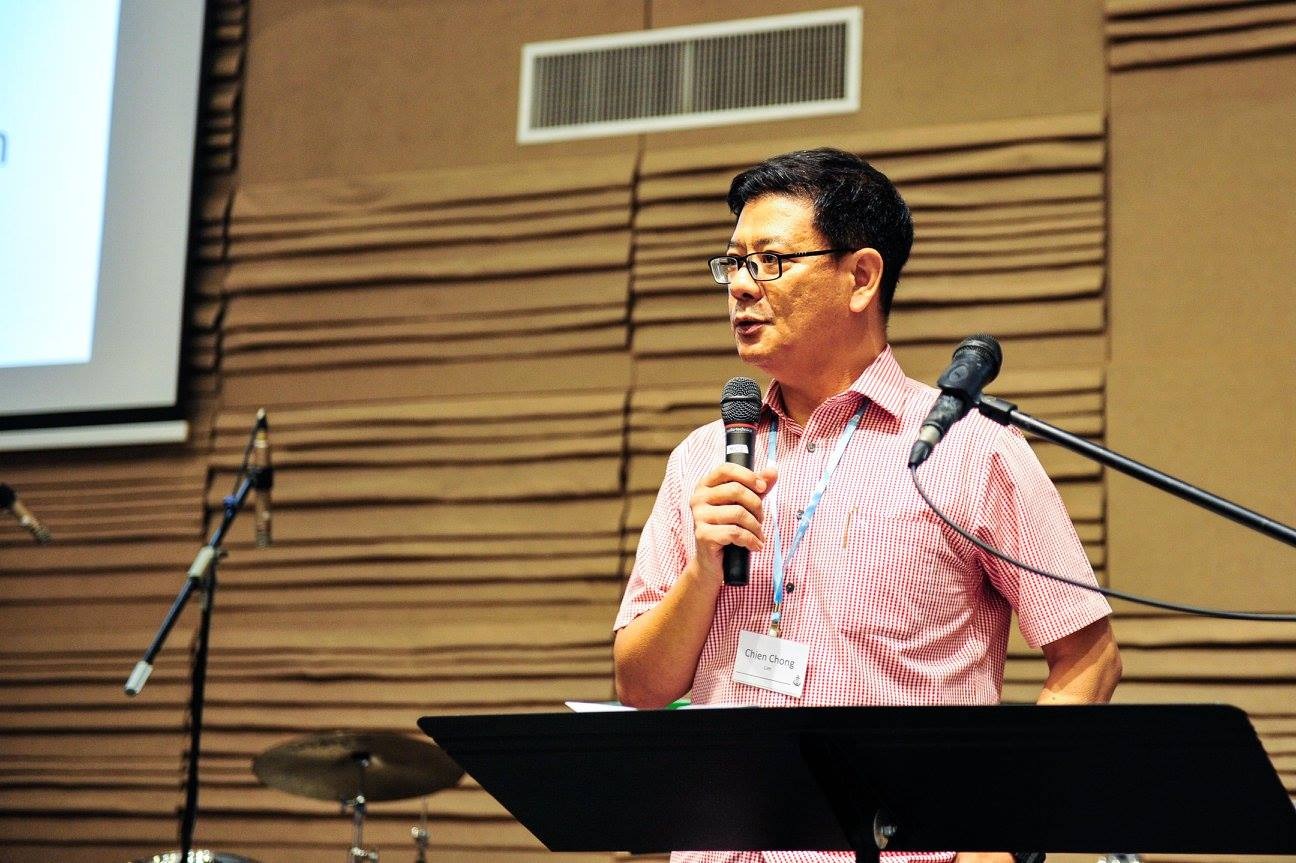 Lim Chien Chong, 54, who handed over leadership of Singapore Youth for Christ in January, reflects on lessons learnt since joining the organisation as staff in 1998. All photos courtesy of Lim Chien Chong.
When he was a Secondary 1 student in the 1970s, an older prefect invited Lim Chien Chong to join the Singapore Youth for Christ (YFC) club in their school.
It would be safe to say that he did not expect to eventually become the national director of the global Christian movement that reaches young people. 
After leading YFC for 16 years, Lim, now 54, handed over the reins to Richard Tan, 45. Tan now heads a younger executive leadership team as part of YFC's renewal of its upper echelons. 
Lim had been planning for this handover for 16 years.
Despite his many years serving at both YFC and amongst churches, Lim is virtually invisible online – no small feat for a man at the helm of an organisation with a nearly 70-year history, 60 full-time staff, some 200 volunteers, and a reach of half a million young people in Singapore.
"I try not to keep a high profile, I try to stay away from the limelight. Fame has its challenges and it can lead to many slippery paths," he told Salt&Light.
Lim was reluctant to dwell too much on the change of leadership. In fact, he was reluctant to even do this interview, agreeing only when Salt&Light urged him to see it as an opportunity to encourage fellow Christians.
Joining the club
Lim become a Christian in primary school when his sister shared the Gospel with him. But he was not allowed to go to church. 
When he was in Secondary 1, an older prefect invited him to join the YFC student club at their school. 
At one of the meetings, a YFC staff invited him to join their Bible study group.
"It was the Lord who brought me to the club," said Lim.
Because of this early connection, it was natural for Lim to pick YFC when he decided to go into ministry full-time. He had been teaching A-level Chemistry for nearly seven years.
"I was quite prepared to be employed by MOE (the Ministry of Education) till I retired.
"But then, I started thinking: If I retire, what would I do? Maybe I would teach the Bible. But if I taught Chemistry till I was 50 or 60, how much of the Bible would I know?
"If I wanted to teach the Bible, why not start at 35? In teaching, I found a job I could retire in. In full-time Christian ministry, I would have a job I could die in."
So, in 1998, he joined YFC as a staff. In 2005, he became its national director.
Taker of instructions
Lim stepped down from the helm of YFC in January, but continues to serve as its teaching and resource director.
It is not common for a leader to stay on in an organisation, he said, noting that there were very good reasons why many have moved out.
Indeed, remaining is not always an easy choice.
"For 16 years, people take instructions from you. Now, you have to take instructions from others and also from those you used to give instructions to."
A younger, tech savvy team was necessary for "a greater push towards technology and innovation" and "a certain level of freshness".
But he does not mind.
He had been planning the handover since Day 1 as its national director. This was a posture he had learnt from YFC leaders before him, including his predecessor Christopher Tan.
"It's not that I couldn't wait to pass over (the position). It's just that leaders are not made in a day. It can take 10 years or 20 years for the Lord to lead us to one whom we can groom.
"So, you need to be ready for it and make preparations for it. If you're not always on the lookout, you may not find someone. Transitions are necessary. Transitions are biblical."
The time was ripe in 2021.
"Often, it comes down to the timing. We need to be sensitive to the Lord about what the right time and conditions are."
There was a group of younger leaders with both the ministry exposure and the commitment to take on the greater responsibilities.
"In full-time Christian ministry, I would have a job I could die in."
A younger, tech savvy team was necessary for "a greater push towards technology and innovation" and to bring "a certain level of freshness" to the ministry.
The organisation was in a stable place. "You want to avoid a handover when the organisation is in a crisis mode."
Lim also had "some fuel in the tank" to look into new growth areas.
The introduction of its new leader was also strategic.
"We are dealing with young people. So, you should always be in a growth mode. In a growth organisation, in order not to hit maintenance mode, you can't wait too long to find the next guy," said Lim.
In a look-back on his time leading YFC, he shares lessons learnt.
Lesson #1. Quit while you're ahead
For 10 years, YFC ran biennial large-scale evangelistic event at St Andrew's Cathedral known as PlayMax. Lim was part of the team that seeded the idea. 
It started out as a giant carnival with something for everyone. After three runs, the team felt the idea was "running dry".
Then someone suggested turning it into a live role-playing game.
"They got the idea from some Korean movie." 
The role-playing was a hit with the young; the fourth and fifth runs of PlayMax attracted a few thousand people. (Interestingly, the fifth edition of PlayMax, called Outbreak, revolved around the story of a pandemic.)
When it came time to plan for the sixth edition, Lim decided to pull the plug. The programme had been running well. But, from experience, he knew that with youths, there is always a need to innovate. He wanted PlayMax to end on a high.
With youths, there is always a need to innovate.
"There are things that are good for a time and season. It is good to call it quits when you're still useful. 
"You need to change to stay relevant. If you want to stay relevant, you need to change because the times are changing." 
It was God-appointed timing because just as they decided not to carry on with the big event, Covid-19 hit.
"We thank God. He spared us from planning and then having to cancel the event."
Lesson #2. Reflect to improve
"Every short while, I will think and I will ask people: 'Does it still make sense?'. I don't do something over and over again just for the sake of doing it," said Lim who has become "more reflective and evaluative" over his years at YFC.
This has given him the agility to "change things to make them more useful". For instance, Lim injected a learner-centric component to its internship programme, Project Serve. Now, interns can choose the area they are interested in being involved in, and YTC will assign a mentor to guide them.
"It's the teacher in me. Learning should be learner-centric. It's not about what you want to teach but what they want to learn. And then we have to think about leading them to what they need to learn."
This mindset has been applied to YFC's work with churches.
"I don't do something over and over again just for the sake of doing it."
"With churches, we want to know what is happening and how we can help one another rather than (come with the posture) of 'we know it, let me tell you how to do it' because in reality we don't."
Lim does not presume to have monopoly on the best approach or the best materials – he has been ready to use curriculum from others and promote events by other organisations.
"I used to think my method was the best, this is the way to do it.
"The Lord proved to me that there are many ways to skin a cat, yours is just but one."
Lessons #3. You're one part in the whole jigsaw
Another lesson learnt through the ministry has been to the looking at the true meaning leadership.
"In the past, I was all about being efficient and effective. That was what I thought was a competent leader.
"As I grow older, these things have not changed. But I also began to see these can't be the only things that drive you.
"You can be the driver, but do people want to follow you?"
"Being able to work with people is key because you can be the driver, but do people want to follow you? I began to realise it's not about how good you are, but how the team works together."
Grasping that he was but "one part in the whole jigsaw" has made Lim less pushy.
"I like to think that I'm not as foolhardy or presumptuous as before."
Lim was also cautious not to adopt a personality-driven style of leadership, but one that involved the "body of Christ".
"Because if it is personality driven, then if I'm gone, then what?"
Lessons #4. You're in charge, not in control
Lim is aware as well that though he has led YFC thus far, he is not in control.
"We are under the illusion that we are in control. Who knew the Circuit Breaker would kick in the way it did? Last year, everyone in charge was not in control.
"There's still so much for me to learn and grow."
"As parents, we are also in charge but we can't control. Our children bring us new revelations every day," said Lim who has two sons.
With choosing his successor, Lim has also seen exactly Who has been in control. There have been times he singled out a potential one, only for his plans to come to naught.
"God surprises you. I know that I am responsible. I involve a lot of people in prayer, seek wise counsel and use discernment.
"But I depend on the Lord and learn how to walk in tandem with Him."
Learning is an ongoing process.
"There's still so much for me to learn and grow to be more like Jesus. That's why I don't think I'm the best role model. God is continuing to teach me."
---
RELATED STORIES:
"Leading well is about loving well": Cru Singapore's Lam Kok Hiang hands over the leadership after 14 years
Bishophood not a prize to be won but a cup to be drunk, says Bishop Rennis Ponniah as he prepares handover
If you have enjoyed reading Salt&Light...
We are an independent, non-profit organisation that relies on the generosity of our readers, such as yourself, to continue serving the kingdom. Every dollar donated goes directly back into our editorial coverage.
Would you consider partnering with us in our kingdom work by supporting us financially, either as a one-off donation, or a recurring pledge?
Support Salt&Light