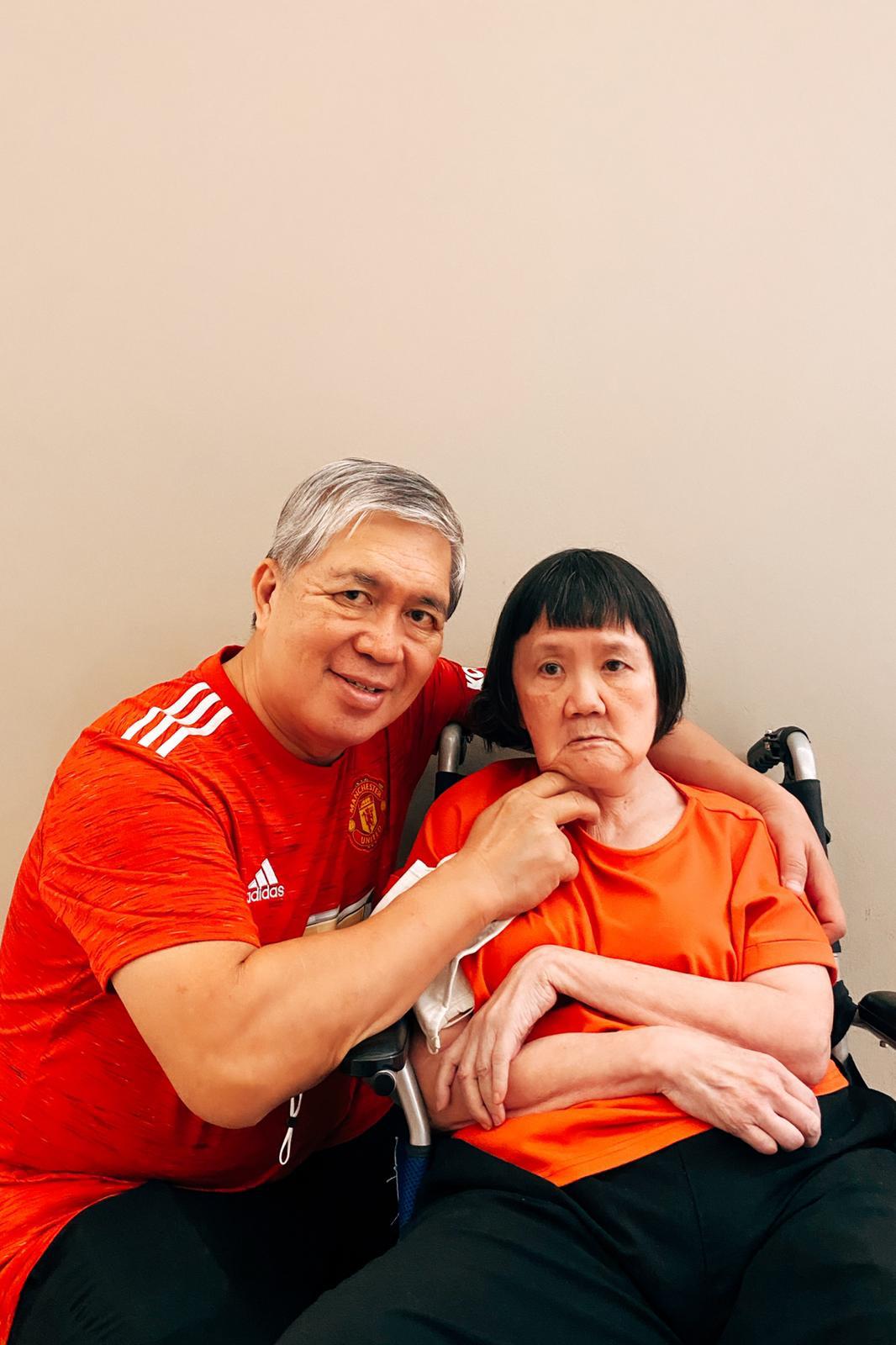 Retired pastor Ps Alvin Ngo and his wife Wai Leng. Ps Ngo has been his wife's caregiver for the last 13 years. She has Alzheimer's Disease. All photos courtesy of Ps Alvin Ngo.
Retired pastor Alvin Ngo, 61, spends almost every moment of every day with his wife of 35 years, Wai Leng. They have been inseparable for the last 13 years.
It would have been romantic had it not been for the fact that being with his wife around the clock is a practical necessity.
Wai Leng, 64, has Alzheimer's Disease. The brain disorder has robbed her of, not just her memory, but also her speech and mobility.
"Slowly, she couldn't feed herself, couldn't clean herself, couldn't bathe herself. She can stand but she can't walk," Ps Alvin said.
The brain disorder has robbed her of, not just her memory, but also her speech and mobility.
"She is sofa-bound, wheelchair-bound or bed-bound. She has lost her motor skills. She is healthy, sleeping well. But the quality of life …"
Ps Ngo is her sole caregiver. They have no domestic help, a decision he made right from the start.
"It's my own personal preference," emphasised the father of two sons in their 30s and a 25-year-old daughter.
"I told the children from the start that I would look after her because she is my wife. I'll do it till, medically, nurses have to come in.
"I don't want a domestic helper. She wouldn't love my wife like I do." 
Ps Ngo knows how his wife's condition is likely to progress.
"In the last stage, the motor skills will go. Then, we have to feed her by tube. I was reading that the average years of survival is eight to 10 years. They die from complications like pneumonia or an accident."
Dementia at 52
Until she had to retire early because of her condition, Wai Leng had been an engineer with Philips Singapore in a career that spanned over 30 years. She had also been serving in the children's ministry, something she had done all her life, said Ps Alvin.
It was her colleagues who first noticed things were amiss. "She kept asking the same questions to the same people."
The couple sought medical help, consulting three different neurologists over three years. At age 52, Wai Leng was finally diagnosed with early onset dementia.
"During the Circuit Breaker, she stopped walking."
"The first thing she lost was her speech. It affected her vocabulary and memory. In the early four to five years, she would want to say something but could not remember the word.
"We would give her choices and she would point to us."
Next, was her ability to move.
"She would see 3D steps instead of a flat floor. To her, a line looked like a step. So, she wouldn't walk."
Ps Ngo took to taking Wai Leng with him everywhere he went, to ensure that she had proper care. He brought her to work, on hospital visits and even when attending crises situations.
"For the first five years, she was still following me to church every day, She was still doing a part-time job. She could still walk on her own, have conversations with those giving her therapy."
She was well enough to follow him on a mission trip.
"You just have to get a better car so she can get in and out easily."
In time, though, Wai Leng's condition deteriorated and mobility became more and more difficult for her. Three years ago, Ps Ngo retired to take care of her.
"During the Circuit Breaker, she stopped walking," he shared.
A letter every day
The couple met in church in 1981.
"As a young P6 student, I was already thinking: What would happen to me if I die? How can I live forever? I would sit in the corner thinking about it.
"So, the question of eternity was somewhere in the heart."
When he was 18, a group of friends invited him to a rally in their church. "They had been praying for me for about a year without my knowing .
"They were really good friends because they valued my salvation."
"If you don't want to marry a pastor, I'm not the guy."
When Ps Ngo heard the Gospel message, he thought that "it was really good news" because it answered all his queries about the afterlife.
After he prayed to become a Christian, his friends took him to their church. Two years later, he met Wai Leng when he joined the church choir. She was then a deaconess in the church and he was leading Bible Study.
Within a year or so of dating, Ps Ngo decided to quit his job and join Operation Mobilisation (OM) in their work in South Asia. He also had the desire to become a pastor upon his return.
"I used to tell people that, if you are very serious about the Christian faith, it doesn't take long for you to decide that maybe you want to give your life to God and start doing the things He wants you to do."
But he had to make sure he had Wai Leng's full support.
"That was the first question we talked about. If you don't want to marry a pastor, I'm not the guy. She is a very passionate and serious Christian, and she said, 'I don't mind becoming a pastor's wife.'"
On Christmas Eve of 1982, they got engaged. Six months later, he left for South Asia. "I told her, 'Wait for me. I will come back.'"
In the two years he was away, he wrote his fiancée a letter every day.
"When I came back to Singapore, I asked for the letters I had sent her and wrapped them up in plastic. They came up to two to three inches thick."
In 1985, Ps Ngo and Wai Leng got married.
"She is a woman in the background, very quiet. I used to tell people, 'If you think I am good, you don't know my wife.' She has a certain strength. If she knows it is the right thing to do, she will fight for it.
"Between the two of us, she is the disciplinarian. I am the one who plays with the children, give money, give gifts. She would be the one to say, 'Go and do your homework.' She would sign them up for tuition. She was a very focussed person, very go-getter.
"I believe that behind a successful man – not that I'm very successful – is a good woman. She helped a lot in our family life and ministry."
"I am still blessed!"
Wai Leng still recognises her husband.
"When she is lucid, she can still respond. She will smile if you ask her to. She might respond to the immediate family – her sons, her daughter, her two daughters-in-law, her grandchild.
"I tell her about herself. I tell her this is her name in Chinese, Cantonese and English. Every night, I tell her what she did, who she is, how many children she has."
"The first question he asked me was, 'Are you angry with God?' I was so grateful for the question."
Though he misses "what she was like", there is no trace of bitterness in Ps Ngo.
On a trip to London two years ago, he met up with an OM leader. 
"He knows my wife. She was lying in the bed. The first question he asked me was, 'Are you angry with God?' I was so grateful for the question because, as I'm a pastor, even some colleagues dare not ask me this question.
"I told him, 'No, I am not.' You do not know the final outcome. You don't know what is tomorrow. Just trust God. We live by faith and we grow in it."
In the beginning, Ps Ngo did ask why bad things happened to good people. But he has since come to terms with his situation.
"There is no fairness in life. You just have to roll with the punches and make the best of it. Sure, her quality of life is not what I wish it to be. But I get to spend more time with my wife than if this did not happen. I am still blessed!"
Durian blessings
His journey has become a testimony to his siblings.
"My elder sis will tell the world I am a perfectionist – I don't like to rush. I can be hot-tempered sometimes. But she tells people, 'I've seen him change when it comes to dealing with his wife. He has the most patience.'"
Some days, I just pray and, lo and behold, someone says, 'I was thinking of you and will send some durians!'"
Blessings have come in other ways. Turning to a bookshelf behind him, he gestured to a row of journals. "These are just from 2015 onwards. Every year, in these journals, I chronicle the things that God did for me."
Each journal is stuffed with envelopes, angbaos (red packets) and gift packets the couple has received. They are evidence of God's providence in ways big and small.
"When you have a need, don't tell people. Talk to God. Ask God, not man, because when He answers, you know it is God, not man."
It is a lesson learnt from his OM days. "This has guided my life."
A week before our interview, Ps Ngo was prompted to give S$1,000 to someone in financial need. "I felt the Lord telling me to take from my savings to give to this person. We are not poor. We have more than enough."
"Ask God, not man, because when He answers, you know it is God, not man."
That Sunday, when he finished preaching in a church he had been invited to speak at, a member handed him an envelope. When he went home, he found that it contained 10 $100 notes.
"It was as if God was saying, 'I ask you to do something, you do. I will return it to you.' God is not indebted to me."
God has even satisfied small needs.
"My wife loves durians. With her condition, I can't go out to buy durians. Some days, I just pray, and lo and behold, a church member will call and say, 'I was thinking of you and will send the durians to you!'"
This has happened countless times.
"You must always trust God because God can do more than what you can think and ask."
A grateful heart
Since his retirement, Ps Ngo's days "have a lot more space and margin" even though he still preaches about twice a month.
"I don't have to wake up to go to the office. I'm more relaxed. I pace myself."
Once a week, he takes his wife out for a drive or a meal. But he admits he does miss the social interaction that was once part of his ministry.
"After over 30 years of marriage, I love my wife."
"I do miss talking to people. But when I get asked out, the first priority is: What will happen to her? Can I bring her along? Will she be fine? Where are we going? Is there a carpark, a lift?
"Being a caregiver, your social life will suffer. There are a lot of things you cannot do or should not do. It takes acceptance."
Sometimes, there is also the loneliness of being the sole caregiver. "I don't want to burden my children even though they offer to help. They say, 'If you pengsan (collapse), then we are in trouble.' They are concerned."
So, he sometimes accepts help from his children. 
"I accept my own limitations. I can't do everything, I cannot be everything," he said. "But this is my commitment and my responsibility as a husband, a father and a pastor. After over 30 years of marriage, I love my wife. I am willing to suffer the inconvenience and all the things."
Ps Ngo has learnt to deal with each day as it comes. "You adapt and manage, then the losses won't be so much."
Contentment has been key.
"To me, everything people do for you is an act of kindness. Everything you get that you don't intend to have or to buy, but is given to you, you are grateful that God has given you these little things.
"Maintaining a grateful heart is very important. It didn't start out this way.
"But at this point, my life verse is: For me to live is Christ (Philippians 1:21). I try to follow that every day."
---
RELATED STORIES OF LOVE AND CAREGIVING:
"God is with us, even as I watch my wife with dementia slip away"
"I realised caregiving is an act of worship": Nurse who spent 20 years caring for mother and husband with stroke
If you have enjoyed reading Salt&Light...
We are an independent, non-profit organisation that relies on the generosity of our readers, such as yourself, to continue serving the kingdom. Every dollar donated goes directly back into our editorial coverage.
Would you consider partnering with us in our kingdom work by supporting us financially, either as a one-off donation, or a recurring pledge?
Support Salt&Light