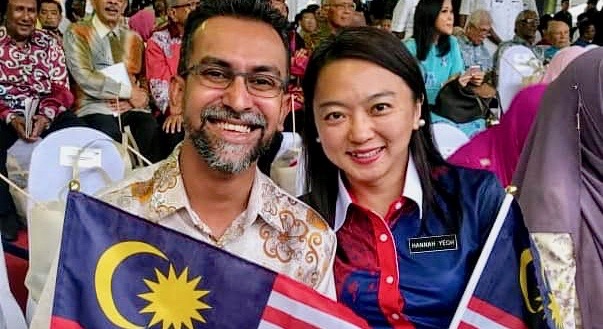 "We did a lot of things backwards," says Hannah. "Where others dated, we got engaged first. We only began holding hands after that. Where others fell in love at the beginning, we only fell in love after deciding to marry each other." All photos from Hannah Yeoh's Facebook.
"There is no other way to tell the incredible love story of Ram and I but to tell it like it happened," says Malaysia's Minister Hannah Yeoh, 43, with her trademark candour.
"A lot of it defies logic.
"We did not date the way couples do before deciding to get married. Romance and love only came about after our decision to marry.
"The first time we held hands was after we got engaged. Ours was literally a marriage made in heaven."
"The incredible love story of Ram and I defies logic."
Read Yeoh's story of how a pastor friend, James, interrupted a casual supper catch-up among friends in a small Bangsar restoran to give in to a sudden urge for them all to pray. As the friends bowed their heads, James straightened up, looked her straight in the eye and said: "Hannah, you're going to receive a marriage proposal in June. Your husband will be a godly man."
The thing is, it was already January and she was still "steadfastly single". 
Unknown to her, however, a young man on the other side of town was receiving divine confirmation that she would be his bride.
Their remarkable tale of love, tension, uncertainty and, ultimately, God's beautiful plan, is one of 34 true stories in the book, Salt&Light: Inspirational Stories of Faith in Families. 
---
To find encouragement for your own journey of grace, or to bless someone who needs hope, CLICK HERE TO GET YOUR COPY of Salt&Light: Inspirational Stories of Faith in Families. 
---
Salt&Light: Inspirational Stories of Faith 
Salt&Light: Inspirational Stories of Faith in Families is now available for order here.

Please note that only orders made by December 14, 2022, will be delivered by Christmas.
While family life may give us some of our most memorable and joyful moments, it can also take us on perplexing and heartbreaking journeys.
In Salt&Light: Inspirational Stories of Faith in Families, find encouragement in 34 true-life accounts that show that unvarnished reality and hope can exist side by side. Draw inspiration so that you, too, may experience life-giving faith in every season of your life, even through times of testing.
If you are seeking wisdom at work, the best-selling Salt&Light: Inspirational Stories of Faith at Work gathers 35 true stories of believers, from entrepreneurs to chefs, ex-offenders to CEOs, whom God called into the marketplace to be light in a dark world in spite of tremendous setbacks that included blindness, depression and loss of loved ones.
Place your order for the books here. Also available are Special Christmas Bundles and bulk orders of 10 or more books.
---
MORE STORIES FROM SALT&LIGHT: FAITH IN FAMILIES:
"The miracle we wanted was her healing, but God gave a different miracle": The moving story of Courageous Caitie in Salt&Light book
Tragic bus accident: "God sent help when I almost gave up," reveals widower and father of two young sons in Salt&Light book
If you have enjoyed reading Salt&Light...
We are an independent, non-profit organisation that relies on the generosity of our readers, such as yourself, to continue serving the kingdom. Every dollar donated goes directly back into our editorial coverage.
Would you consider partnering with us in our kingdom work by supporting us financially, either as a one-off donation, or a recurring pledge?
Support Salt&Light