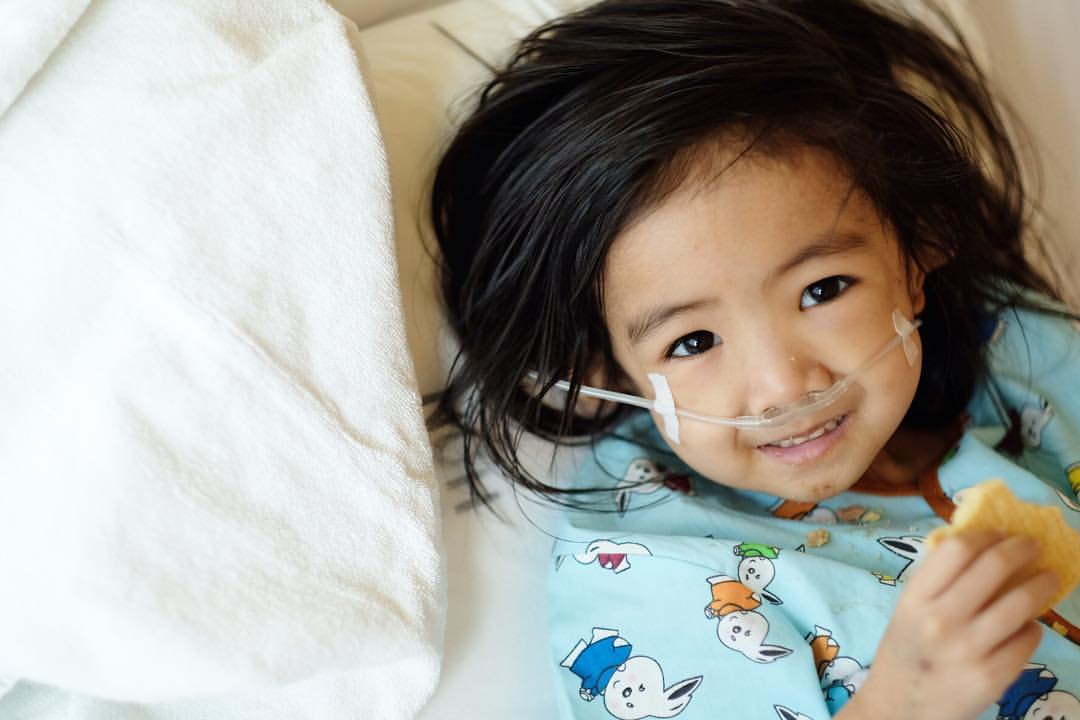 As little Caitlin "Caitie" Lucas battled a rare childhood cancer, she held fast to Jesus. Whenever her mother told her: "I love you the most", Caitie would respond: "But Jesus loves me more than most!" Photo from www.facebook.com/courageouscaitie.
Most people pass on quietly, with friends and family by their side.
But when three-year-old Caitlin "Caitie" Lucas lost her life to cancer, her story was shared with millions. 
What had touched and inspired these people was her tenacity and simple faith in Jesus, which her parents, Feliz and Jay Jay, had shared on a Facebook page and in a video by Faith Out Loud, which went viral and chalked up more than 5 million views.
The family's ordeal began in September 2015, when Caitlin, or Caitie as she is fondly known, started to develop skin lesions that looked like insect bites. This was followed by more serious symptoms like an enlarged spleen and liver, low platelet count and chronic diarrhoea. 
The family flew to Singapore in February 2016, where doctors from the National University Hospital diagnosed Caitie with juvenile myelomonocytic leukaemia (JMML), a rare blood disorder that affects only one in a million children in America.
Despite this, Caitie displayed tremendous strength and bravery and continued to smile, play and sing "Jesus Loves the Little Children" even as she endured numerous wires and needles. 
Her parents chronicled her medical journey and grit on a Facebook page, aptly called "Courageous Caitie", which moved many hearts and quickly garnered a following of more than 600,000 people around the world. 
"As a mother, it was so difficult to say, 'Lord, I love You more than Caitie, and if You want to take her home, okay'," said Feliz. "It was just so difficult. But you realise that Jesus is enough."
Jay Jay added: "We love her. But there is Someone who loves her even more. And that's Jesus."
Their extraordinary tale of love, courage, grief and, ultimately, peace, is one of 34 true stories in the book, Salt&Light: Inspirational Stories of Faith in Families. 
---
To find encouragement for your own journey of grace, or to bless someone who needs hope, CLICK HERE TO GET YOUR COPY of Salt&Light: Inspirational Stories of Faith in Families. 
---
Salt&Light: Inspirational Stories of Faith 
Salt&Light: Inspirational Stories of Faith in Families is now available for order here.

Please note that only orders made by December 14, 2022, will be delivered by Christmas.
While family life may give us some of our most memorable and joyful moments, it can also take us on perplexing and heartbreaking journeys.
In Salt&Light: Inspirational Stories of Faith in Families, find encouragement in 34 true-life accounts that show that unvarnished reality and hope can exist side by side. Draw inspiration so that you, too, may experience life-giving faith in every season of your life, even through times of testing.
If you are seeking wisdom at work, the best-selling Salt&Light: Inspirational Stories of Faith at Work gathers 35 true stories of believers, from entrepreneurs to chefs, ex-offenders to CEOs, whom God called into the marketplace to be light in a dark world in spite of tremendous setbacks that included blindness, depression and loss of loved ones.
---
MORE STORIES FROM SALT&LIGHT: FAITH IN FAMILIES:
"The first time we held hands was after we got engaged": Minister Hannah Yeoh reveals her extraordinary love story in Salt&Light book
Tragic bus accident: "God sent help when I almost gave up," reveals widower and father of two young sons in Salt&Light book
If you have enjoyed reading Salt&Light...
We are an independent, non-profit organisation that relies on the generosity of our readers, such as yourself, to continue serving the kingdom. Every dollar donated goes directly back into our editorial coverage.
Would you consider partnering with us in our kingdom work by supporting us financially, either as a one-off donation, or a recurring pledge?
Support Salt&Light