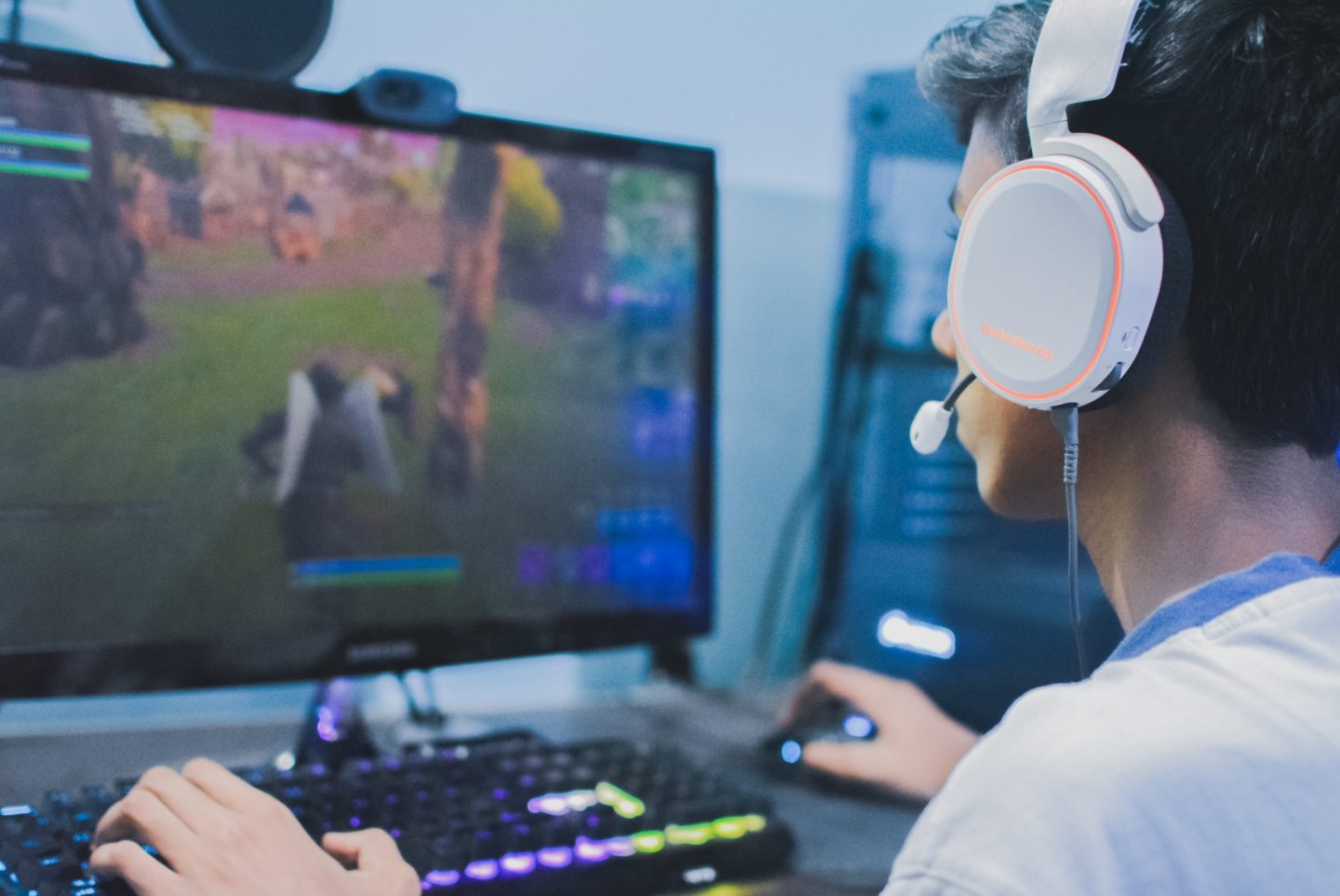 Most of the 550 participants at Salt&Light Family Night's Zoom chat on game addiction said they were concerned about their children aged 13 to 21. Photo by Priyam Raj on Unsplash.
Some were parents. Some were grandparents. Some even joined in from as far as the United Kingdom. All had the same concerns: How do we stop our kids from gaming too much? How much is too much?
Salt&Light Family Night's Zoom chat show on gaming addiction drew some 550 participants on October 13.
Joining hosts Carol Loi and Alex Tee were a family specialist from Focus on the Family Singapore, Chong Ee Jay, who is also a digital life educator and counsellor, and Pauline Phoon who founded social enterprise SOOS OIO which develops youths as well as the founder of COMEBACK, a game dependency intervention programme.
Rounding up the panellists for the night was Peter Tan-chi Jr, the CFO of real estate company AXEIA. Tan-chi is an elder at Christ's Commission Fellowship (CCF), a church in the Philippines founded by his father Pastor Peter Tan-Chi. CCF has over 100,000 members and 70 satellite churches in the Philippines as well as churches and small groups worldwide.
One gamer's story
Perhaps one of the most riveting moments of the night was Tan-chi's open sharing of gaming addiction from a gamer's perspective. He was introduced to gaming by a friend when he was about 10 or 11 years old.
"I would wrestle, go back and forth with gaming."
Showing the participants pictures of the games he used to play which had very basic graphics, Tan-chi said: "They look boring now, but to me they were very exciting."
He would spend hours gaming, playing late into the night and hiding his gaming habit from his father.
Raised in a deeply devoted Christian family, Tan-chi knew that "it was not a good thing to allow my life to be controlled by something".
"I would wrestle (with it), going back and forth with gaming. This would happen on and off throughout my life. I would tell the Lord that I'm sorry, that I was gaming too much.
"I would go to youth retreats, commit my life to Christ and change. I would stop playing for a while. Then I went to college and got bored sometimes, and I started playing again."
"There was always a cost to my gaming."
From being an 'A' student, his grades suffered in the second year of college. "In my family, everyone graduated with honours. I didn't and it was because of gaming."
He failed to get into business school "because I did a terrible job of my applications". Though he eventually quit playing and gained admission into The Wharton School, the business school of Ivy League University of Pennsylvania, his struggle with gaming persisted.
"When everyone was socialising, I would go home and play this game," said Tan-chi, flashing a World of Warcraft picture.
He did graduate with honours this time but he missed out on "close connections" because he chose games over making friends. "There was always a cost to my gaming."
Even after getting married and having children, Tan-chi's gaming habit continued. "My wife doesn't like gaming. It has been a constant challenge in our marriage sometimes."
By his estimation, he has spent over 30,000 hours gaming. That time, he said, could have been spent reading a thousand books or mastering three new skills.
"Gaming has taken a ton of my life. There is a lot I regret."
What changed it all was a Bible passage he read in his 30s – Luke 13:6-9. In it was the parable of a tree that bore no fruit and was given a year to do so or be cut down.
"Gaming has taken a ton of my life. There is a lot I regret."
"This was a night I was gaming a lot and I remembered God speaking to me. I felt God was telling me, 'You've got to make a change'.
"I told God, 'I will give you a year where I won't touch it. I'll stay away from gaming for one whole year."
"What made the change stick this time was not just stopping but 'surrendering my life to the Lord'."
Tan-chi kept his word. A year later, when his father asked if he remembered his promise to God, Tan-chi replied: "I don't even remember the person I was before."
What made the change stick this time was not just stopping but "surrendering my life to the Lord".
"I don't think gaming is a sin. There are times that gaming is fun like with my kids, they like to play a small game. We play together.
"But it's very dangerous for someone who has a history of addiction, so I have to be very careful."
These were some of the questions by concerned viewers that the panellists answered:
What does gaming addiction look like?
Based on a survey by COMEBACK which involved nearly 3,000 secondary school students from seven schools, one in five (19.4%) have some form of game dependency. Of these, nearly 20% have significant game dependency.
The survey conducted by COMEBACK to ascertain game addiction is a 20-question test based on DSM-5 by The American Psychiatric Association. Nine criteria are used. Five or more points of the criteria for at least a year is indicative of Internet gaming disorder.
"But we discourage self-diagnosis, or parents diagnosing your kids. You need a professional to diagnosis this. Our test is done by a registered clinical psychologist who is our chief psychologist.
If occupational functioning is impaired, for instance if they don't go to school or work, that is a sign of addiction.
"(The test) gives us a benchmark to know where they are but actual determination of game dependency is done with a one-on-one with the youth himself," said Phoon.
Chong added that if occupational functioning is impaired – "if they are supposed to go to school or work and they're not" – that would be a sign of addiction.
The amount of time spent, however, is not a good gauge.
Explained Phoon: "Everyone has different time commitments. It is relative to what the demands of their lives are and what responsibilities they have to cater for in their lives."
So, while playing for a long time during the school holidays is understandable, it is not as advisable just before a major exam.
How do we deal with our kids' dependancy?
If you do not want your children to game, what would you have them do with their time? This was something Tan-chi posed in answer to the question of how parents can reduce gaming addiction.
"If you have an empty life, games are one of the more engaging things to do. It is more interactive than watching Netflix.
"The key to stopping gaming addiction is to 'excite our kids with what else is out there'."
"The challenge is: What else should your children be doing with their time? It's very hard because, as parents, we're so busy that we do not cast in our children's lives a vision of what they should be doing with their time and model it for them in a way that they are excited about."  
The key to stopping gaming addiction then is to "excite our kids with what else is out there".
"There is more to life and we need to show them so that they are excited and their time is not consumed by the game."
Sharing the example of his 10-year-old daughter who took 400 pictures on her iPad and created a stop-motion video with them, Tan-chi said: "She's constantly using technology. She's not consuming technology for entertainment. She uses it to create."
Added Phoon: "You can't get them to let go of something they are dependent on without giving them something else.  That is the reason they are dependent."
Chong maintained that, as the pandemic has children spending more time on digital devices, there is a need to "recalibrate expectations of our children's online activities".
Set boundaries based on the number of games rather than the number of hours.
He shared three tips for setting boundaries for healthy gaming:
A: Awareness of the kind of games our young people are playing, their appeal factors and the personalities of the children. "If we are not aware, we react from panic or fear and that causes greater stress."
B: Boundaries can be set when parents understand their children and the games they play.
Said Chong: "Help them to have some structure, help them to have a balanced life. It's not about 'You can't play' but about having a balanced life."
Added Phoon: "Look at the commitments of your child and work out how much time works for your child in terms of time at the computer.
"Don't unilaterally decide (on this) especially for older teens who are past 16. Come to an understanding on why this certain number is good."
An added tip from Phoon is to set boundaries based on the number of games rather than the number of hours. This is because setting by the hours may mean that a gamer has to stop in mid-game, which is very difficult.
One idea Tan-chi shared was to have a family detox where everyone agrees to avoid devices for a time. That time away from games, he said, can be what helps to break the addiction.
"When I get into games as an addict, there is something that pulls me and sometimes it's harder to step back. I want to keep playing because I have a goal.  
"But if I just stop for a week, the brain actually clears up. It's amazing that you think clearer. I have actually experienced it."
C: Conversations need to be empathetic, advises Chong. Parents need to connect with their children to set boundaries because "connectedness is the currency of relationships".
"We are made for meaning, show them where to find it".
"Explain to them your reason. Hear from them their reason. I believe when we have such healthy, ongoing conversations instead of a very top-down directive – 'my way or the highway' – that conversation will fuel greater awareness and help you to be better equipped to set proper boundaries as your child grows older."
Phoon added that parents have to be prepared to be open-minded. 
"If they get the impression that your objective is to get me to stop playing. they will not want to have any conversations with you."
Shutting out something they love so much – "their world is in the game" – will only push them away.
If they want relationship, there is no deeper relationship than one with God because "we were made for Him".
Tan-chi agreed: "When we approach gaming hyper-negatively, the kids withdraw. They are afraid to show you that they like gaming. They are afraid that, if you see it, you will take it away from them. So then they hide and we create these walls."
Instead, talk to them about why they love the games and "lead their hearts in the right direction" because everyone looks for meaning in life. "We are made for meaning, show them where to find it," said Tan-chi.
"Is it the friendship (that is attractive)? Friendships can be built offline as well. Is it winning? Give them opportunities to win. Introduce them to sports. Play basketball and let them beat you."
He added that, if children are looking for purpose, there is no greater purpose than the Great Commission. If they want relationship, there is no deeper relationship than one with God because "we were made for Him".
How do we transition them from the virtual to the real?
In answer to this, Tan-chi shared a verse: "For where your treasure is, there your heart will be also" (Matthew 6:21).
"When your children fall in love with Jesus, then you know you have won the battle against gaming."
"What we spend our time on, we eventually fall in love with. Invest in your children's spiritual development.
"When God grabs the heart of your children, when they fall in love with Jesus, then you know you have won the battle against gaming.
"You can only love one thing. If you are able to influence your children to love God above all else, then gaming will never win because God is more powerful than any addiction.
"When we look at what our kids are doing, we try to stop them by building walls. We are not parenting the heart. The heart is much harder to parent. That's why conversations are so important."
How do we help young children avoid addiction?
With very young children, limiting exposure can help. Chong talked about how exposure conditions young children so that it produces dependency, and the "tolerance level (for games) goes up".
He suggested setting boundaries with young children before introducing the device and empowering them to take ownership and responsibility.
"Sharpen and train their responsibility. Tell them, 'You are the one who will hand back the device to me. You are the one who will switch off the machine.'"
"When we try to stop them by building walls, we are not parenting the heart."
Sharing the example of his nephew who avoids over-exposure to digital devices so he does not become addicted, Tan-chi talked about how this can be extended to older children "so they can self-regulate".
"Teach them that it's more fun playing when you're disciplined. It's not fun when you are completely out of control and devices rule their lives.
"Kids have to learn this so they are not a slave to the game. When kids start to figure that out, the addiction is a lot weaker."
What if they are deeply addicted?
Some participants asked about children so deeply addicted to gaming that they turn abusive – verbally and physically – when they are prevented from gaming.
Phoon suggested negotiating a return of gaming privileges for some changes in behaviour while Chong talked about using the situation to discover the underlying issues fuelling the addiction and anger.  
As an encouragement to parents still struggling with gaming addiction in their children, Chong gave 3 Cs.
"Teach them that it's more fun playing when you're disciplined."
Connect before we correct
"We want to display empathy and understanding, we want the children to be seen, to be heard and to be valued."
Phoon advised "calling out the good" in them as well.
Community can rally around your child
"You are not alone. We are in this community to journey with you. Your children need a community, too. Sometimes you may not be the best messenger to speak into their lives."
Relatives and the church community can be called upon to rally around the child.
Consequences have to be suffered
Sometimes, children may just have to live with the consequences of their addiction.
"In their failure, we can still connect with them and re-establish boundaries."
When do gamers need professional help?
Counselling should be approached holistically, advised Chong. Help should be sought for the entire family rather than for the child alone.
"When there is significant impact on their roles and functioning, they are getting aggressive and there is no sign of improvement, it is time to seek professional intervention."
It is then that the counsellor can decide if the child requires individual counselling or if family therapy is required.
Is healthy gaming possible? 
Some of the time spent gaming can be productive, said Chong.
"We tend to look at the technology and we call it addiction."
"They could be learning useful skills – coding, running through game play. We tend to look at the technology and we call it addiction but we fail to look at the behaviour."
Comparing the long hours spent gaming with those spent reading, he said: "Would we call it addiction (if it were reading)? I don't think so because we think they will be learning something from the book.
"In the same way, when they spend a lot of time on devices, they may be learning something. I'm not saying we condone the long hours. I'm saying: Let's take a balanced approach."
But learning from games is not intuitive, said Phoon. Players have to be taught, much like how parents teach young children to play with the equipment at playgrounds. Playing "mindlessly" will result in little educational benefits.
Why not invest time to research something your child is interested in?
"They are just pressing buttons. That's why we intentionally coach players – how do we use communication, team work and all these relevant elements to make it something educational.
"There's a way to engage each other, socialise in a constructive manner (within games)."
Chong encouraged parents to "intentionally facilitate" their children's learning through games.
"Be interested to research about this just as you would research a recipe or something that you are interested to buy. Why not invest time to research something your child is interested in?
"Find out more – what's the good, what's the bad or challenging aspects of it. And if you're game enough, give it a try. Ask your child to teach you, explain to you about the game play. That becomes a wonderful opportunity to interact."
Then, as parents play with their children, they can dialogue about the things that are of concern to them in the game and the learning points. Their children's behaviour or language during the game can also become "teachable moments" of how to conduct themselves in real life.
Is there a spiritually negative component to gaming?
Games with negative themes – sexual, violence, demonic – are to be avoided.
Talking about his own experience with a game that had demonic themes, Tan-chi said: "I got scared playing it because the stories are very dark."
Games that allow players to create, however, are more positive. "I gave my daughter a coding game. She enjoys it," said Tan-chi.
Where to get help
If someone you know needs help for gaming addiction, contact:
"We are created to create, not just consume": Help your teens enjoy the real as much as the virtual
"Hear me out": Teens tell parents this and other secrets to getting them to open up
Salt&Light Family Night: Discipleship through fostering and adoption
In January this year, a baby boy was found abandoned in a rubbish bin in Bedok. Within a week of the news report, six women came forward offering to adopt the infant or care for him.
Why do couples adopt, especially if they already have children of their own? What does it take to foster or adopt a child? What are the challenges foster and adoptive families face?
Join hosts Carol Loi and Alex Tee as they talk to families who have fostered or adopted children to find out about their experienes.
Date: Tuesday, October 27, 2020
Time: 8.30pm-10pm
Cost: Free
Register here. 
If you have enjoyed reading Salt&Light...
We are an independent, non-profit organisation that relies on the generosity of our readers, such as yourself, to continue serving the kingdom. Every dollar donated goes directly back into our editorial coverage.
Would you consider partnering with us in our kingdom work by supporting us financially, either as a one-off donation, or a recurring pledge?
Support Salt&Light