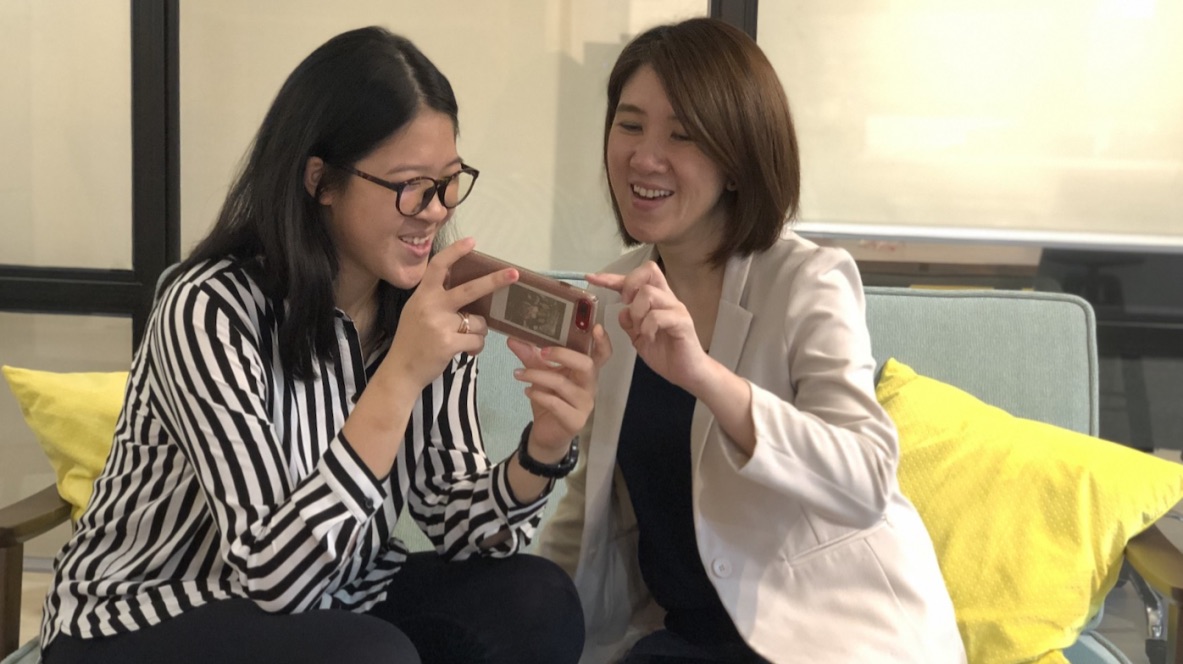 Win them back by showing them what other gifts and talents they can uncover outside of virtual reality, says Carol Loi (right), pictured with her daughter, Nicole. Photo by Geraldine Tan.
"Okay, Mum. For this game, you need to choose a character and what powers you want to have," Nicole Soh, 17, explained as she walked her mother, Carol Loi, 48, through the mobile game.
It was an unusual scene – a teenager showing her mother the latest real-time multi-player game that she and her friends have discovered.
But it was not always like this.
Nicole groaned when she recalled the guidelines her parents set when she got her first mobile phone in Primary 5. Her biggest bugbear: The time limit imposed on her device usage.
"I was a bit resentful back then and I didn't want to listen to the rules. Now, looking back, I realised I could have used my time to do other things," she sighed.
Things could have been worse, if not for her parents' early intervention.
"Look at what God has created"
"It is very natural for children to just be drawn into games. Even for toddlers, they don't need to be taught how to swipe, they just know how to swipe. It's just like we don't need to teach children how to eat sweets, they just naturally know how to eat sweets," explained Carol, a digital literacy educator and founder of Village Consultancy.
"My job as a parent, as I see the environment the children are growing in, is to really give them an alternative – a space to explore different options and different possibilities.
Point children to the Creator's creation and each individual's call to create.
"Because it is through that that they can discover their gifts and talents. They can't know what they are good at, or interested in, if they're only playing games all the time or on their devices all the time, as we only have 24 hours."
However, Carol will admit that it is not easy to compete with the slew of mobile apps and games.
Just how does she and Albert, her 51-year-old husband, do it?
By pointing the children to the Creator's creation (Job 12:7-10) and each individual's call to create (Ephesians 2:10).
"Encourage children to take a look at what God has created surrounding us, what we see in real life is just as beautiful as, if not more beautiful than, what's in the virtual realm," said Carol.
"And remind them to leave space to create because we are created to create, rather than always consume."
Create space for children to discover their giftings.
When we play a game, we are consuming someone else's creation. This steals time and space which could be spent on your own personal development, explained the mother of two teenage girls, referencing 1 Timothy 4:14-15.
"All those seemingly troublesome boundaries are to help them develop those skills, have opportunities to build personal relationships in the real world, have opportunities to explore different interests, different activities.
"This is important for not just physical growth, but also really for body, soul and spirit. How do we ensure that, even in this media-saturated environment, their faith can still be strong?
"It is to give us, parents, space to do all these different things."
Takes two hands to clap
"I think it is also a two-way thing," Nicole chimed in. "Parents can only do so much."
It really boils down to how willing children are to listen to their parents too, she continued.
While it sounds like a tall order – getting teenagers to listen – it need not be so.
"It taught me to know what discipleship is – doing life together."
The key is to start having open conversations with your children from young, advised Carol. This, combined with the boundaries established, give parents the ability to be an influence on their children's lives.
It's not an easy journey and Carol and Nicole will be sharing from their own experience during the ChristianX 2019: The Church in a Digital World conference on October 18-19, organised by Biblical Graduate School of Theology.
Carol will helm a segment on spiritual formation in the digital age, while Nicole will be part of a youth panel discussing the challenges and opportunities in using digital technology in ministry.
Both Nicole and her younger sister, Gillian, are now immensely thankful for the boundaries their parents set in place. The space that their parents created has allowed them to discover giftings that they would not have otherwise known. For 14-year-old Gillian, it is illustration; while Nicole's is playing the guitar.
Nicole shared how she picked up the guitar in Primary 6 when she and Carol signed up for classes: "It was an opportunity to learn together," said the teenager.
"Each generation has a purpose in each other's lives."
"But more importantly, it was to intentionally set time aside to form bonds and also to learn to make full use of our time as there are only 24 hours a day."
Nodding in agreement, Carol also confessed that the guitar lessons were a way to ease her anxiety in supporting Nicole through the teenage season. The lessons had allowed them to learn and practise at home, sing and worship together. Today, Nicole continues to hone her guitar-playing skills and is serving as a guitarist in her cell group.
"It taught me what discipleship is – doing life together. First, ensuring that my walk with God is close and blameless, so that Nicole can see God in me, and then I have opportunities to demonstrate the kind of unconditional love that our Father gives us," said Carol.
"I learnt that each generation has a purpose in each other's lives; the young generation can gain from the wisdom, networks and resources of the older generation, while the older generation can provide, protect and project what the younger generation can become, and support them to fulfil the destiny that God has given each one of them."