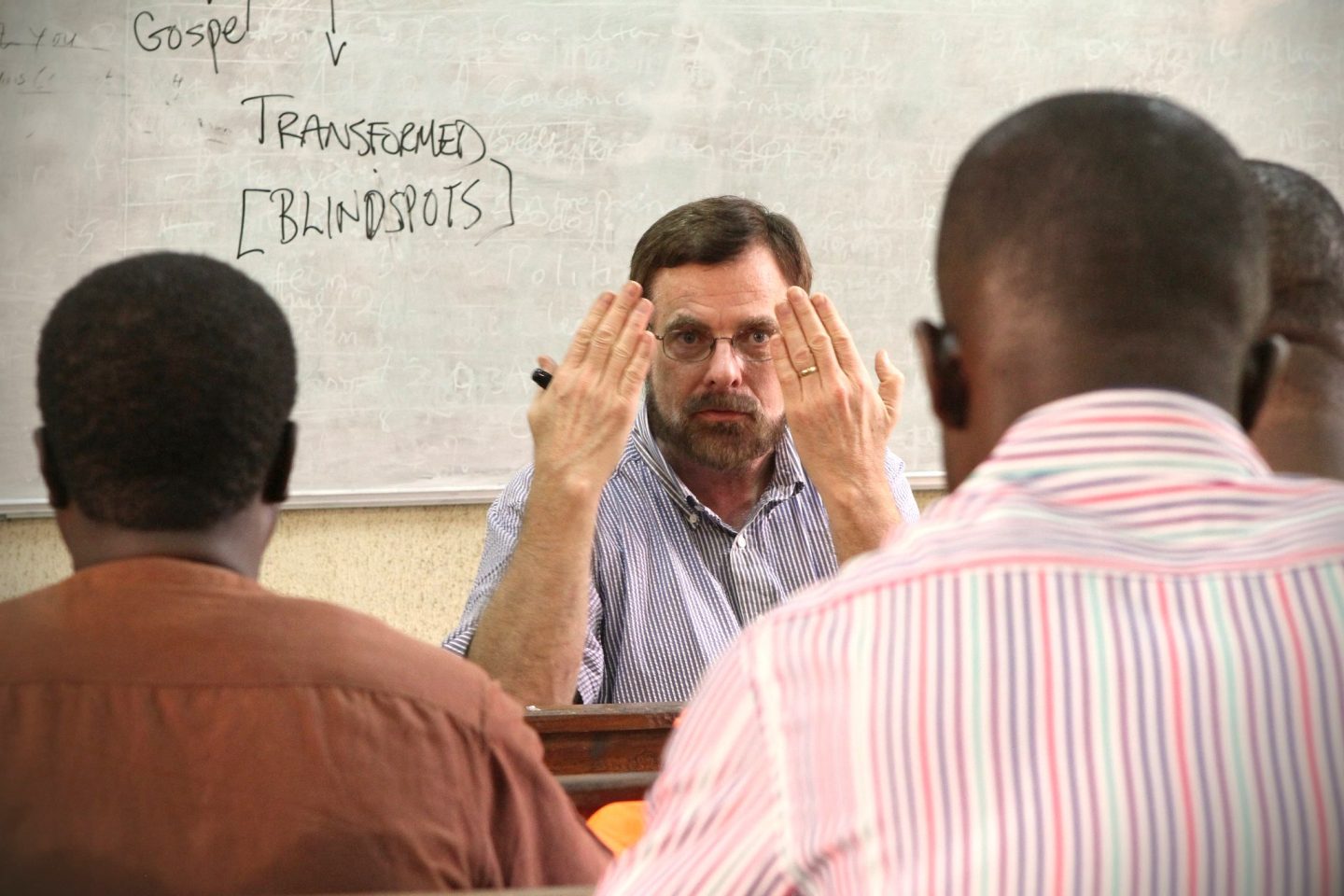 Dr Richard Pratt had one mission in mind: Biblical Education. For the world. For free. All photos from Richard Pratt Facebook.
Many people look for ways to change the course of their lives for the better. Not I.
For more than 20 years, I was perfectly happy being a seminary professor. It was what I had trained for decades to do, and I was quite satisfied that my life was set. Teach, preach, write some books, retire, and enjoy my grandchildren. I was content. Why change?
God had other ideas.
But being the gracious God that He is, He revealed His plans slowly. In 1985, one of my seminary students invited my wife and me to join him in street evangelism in eastern Europe behind the Iron Curtain.
Where the church is growing the fastest, there is the least opportunity for church leaders to learn the Bible.
To see so many come to Christ spurred me to keep making these trips. But because I could go during the breaks in my academic calendar, my life didn't have to change much.
In 1991, the Berlin Wall fell. Churches in the former Soviet Union and elsewhere started asking me to teach their pastors. While I taught these church leaders, I deeply admired their commitment to serve Christ under hardship and persecution.
And as I taught in more and more countries, the Lord led me to realise something that may surprise you as much as it did me: Where the church is growing fastest in the world, there is the least opportunity for church leaders to learn the Bible.
Rightly handling the Scriptures
I couldn't shake the thought. In the Western world where the church was shrinking, there were countless seminaries and Bible schools — I was teaching in one of them.
Yet in Asia, Latin America, Africa, and other places where the church was growing rapidly, there was little access to theological education.
I didn't know what to do, but I was sure of one thing — every church leader must have the opportunity to learn the Scriptures.
The Scriptures teach that God will build his church on the sure foundation of Christ and His apostles and prophets as "evangelists, pastors and teachers" teach the Word of God to the people of God (Ephesians 4:11). But how could these church leaders build up the body of Christ if they themselves couldn't study God's Word?
How could church leaders build up the body of Christ if they themselves couldn't study God's Word?
To be sure, many faithful missionaries worked hard to reach church leaders with instruction in the Scriptures. Even so, experts tell us that over 90% of pastors in the world today have had less than one hour of formal training in the Scriptures.
The task would be enormous, but someone had to make it possible for all church leaders to study the Bible in their own lands and languages.
Convinced that this had to be done, I started calling on existing ministries to take up this mission. I tried for several years, but none felt led to pursue it.
"Send me"
Then, in 1997, the Lord radically altered the course of my life.
The African student had left to study the Bible, but in his absence, his son had been murdered.
A student friend of mine was studying in the seminary library, sitting close to some magazines, when a student from Africa approached and asked her to pass a copy to him. My friend politely handed him the magazine. He sat down, looked at the front cover, and cried out in dismay: "I think that's my son!"
My friend went over, saw the magazine, and immediately understood. The cover was a full-page photo of young African children who had been slaughtered in a small village.
The African student had come to the United States to study the Bible, and in his absence, his son had been murdered.
Deeply affected, my friend immediately called me on the phone: "Richard, we have to stop taking international students away from their families and churches. We have to take seminary to them!"
"Where do you want to do this?" I asked.
"Everywhere," she answered.
"How many church leaders do you want to reach?" I queried.
"All of them," she insisted.
And in that moment, the thought that had tugged at me for years began to take shape.
Together with other friends, we launched Third Millennium Ministries (now Thirdmill) with one vision in mind: Biblical Education.
For the world.
For free.
Forward, march!
We began to create lessons and to build a network of partners who could deliver high-quality, affordable, biblical curricula to every church leader in the entire world.
I'm making it sound easy. It wasn't.
There were plenty of people who told us it couldn't be done. But the Lord always made a way.
In fact, it seemed impossible at times.
We started by recording lessons in my bedroom. I had to learn enough computer skills so that I could add graphics and animations to the lessons and create VHS tapes. The materials had to be able to teach all pastors, including those without formal education, so we added visual effects, charts, and pictures to make the words and concepts come alive.
There were plenty of people who told us it couldn't be done. But the Lord always makes a way for His work to be realised.
Today, we have a team of theologians, designers, artists, videographers, writers, and editors producing award-winning materials that, through a global and growing network, have trained more than one million students in the past 10 years alone.
Here's a snapshot of how the Lord has blessed this vision over the last 23 years:
Thirdmill has produced more than 120 creative, cutting-edge, multimedia video lessons that teach the Old Testament, the New Testament, and Christian theology.
Our lessons are translated into 22 languages and feature 377 expert professors and pastors from 25 nations and 12 Christian denominations.
Our lessons have proven effective for leaders with both low and high educational backgrounds.
Our lessons are distributed in ways that reach everyone — on the internet, through television and radio broadcasts, as well as in partnership with universities, seminaries, Bible schools, international ministries and local churches.
Partners in the Great Commission
Every Christian knows that Jesus commanded his disciples to "Go therefore and make disciples of all nations, baptising them in the name of the Father and of the Son and of the Holy Spirit, teaching them to observe all that I have commanded you" (Matthew 28:19-20).
Everyone has a crucial role to play in this mission to teach and equip.
I once thought that Jesus only meant for us to reach the lost and call them to believe in Him. But look again. Jesus also calls on His followers to make disciples by "teaching them" everything He commanded.
Equipping Christian leaders in "all nations" to rightly teach the Word of God is the only way we can fulfil the Great Commission that Jesus gave us.
I am humbled and delighted to have served as the president of Thirdmill over the past 23 years. Yet, everyone has a crucial role to play in this mission.
We need brothers and sisters to pray earnestly that church leaders everywhere will be able to learn the Scriptures. We need the Lord to raise up champions for the cause. We long to see more schools, ministries, and churches join us in fulfilling the Great Commission.
I was a contented seminary professor, but the Lord changed my path for the sake of His Kingdom. Perhaps you've thought the same — that the path of your life has been set in place as well.
But God's ways are not ours, His thoughts are higher than ours (Isaiah 55:8-9). He may very well have a bigger vision for your life. You will only know, though, if you keep your ears attuned and hearts open to God's call. And if and when you do hear it, the only thing left to do is to follow Him.
As I end here, I leave you with this: Wherever we may be on our journey, God has a plan for our lives.
We need only to remain faithful to Christ, dig deep into the Scriptures, and allow God to build our visions and expand our hearts for His glory and kingdom. 
Thirdmill provides free world-class biblical and theological resources and online classroom solutions. For further information, please visit: https://thirdmill.org or email: [email protected]; or visit :  https://thirdmill.org/onlineClassrooms.asp  to sign up for free to the online classrooms. 
If you have enjoyed reading Salt&Light...
We are an independent, non-profit organisation that relies on the generosity of our readers, such as yourself, to continue serving the kingdom. Every dollar donated goes directly back into our editorial coverage.
Would you consider partnering with us in our kingdom work by supporting us financially, either as a one-off donation, or a recurring pledge?
Support Salt&Light