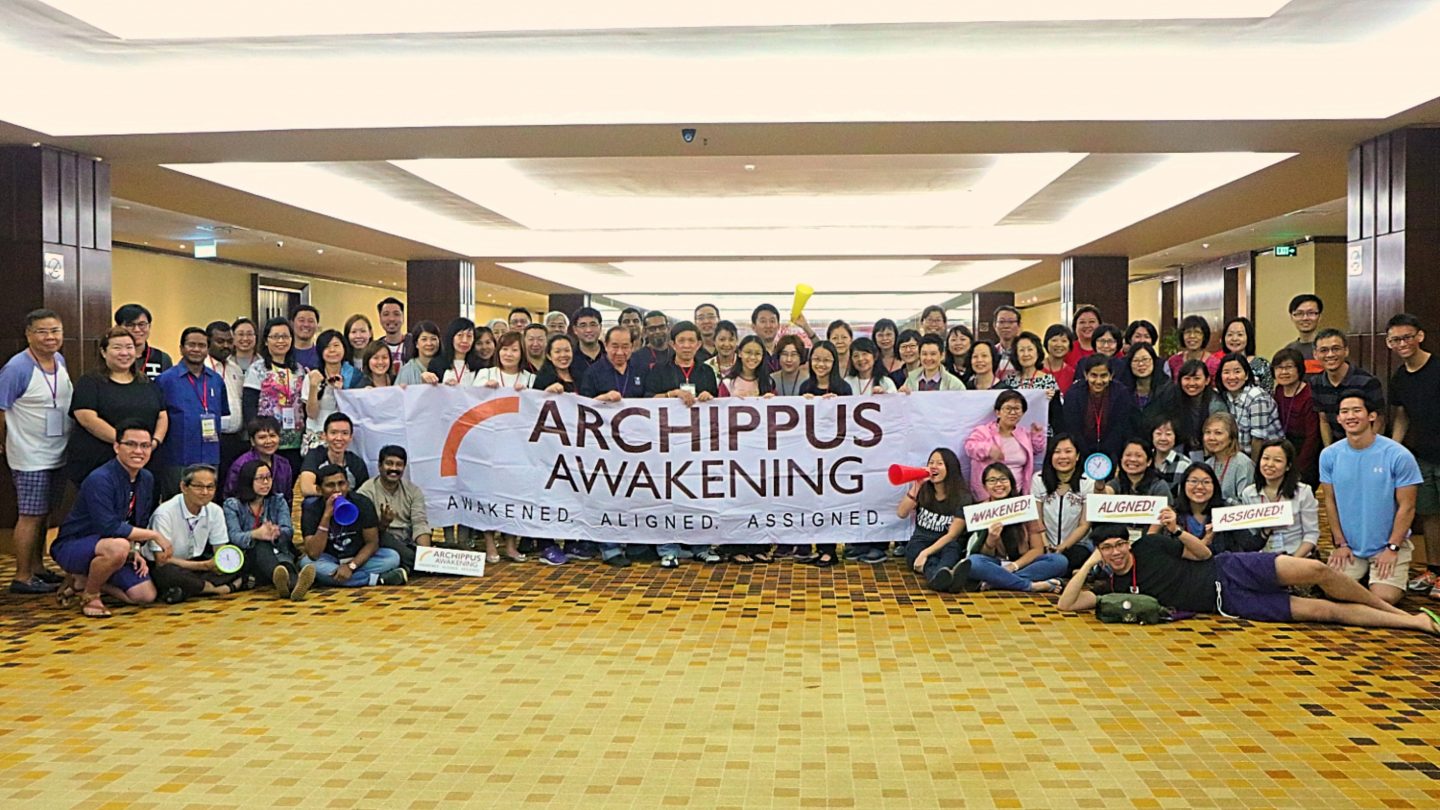 Freshly commissioned Archippuses at AWE2017.2 in Swiss-Belhotel, Batam.
It was slightly more than four years ago but I remember it so vividly.
After a decade of serving in a full-time capacity, I had just received an instruction from the Lord to step down from being a pastor and to await new orders. That was it. Nothing else. Just that "the way by which you must go … you have not passed this way before" (Joshua 3:4).
Then came the first word: awakening.
"The Church is asleep," the Lord said. "I'm about to do another awakening and I want you to be a part of it."
I wasn't satisfied with just another over-used (and abused) Christian buzzword. Reverently, I found myself asking: "Lord, I hear what You are saying to me; and I see what You are showing me. But what am I to awaken Your people to? Without a focus, surely, it would be difficult to stay awake and it is only a matter of time when one's eyelids get heavy again."
The answer came two weeks later through Colossians 4:17: "And say to Archippus, 'Take heed to the ministry which you have received in the Lord that you may fulfil it.'"
Immediately, I knew who to awaken – Archippus! – and what the awakening was for – that he would complete what the Lord has assigned to him.
On August 3, 2014, the ministry of Archippus Awakening was birthed, dedicated to the awakening of the saints to know and fulfil their God-given kingdom assignments.
Like the unknown and obscure biblical character of Archippus, the Lord wants to awaken His army from the ground up.
In the months that followed, the Lord provided many opportunities for this message of awakening to be declared. Quickly, I realised that the need was more serious than I had imagined.
Although the Church is so well-resourced in Singapore, a great number remain clueless where kingdom assignments are concerned. Christians are so busy with church activities. And yet, busyness does not necessarily mean faithfulness or fruitfulness. There is a desperate desire to make sense of what believing, following and serving Jesus is all about, to discern the difference between being a good church member and a faithful subject of the kingdom.
I began to understand the place of Archippus Awakening and why the Lord took me out of the employ of the church to pioneer a work in a way I "have not passed … before" (Joshua 3:4).
This is a message for every believer in the Body of Christ!
Like the unknown and obscure biblical character of Archippus, the Lord wants to awaken His army from the ground up. The days of spiritual superstars are over. It is time for the people of God to be awakened and aligned to know what the Lord is assigning to each one.
Faithful to your personal assignment
When an Archippus is awakened and rightly aligned, he is:
1. Content to be almost anonymous because he is secure in his identity in Christ.
2. Aware of the signs of the times and does not remain apathetic.
3. Able to discern between kingdom assignments and Christian activities.
4. Anything but aimless.
Four years later, I am beginning to see a much larger picture emerge and unfold.
Whilst Archippus Awakening is primarily about the fulfilment of personal assignments, it is closely tied to a nation's destiny. To put it another way, the national destiny of Singapore will not be fulfilled if individual believers do not know their personal assignments.
More specifically, Singapore will fulfil her destiny as Antioch of Asia when the saints are awakened and aligned to know and fulfil their God-given kingdom assignments.
Going forward, 2018 is a rather pivotal year for Singapore. Eighty years since the John Sung Revivals and 40 years since the Billy Graham Crusade, it is time for a cyclical review, we are told. The Church has been challenged and warned that "if you don't choose Antioch, you will end up with arrogance or apathy" (Lou Engle, Kingdom Invasion 2018).
What's our response then? Organise more programmes? Participate in more activities? Do church as usual? Wait for another prophetic word to confirm what we have already heard? Surely not!
Clearly, it is time for Archippuses to be awakened, aligned and assigned for Jesus and His kingdom!
Awakening Event 2018 gathers believers from different streams with one common desire: To be awakened, aligned and assigned for Jesus and the purposes of His kingdom. You can register here or email [email protected] for enquiries.
If you have enjoyed reading Salt&Light...
We are an independent, non-profit organisation that relies on the generosity of our readers, such as yourself, to continue serving the kingdom. Every dollar donated goes directly back into our editorial coverage.
Would you consider partnering with us in our kingdom work by supporting us financially, either as a one-off donation, or a recurring pledge?
Support Salt&Light