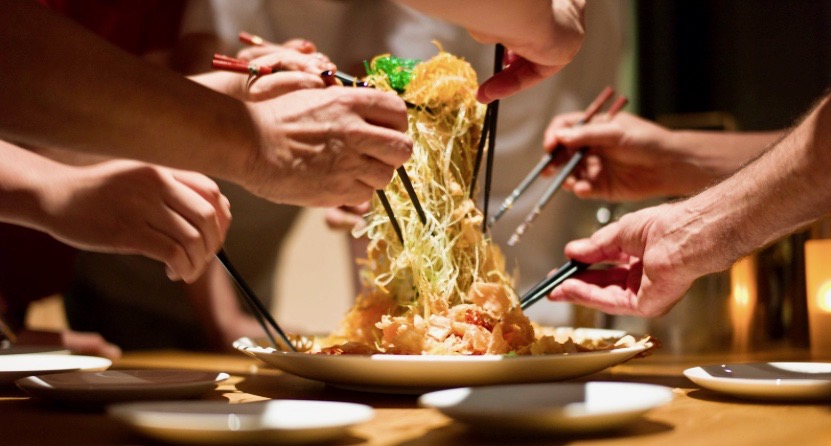 Photo by _Bunn__Bunn_ on Flickr.
Chinese New Year is fun on many counts – the new clothes, the clean house, the angbaos and the family gatherings. But one of the most enjoyable aspects of the celebration must be the food.
More than any other festivity on the lunar calendar, Chinese New Year comes with whole menus of food, many of them traditionally eaten in the hopes of enjoying good fortune and prosperity in the year to come.
Turn a good lo hei into an occasion to recognise the goodness and providence of God.
Yu sheng is one of those dishes. It is eaten because the Chinese name for this fish salad sounds like the phrase "abundant life". Yu literally means fish but is a homophone of the word "abundance" in Chinese and sheng means raw but sounds like the word "life".
Not only is it a delicious dish of raw fish, a rainbow of vegetables, with an assortment of sauces and condiments, yu sheng also incorporates a fun, communal activity.
Lo hei is Cantonese and it means "tossing up good fortune". The key is, of course, to toss the ingredients as high as possible because the higher you toss, the better the prospects for the coming year.
We may be secure in the knowledge that our lives and plans are in God's hands (Matthew 6:25-34). But that does not mean we cannot enjoy a good yu sheng while turning it into an occasion to recognise the goodness and providence of God.
Here are some Christian blessings we can use as we lo hei this Chinese New Year.  (But remember to mask up and do it quietly.)
1. Pocket Yusheng app (PixelMusica)
If a muted lo hei is not quite your thing, creative media production agency PixelMusica has a solution. They have created an app that will bring back the cheer while letting you keep to the rules.
Pocket Yusheng has pre-recorded Chinese blessings and festive cheers that you can play. But it does more than give voice to your Lunar New Year celebrations. It teaches you the order the ingredients of the yu sheng should be assembled. Here is how it works.
Pick the ingredients of your yu sheng on the app. You can do this by tapping on the super cute pictures. There is an array to choose from because not every yusheng dish is the same.
Once the ingredients have been selected, tap the "Generate Yusheng!" button. The app will automatically arrange your ingredients in the order that they should be added. As you add the real ingredients to your dish, tap on the corresponding picture in the app. An appropriate blessing will be played.
When everything is done, tap on the "Huat ah!" button and there will be an energetic round of claps and cheers plus a cheery instrumental piece to round off your lo hei.   
The app is free but it gives you the opportunity to donate to Family Enrichment Society (FES) and Focus on the Family Singapore as an act of Christian charity if you have found the app useful. FES is a charity that promotes family values and the harmonious development of relationships within the family. Focus Singapore is a local charity dedicated to helping families thrive.
"Lo hei brings families together. Like the unique ingredients of the dish that gives it the flavour, so each unique member of family gives family life its flavour," said founder of PixelMusica Adrian Tee.
The idea for the app came on a whim just five days before its launch on Saturday (February 6).
Explained Senior Creative Eunice Wong: "We did it just for fun. We realised that we and many of our friends never really know what the correct thing to say is during lo hei, or the right order to add the ingredients. So, we thought it would be nice to create a simple, fun guide to help.
"Since the regulations don't allow for the shouting of auspicious phrases, we thought it would be nice to have an app do it for us."
2. Lo hei video (Scripture Union)
For a step-by-step how-to of Christian lo hei, turn to Scripture Union's video. It walks viewers through the entire lo hei process complete with Bible verses to turn the entire process into an opportunity to remember God's goodness.
Play the video as you lo hei and you will not only get the steps right, you will have a soundtrack to your meal that will add to the festivities while helping you keep to the regulations.
3. Bible lo hei (Aldersgate Methodist Church)
1. When putting the yu sheng on the table, offer New Year greetings to each other:
新年蒙福(Xin Nian Mong Fu) "May you be blessed and be prosperous!"
万事如意 (Wan Shi Ru Yi) meaning "May all your wishes be fulfilled!"
2. Fish (abundance)
Narrator: The fish is added, symbolising abundance and excess through the year. 年年有余(Nian Nian You Yu) meaning "Abundance through the year", as the word "fish" in Mandarin also sounds like "Abundance".
Leader: (This happened after Christ resurrected from the dead) "Just after daybreak, Jesus stood on the beach; but the disciples did not know that it was Jesus. Jesus said to them, "Children, you have no fish, have you?" They answered him, "No." He said to them, "Cast the net to the right side of the boat, and you will find some." So they cast it, and now they were not able to haul it in because there were so many fish" John 21:4-6
Prayer Leader: Lord, when we obey You, You give us abundance. May this year be a year where we learn to obey You and receive the fruits of that obedience.
People: AMEN!
3. Pomelo or Lime (smooth flow of good things)
Narrator: Traditionally, pomelo or lime is added to the fish, symbolising the adding of luck and auspicious value. 大吉大利(Da Ji Da Li)meaning "Good luck and smooth sailing".
Leader: Jesus said that while other people eagerly seek all things having to do with what one eats, drinks and wears, His people need to be aware of this:
"Your heavenly Father knows that you need all these things (so you His people should) seek first His kingdom and His righteousness, and all these things will be added to you." (Matthew 6:31-33)
Prayer leader: Lord, as we live this new year, may we put You first in everything. By doing so, everything in its turn will find its proper place in our lives. Your peace, like a river, will then flow smoothly in our lives.
People: AMEN!
4. Pepper/5-spice powder (ability to attract good things)
Narrator: Traditionally, pepper is then dashed over the dish in the hope of attracting more money and valuables. 招财 进宝 (Zhao Cai Jin Bao) meaning "Attract wealth and treasures".
Leader: The Lord's favour upon us will attract good things to us. God says, " For I know the plans I have for you, declares the Lord, plans for welfare and not for evil, to give you a future and a hope." (Jeremiah 29:11)
Prayer leader: Thank You Lord for Your good will towards us. We look at the future with confidence and joy.
People: AMEN!
5. Oil/plum sauce ("great increase" of whatever that is good)
Narrator: Traditionally, oil is poured out, circling the ingredients and encouraging money to flow in from all directions. 一本万利 (Yi Ben Wan Li) meaning "Make 10,000 times of profit with your capital." 财源广进 (Cai Yuan Guang Jin) meaning "Numerous sources of wealth." Plum sauce (representing wish for a sweet life) is also added. 甜甜蜜蜜 (Tian Tian Mi Mi) meaning "May life always be sweet".
Leader: Scripture says: "If you faithfully obey the voice of the Lord your God, being careful to do all His commandments that I command you today, the Lord your God will set you high above all the nations of the earth.
"And all these blessings shall come upon you and overtake you, if you obey the voice of the Lord your God. Blessed shall you be in the city, and blessed shall you be in the field.
"Blessed shall be the fruit of your womb and the fruit of your ground and the fruit of your cattle, the increase of your herds and the young of your flock. Blessed shall be your basket and your kneading bowl. (Deuteronomy 28:1-14)
Prayer leader: The Lord has given us increase. He wants to bless us. Thanks be to God!
People: AMEN!
6. Carrots (representing good luck)
Narrator: Carrots are used as the first character 鸿 also sound like the Chinese character for red (红). Carrots are added indicating blessings of good luck. 鸿运当头 (Hong Yun Dang Tou) meaning "Good luck is approaching".
Leader: Scripture says: "You shall remember the Lord your God, for it is He who gives you power to get wealth, that He may confirm His covenant that He swore to your fathers, as it is this day." (Deuteronomy 8:18)
Prayer leader: Thank you God for keeping Your covenant, Your solemn promise to us that You will protect and provide for us. Good things will come to us because of Your grace and love.
People: AMEN!
7. Green radish (representing youthfulness and energy)
Narrator: The shredded green radish is placed symbolising eternal youth. 青春常驻 (Qing Chun Chang Zhu) meaning "Forever young".
Leader: But they that wait upon the LORD shall renew their strength; they shall mount up with wings as eagles; they shall run, and not be weary; and they shall walk, and not faint. (Isaiah 40:31)
Prayer leader: Give us, O Lord, the wisdom of age. Give us also the idealism, the strength and passion of youth. Teach us how to wait upon You and in waiting, find strength to soar this year.
People: AMEN!
8. White radish (progress to a higher level and at a faster pace)
Narrator: Shredded white radish is added – prosperity in business and promotion at work. 风生水起 (Feng Sheng Shui Qi) meaning "Progress at a fast pace." 步步高升 (Bu Bu Gao Sheng) meaning "Reaching a higher level with each step."
Leader: The Apostle Peter writes: " Now for this very reason also, applying all diligence, in your faith supply moral excellence, and in your moral excellence, knowledge, and in your knowledge, self-control, and in your self-control, perseverance, and in your perseverance, godliness, and in your godliness, brotherly kindness, and in your brotherly kindness, love. For if these qualities are yours and are increasing, they render you neither useless nor unfruitful in the true knowledge of our Lord Jesus Christ."
Prayer leader: Lord, give us both the will and the perseverance to grow beyond where we are to where we can be, fulfilling the destiny to which You have called us.
People: AMEN!
9. Peanuts/sesame seeds (representing flourishing returns) &  Crackers (representing wealth)
Narrator: Peanut crumbs are dusted on the dish, symbolising a household filled with gold and sesame seeds quickly follow, symbolising a flourishing business. 生意兴隆 (Sheng Yi Xing Long) meaning "Prosperity for the business." 金银满屋 (Jin Yin Man Wu) meaning "Household filled with gold and silver."
Deep-fried flour crisps in the shape of golden pillows are then added with wishes that literally the whole floor would be filled with gold. 满地黄金 (Man Di Huang Jin) meaning "Floor full of gold."
Leader: May You Lord crown us this year with Your goodness and set us on Your paths that drip with abundance. (Psalms 65:11)
Prayer Leader: Yes! Thank You Lord.
People: AMEN!
The Tossing 
All toss the salad towards the centre seven times and all close with this prayer for each other.
Together (a blessing prayer for each other): May everything you do be Ho-Say (good) everything you eat be Ho-Jiak (tasty) every friend you have and make be Ho Peng You (good friend) everyday live a Ho Mia (good life) and work days become like Holy-days this year.
May the Lord bless you and keep you, The Lord make His Face shine upon you and be gracious unto you The Lord lift up His countenance upon you and give you peace. Amen.
4. Blessing lo hei (Trinity Christian Centre)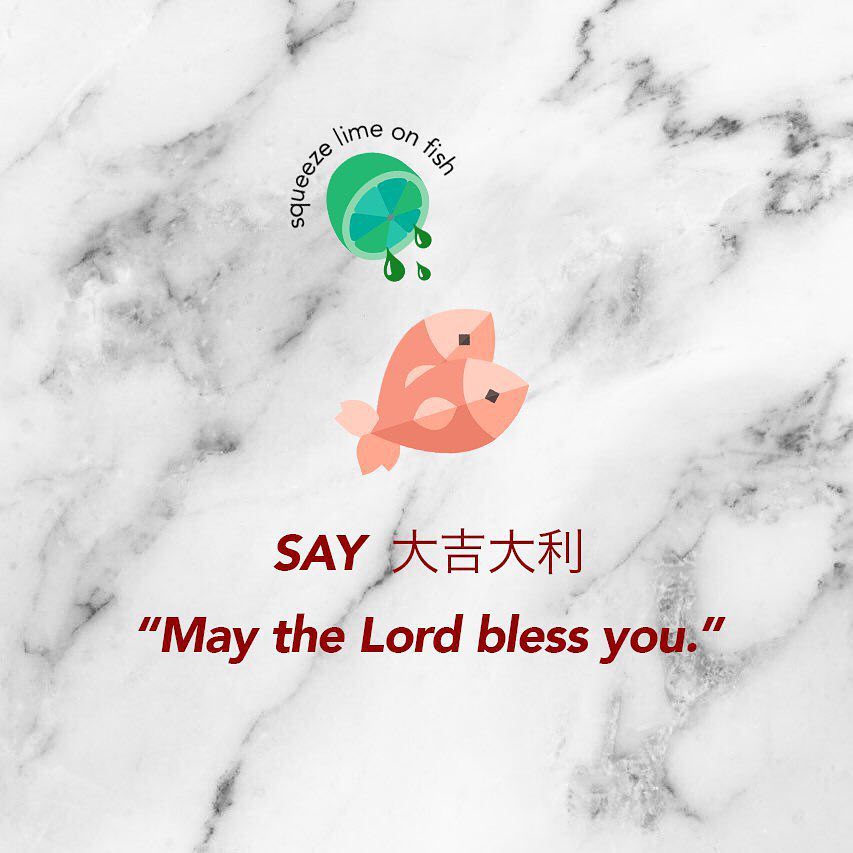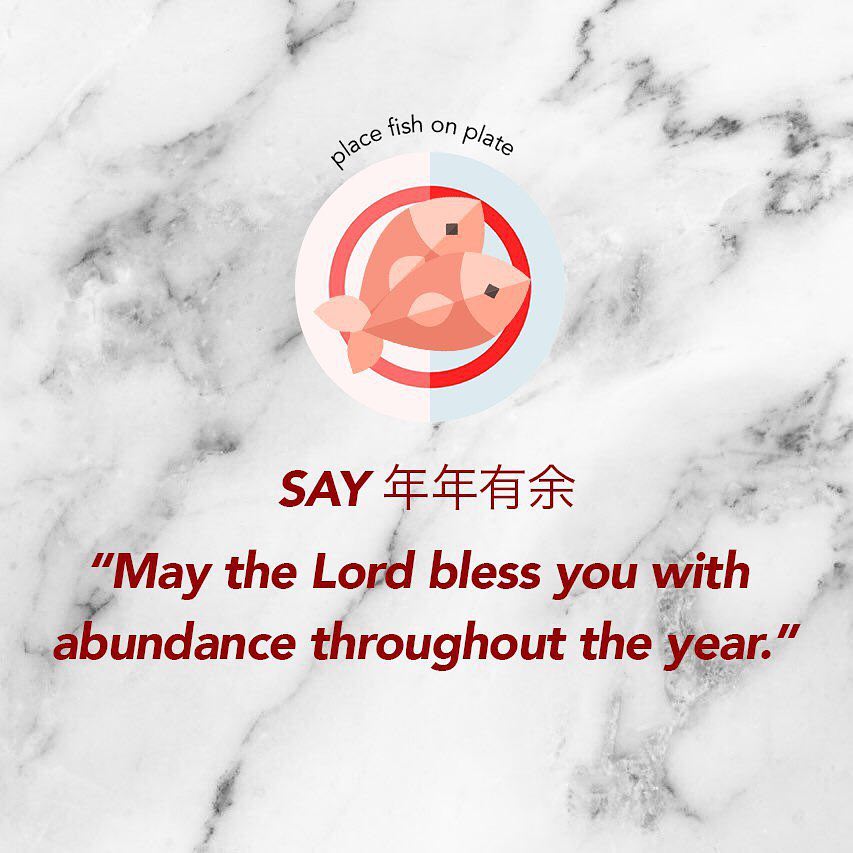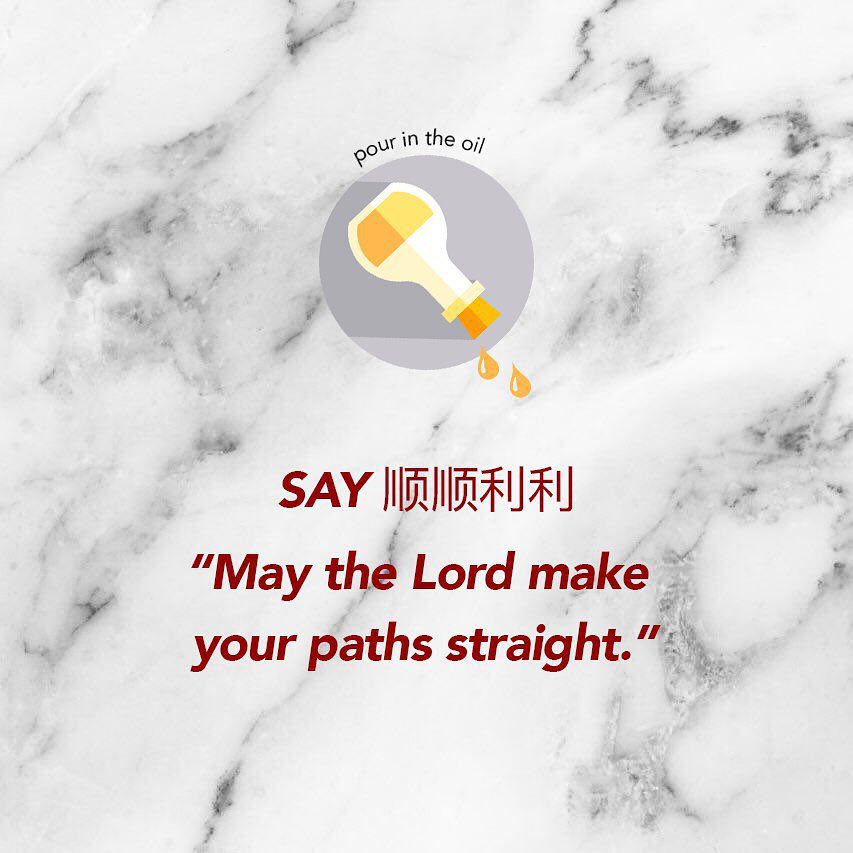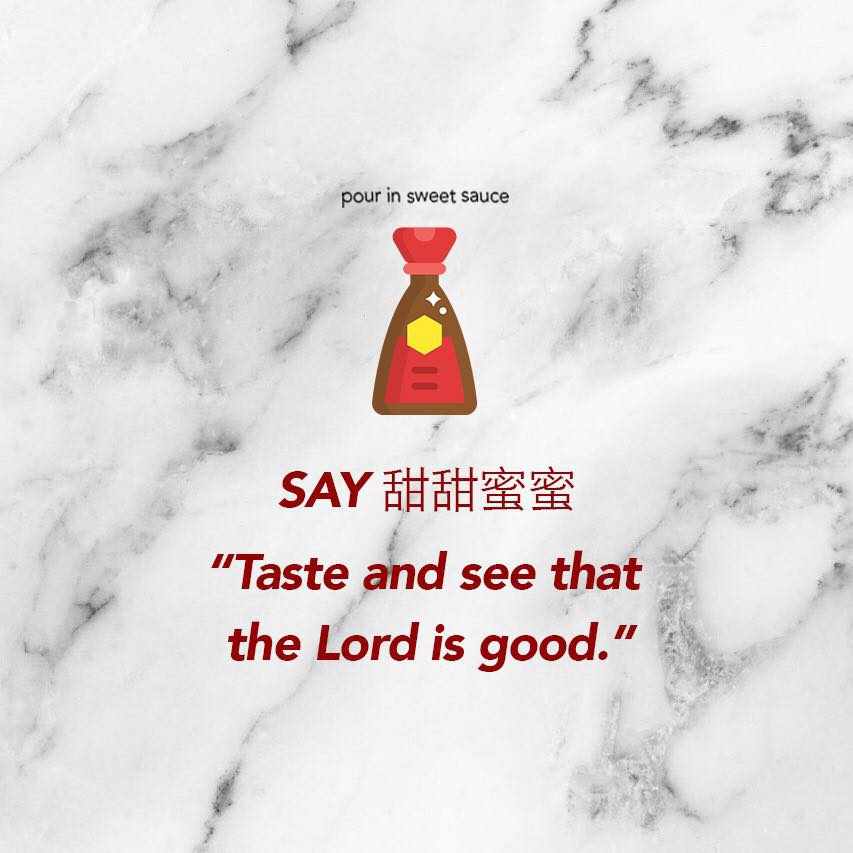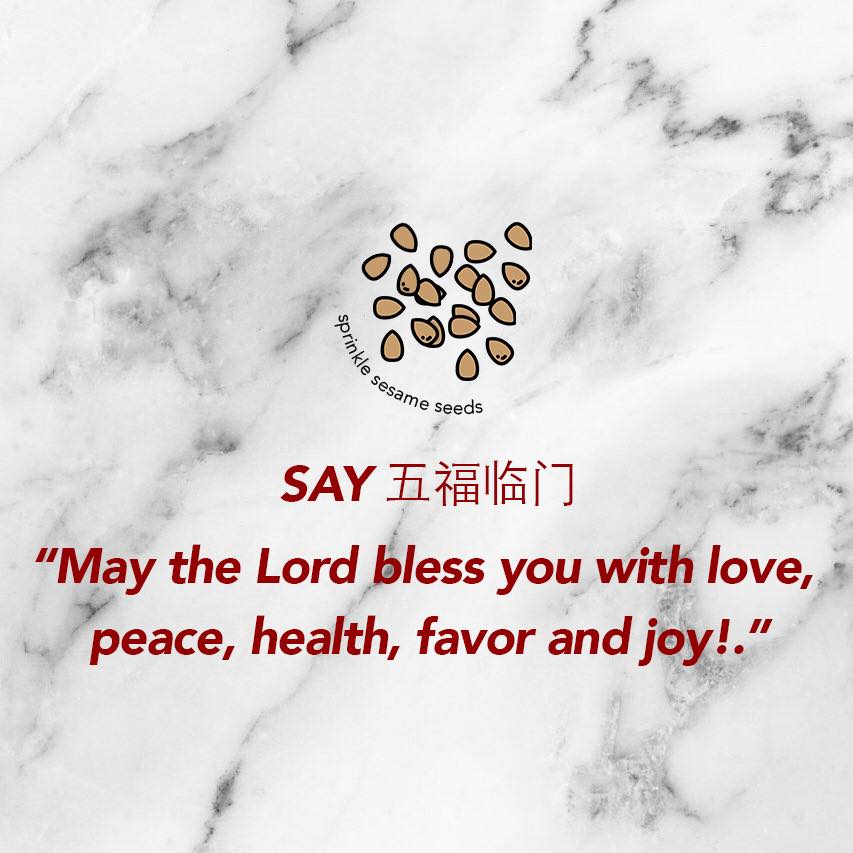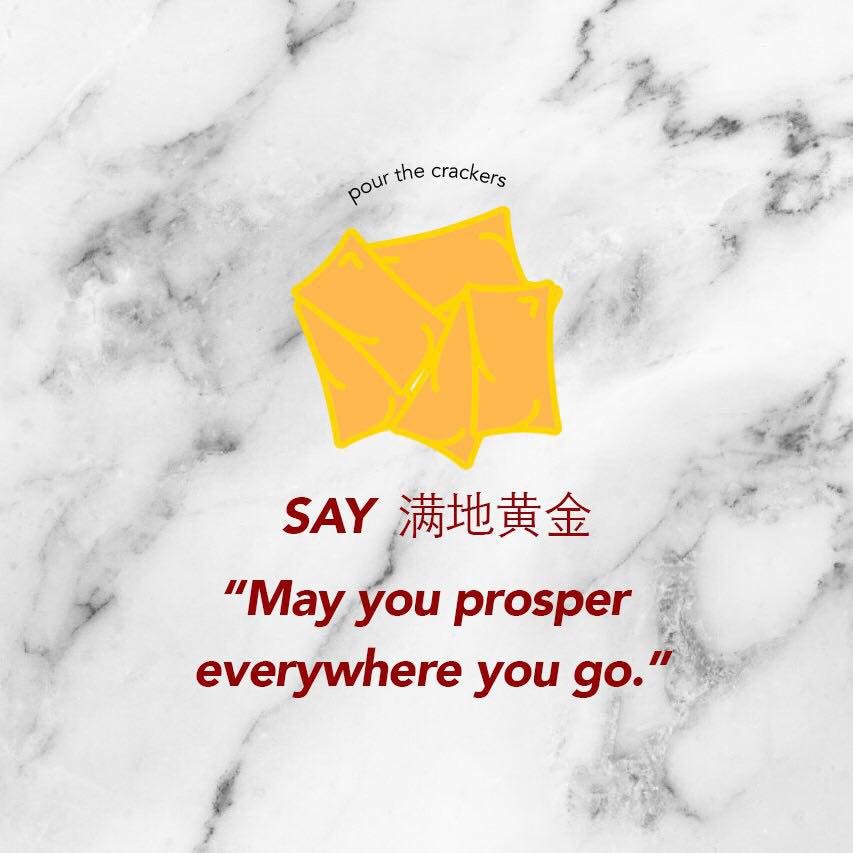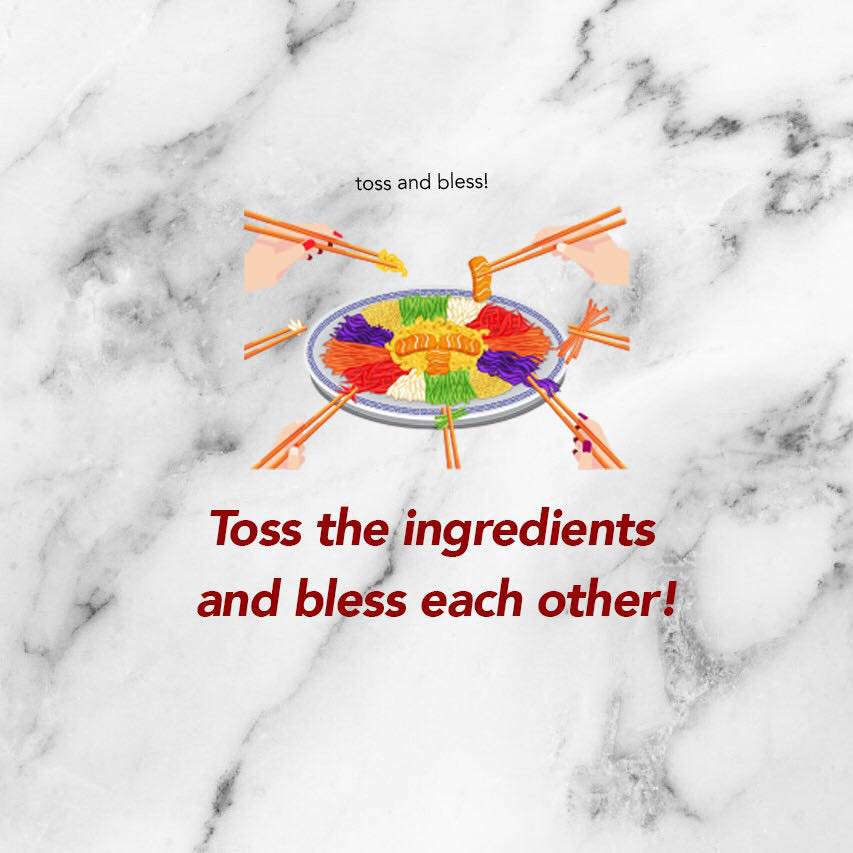 5. Lo hei prayer (Network for Christian Women)
Oh God of loving providence, You have generously given us another year to live in Your goodness. As we celebrate this lo hei meal, we ask of You a special blessing:
On the fish, that it be a reminder of your abundance when Jesus Christ once fed the multitudes with just five loaves and two fishes;
On the oil, that we will never forget the anointing that we as believers have received (at our baptism) from the Holy Spirit;
On the vinegar, that we will always have the edge to live our Christian faith courageously;
On the (salt) spices, that we will flavour with love all that we do, and preserve the divine image that we are made in;
On the mixture of fruits and vegetables, that we may be endowed with the fruit of the Spirit which are love, joy, peace, patience, kindness, goodness, faithfulness, gentleness and self control, so we may learn how to mix with each other in harmony as members of the body of Christ;
On the flour crisps of "golden pillows", that which we have abundantly received, that may we freely share to be a blessing to others.
And so as we toss these with raised hopes, may we never forget that Jesus Christ raised from the dead is our greatest cause of celebration – that of a new and everlasting life.
Accept this, O Lord, our humble prayer of thanksgiving through Jesus Christ, our risen Lord and Saviour. Amen.
If you have enjoyed reading Salt&Light...
We are an independent, non-profit organisation that relies on the generosity of our readers, such as yourself, to continue serving the kingdom. Every dollar donated goes directly back into our editorial coverage.
Would you consider partnering with us in our kingdom work by supporting us financially, either as a one-off donation, or a recurring pledge?
Support Salt&Light