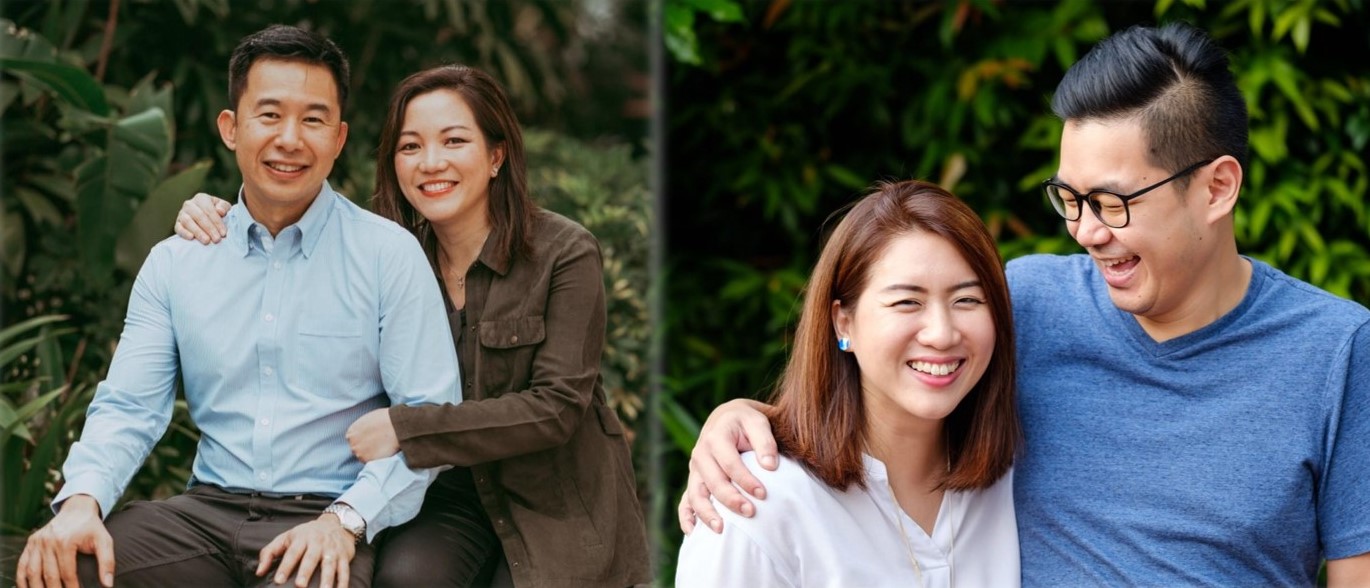 Gary and Joanna Koh (left) and Esther and Elvin Foong (right) shared insights on how to reboot the family in 2021 on this year's first edition of Salt&Light Family Night.
When Salt&Light readers came on Zoom to hear from husband-and-wife teams, Gary and Joanna Koh, and Elvin and Esther Foong, how to start their family's year right, they hardly expected to be encouraged to be "hip". 
HIP – Hope, Intentionality, Preparedness – is the Foongs' catchy reminder to parents who want to lead their families this year with God at the centre of their home.
The Kohs and the Foongs were guests at 2021's first edition of Salt&Light Family Night (January 26): Can I reboot my family in 2021?
The Kohs are firm advocates of strong families and have, between them, over 30 years of experience working with parents and youths. Gary headed the counselling department of a junior college for more than a decade, while Joanna is the CEO of Focus on the Family Singapore. They have a teenage son.
The Foongs are familiar faces to children across Singapore churches. Founders of The Treasure Box SG, a resource centre for families to grow strong in God together, they offer children's programmes to churches as well as tools for families to seek God together. The Foongs have two primary school-going children.
In an on-the-spot survey on Slido during Salt&Light Family Night, most of the participants (nearly 80%) that evening had children. Parents of older children (13 and above) outnumbered those with children under 12. The majority were concerned about the spiritual well-being of their families.
Here are some tips the Kohs and Foongs shared with readers about how to reboot your family in 2021:
1. Be HIP
The Foongs started 2021 with a clear vision of what they wanted for their family. And what they wanted was to be HIP parents.
H – Hopeful
"We wanted to enter the year full of hope," said Elvin.
This despite the year's bleak beginning worldwide.
"We don't sugar-coat the truth. We listen to the news and, in the midst of the gloom and doom, we try to teach them what it means to have a hopeful outlook."
Added Esther: "We can always be hopeful because of the access we have to the Creator of our children, of each one of us and He was the one who decided that we will form this family unit. If God has destined for us and planned for this to happen, He has a plan and we can rely on Him."
I – Intentional
To be "intentional to articulate the goals and tasks", the Foongs sat down with their children at the end of last year to map out what they had learnt from the year, what they were thankful for, their favourite memory of 2020, and what they planned to improve on.
"From there, we talked about what 2021 was going to be like," said Elvin.
Then, they worked out a family schedule to put intention into action.
Intentionality is also about attitudes, reminded Esther. For the Foongs, that has meant communicating in a love language their children understand.
"Nathan loves hugs, cuddles and people telling him, 'I love you'. It's not Elvin's love language".
But this year, Elvin plans to be more intentional, beginning with giving his son head rubs.
Gary is doing the same with his teen son. "I love driving my son to school, being intentional in being there for him."
P – Prepared
The Foongs believe in being prepared for the inevitable. "The point of decision is never really the point of decision", maintained Elvin.
You have to be prepared before you need to make a decision. Prepare for possible scenarios ahead of time "so you won't be caught wrong-footed", said Elvin.
The Foongs have even gone through the exercise of asking themselves: "What if our children stray from the Christian faith?"
Said Esther: "If that day really comes, how will I respond? I must not be angry at my child and at myself. I must understand that everyone of us has our own faith journeys to walk.
"I have to trust that the input I have placed in them will stay with them."
"I must continue to love my child because I think there is nothing that love cannot conquer. The only way that they know that God is real is that we continue to love him or her.
"They are in a scary world when they run from their faith. They need love and a safe place they can come back to. There is no need to fight. That is not your role. Your role is to provide that safe space every single time."
Gary gave a word of encouragement to all parents: "Proverbs 22:6 talks about 'train(ing) a child in the way he should go, and when he is old he will not turn from it'. God knows how much effort we put into training up the children. 
"I have to trust that the input I have placed in them will stay with them as a seed that is planted in their hearts though it is dormant, though it is dead."
2. Do big/small, many/few
The Kohs practise the art of big/small, many/few.
Big: Say big prayers for your children and family. "Pray prayers of faith believing that God can do the impossible."
Small: "Start with small things," said Joanna. "Do the small things faithfully. Many of these small things will build up."
It could be something as innocuous as noticing your child's moodiness after school and giving him a cool drink despite his surly attitude.
The Foongs agree. Said Esther: "This year, we have decided not be so ambitious to 'save the whole world'. We're concentrating on little things that bring a smile and bring the family closer together."
Added Elvin: "If we can find that one thing that will make your child's day, that will make your spouse's day, then be intentional and find it. It's the little things that make a big difference in the family, in the way the atmosphere (of the home) is."
Many: Have many conversations.
Said Joanna: "Many times, you may feel like you aren't getting through – your child is not responding or responding too much and talking back. We remind ourselves to be patient and that it would involve many attempts."
Few: No need to overreact. Have as few reactions as possible.
"Learn to be shock-proof," said Joanna.
In being Prepared (as part of being HIP), prepare "not to alarm ourselves and act out of fear", regardless of what your child tells you.
"You've just got to absorb that information even though inside we are screaming. Instead, say, 'Let's hear you out some more'. The older (the children) get, the fewer our reactions need to be. Stay calm, keep it in."
3. Care for head, heart and hands
Both families agree that self-care is an important starting point as well.
Said Elvin: "Before we reboot our family, we need to reboot ourselves. We can't control others but we can allow God the free reign to work in us."
Gary agreed: "Our role is to stay close to God, get our vertical relationship right. As we grow in intimacy with God, He may tell us certain things."
For Joanna, one of those things was to "fight to rest" because "when I'm grouchy, the whole household is grouchy".
"We can't control others but we can allow God the free reign to work in us."
Pointing to a t-shirt she was wearing that had been given to her last Christmas by her husband that read A Strong Woman, she said: "This is a reminder that being a strong woman from a biblical perspective isn't about doing more and being busy, filling our lives and days with activities and commitments.
"Being a strong woman in God really means finding that rested-ness in Him."
Since she has become more rested, Joanna said her son has remarked that she is now a "much nicer person".
"I have been able to enjoy him and enjoy being with him, even if it's just to watch telly together. Our son is 15 this year and he still enjoys rough play with his mother even at this age. He will pretend to fight with me.
"That I can do this is an indication that I have taken care of my well-being so that I can be in a good state for my child and for my family."  
How Joanna cares for herself is with the 3Hs:
Head
"I need to be mentally well, to find what invigorates me mentally," said Joanna.
This year, the Kohs are learning Korean together as a way to "stimulate the brain cells".
Heart
"We need to find and ask ourselves what is that outlet for us to express our emotions. It's not healthy that we bottle it up and pretend that we have it all together.
"We need healthy outlets. For me, recently, I've taken to binge watching of K-drama," said Joanna.
Esther is watching out for her heart this year as well. "I told Elvin I am going to be intentional to find and build friendships with women that I know that I can journey with."
She has a standing date with her girl friend every month to get together.  She also watches "brainless comedy in Chinese" although she is careful that the content is "not unhealthy".
"I avoid things that have a lot of killings or make you feel very intense or cause you to think in a certain (negative) way."
Hands
Care for your physical health.
Added Joanna: "I also find a physical space that I can retreat to so I can be at rest, be it in bed, or outdoors close to Nature."  
4. Keep the marriage healthy
Beyond caring for self, caring for the marriage is another vital way to help reboot the family.
"I always remember that the greatest gift you can give your child is to love your spouse," said Gary. "People don't fall out of love, they fall out of friendship."
So, date nights are a must for the Kohs once a week or once every two weeks.
Recounted Joanna: "Two weeks after I gave birth, he had to pry me away from the baby. But, I was so glad that he did that, so glad that we got out of the house and left the baby with my parents for a couple of hours.
"That was a milestone. It put a stake in the ground that our marriage needs to still come first."
The Foongs add that apart from dates, holding hands is important to them, especially if they are angry with each other.
"When you hold hands, something is going to break, there is a softening. There is magic in physical touch. Sometimes, we don't even need to talk," said Esther.
A strong marriage allows parents to put up a united front in parenting.
"Come before the Lord to repent where we have contributed to the strain."
For the Foongs, what keeps their marriage strong is the willingness to apologise because it shows that "there is no such thing as a perfect marriage but we can work on perfecting it".
They even apologise to the children when they have been short with each other in front of them.
Said Esther: "We've had to apologise to our children when we were snappy or sarcastic."
The Kohs agree that this is important because children can be impacted by their parents' quarrels. Joanna tells of a time when their son was in pre-school and they had an argument during which they raised their voices.
"Our son went to a display cabinet and took two Precious Moments figurines and he put them apart. When I asked him, 'Why did you do that?', he said, 'Because that is exactly what you did'."
Said Gary: "Our children will feel whatever we are going through. They understand and they will model whatever they see. If we have an argument and never make up, that becomes a model for them."
Added Joanna about what to do when the rift is wide: "Pray big. Come before the Lord to repent where we have contributed to the strain.
"Then start small. Take those small, little steps. If you can't even bear the sight of each other, send messages. Choose a nice emoticon. Do it every day. Small gestures of kindness."
5. Reject mum and dad guilt
Mum and dad guilt are common. Focus on the Family Singapore conducted a survey last year that showed that parents feel they can always do more.
Esther is combating this by being kinder to herself this year: "I'm trying to be more flexible and not to be so hard on myself. Even though we were intentional and have a time-table, I am cutting myself some slack. Things may not happen according to schedule.
"We just fool around in the game and that makes his day."
"Allowing space for change and flexibility. That is very liberating."
For Elvin who believes that "dads are the game-changers", spending time with his children doing what they enjoy is how he makes sure he does not slide into dad guilt.
"I do stuff that I know Nathan enjoys even though I don't enjoy it. He has taken to playing video games. I have joined in.
"We don't have to accomplish anything in the game. We just fool around in the game and that makes his day. Just to see his face light up because his dad is sitting next to him just playing with him."
Gary agrees. Intentionally being with his son is how he ensures he does not get mired in the dad guilt of should-haves, would-haves and could-haves.
6. Prepare for individuation and authenticity
Participants wondered about their older children. Would the tips work with those who were already adults? What happens if the children no longer hold to the things their parents hold dear?
The panellists felt preparedness and hope hold the key.
"It is also okay for them to see our anguish, our desperation."  
"Teens will individuate to become their own adults," said Gary. "They need to unclip from our faith to clip onto God directly. That's the period where they go through the whole existential issue. That's the stage where they can be a little bit more emtional. Those are the times when we show unconditional love and affirmation, so that the home is really the safest place for them.
"And we keep praying. We keep going on our knees praying for that hedge of protection, that God will continue to stir in their hearts, that everything we have sown in the early days is not null and void. It will not return void." 
Encouraged Joanna: "I do feel that we have a little bit of a leg up managing our children's generation because they are a generation looking for authenticity rather than perfection.
"Part of that authenticity is that they can see that we struggle. It is also okay for them to see our anguish, our desperation."  
In fact, seeing their parents wrestle with their faith will give the children a chance to see the faith as real and relevant. This could be "a great testimony" to them, particularly those who are also struggling with their own faith.
"Rather than for us to try to focus on recovering the faith for our child, maybe it's a good time to increase our faith in ourselves," added Joanna.
"Dad guilt" but fathers chip in more during COVID-19, says survey of over 2,400 fathers
6 in 10 mothers face higher stress during Circuit Breaker, says survey of more than 1,000 mums
If you have enjoyed reading Salt&Light...
We are an independent, non-profit organisation that relies on the generosity of our readers, such as yourself, to continue serving the kingdom. Every dollar donated goes directly back into our editorial coverage.
Would you consider partnering with us in our kingdom work by supporting us financially, either as a one-off donation, or a recurring pledge?
Support Salt&Light