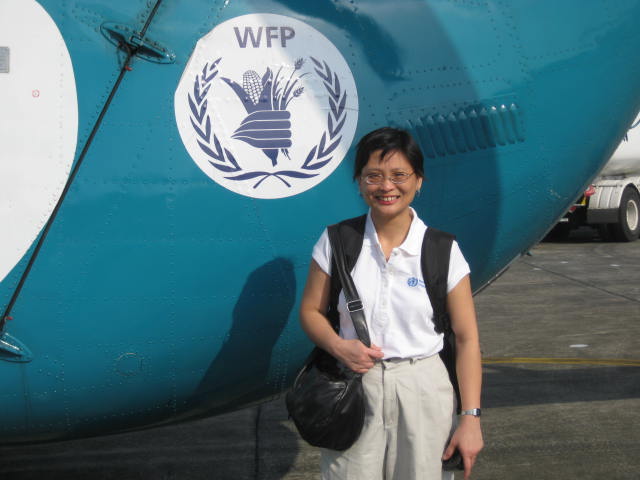 Dr Lim Poh Lian on a WHO outbreak mission.
"The symptoms of love were the same as those of cholera." – Gabriel Garcia Marquez
It was a quote from one of the books, Love in the Time of Cholera, on Dr Lim Poh Lian's crowded bookshelf.
And unbeknownst to her, she was about to learn what it truly meant to see love and disease meet in one cataclysmic clash.
Tragedy and heroism
Dr Lim was a young mother when she arrived in Singapore to work for the first time in 2003. Malaysian born and American citizens, she and her husband, Yap Vong Hin, stepped off the plane with three young children in tow, including a toddler from China, adopted barely a month before.
She also happened to be an infectious diseases doctor.
Within three weeks of starting work in Singapore, SARS hit. And her young family found themselves in the eye of the hurricane.
"It was probably the hardest six months of my life," says Dr Lim soberly. "We were fighting for our lives, working 80 hours a week in outbreak conditions. Apart from patients, I was taking care of doctors and nurses who were dying. I had never worked here before and it was a very harsh introduction to Singapore.
"There was a lot tragedy but also a lot of heroism. It was an incredible privilege to work alongside all those people."
"But I remember, in the middle of all that, walking into the hospital auditorium one day where they'd called a prayer meeting and seeing all these believers who were praying – people who had come from the community, from churches, to stand with us and pray for us. It was just such an incredible experience of grace in the midst of crisis.
"There was a real bond among the doctors and nurses and helpers who were working together – people who were basically standing in the gap to fight the outbreak."
The poignant stories of courage and dedication left a deep impression on Dr Lim.
One of them was of Dr Alexandre Chao, who voluntarily cut short his leave in the US to fly back and join his colleagues in the fight against the virus.
The vascular surgeon, who was the only son of the late forensic expert Chao Tzee Cheng, was one of the 33 people in Singapore who succumbed to the virus.
Dr Chao's wife, Dr Koh Woon Puay, remembers his "unwavering decision to return as soon as he heard the news about the outbreak in SGH".
"He advised me against going to Toronto for a research award and presentation at that time (Canada was also in the midst of a SARS outbreak), but never did he once doubt his own decision to return to the frontline of danger," she said in an interview with Singapore General Hospital (SGH). 
"I remember there were weeks when I would go to church and just sit in the pew, crying," recalls Dr Lim. "During the week you're sort of doing, doing, doing, and you're just keeping it all together. And when you have a chance to sit down and reflect, everything just catches up with you and you just grieve for the people who are dying.
"There was a lot tragedy but also a lot of heroism. It was an incredible privilege to work alongside all those people."
God in the midst of crisis
Matters escalated even further when Dr Lim's father took ill in Malaysia.
"My father was in poor health and he underwent surgery in Malaysia. Although I had planned to take leave during his surgery, I couldn't go through with it because I was working the outbreak here. He had a post-op complication and died.
"It was very hard, because we were in the middle of the SARS outbreak and when I went to his wake and funeral, my relatives, who had known me for 37 years, refused to shake my hand."
"I found that the only thing more stigmatising than being an AIDS doctor is being a SARS doctor."
Some might call the Yaps' move to Singapore untimely, even unfortunate. But that thought never crossed the Yaps' mind.
"God was very much in the midst of it all. We had a very, very clear sense that the timing was providential. I felt like a fireman who had been training all my life and then 9/11 happened," says Dr Lim.
"I was literally only the sixth infectious diseases doctor who was at the hospital taking care of SARS patients."
Yap agrees. "In fact, we felt that we were here at the right time. Even though so many things were happening, we never looked back. Obviously there were concerns, but you just have to trust in God."
In fact, Dr Lim, who had studied and worked in the US for over 20 years, had been praying to move back to Asia.
"We had a very clear sense that we were called to be here and, as hard as it was, if this was where we were called, this was where we were meant to be.
"I was working with AIDs patients before this, and then I found that the only thing more stigmatising than being an AIDS doctor is being a SARS doctor!"
Medicine as missions
The calmness with which Dr Lim recalls this traumatic period of Singapore's history – and, more poignantly, her own personal history – belies her tremendous faith and courage.
"SARS is not voodoo or black magic. It is an infection," says Dr Lim, who received her BA in Biochemistry from Harvard, medical degree from Columbia and Masters of Public Health from Tulane.
She had dreamt of being a doctor since she was eight, after reading about Edward Jenner, Louis Pasteur and other pioneers in medicine.
"There was so much fear, despair and stigma for AIDS patients that I felt Christians needed to be in the frontlines."
"I was in medical school in New York City from 1987 to 1991, right when HIV AIDS was peaking. So death was very real. We got splashed with the blood of HIV patients in the course of our work, so we had already faced that fear.
"But I had a very clear sense I was called into medicine and God equipped me and gave me the opportunity to be in medicine."
At Urbana, a student missions conference, which she attended at the age of 19, she made a commitment to serve the Lord overseas (outside of America, where she was studying at the time).
So during the long years of medical training in the US, she turned down offers for a US green card because she felt called elsewhere.
In her final year as a medical student, she worked for two months in Zimbabwe at a mission hospital.
"There, I felt the Lord was calling me, not to Africa, but back to Asia. That's how we ended up in Singapore in 2003."
Medicine, to the stalwart doctor, was equivalent to missions.
"I see my current work as being a tent-maker, like Paul. I went into infectious diseases because I found the area intellectually fascinating and I also see my work as worship – loving God with all my mind.
"God has given us not a spirit of fear but a spirit of love and power and a sound mind (2 Timothy 1:7). And we want to love God with all our heart, soul, mind and strength (Matthew 22:37)."
She knew that her specialty would be particularly useful in developing countries where people still struggle with infections such as tuberculosis, malaria and other tropical diseases.
"Public health allows a focus for the needs of poor and marginalised communities. HIV was the struggle of our time. There was so much fear, despair and stigma for HIV AIDS patients that I felt Christians needed to be in the frontlines, caring for people with HIV infection.
"The grace and truth of Christ are most needed in the darkest places."
She adds with conviction: "The reality of being a doctor is that you have a duty to care for your patients, even at risk to yourself. I don't think of it as heroic. Someone has to walk with patients through the valley of the shadow of death. And the reality is that we are human and some of us will succumb. In a sense, you can't love your own life more than the duty that God has given you."
Through the valley of shadow 
If the Yap family thought that the worst was over with SARS, it wasn't. Another crisis was to hit the family.
Four years ago, Dr Lim was diagnosed with breast cancer.
"My mother had breast cancer, so I had been getting regular mammograms. But it was still a shock," reveals Dr Lim, who subsequently underwent surgery, chemotherapy and radiation therapy.
"Cancer is like an earthquake where you find out whether the foundations on which you've built your life are solid, or whether everything comes crashing down.
"With cancer, you find out whether the foundations on which you've built your life are solid, or whether everything comes crashing down."
"I came through it with a renewed sense of the love of Christ, who walked with me through my valley of the shadow of death.
"For me, cancer was a sobering reminder that we need to realise our days are numbered in God's book of life, and we need to apply our hearts to living wisely."
As an infectious diseases specialist, she is no stranger to mortality.
"My medical training in New York, Boston and New Orleans took place at a time when we were fighting for the lives of our AIDS patients. During SARS, I saw medical and nursing colleagues and patients, many my age or younger, dying in the outbreak.
"I've seen people of all ages and walks of life get sick and die – some suddenly, some after a long illness.
"I have always tried to live life as fully as I can, because I know I will have to give an account to the Lord for what I have done with the time and gifts He entrusted to me."
"Success is to love God"
Through crisis after crisis, the Yap family's faith has kept them strong and unwavering in their belief in God's goodness.
"God has been more than good to me. I know I can trust Him with my dearest ones."
"Definitely our faith has affected the way we have brought up our children," says Yap, an architect who is now stay-at-home dad to their four children. "Poh Lian has told them many times, 'I'm not afraid of dying. But if I should die, these are the things that you should be aware of and be concerned about.' So that was one way of demonstrating faith in a real way to them.
"We also tell them that success is not defined by materialism; success is to love God. We tell them that, over and above all else, what's most important to us is for them to continue walking with God. And if they lose their faith, that would be the worst thing, no matter how successful they are."
Dr Lim adds, peace in her voice: "With my cancer, I realise I may not have unlimited time to transmit to our children all the life lessons I want to give them. It's a bit like an exam where you think you have two hours to answer all 100 questions, and suddenly you're told you might be given only 60 minutes.
"I continue to make preparations so that if anything happens to me or to Vong, our affairs are in good order and our children are provided for. Practicalities like wills, guardians, durable power of attorney, organising documents – these have been in place for years, but need updating now that we've added Keyuan as a child."
Keyuan, the eight-year-old whom the Yaps adopted from a Beijing orphanage just this year, has brought deep joy to the entire family, who are now Singapore permanent residents.
"With all my heart, I want to live to see my kids grow up well in the Lord. I would love to dance at their weddings and hold my grandchildren.
"But even if my life stops early, God has been more than good to me. I know I can trust Him with my dearest ones, and trust that He will love them even more than I do."
If you have enjoyed reading Salt&Light...
We are an independent, non-profit organisation that relies on the generosity of our readers, such as yourself, to continue serving the kingdom. Every dollar donated goes directly back into our editorial coverage.
Would you consider partnering with us in our kingdom work by supporting us financially, either as a one-off donation, or a recurring pledge?
Support Salt&Light