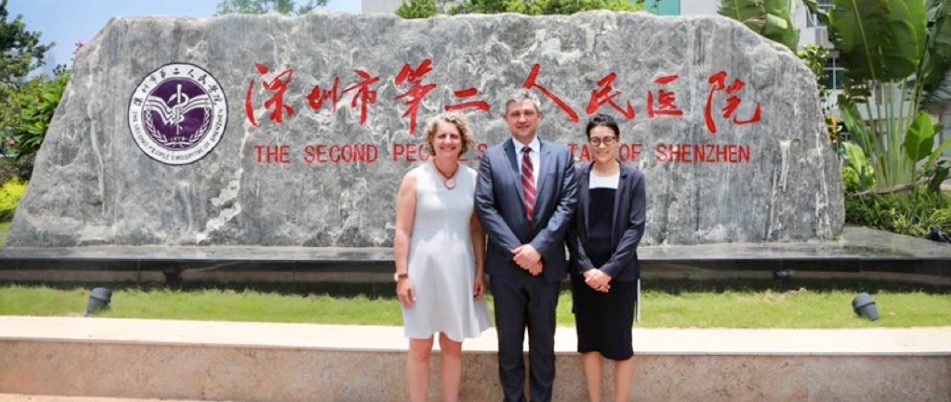 Dr Pang (extreme right) with her colleagues at The Second People's Hospital of Shenzhen, where they set up a local voice programme. All photos courtesy of Dr Pang Jing Yin.
Dr Pang Jing Yin, consultant at Khoo Teck Puat hospital, has been an Ear, Nose, Throat (ENT) specialist for 10 years. 
After completing her post-graduate studies in 2015, she chanced upon a job opening in the field of laryngology (voice and swallowing disorders) and went on to hone her expertise in it. Last year, she was also awarded funding to head to Sydney, Australia for further training in the field. 
"When I realised there is no cure, I needed God and I needed a miracle."
Little did she expect that, within a few months into training, she would be diagnosed with an incurable disease and return to Singapore struggling to speak and be understood.
For years, she had been treating and operating on patients, helping them regain their voice.  
Now, she is the one who has largely lost hers and, at times, a wall of silence separates her and her loved ones, especially her two young children – Megan, 4, and Matthew, 2.  
"God has a good sense of humour, given that I am afflicted in an area I'm supposed to specialise in," said Dr Pang.  
"I believe there is a purpose. When I realised there is no cure, I needed God and I needed a miracle," she added.  
The diagnosis  
Last year, Dr Pang had flown from Sydney to Shenzhen where her team was helping the locals set up a voice programme. During the trip, she was doing a lot of talking and translating as she was the only Mandarin-speaking person in the team.  
Speaking in the Chinese language meant that she had to make a lot of guttural sounds. Having difficulty with her speech at times, she was constantly asked to repeat herself.  
After taking a red-eye flight back to Sydney, Dr Pang immediately returned to her routine of seeing patients the next morning. One of the patients was a loud and chatty fitness instructor and Dr Pang found herself lamenting to her boss that she used to be able to speak like the patient.  
"I used to speak as loudly as a canon and as fast as a machine gun," she said. "The change in my speech raised the alarm bells of my boss."  
He examined her and when he pointed out the physical findings, both of them knew it was not good news. 
She was diagnosed with Motor Neurone Disease (MND), an uncommon condition that affects the brain and nerves. It causes weakness that gets worse over time. 
She found herself in a "dark hole" and did not know what to do. At the time, she barely had a relationship with God.
There is no cure for MND, but there are treatments to help reduce the impact it has on a person's daily life. Some people live with the condition for many years but MND can significantly shorten life expectancy. 
Moving around, swallowing and breathing gets increasingly difficult, and treatments like a feeding tube or breathing air through a face mask may be needed for people with MND.  
The condition eventually leads to premature death, but how long it takes to reach this stage varies. A few people live for many years or even decades with the disease. 
It is found in 1 out of 100,000 people. Dr Pang herself has only seen one case of MND in Singapore.  
"The patient was on ventilator support as his breathing muscles were affected. He required a change of his breathing tube and I had to do it," said Dr Pang.  
Upon hearing the news of the diagnosis, she stepped out of the clinic, sat down on the pavement outside and wailed. She called her husband who was in Singapore then and cried over the phone.   
Then she went back to work. That day, as she returned home to her kids and mother-in-law who was with her in Sydney at that time, she remembered distinctly that her daughter, Megan, came running up to her.
"She gave me a hair clip which was in the shape of a golden crown and happily told me she found it in school. I told her it was beautiful and I clipped it onto my hair," said Dr Pang.   
Immediately, the verse James 1:12 was impressed upon her mother-in-law: "Blessed is the one who perseveres under trial because, having stood the test, that person will receive the crown of life that the Lord has promised to those who love him."  
Dr Pang still has that hair clip.
A God moment 
In the first few months after getting the diagnosis, Dr Pang felt absolutely lost and hopeless. Negative thoughts swarmed her mind. Speaking became more effortful and her speech became harder to comprehend. As her tongue and muscles around her mouth continued to weaken, articulation became harder and the speech more slurred.  
She is able to speak a little now but, if there is too much ambient noise, she types out what she wants to say. She has difficulty with activities that involves fine finger movements, such as dressing up and putting on a necklace or earrings. She finds herself having to pay close attention when she is walking lest she stumbles and falls. 
Back then, she found herself in a "dark hole" and did not know what to do. At the time, she barely had a relationship with God. She only became a Christian when she married her husband in 2015. However, they were just irregular churchgoers back then and Dr Pang considered herself then "pretty much agnostic".  
Her headache miraculously disappeared and she was able to stand to worship for the entire duration of the service.  
Yet God was slowly beginning to show Himself to be real in her life.
Within the same week of her diagnosis, Dr Pang went for a lumbar puncture which involved sticking a needle into her spine to obtain some fluid for testing. She has a high pain threshold, so high that the midwives who delivered her children suggested she try a drug-free delivery the next time. 
The day after the lumbar puncture, however, she found herself beset by an excruciating headache. She could not get up or sit up and was vomiting from the pain and nausea.  
Yet there was a mid-week healing service at Rock Worship Centre that night that she felt God directing her to attend.  
The service is scheduled only once a month and she felt she had to go. Though the church was a good 45-minute drive away, she made the trip by lying flat on the car seat for the entire car journey as she could not sit up. 
She thought she would later have to find a bench in church so that she could lie flat when she reached there. 
Once she entered the church, however, her headache miraculously disappeared and she was able to stand to worship for the entire duration of the service.  
Despite feeling the presence of God during such moments, Dr Pang was also honest in her conversations with Him.  
"There is no way, in my medical opinion, that my symptoms could just disappear like that – without any steroids or antibiotics."
"I told Him I missed operating and complained to Him bitterly that I couldn't go back to work even though I really wanted to. I asked Him: What's the point of sending me to Sydney to learn from their best, when I couldn't come back and put it into practice," she said.  
That night, a word and some numbers – Isaiah 38:10 – kept popping into her mind when she was sleeping. 
"I woke up in the morning and just thought: Huh? What's Isaiah 38:10?" she said.  
The verse reads: "In the prime of my life must I go through the gates of death and be robbed of the rest of my years?" 
 When she read that, she was astonished. She realised that God hears when she talks to Him! He knew what she was feeling and that comforted her immensely.  
In February this year, her children caught a bad bug and passed it to her mother-in-law, then her husband and then finally her. She was sitting up for almost half the night with a severe sore throat and her upper airway was blocked.  
"I felt God was inviting me to let His light come into my life and the lives of my family." 
"Being an ENT doctor, I knew my options were to go down to the A&E where they would give me steroids and possibly intubate me, or rough it out through the night and see if the swelling comes down a bit more the next morning before deciding the next course of action," said Dr Pang, who prayed till she eventually fell asleep. 
The next morning, she was no better and her temperature started mounting. Her mother-in-law came into her room in the morning to pray for her and found the room in darkness. She exclaimed: "Your room is so dark! Open the curtains and let the light come in." 
As soon as the curtains were opened and the light came in, Dr Pang got out of bed and managed to have breakfast with the family. Her fever lapsed and she was up and about. She even brought the kids to the playground that evening.  
"I was just so stunned and so was my mom-in-law. There is no way, in my medical opinion, that my symptoms could just disappear like that-without any steroids or antibiotics," she said. 
"Through this incident, I felt God was inviting me to let His light come into my life and the lives of my family."  
The miracle
There was also the time when she heard God speak to her, and a miracle followed shortly after.  
She was admitted for a port-a-cath insertion procedure to put a small device under the skin of her right shoulder in June this year. 
 After the procedure, the right side of her body – the stronger side – was immobilised by the pain and swelling from the newly-inserted contraption. She was listening to Bill Johnson's sermon on how to pray, and he spoke about praying till one gets a breakthrough in the spirit. 
So, pray she did. She thanked Him for all the times He'd been with her and all the small miracles He'd done in her life to show her He had never forsaken her. For example, He cared about the smallest things, such as like providing her family a helper during the Circuit Breaker.
"That was not a coincidence to me. It was a confirmation from God."
While praying, she received her breakthrough. 
"The voice of God is not a thunderous, booming sound resonating in the room. It's inaudible but you can hear it inside your head. He said: 'I will help you'."
"It was in first person "I". I knew it wasn't my own thoughts as then I would have used the third person: 'He will help me'. I was a bit stunned because it was an inaudible message that was clear."  
Shortly after, a pastor texted her to say that, while praying for her, the verse Isaiah 41:10 came to him: "So do not fear, for I am with you; do not be dismayed, for I am your God. I will strengthen you and help you."  
"That was not a coincidence to me. It was a confirmation from God," said Dr Pang.  
That week after the surgery, she experienced supernatural healing and grace.  
Though the right side of her body was partially immobilised, she found that she was able to use her left hand to do daily tasks such as showering and shampoo-ing her hair.  
"It was a surreal feeling. My speech also improved and speaking was less effortful. I was even able to reason with my kids – usually I just give in to them," said Dr Pang.   
She lost the ability to use her left hand after a week but she believes that, if God could restore her once, He can do it again. So she did not lose hope despite losing her capabilities after a week. 
Waiting for healing  
Sometimes, the road to healing and the wait for healing may seem interminably long. Dr Pang had to stop her training halfway through her programme and return to Singapore. She also stopped working for a period of time after the diagnosis. 
However, she is planning to return to work and is exploring a role that does not require much verbal communication.  
In the meantime, God continues to show up for her.  
In May this year, there was a big conference organised by the International Association of Healing Ministries that gathered more than 70 healing ministries worldwide. They had a Healing Room via a Zoom meeting. The scheduled time for that was 4am Singapore time.  
Dr Pang wanted to attend it but part of her also did not want to wake up at 4am. "So I left it to God and decided that if He wanted her to attend it, He will make a way." 
That night, her mother-in-law who sleeps with her son, came knocking at her door. She said Matthew kept crying and scratching and she was not sure what was going on.  
"I pray for God to give me this childlike faith, to believe and not doubt."
In her stupor, she went to check on him and saw him breaking out in hives around his neck and groin area. She put some cream on him and gave him some antihistamines before he went back to sleep.  
She looked at the clock and it read 4:20am. She asked her mother-in-law what time she had come into her room and the reply was 4am.  
Once again, she knew that was not a coincidence. 
While everyone went back to bed, she obediently logged onto her laptop to attend the Healing Room on Zoom. 
"Two women prayed for me and the word given to them for me was Psalm 103:3," she said. "They emphasised that God heals all diseases, not just the common cough, cold and running nose. They also asked how long I had been having the symptoms and prophesied that, with the same speed that the symptoms and disease came on, it would leave in seven different ways, with seven being the number associated with God, the only One who can heal."  
Though she is still waiting for her healing and for her miracle, she knows that God is faithful in keeping His promises.  
"I have not been fully healed but decided to share my story anyway because Jesus is the light of the world and I need to spread this light to the world," said Dr Pang, who is also excitedly awaiting the doors God will open to her regarding work. Her husband works in an international bank.  
She is thankful for how the lifestyles of her family have changed thoroughly since they started walking close to God.  
Her daughter, Megan, loves to draw and paint. One night after singing worship songs, she took out a piece of paper and drew a stick figure jumping.  
Dr Pang asked her who she was drawing and she replied: "This is Mummy jumping because she is so happy she got healed." 
"Children are able to trust and praise God without doubts or reservations but as we grow older, intellect takes over and we lose this childlike faith. I pray for God to give me this childlike faith, to believe and not doubt," said Dr Pang. 
The medical doctor in her believes it had to be MND in order for her to be broken and to bring her back to God.  
"If it were anything else like breast cancer or a brain tumour which can be cut away, I would just look for a good surgeon, have the lump cut away, then go back to my secular life again. It has to be an incurable disease, that man cannot do anything about, for me to return to Him and trust Him totally."
---
IF YOU LIKED THIS STORY, YOU WILL LIKE:
"God is in our midst. We prayed through SARS and we pray now to persevere": Infectious diseases physician Paul Tambyah
"We were meant to be here": SARS doctor who arrived in Singapore just before the outbreak
If you have enjoyed reading Salt&Light...
We are an independent, non-profit organisation that relies on the generosity of our readers, such as yourself, to continue serving the kingdom. Every dollar donated goes directly back into our editorial coverage.
Would you consider partnering with us in our kingdom work by supporting us financially, either as a one-off donation, or a recurring pledge?
Support Salt&Light