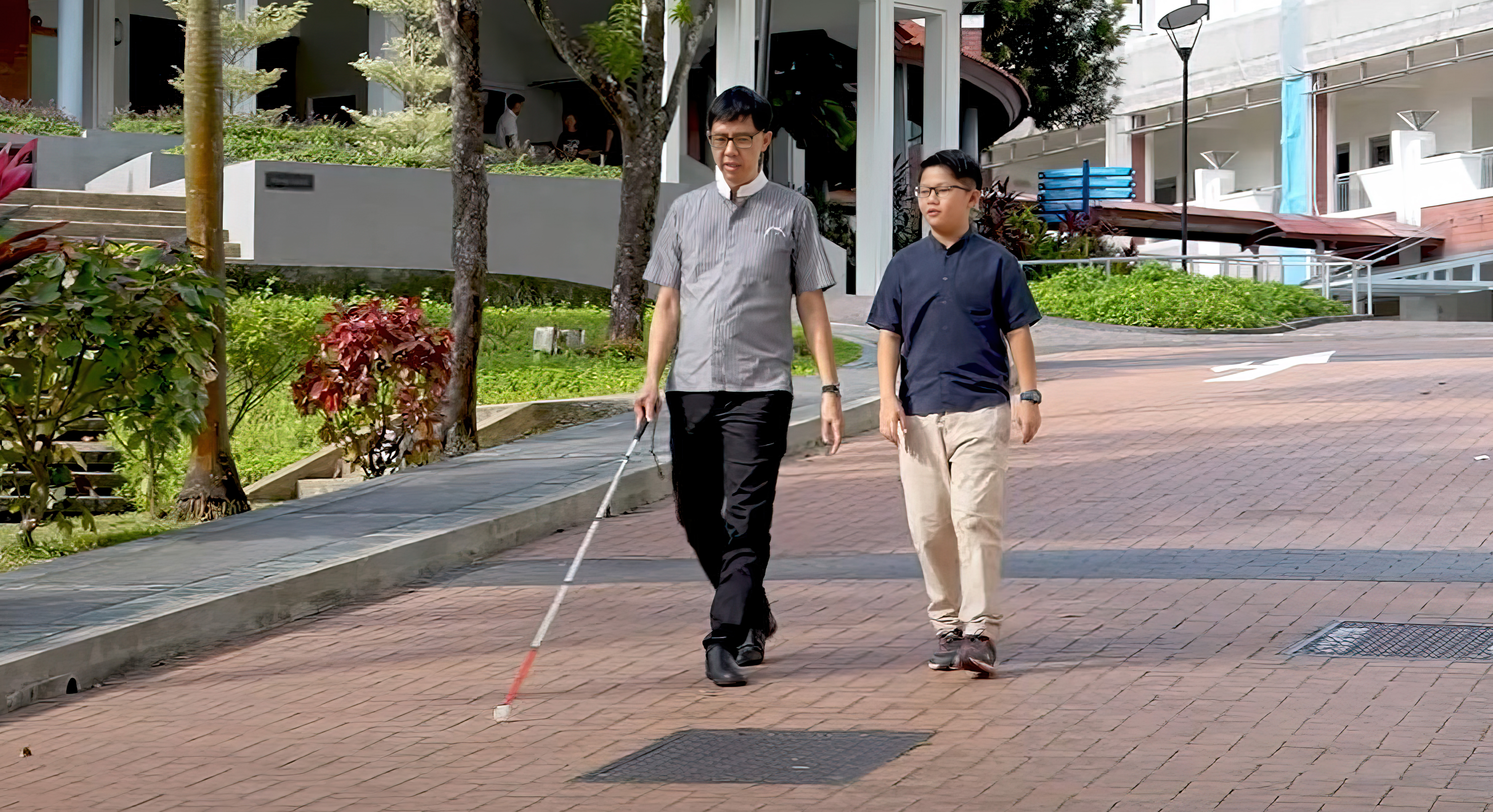 Pastor Kai Ming with Ethan, a youth from his church, in February 2023. Using his white cane was a major milestone for Ps Kai Ming, who is seeing life afresh in spite of his blindness. All photos courtesy of Pastor Lai Kai Ming.
Waking up one morning, Pastor Lai Kai Ming of Barker Road Methodist Church was bewildered to find the vision in his left eye clouded by a large, dark shadow. He would learn shortly that he was left with 75% vision in that eye.
This was 11 years ago when he was 43. His journey towards blindness had begun.
The doctor initially thought that it was a stroke of the eye, but later ruled it out. The condition has remained a mystery ever since. The closest explanation is glaucoma or an autoimmune disease.
Eight years ago, all vision in Ps Kai Ming's left eye disappeared. Six years ago, his right eye started deteriorating and now he only has 10% pinhole vision left in that eye. Doctors continue to be baffled.
An unexpected turn
Ps Kai Ming had received the call to become a pastor during his undergraduate days in London in 1988.
After returning and serving out his eight-year scholarship bond with the Singapore Armed Forces, he made the challenging adjustment from a relatively comfortable life financially into full-time ministry.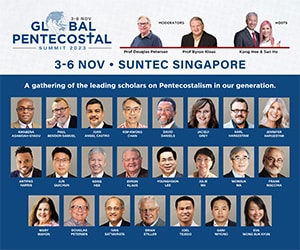 Ps Kai Ming was progressing steadily as a pastor, when he suddenly started losing his vision.
Having run through the gamut of doctors' appointments, tests and treatments over the years, Ps Kai Ming was driven to his knees to pray: "God, why is this happening to me? Did I look at things I should not be looking at? Jesus healed the blind, what about me?"
Theologically, he had to grapple with his deteriorating condition even as he recalled verses such as Matthew 6:22-23.
"As a pastor, you pray for healing for others, but you yourself have this problem, so you have this self-doubt sometimes. What will people think about me? Would they think this pastor is not worthy?"
With his vision loss came other acute losses in life.
He lost the ability to drive at 50, something he had done since he was 21. He lost his independence, which his adventurous self valued. He lost the joy of playing basketball, a sport he had been playing for 15 years with non-Christian friends.
His immediate thought after he realised the full severity of his condition was: "Sian lor … initially it was still okay. After losing one eye, I still had one. Many people actually live normally with one eye. But then that one eye started losing vision, too. That's when it got really scary."
His sense of fear, loss and sadness was keen.
Letting go of self pity
Over the years, Ps Kai Ming and his family have learnt to make various adjustments.
He cannot do many things with them any more – his wife buys food for him, not vice versa like in the past. There is also less going out as a family. Instead they go for more walks now, and spend more time together at home.
In some ways, his wife Lesley now runs the household, and he is learning to be led.
"Even the strongest person in the world is dependent on someone," he mused.
Ps Kai Ming has learnt to accept help and to delegate, rather than tackling everything himself. 
"Even the strongest person in the world is dependent on someone."
He has learnt to be selective of how he spends his time, who he meets and the work he does. He has learnt to say "no", and to ask people to wait, if necessary. 
While he used to make quick decisions, he now deliberates and prays more first. In short, he has learnt to slow down.
Yet many positive things have come out of his situation, Ps Kai Ming told Salt&Light. For one, he gets to spend more time chatting with his wife and children.
With more time together, there are also instances of tension, he admitted. Lesley may burst out: "What did you do that for?" to which he would answer: "Don't you know I can't see?"
At first, Ps Kai Ming wished that Lesley would cut him some slack because of his condition. But he has since learnt not to indulge in self-pity and to better regulate his emotions.
It is hard for a sighted person to fully understand the challenges of a visually impaired person – both of them are on a learning journey, he said – Lesley to be more sensitive to him, and he to be less sensitive to other people's comments.
His family treats him the same, he said, joking that sometimes he wishes they would treat him "special" because of his condition.
Reaching for contentment
The prospect of losing his perception of colours and the ability to visualise people is a real one.
"What if one day I cannot remember what my wife and loved ones look like?"
This scares him, confessed Ps Kai Ming. 
"How will I send and read emails, how do I continue working? Will I be reduced from being a pastor to just a listener? I am 54 this year. How will I continue to be a pastor for the next 15 years or so?"
But he is thankful that he has a good memory and loves a challenge. For instance, having to find creative ways of reading has been a new experience. If only darkness and memories remain, he will have to go on an adventure of a different kind, he rationalised.
"Life is more than sight. I've learnt to be content in being alive."
In the face of uncertainties, Ps Kai Ming clings to his faith.
"God created me; I don't have to fight or be angry. Life is more than sight. I've learnt to be content in being alive.
Citing John 9:3, Ps Kai Ming reflected that this incidence of physical blindness in the Bible allowed Jesus to talk about spiritual blindness, which was the bigger condition in the world that Jesus was addressing.
"Our illness and infirmity are not always a direct consequence of personal sin. Have you ever considered Jesus' use of the words 'spiritually blind' to describe those who don't know Him? Jesus could never use 'blindness' as a spiritual reality if it were not first a physical reality that people understood. Physical blindness can be redeemed – if not healed – after all!"
He is matter-of-fact. "Some pastors got high blood pressure, diabetes, or hair loss. I got vision loss lor!"
A book that has been instructive and helped Ps Kai Ming in his journey is Notes on Blindness by John Hull, who went blind in his 30s to 40s. Hull shared his own struggles and how he overcame his discouragement to continue working as a university professor.
"His philosophical perspective of blindness as an unexpected 'gift with an unusual wrapper' helped a lot."
Seeing into the future
It took Ps Kai Ming a long time to start using the white cane associated with the visually impaired.
It was only after he shared with the wider church about the extent of his condition this February, that he started freely using the white cane.  
He used to believe that using the cane was a sign that he has ren ming (given up on being healed).
"Some Asian people are pantang (superstitious) and think that if they say that they are going blind, they really will go blind. I'm Chinese, but I try not to be superstitious about it."
People have prophesied that God will heal him; he keeps himself open to the possibility.
"I do sometimes feel that Jesus has 'pruned' my vision so that I can bear fruit for Him through my other faculties."
Meanwhile, he has allowed himself to be vulnerable enough to ask for help when he needs it.
He is also less distracted these days – a precious experience.
"In this info overloaded world, less can actually be more," he mused. "Yes, I do have a tendency to be proud of my abilities and achievements. Perhaps this 'thorn' is good for my soul and even for my service unto God. I have become a better listener.
"Remember Jesus' analogy in John 15:2? I do sometimes feel that Jesus has 'pruned' my vision so that I can bear fruit for Him through my other faculties."
Pointing to the lyrics of the Michael W Smith song Sovereign Over Us which has ministered deeply to him, Ps Kai Ming believes this: God is working behind the scenes even when it is hard to see. 
---
Read Part 2 of Ps Kai Ming's story, where he shares 5 Faith Lessons through his journey of going blind.
---
RELATED STORIES:
"Sighted or not, I will serve the Lord": Legally blind principal Peter Tan on seeing miracle after miracle
He is legally blind, she has no limbs, he was born with bone disorder – yet they share 8 ways God is real: Salt&Light Family Night
Beyond access ramps, "Let Us Consider" how to truly include the differently abled
If you have enjoyed reading Salt&Light...
We are an independent, non-profit organisation that relies on the generosity of our readers, such as yourself, to continue serving the kingdom. Every dollar donated goes directly back into our editorial coverage.
Would you consider partnering with us in our kingdom work by supporting us financially, either as a one-off donation, or a recurring pledge?
Support Salt&Light