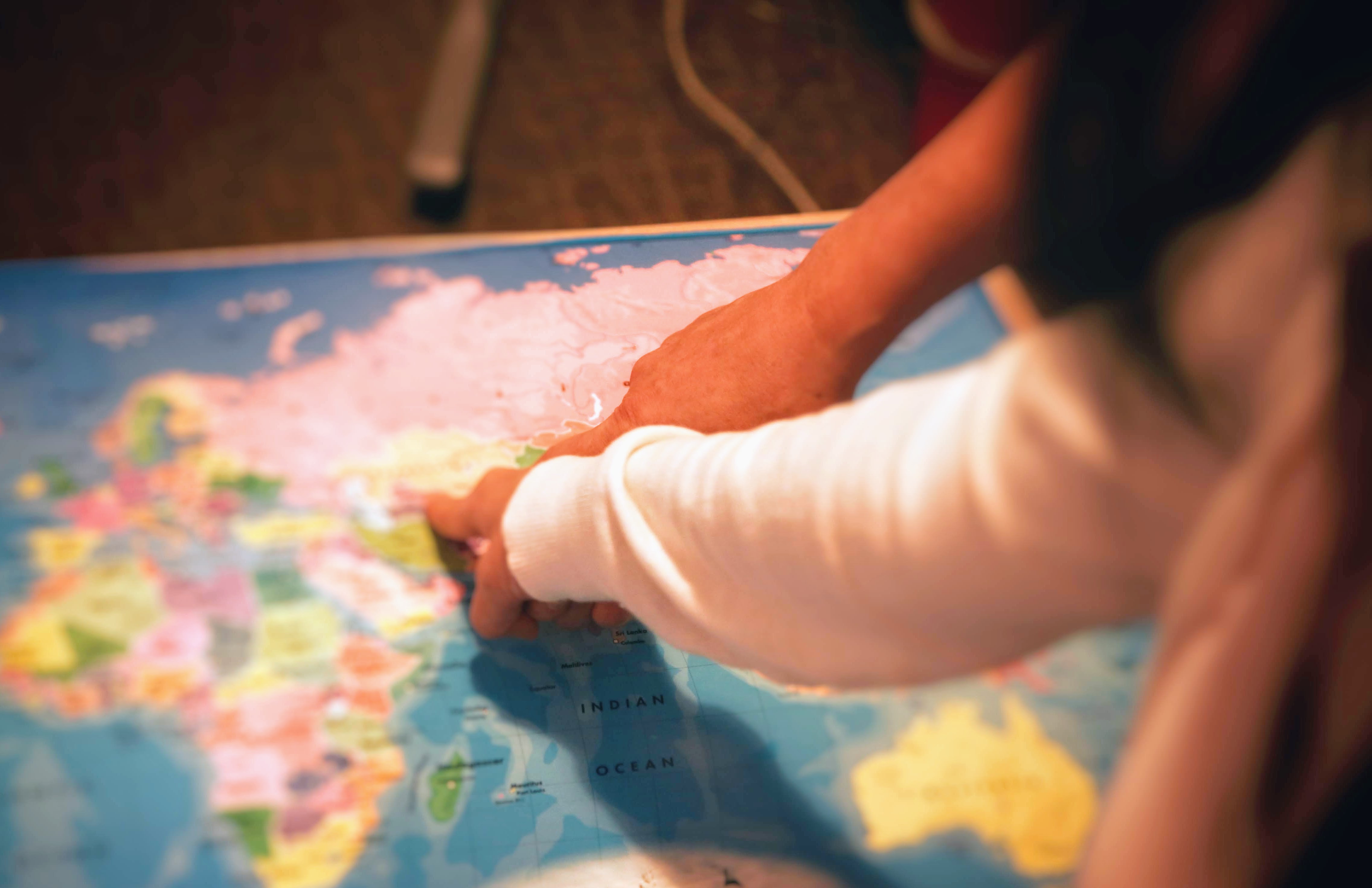 Far from home, Charles and Wendy committed to loving the Central Asian people God had sent them to befriend. All photos courtesy of Operation Mobilisation.
As a businessman who has lived in four remote cities in two countries in Central Asia, Charles* and his wife Wendy* know what it's like to be in a country where TV announcements warn locals about Christians.
Yet they stay, intent on showing love to those who don't yet know Jesus.
"I gave my life to Him to let Him use me in whatever capacity He has planned for me."
The couple, in their 50s, lived under constant scrutiny by eyes that seem to know their every move.
Their quest was so sensitive that their own children were not told of the true nature of their parents' efforts until they had grown up.
Charles – a former technician who "felt like a nobody" because he was not highly-educated – never expected to embark on a life of adventure that would take him to serve in some of the most hostile areas around the world.
Little did he imagine that God would use him to mentor a group of workers from Asia who desire to bring God's promise of eternal life to cities along an ancient overland trading route that leads back to Jerusalem.
Spare part
Charles was in Primary 5 when his cousin first took him to church.
There, he noticed that church-goers were "a bunch of loving and caring people".
However some told him that he would only be able to "serve in the background".
"I thought they meant I would never go far," he told Salt&Light. "I didn't mind."
In fact, he too thought that he was "not good enough". "Everybody else in church was educated," he said, while he only had vocational qualifications from a local centre for technical education.
Not fully understanding the Bible, he drifted in and out of church over the years.
He also struggled to be "a good guy", he admitted.
Being a good guy became even more challenging when he entered National Service. Amongst friends who cursed and swore, he found it difficult not to do likewise.
"It was hard for me to maintain good conduct, even though they knew I was a Christian." Part of his problem, he realised, was that he was a people pleaser, who would go along with what others were doing.
"We use God like a spare part. We only call upon him when we need something."
Then, one day, a friend said something that struck him.
"We use God like a spare part. We only call upon him when we need something."
"For three days, I cried and reflected on my life," he said, recalling the time he was caught sleeping on guard duty during his army days. Miraculously, he was not charged or sent to the detention barracks.
"When things are solved, I go back to my life," he said.
He repented. "I surrendered myself 100% to God."
That was when he noticed a big change in his life.
From not understanding the Word of God, "it suddenly became real to me when I opened my Bible". I was also hungry for God's Word."
So hungry was he, in fact, that the technician would retreat to his workshop during his lunch hour to read the Bible. The change was not only in his understanding of the Word.
"When I was touched by God, I felt accepted by God."
Here I am, use me
At church camp one day, God spoke to him through 1 Corinthians 1:27: "But God chose the foolish things of the world to shame the wise; God chose the weak things of the world to shame the strong."
"I felt that I am one of them. God can use me."
Terrorists threw a grenade into a concert during the ship's International Night. Two foreign crew members and four locals were killed.
When the altar call came for those who wanted to dedicate their lives to God, he went up.
"'Here I am. Use me,'" he told God. "I gave my life to Him to let Him use me in whatever capacity He has planned for me."
Shortly afterwards, a friend told him about a missions outreach to help the poor and needy. The project known as Love Europe called for thousands of volunteers from around the world.
"The only way for me to go was to resign from my work."
In faith, he did.
The experience in 1989 left him hungry to show God's love in far-flung areas around the globe.
The following year, he joined the Operation Mobilisation (OM) ship, MV Doulos, which crossed the seas to offer knowledge, help and hope to different communities in various ports.
On August 11, 1991, while the ship was in a southern Philippines port, terrorists threw a grenade into a concert during the ship's International Night. Two foreign crew members and four locals were killed, and 32 others were injured.
Among the dead was a sister-in-Christ who was a good friend. Instead of being put off his mission from fear, a distraught Charles reflected on life and rededicated his life further to God.
He returned to Singapore the following year to further equip himself for ministry at a missions training school.
Love in a new language
In 1995, he would continue his education in a different field, a different country.
He moved to a city in Central Asia to immerse himself as a student of its language. It was not smooth sailing.
"We use our business to shine for God, to preach not by word, but by deed".
"I am a terrible at languages. I felt like I going nowhere and was very frustrated in the first two years," he said.
But there, he would meet Wendy, a fellow student of languages, whose values and goals were aligned with his. She became his wife and partner in missions.
He would set up a business dealing with industrial equipment and offering agriculture services. It would give him the opportunity to travel to remote parts of the country.
Charles and Wendy would also set up a small shop selling food and cosmetics in the city. As their outreach is funded directly by supporters, profits are channelled back into the business and go towards giving locals learning and employment opportunities.
Their business and professionalism enabled them to establish an authentic, relevant presence in their community.
Cheated and robbed
Unlike the traditional evangelical model where the Word is shared with people who would not otherwise get to hear of God's love, Charles and Wendy paid attention to forming friendships and building relationships with the people among whom they lived and worked.
"We use our business to shine for God, to preach not by word, but by deed".
"They said, 'There is no people in the world like you. What kind of people are you?' We said, 'We are followers of Christ.'"
In their business dealings, they try to be as honest and as transparent as they can. Yet they have been cheated and robbed more than once by those they have set out to help.
The couple still "try to love them and help them". It is not easy.
"We don't always do the right thing. We may lose our temper. But then, what do you do about it? People are looking at you."
Their behaviour does not go unnoticed. "People see. They say, 'People treat you so badly and do such bad things to you. Yet you still forgive them. There is no people in the world like you. What kind of people are you?'
"We said, 'We are followers of Christ.'"
During this Covid-19 season, Charles mentors cultural workers and leaders remotely from Singapore, where he is currently on sabbatical from the field.
When God protected their child
Building friendships in a different culture required a level of cultural sensitivity. Take the matter of alcohol.
"When offered, I would drink a little bit just to show respect. Before I drink, I tell them, 'I'll drink a little to respect you'," said Charles. "Otherwise if we condemn them for drinking, they will say, 'These foreigners are hypocrites' and think that we look down on them. If you show that you respect them, more doors open up."
"His organs could have been damaged, he could have gone blind or died."
Living in some of the most remote places in the world, Charles and Wendy struggled with loneliness, accountability – and a lack of established medical facilities. But that only served to strengthen their trust in God.
When one of their children was a few years old, he had an infection and a high fever that did not go away despite their attempts to self-medicate as they did not have confidence in local hospitals. Charles was away on a business trip.
Their friends and co-workers rallied around them to pray.
Wendy decided to seek help from a Swiss doctor, a fellow worker who was normally out of town.
Wendy's frantic early morning knocks on the doctor's apartment door went unanswered. Just as she was about to leave, the doctor opened the door. She rushed the child to the hospital where her relationship with hospital staff enabled her to request for certain medication to be administered. She also convinced the hospital to admit the child.
"If the medication didn't work, he would have had to be evacuated." The community rallied around them in prayer. 
Charles and Wendy were not told of the severity of their child's condition until later. "His organs could have been damaged, he could have gone blind or died," Charles recalled.
The community saw their child's recovery as God's protection over them.
A small price 
During their time in Central Asia, they became used to being constantly monitored.
Charles had thorough bag- and body checks each time he entered the country. Police regularly knocked on the doors of foreigners to ask for the family's identification documents.
Once, a house church he attended was raided by the police, and Bibles were confiscated. This was even after the organisers had made numerous changes to the meeting location for caution's sake.
Charles was detained and interrogated for 24 hours before being released.
"God is concerned that you become an overcomer."
The months that followed were spent in "mental agony" waiting for the knock on the door to escort his family to the airport and out of the country. It eventually came.
Local believers caught were not so fortunate. They were beaten up. Some – even teachers of the Word – denied Christ and reverted to their original faith. Yet others saw the confrontation as a small price to pay for the promise of eternal life.
"It made me question: What does it mean to share the Gospel? What kind of Gospel are we bringing to people? How can we make the locals spiritually stronger in spite of hardships?" Charles said.
In a recent seminar to encourage others to join his work in restricted countries, he was instead led by the Lord to talk about the Book of Revelation, where Jesus, in a vision, gave John messages for seven early churches in Asia Minor located along an established trade route.
Christ warned of impending imprisonment for some of its members, who were urged to remain faithful "even to the point of death"; they were told to remember His promise of the "victor's crown" (Revelation 2:10).
As Christians, although we may suffer greatly, the suffering will be short compared to the promise of eternal life, reminded Charles.
"God is concerned that you become an overcomer."
*Names and places have been withheld for security reasons.
---
Would you live out the love of God with your passion and skills in places where there is little access to the Gospel? Explore mission opportunities with OM here or drop a note at [email protected].
40 God stories
To commemorate their 40th year, OM Singapore has published a book, Unchanging: On Mission With a Faithful God, capturing 40 God-stories of Singaporeans, including Charles and Wendy, who love God and His mission in many parts of the world.
"The quintessence of OM rests on the premise that God can use anyone, anytime, anywhere, whenever one hungers for Him. It is about giving God a chance to work in and through us," said Rev Keith Lai, President of National Council of Churches of Singapore (NCCS), who served on board OM's Logos ship.
"The 40 curated stories in this book testify to this truth. What a motley bunch of most unlikely individuals. What diverse and interesting backgrounds. But all with an underlying common thread – a touch of God's grace stirring in their hearts to leave home and venture into the fathomless unknown." 
To purchase the book for yourself and your friends, click here.
---
RELATED STORIES:
"God, what are you doing?": When a go-getter learnt to take her Kingdom assignment one step at a time
A picture of a sitting toilet confirmed this couple's call to missions
If you have enjoyed reading Salt&Light...
We are an independent, non-profit organisation that relies on the generosity of our readers, such as yourself, to continue serving the kingdom. Every dollar donated goes directly back into our editorial coverage.
Would you consider partnering with us in our kingdom work by supporting us financially, either as a one-off donation, or a recurring pledge?
Support Salt&Light