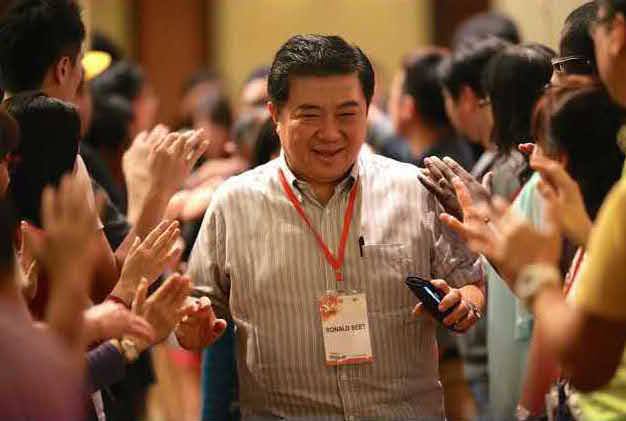 Ronald Seet gave up his career at 40 to serve in full-time church ministry for a decade, before going back to business. All photos courtesy of Ronald Seet, unless otherwise stated.
He was a man at the top of his game, with an insurance agency to his name.
At the peak and prime of his career, Ronald Seet gave it all up for full-time ministry.
At 40 years old then, he told God: "I am giving you my best 10 years. When the years are up, I can continue – anything beyond is a bonus – or if You allow me, I will go back to my business."
"I wanted to set aside the best 10 years of my life for God. I didn't want to give Him leftovers," Seet explains.
The year was 1994.
Seet's agency was flourishing, the big bucks were rolling in monthly, to the tune of a five-figure sum. In the good months, another digit would be added to the monthly income, Seet reveals only after much coaxing. 
"People asked me if I was crazy."
That monthly pay cheque stripped down quickly when he gave it all up to serve full time in the local church.
"I stopped my business, sold out. So, my big empire became very small – no more already!" He jokes and laughs heartily as he relates his decision.
"People asked me, 'Are you crazy?' I said 'No!'" He breaks into an easy laugh again. 
Nary a soul, you would think, would regale his experience with so much joy at such a monetary loss.
Just lovin'
That decision came from years of a life given to God's ways in the obscure moments.
"I am a pastor at heart. I developed this gift of pastoral care in the early years of my Christian life unknown to me at a point of time," Seet reveals.
"When I was 20, I was made the youth leader at Faith Assembly. I just did this and that to grow the little fellowship of 10-20 youths then. My wife (then girlfriend) and I would visit every youth in their homes.
"Sometimes, there was no place to sit, so we just sat at the void deck. We just sat down and talk. Sometimes we would bring along a bag of coffee. From there you develop a liking for people and the ministry of love."
"He showed me love, care and what generosity is all about."
Senior Pastor Glen Lim of Elim Church was 22 when he met Seet at a youth camp.
"I was a newbie, a young Christian and Ronald was one of the leaders at the AG (Assembly of God) Youth camp in 1980. Somehow, he came alongside like a big brother," he recounts.
Seet, who was just a couple of years older, and Ps Glen became firm friends.
"When I told Ronald I was going to Bible school, he put some money into my hands and said, 'I hope this will help.' He was one of those who helped financed my studies," recalls Ps Glen.
"When he heard that I was going to get married, he sat me down and asked, 'How much do you have?' I said $3,000. 'How are you going to get married with $3,000?' he asked."
After a session of asking probing questions, Seet sent Lim down the wedding aisle in a brand-new tailored suit and packed Lim and his bride off for a honeymoon. All expenses paid, given out of love.
That was 34 years ago.
"We are not related, I am not even part of his family. But he showed me love, care and what generosity is all about," says Ps Glen.
"Ronald helped me see that's how we touch other people's lives. I have never forgotten that until today. That's how I live my life now."
"I was just loving them and, unknown to me that was pastoral care," Seet reflects.
"The best decision I made"
When Seet took the plunge into full-time ministry at 40 years old, he was sitting under the ministry of the late Pastor Rick Seaward at Calvary Charismatic Centre, the present-day Victory Family Centre.
"Under Pastor Rick Seaward for 11 years, you can't not be touched by his continual messages about living simply and be totally given to God. They are like 'Scud missile' messages but they are good," he guffaws again.
"It was 10 years of dependence on Him."
Nevertheless, making the switch from a five-figure to a low four-figure monthly sum, it's an extreme step for a man with that measure of success.
"I didn't analyse then. My wife and I love the Lord, and we decided to just serve God lah, God loves me so much, what!" He chuckles and continues.
"But God did speak to me through the Bible and a book. I also told God He had to speak to my wife as well," Seet lets on.
At 65, he looks back at his prime years that were given to God.
The years where he was put through the paces in the local church, serving in different capacities. 
Does he regret? A resounding "No!" is the answer.
"It wasn't easy but it was the best decision that I made!" Seet declares.
"My knowledge and understanding of our powerful God was deepened and enriched. It was 10 years of dependence on him. When I relied on Him, there was so much growth.
"I also learned how to love people even more, how to do things by faith, trusting God to provide. I realised God's provision was also meant for me, not just for others."
That trust and provision panned out especially when he had also to pioneer a mission church from scratch during his decade of service.
For anyone who wants to give it all up, he has straight words: "Make sure it's a call from God. If God is not there, you cannot do anything." Seet cites Exodus 33:15, one of his favourite verses.
"I don't owe you anything"
At 50, after serving full time for a decade, Seet had another chat with the Lord.
"I was sitting in the patio and I said to God, 'Thank you for this home, I am down to $3,000 in the bank. I gave up a lot.'
"God replied me, 'Big time!'" Seet lets out a laugh again as he relates the incident.
"You just gave your salary away and it's a big deal to you!"
"He said, 'Let me tell you, I will pay back, I don't owe you anything. My son, Jesus Christ died on the cross and gave up everything. You just gave your salary away and it's a big deal to you.'" Seet recalls vividly the conversation.
Before he went back to secular work, another conversation ensued, this time with his Senior Overseer. Ps Seaward asked him: "Are you going back to business?" Seet said maybe.
Ps Seaward then said: "Ronald, let me tell you this, I've never in my lifetime seen a businessman totally given to God."
"Why can't I be the businessman totally given to God. Why not?" Seet thought to himself.
Pastor Seaward prayed, gave his blessings, and off Seet went.
That conversation struck a deep chord.
The phrase, "a businessman totally given to God", came up a good several times during the interview and each time, Seet's eyes moistens.
Those are words that Seet keeps buried in his heart but re-visits often. He says it's Ps Seaward's way of "calibrating his values".
Seet went back to the marketplace after 10 years in full-time ministry and all the better for it. He started, then sold, a successful tech business.
"I pastor the marketplace by loving and caring for the people."
His last five years have been spent in the insurance industry where, in that short span, he got into the Million Dollar Round Table, a global association that recognises top-performing life insurance agents and financial advisors around the world
"I asked God how to minister in the marketplace. It's like a ministry, I have a very different perspective. I pastor the marketplace by loving and caring for the people. I realised my key strength is the power of influence."
"When I tell business people God can provide, they'd retort wu nyia boh ('Is it for real' in Hokkien)? I'd just share my testimony," Seet guffaws.
Despite being back in secular work, Seet who now worships at Grace Assembly often gets called to minister to the different mission outposts in the region.
Matching funds to needs
It was in Nepal, during a mission outreach that Seet reached an epiphany.
"It troubled me that in the impoverished countries, the people reach out their hands and you give them money to take care of the whole family. Three months later, their hands are out again.
"I thought that cannot be sustainable. I prayed and asked God how I could help these people."
In Nepal, Seet extended a loan to a church member who was a farmer. It came from his own pocket and was over and above a micro business loan the church had already given.
"A marketplace ministry is not just about touching their lives but also matching the resource to the need."
In a matter of three years, the farmer expanded from three plots of land to 23. Instead of getting a return for his money, Seet arranged for the farmer to put aside a portion of his crops to feed the Bible school the church had started.
That meant the Bible school students have a supply of food and the farmer also prospered.
"From that point on, I realised marketplace ministry is not just about touching their lives but also matching the resource to the need," Seet notes.
That realisation, coupled with the wide network of friends and clients he can influence and tap on, has helped enterprises in countries where the needs loom large.
By matching funds to needs, positive outcomes and returns have directly blessed the people in church.
"I have discovered this unique mix God has given me – I am a pastor and also a businessman. I understand the issues both groups face," he muses.
"It's become a very powerful tool for the ministry of the marketplace when I can bring commerce and enterprise along with God's word."
But is he totally given to God?
He laughs, saying: "Not yet, I have my moments."
"I work progressively towards that goal, giving more of my life to God. I'm giving away more to bless people and minister to their needs, giving away more than what I used to.
"I ask myself often, 'Are you a businessman, totally given to God?'"
"God directed me from the beginning": Singaporean Lawrence Tong on leading Operation Mobilisation
If you have enjoyed reading Salt&Light...
We are an independent, non-profit organisation that relies on the generosity of our readers, such as yourself, to continue serving the kingdom. Every dollar donated goes directly back into our editorial coverage.
Would you consider partnering with us in our kingdom work by supporting us financially, either as a one-off donation, or a recurring pledge?
Support Salt&Light