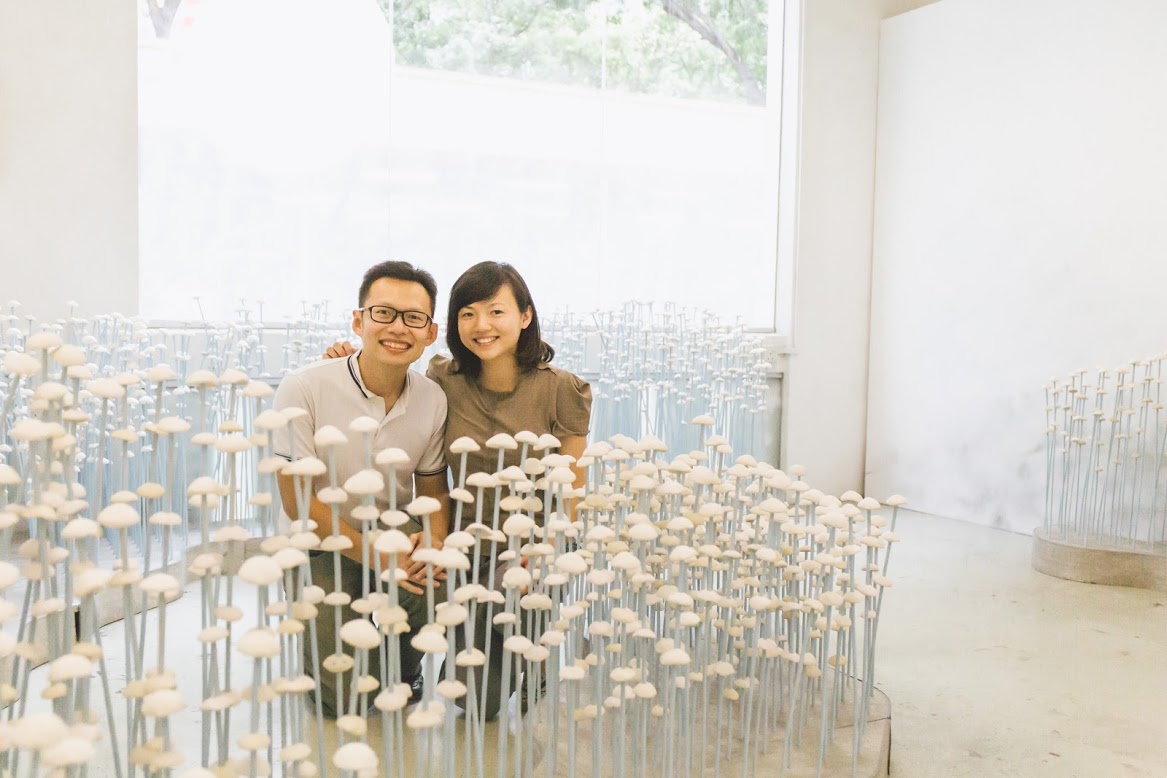 Kenneth and Huiwen at their SingaPlural ceramic installation in 2016. Called "I Feel The Clouds Singing", the instrumental installation responded to palm movements harmonised by 4,500 handmade organic clay forms, an expression of the duo's trekking experiences in Taiwan. All photos courtesy of Studio Asobi unless otherwise stated.
What started as a bonding activity for the newly married couple took Lee Huiwen and Kenneth Lau on a journey that saw them trading lucrative jobs for aprons and clay-caked hands.
More than five years ago, they gave up promising careers – business for Huiwen and architecture for Kenneth – to set up Studio Asobi, their home-based pottery workshop in Hougang.
Other than running workshops, they also work on customisations and commissioned projects. In their early days, renowned Australian chef Sam Aisbett sought them out to create decorative vases and selected dishes for his restaurant, Whitegrass, at Chijmes.
"Can we grow closer to God? Can we grow to be more content in plenty or in want?"
While their peers may live in million-door homes and enjoy the high-flying life, the pair is candid that their combined incomes have been so low that they qualify for social assistance and additional childcare subsidies.
"Our studio is not about what do we produce, do we participate in exhibitions, how much our pieces can sell for," said Huiwen, 38. "In the end, it's about our own walk with God. Can we grow closer to God? Can we grow to be more content in plenty or in want?"
Referencing 1 Timothy 6:6, she said that contentment and joy are some of the guiding principles for their studio.
"The vision is really to be joyful," said Kenneth, 37. "This desire to have joy in our life keeps helping us shape what we do."
First step
Asobi (遊び) means "play" in Japanese and its Kanji word "遊" means "journey" in Mandarin, largely reflecting how the couple sees life as a journey of exploration.
"Actually Jesus has things that He has already prepared for us to do."
And it was Huiwen who took the first step.
In 2012, she came across Ephesians 2:10 during a Bible course incidentally called The Potter's Wheel, though it has nothing to do with pottery. That verse spoke to her deeply.
"Before I was a Christian, I was always looking for the meaning of life," she explained. "But here was this verse that told me that actually Jesus has things that He has already prepared for us to do."
Determined to discover the things God wanted her to do, she quit her private equity fund job soon after.
After working a year at a non-profit organisation, she was still searching. "I felt that the most important thing was, still, that people need the Gospel," she said.
She decided then to take a total break from work.
It meant being set free from the "bondage" of social status, the security of a pay cheque and how people saw her.
The intrepid Christian termed the period between September 2013 and August 2014 her "days of wilderness".
Citing from the book of Exodus, she recalled: "When the Israelites said, 'Why did you bring us out of Egypt, I'd rather be a slave there, why did you bring me out here to die?' I felt like I was an Israelite, because maybe in the third or fourth month, I thought that maybe I should go back to getting my secure pay cheque, and then think about the meaning of life at night or maybe during the weekends."
It then dawned on her that the saying "the Truth shall set you free" meant being set free from the "bondage" of social status, the security of a pay cheque and how people saw her.
"Now your life is like a blank slate, you can explore and actually really do whatever, wherever God leads you," she said.
Faith at work
Although it was Kenneth who suggested taking up pottery as an intentional way to spend time together amid their busy work schedules, it was Huiwen who went on her own to the old pottery town of Taijimi in Japan to deepen her craft during her year-long sabbatical in 2014.
This short but deep immersion in a different culture opened her eyes to the beauty of slowing down, living simply and being present in community. She was deeply inspired by her old sensei's joyful and child-like dedication to his craft.
When she returned and shared the experience with Kenneth, the question in their hearts was: Can we live a life like this even in our hectic urban environment? So they founded Studio Asobi, more as a life experiment than a conventional business.
Huiwen was the first to take this leap of faith, while Kenneth joined her a year later after serving out his scholarship bond.
From the beginning, both of them were very clear that they wanted to integrate their faith and work. Part of it stemmed from a "powerful" encounter Kenneth had in the US during his university days.
He had embarked on a two-day 100-mile cycling in upstate New York on his own when a blizzard rolled in. He wasn't getting anywhere in the snow and he was freezing in the sub-zero temperatures. Because it was Thanksgiving, everything was shut, including petrol kiosks.
"I really want to love people the way that God has shown me."
He ended up knocking on the door of a house, asking to be let in for five minutes so that he could warm up. The family not only welcomed him in but, to his amazement, also shared their Thanksgiving dinner with him, giving him the best of everything. The father even drove him and his bike back to Cornell University where he was studying.
"It showed me that God's love wasn't like some imaginative thing," said Kenneth. "I felt like God's love had been shown to me through people who believed in Him, who treated strangers like their own family. It didn't matter to them if I was white, or whatever race, or Christian. They just took me in.
"I really want to love people the way that God has shown me."
Making love real
While workshops give them steady incomes, it's also a platform for them to share their love for pottery. Kenneth, a self-professed introvert, truly enjoys the interactions he's had with workshop participants.
"It's so much nicer to build relationships with some of these people who are interested in pottery and then we can have deeper conversations, and hopefully also share our faith with them," he said.
Huiwen added that, at the end of the day, they aim to "point people to God because, in the end, that's the biggest need, not just to be relaxed or have less stress".
They've also been running workshops for a group of unlikely participants – injured migrant workers.
Partnering with HealthServe, a non-profit organisation that supports migrant workers, the couple has been giving two-hour pottery lessons to 10 to 20 workers every month for the past year.
Many of these workers are usually in disputes with their employers over compensation. Legally, they are not allowed to work and many are stuck in this situation for weeks or months.
"These are the foreigners who are either invisible or not liked by other people," said Kenneth. "Because a lot of them are injured, they are generally very unhappy, very sad."
The couple hopes that making ceramics could restore some joy to them. For many, it would be the first time they are trying pottery.
Life reset
For Huiwen and Kenneth, Studio Asobi is not a mid-life crisis or a switch in career – it is a conscious decision to live life meaningfully.
This change in perspective didn't come easy for Huiwen, who comes from a humble background and describes herself as a "chronic worrier". As the first university graduate in the family, and having lost her father to cancer when she was 19, the Singapore Management University business graduate had been driven to "earn a lot of money, and then store and build up a nice nest egg".
"If you keep your living expectations lower than your income bracket, actually you will be a lot more free."
Yet the last five years have taught her the real value of life and freedom.
"Yes, it sounds very idealistic, people think that it cannot be but… if you keep your living expectations lower than your income bracket, actually you will be a lot more free," Huiwen mused.
Buying an old two-storey HDB flat was one of their most "extravagant" decisions but it allowed them to then use it as a small art studio and also host cell groups.
"We didn't employ a helper, get a car or eat at expensive places," she said.
"You don't need to make so much money just to have all this redundancy and all this security when actually you can rely on one another for help," added Kenneth. For example, they are happy to receive hand-me-downs for their son, now aged two.
Having previously lost loved ones to cancer, the couple is well aware of mortality.
"In the end, actually no matter how much money you have, if you are gone, you are gone," Huiwen said. "You can't really take life for granted."
If you have enjoyed reading Salt&Light...
We are an independent, non-profit organisation that relies on the generosity of our readers, such as yourself, to continue serving the kingdom. Every dollar donated goes directly back into our editorial coverage.
Would you consider partnering with us in our kingdom work by supporting us financially, either as a one-off donation, or a recurring pledge?
Support Salt&Light