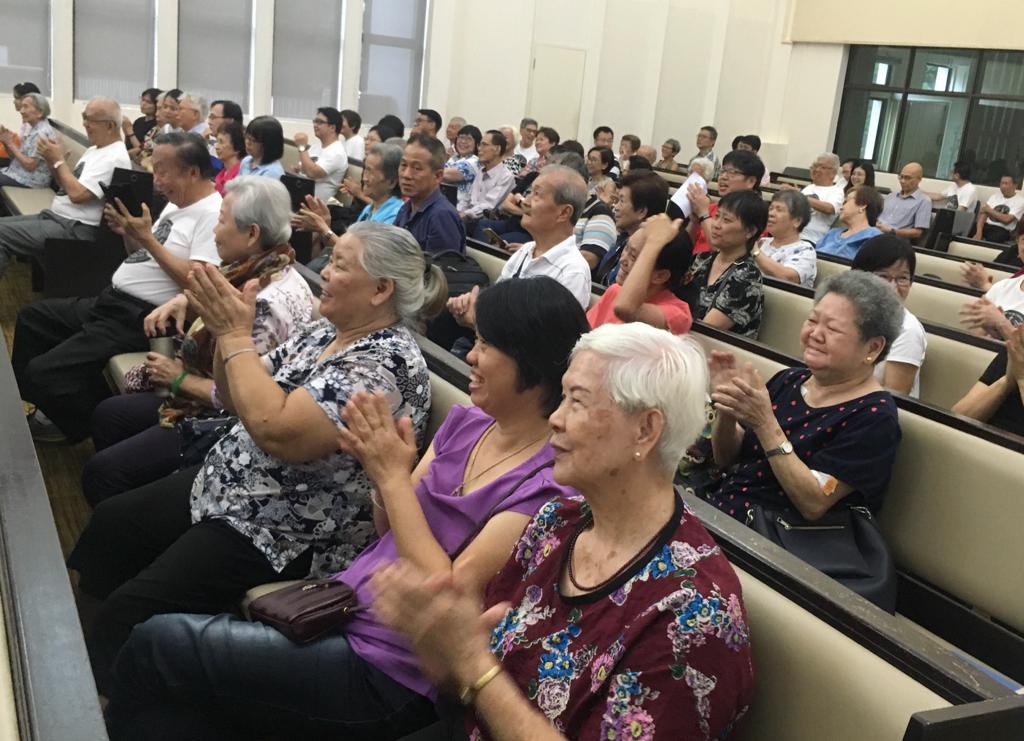 Enjoying a light moment during the Hakka rally at Singapore Hakka Methodist Church. All photos by Salt&Light team.
More than 1,700 people turned up at five simultaneous evangelistic rallies conducted in five different dialects this afternoon.
Over 90 people received Jesus as their Lord and Saviour or rededicated their lives, according to the organisers' initial estimates.
The simultaneous dialect rallies – a first in Singapore – were held at five different churches: Bukit Panjang Methodist Church The Sanctuary, Kum Yan Methodist Church, Newton Life Church, Singapore Hakka Methodist Church and Holy Grace Presbyterian Church.
Evangelists Rev James Lim (Hokkien), Rev Oh Beng Kee (Cantonese), Rev Tan Yew Keng Eugene (Teochew), Rev Chong Soo Fa (Hakka) and Rev Roy Koh (Hainanese) shared the Gospel in the various dialects.
Among the guest speakers were Chew Chor Meng (Teochew), Moses Lim (Hokkien) and Peter Yu (Hainanese).
"What a breakthrough to see five dialect evangelistic rallies happening on the same day at the same time in Singapore, for the first time in church history," said Senior Pastor Chern Hock Chye of Renewal Christian Church.
"We hope to see more such efforts among the Chinese Churches – we are fighting with time for the salvation of the dialect-speaking population of Singapore!"
Shirley Yeng's parents were among those who came to know the Lord today at Kum Yan Methodist Church. Calling it "God's divine appointment", the 51-year-old found out about the rallies by chance from another friend.
"Pastor Oh Beng Kee said something very crucial that touched them – that it is not a matter of knowing, but it's about receiving," she said elatedly. "It is indescribable, the gratefulness to God because we've been praying for my parents' salvation for over 15 years."