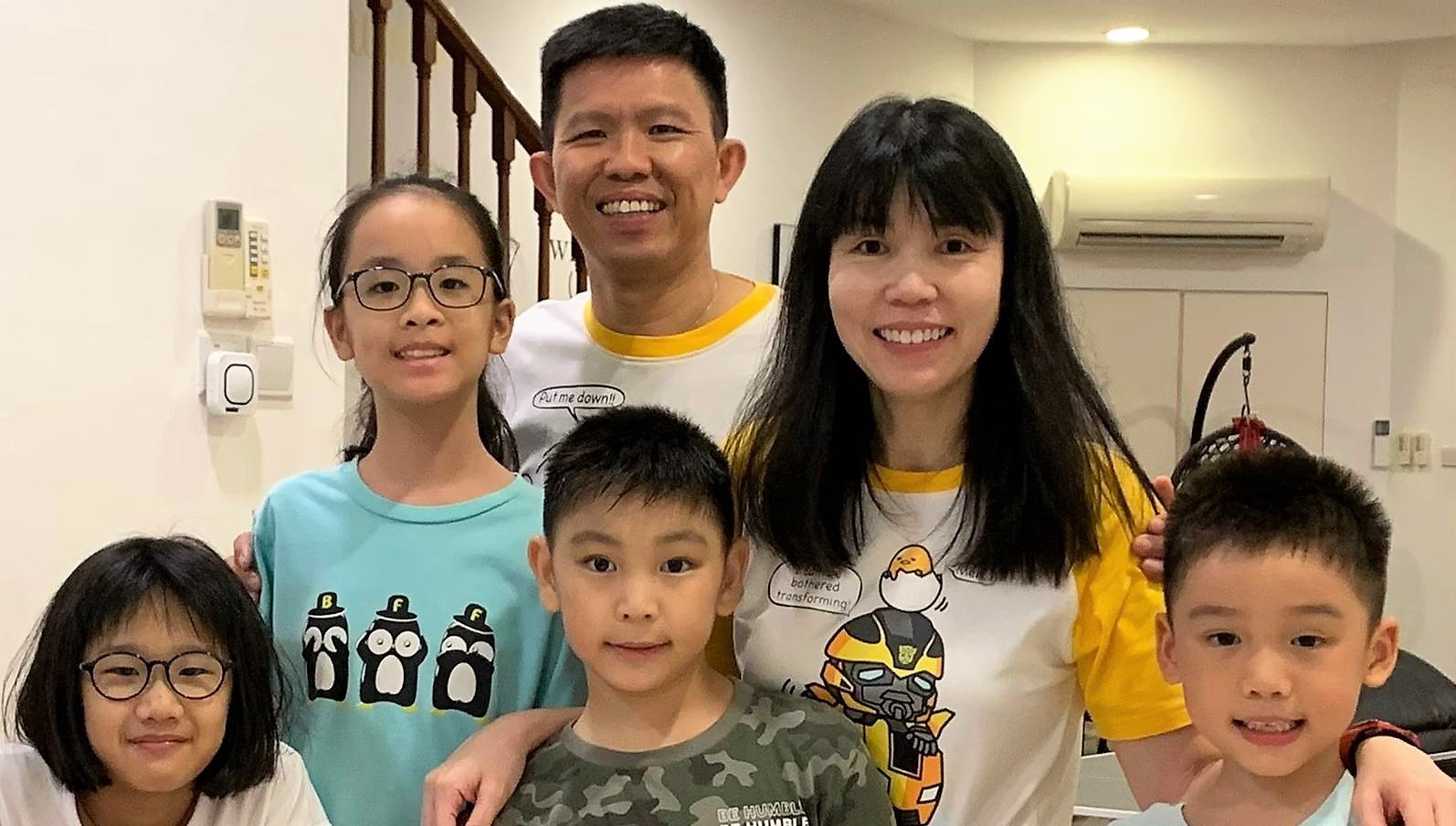 The Lims adopted their four children without choosing them. They did not even request to see a photograph of the babies beforehand. Photo courtesy of the Lims.
Drug abuse. Prodigal children. Infertility. Trauma. Adoption. Children with special needs.
These are topics that don't get preached about nearly enough. These are sometimes not even things that can be raised at cell groups. Many don't always feel comfortable sharing about them in their Christian circles.
Yet, there is a gnawing need for such issues to be discussed. For support to found. For hope to be shared.
In their darkest moments, God trumpeted His comfort, His provision and His love.
This was clear when a faithfully-serving couple wrote to Salt&Light asking if they could be connected to another set of parents who would understand. Their child had strayed from the faith. Could we help?
This was apparent when Zoom chat show Salt&Light Family Night was launched even as Covid numbers soared last July. Hundreds of parents registered episode after episode to be part of conversations that dealt with heart and hard matters.
Through it all, participants and panellists demonstrated the truth that CS Lewis once wisely noted, that God whispers in our pleasures but shouts in our pain. For, indeed, in their darkest moments, God thundered His comfort, His provision and His love.
In Salt&Light's latest book Salt&Light Inspirational Stories of Faith in Families, the stories of some of these men and women join the chorus of testimonies – 34 in all – that tell of how God had His hand on their children, their marriages and their families.
These are the God dialogues of some of the panellists of Salt&Light Family Night that are featured in the book.
Dr William Wan: The pastor, his prodigal and the patience God taught
He is best known as the face and soul of the Singapore Kindness Movement, a non-government, non-profit organisation he started more than a decade ago to encourage Singapore to be kinder to one another.
A one-time lawyer and pastor of various churches both in Singapore and abroad, Reverend Dr William Wan, 74, knows real heartache that has driven him to his knees in prayer.
When his middle child was 14, she "chose a punk lifestyle".
It was more than just wearing black lipstick, shaving half her head while dyeing the rest rainbow hues, and spotting multiple piercings on her ears.
She would skip school, stay out late or, when home, lock herself in her room to smoke and listen to heavy metal music. Dr Wan and his wife suspected that she was experimenting with drugs as well.
"As long as our kid is alive, God is still at work in the person."
Once in the gifted programme in school, her grades soon plunged.
Then, at 16, she asked to leave home. What would follow would be years away from his protection but not his prayers. Dr Wan's daughter ended up pregnant at 20 and divorced in her early 20s.  
She would eventually turn her life around, earning a PhD while raising her son who is now 25.   
In that season, God spoke to Dr Wan about patience.
"The Bible tells us that, in God's eyes, a thousand years is like a day (2 Peter 3:8). What is time to God?
"Learn patience. As long as our kid is alive, God is still at work in the person. It may take 10 years, 15 years.
"Don't try to determine the timing of the solution or the timing of God's deliverance by our own reckoning. It has to be God's reckoning."
Joan Swee: The widow, her grief and the love God showed
Joan Swee, 62, knows grief. Intimately.
As a counsellor and grief recovery specialist at Whispering Hope Singapore, a consultancy she founded, Joan regularly walks with people dealing with grief from losses.
As co-founder of Singapore's only widow support group, Wicare Support Group, she counselled widows for two decades, helping them with their grief.
But her closest walk with grief comes from her own journey with loss. At 35, she became a widow.
When her husband died of liver cancer, Joan did not just lose a spouse. She lost a soul mate and her best friend.
"I realised that nothing could separate me from the love of God. Nothing – not death – not even Henry's death."
"For the first six months, my pillow was wet with tears every night as I tried to forget the nightmare.
"No words could express how I felt. No human comfort could address the pain."
Worse still was the grief her young sons – aged six and eight then – felt but could not articulate. Instead, there were temper tantrums, angry outbursts and uncontrollable tears.
Joan had to deal with them alone. In her loneliness – "I was the only widow I knew" – she had one question.
"I needed to know if God still loved me."
God answered her while she was on a trip to Israel.
"As I stayed in the Garden of Gethsemane, in Caiaphas' dungeon, at Galilee and at Golgotha, I experienced God's presence and felt so loved by Jesus. 
"On that trip, I was healed again by His redeeming love. I realised that nothing could separate me from the love of God. Nothing – not death – not even Henry's death."
The Yuens: The silent child, the parents' hopes and the vision God gave
There were signs along the way that their only child was not thriving.
Reverend Jeff Yuen and his wife Tammy noticed that their son was missing his developmental milestones – walking months later than his peers, not being able to sit up, drooling constantly,
He also seemed to be in a world of his own – not responding when called or maintaining eye contact.
Easily agitated, he would hit his head on the floor or the wall if there were loud noises.
"It was distressing for us to watch," said Tammy, 45.
At two, Josiah was diagnosed with moderate autism and development delay which would severely impede his speech development.
"I didn't want to believe it."
"God showed me the brilliance he has hidden inside that had not been visible to me. It caused me to repent."
Her husband had founded Soakability Church, a church that moves in the supernatural, and the couple is no stranger to miracles, wonders and healing.
Every Sunday, the pastors and the healing team walk the streets to pray for the sick. The injured would be healed instantaneously. Those with cancer were cured miraculously.
"Even doctors couldn't understand it."
Tammy wanted the same for Josiah. But the hoped-for healing never happened. As time passed, the challenges grew. There were temper tantrums and frustrations on both sides.
"I couldn't understand what was happening, why it was happening."
God would give the Yuens an explanation they did not expect. He gave Tammy a vision.
"In this vision, Josiah was a bit older than he is now. He was talking into a big IMAX screen.
"I asked God, 'What is he doing?' God said, 'He is doing a live video conference with people of his generation.
"My jaw dropped. I had always thought of him as someone with low intelligence because he can only make sounds.
"God showed me the brilliance he has hidden inside that had not been visible to me. It caused me to repent.
"It changed the way I looked at him. I began to view him with more respect and that really helped our relationship."
The Lims: The empty cradle, the choice they made and the masterplan God revealed
After eight cycles of fertility treatments and no baby in sight, the Lims – Dickson and Allison – chose to adopt.
That would be the last choice they would make with regard to the adoption because, unlike most adoptive parents, the Lims chose not to choose whom they adopted. Instead, they told the adoption agent that they would take any baby that came long next who needed a home.
They would do this not once nor twice but four times. They did not even want to see a photograph of the babies beforehand.
God has assured them their children is part of His masterplan for their lives.
"We couldn't bear the thought of any child being abandoned a second time just because we chose someone else, let alone decide between two beautiful babies whose existence wasn't even their choice," said Dickson, 53
Three out of the four children would subsequently be discovered to have special needs. Their second daughter has Attention Deficit Hyperactivity Disorder (ADHD) as does their third child, a son, who was also diagnosed with cerebral palsy. Their youngest, another son, has dyslexia.
Despite this, the Lims have no regrets. God has assured them their children is part of His masterplan for their lives.
Though adoption usually takes many months, even years, they received all their four babies within three months. All their children are born in May. And though they have no genetic ties with Dickson or Allison, two of their children resemble Allison while the other two resemble Dickson.
---
To find encouragement for your own journey of grace, or to bless someone who needs hope, CLICK HERE TO GET YOUR COPY of Salt&Light: Inspirational Stories of Faith in Families. 
---
RELATED STORIES:
New Salt&Light book: Powerful accounts of Singapore families who find strength amid tremendous setbacks
Their stories of loss and failure went on to bless others in extraordinary ways: Profiles in new Salt&Light book
Just released! Salt&Light: Inspirational stories of Faith in Families
The newly released Salt&Light: Inspirational stories of Faith in Families is now available for pre-order here.

Please note that only orders made by December 16 will be delivered by Christmas.
While family life may give us some of our most memorable and joyful moments, it can also take us on perplexing and heartbreaking journeys.
In Salt&Light: Inspirational Stories of Faith in Families, find encouragement in 34 true-life accounts that show that unvarnished reality and hope can exist side by side. Draw inspiration so that you, too, may experience life-giving faith in every season of your life, even through times of testing.
Place your order here. Also available are Special Christmas Bundles and bulk orders of 10 or more books.
If you have enjoyed reading Salt&Light...
We are an independent, non-profit organisation that relies on the generosity of our readers, such as yourself, to continue serving the kingdom. Every dollar donated goes directly back into our editorial coverage.
Would you consider partnering with us in our kingdom work by supporting us financially, either as a one-off donation, or a recurring pledge?
Support Salt&Light