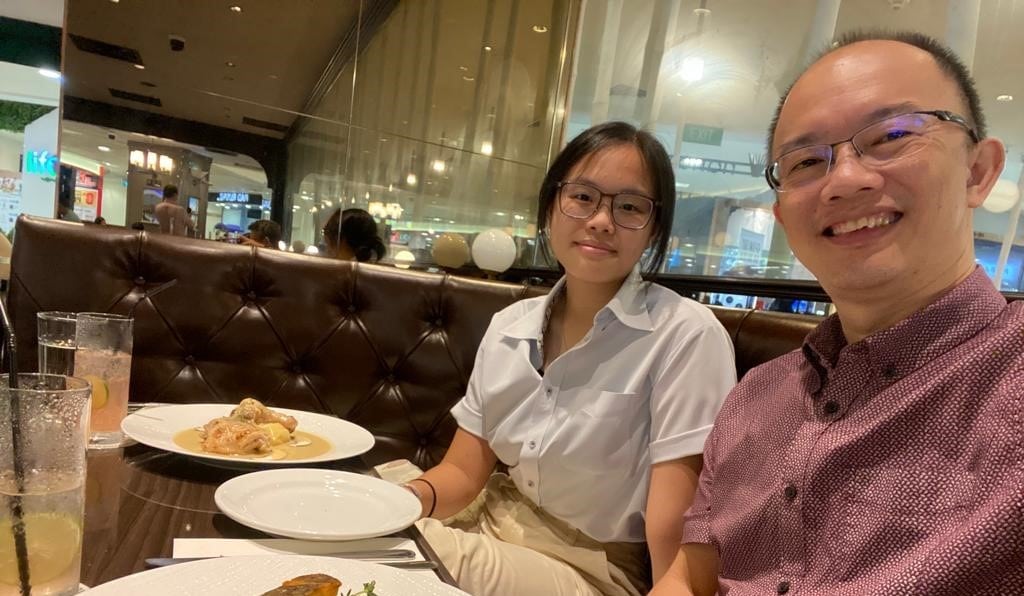 Jean Goh and her father Wee Tiong at the father-daughter dinner organised by their church. They had the chance to have deeper conversations that helped them understand each other better. Photo courtesy of Goh Wee Tiong.
The café sits at a quiet corner of an Orchard Road mall. 15 fathers, with their daughters of varying ages, are about to begin a very special meal. It is the first father-daughter dinner organised by Cornerstone Community Church.
The fathers presented a gift to their daughters en route to the dinner. The younger girls received stuffed toys which they cuddled with glee. Some of the teenage daughters received jewellery which their fathers helped them to put on.
In turn, the daughters picked out the outfits for their dads.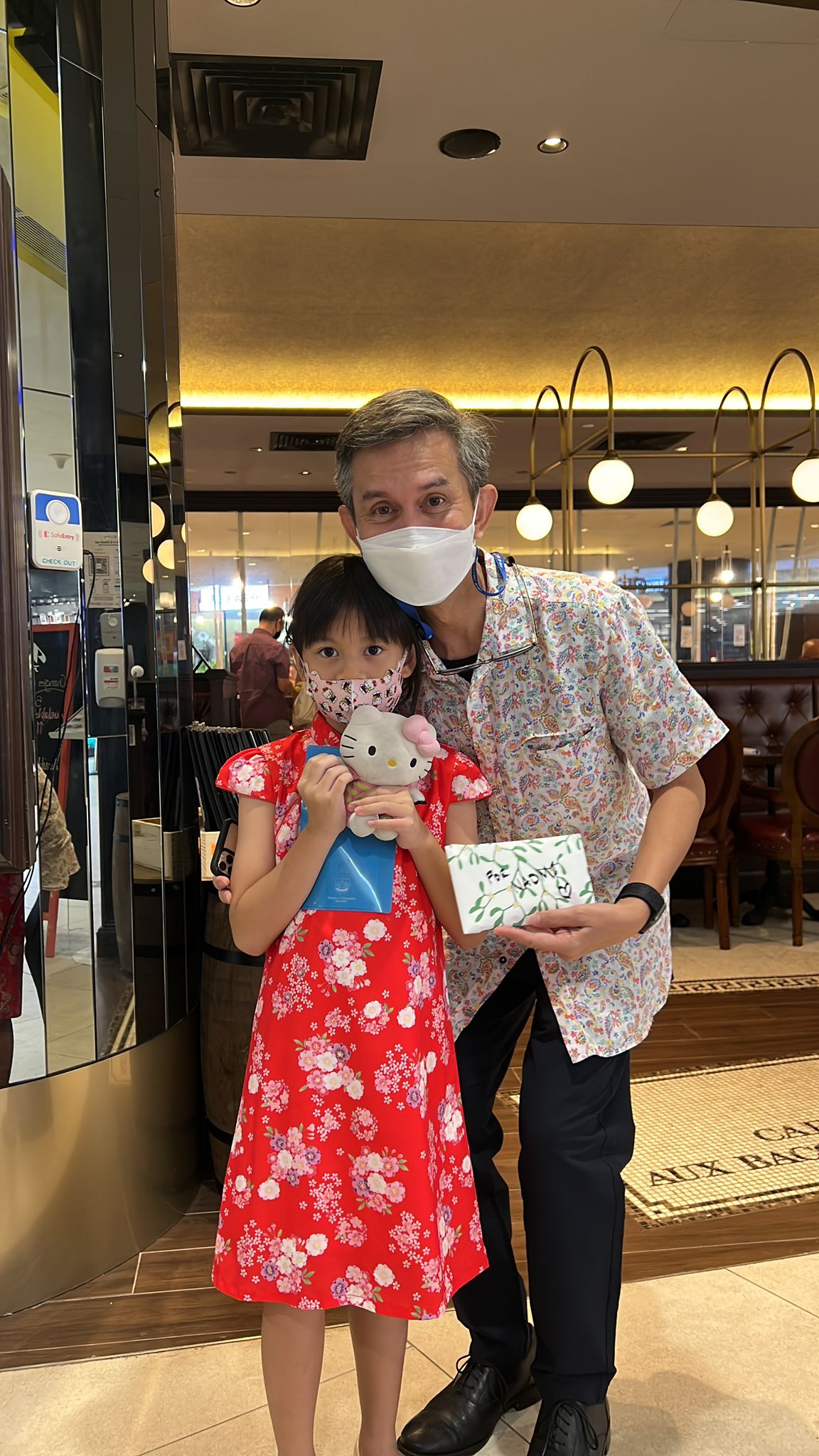 Then, with each pair seated in spacious booths, the evening began.
Over the course of the meal, the fathers and daughters broke the ice with the help of conversation starters – 25 questions, from which they could choose five.
Jean, who is 18, was there with her father Goh Wee Tiong, 47. She learnt a little about the boy that her father used to be and it surprised her.
"There were a lot of small anecdotes from when he grew up. It was really interesting because it feels wholly different to have a picture of my dad when he was about my age.
"I found out that he was really active and loved to take risks and new challenges, something that I never would have guessed from his steady persona now."
The desire to connect
Stevenson Tan, 55, is the father behind the dinner held in March this year. He attended the event with his 12-year-old daughter, Apphia.
"I used to bring her to Dad & Daughter events hosted by the Centre for Fathering to have special dinners and tea times with her.
"But during Covid-19, all the activities stopped."
As he spoke with other men, Stevenson saw the need for fathers to come together "to help one another connect with our own children". He decided to take up the mantle to organise his church's first father-daughter meal.
In his search for an intimate setting for the inaugural dinner, Stevenson chanced upon the café.
"There were quite a lot of teen girls there. So, I thought maybe the daughters would like the place."
A trial meal with his own daughter there confirmed that the café was ideal.
A volunteer with Dads for Life and part of the fathering movement Elijah 7000, Stevenson has a heart for encouraging fathers.
"It is my heart's desire to restore the father's role as protector, guardian and affirmer to their own children."
Protected time for deeper discoveries
For Wee Tiong, the dinner was a chance to spend "protected time" with his daughter.
When Jean was little – in kindergarten and throughout primary school – father and daughter were close. But in recent years, between Wee Tiong's long hours at work and Jean's packed schedule, the pair have had less time together.
"As she approaches adulthood, the opportunities to shape and speak into her life will have to be more deliberate as she develops her own worldviews."
And he tries. He makes it a point to have dinner at home and should he return home late, he pops into his daughter's room first just to say "hi".
His efforts have not gone unnoticed.
"It is important for fathers to show by example how a daughter should be treated right."
Jean told Salt&Light: "When he's free, he always makes an effort to organise family outings so that we can spend more quality time together. I appreciate it very much."
Caleb Garcia, associate pastor of Cornerstone Community Church, attended the dinner with his eight-year-old daughter Naomi Hope. It was his chance to affirm her in the way that she appreciated.
"We are close. I am her go-to person for the physical fun stuff and when she wants to be carried or swung around.
"But I realise I need to be more intentional with her love languages of spending quality time and receiving words of affirmation."
Although Naomi Hope reminds her father often that she loves Mummy more, their conversation over dinner did bring them closer.
"We enjoyed the part about getting to know one another. I realised that there were things that I did not know about my daughter and that she was really growing up!
"This is a wonderful opportunity for every father with a daughter to really connect with them."
Highlight of the night
Connection aside, the dinner gave the fathers and daughters much food for thought to grow their relationship.
As part of the event, fathers had to write a letter to their daughters and vice versa. For Wee Tiong, reading his daughter's letter to him and watching her read his to her was the highlight of his evening.
"I'm not a very expressive person by nature … the letter gave me an opportunity to share my thoughts."
"I'm not a very expressive person by nature and tend to keep my thoughts to myself. So, the letter gave me an opportunity to share my thoughts on what I appreciate about her, what I'm sorry for and what I will try to do.
"It was an invaluable proxy to talking it out. And I'm grateful for that. I'm also touched by her letter which showed that she noticed many things in my life."
The writing exercise has opened up a new means of communication for Wee Tiong, who intends to pen down more of his thoughts for his daughter.
"I also picked up some of my daughter's comments, especially about mindfulness at home."
Asked what else she would like her father to know about raising a teenage daughter, Jean said: "Looking after a teen girl is like watching a Science experiment; one needs to keep watch for all the small things that are changing, and care for them with these nuances in mind. It's not easy!"
Daddy's role
As part of the night, fathers had to make a pledge to their daughters. Ps Caleb found this most meaningful.
"I loved the idea of covenanting with my daughter to be her protector, her covering and guide until the day I give her away in marriage.
Ps Caleb learnt the importance of the father's protector-nurturer role from his own father who was a strict disciplinarian. But he also saw the value of balance from the way his father was with him and his six siblings.
"I loved the idea of covenanting with my daughter to be her protector, her covering and guide until the day I give her away in marriage."
"I saw that fun part from my own father. Growing up, he would love playing 'horse-y' with us. He would be the horse and we would all climb on him.
"We always had so much fun when my dad was home. I didn't always appreciate the discipline part but my dad was very loving. I never doubted that he loved us. That gave us quite a bit of assurance."
He has tried to give his children the same kind of assurance with which he was raised.
"I correct when necessary but always in tenderness and always with affirmation of my love. I try to say this to my children every day: 'I love you and I'm proud of you!'"
Wee Tiong agreed that a father's role in a daughter's life is important and was glad that the dinner gave him a chance to reinforce it.
"It is important for fathers to show by example how a daughter should be treated right and the boundaries that a guy should observe."
---
RELATED STORIES:
Car rides with my daughters: A time of testing, learning and love
If you have enjoyed reading Salt&Light...
We are an independent, non-profit organisation that relies on the generosity of our readers, such as yourself, to continue serving the kingdom. Every dollar donated goes directly back into our editorial coverage.
Would you consider partnering with us in our kingdom work by supporting us financially, either as a one-off donation, or a recurring pledge?
Support Salt&Light