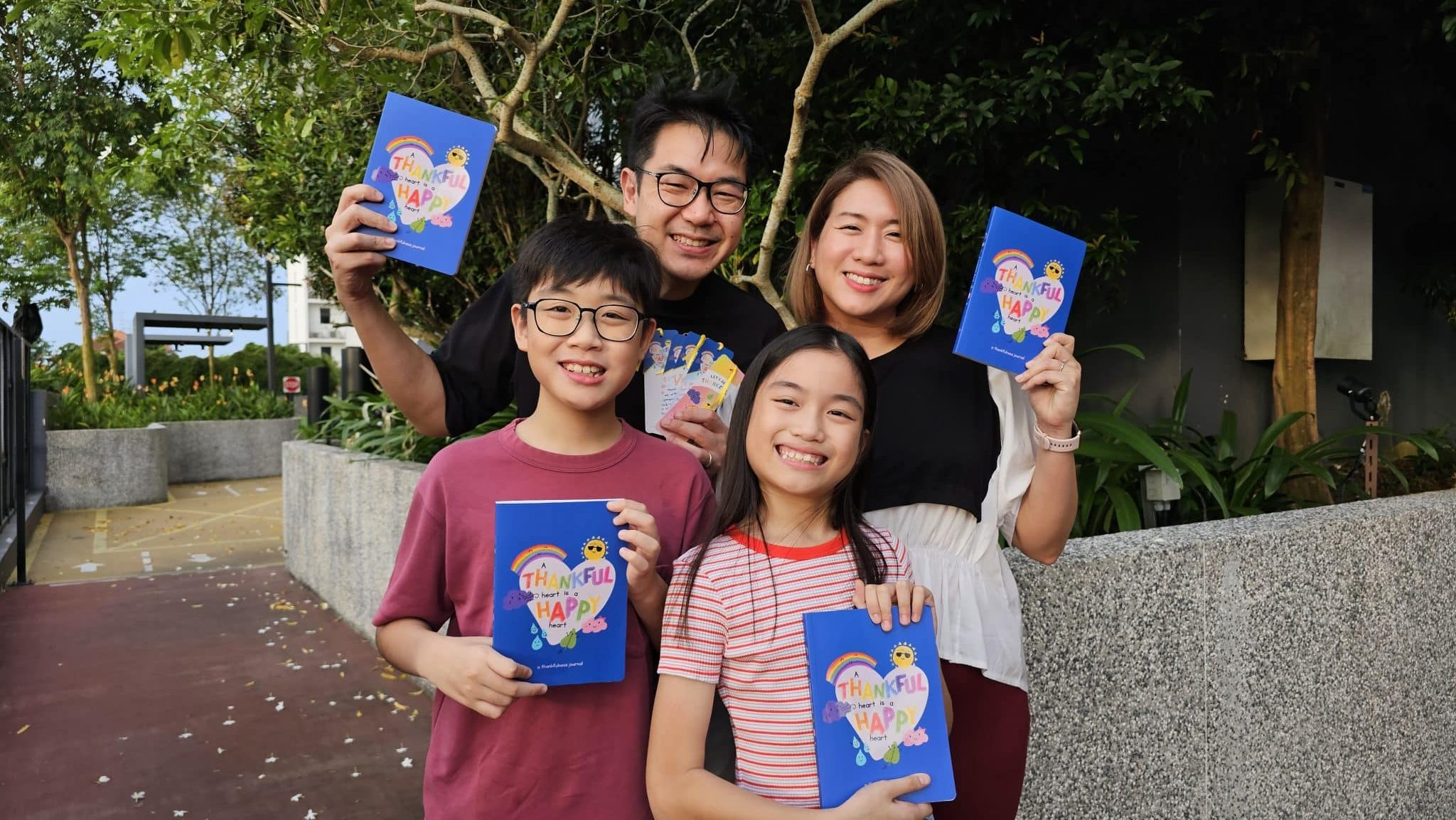 These June holidays, start journalling together with your kids to unlock the secret to happiness. Elvin and Esther Foong were inspired by their children, Phoebe and Nathan, to create the thankfulness journal. All photos courtesy of the Foong family.
Isn't the weather oppressively hot lately? Aren't things just getting too expensive? How is it that the work never seems to get done?
Have these thoughts crossed your mind? Did these words pass your lips? Were you complaining?
Esther Foong had an experience not too different from this. It prompted her to discuss with her husband Elvin: What is the secret to being happy?
"Elvin and I were mulling over this simple question. And we realised that we can all be happier people by being contented and thankful.
"The tagline A Thankful Heart Is A Happy Heart came to me."
This sparked an idea to publish a thankfulness journal. Now the journal has become a colourful book for children to pen their thankful thoughts.
Beginning right at home
When Esther, co-founder of The Treasure Box SG (TTB) with Elvin, came up with the idea that a thankful heart is a happy heart, she decided to begin a thankfulness journal right in her own home with her two children Nathan and Phoebe. They were just eight and six respectively at the time.
"Because of thankfulness, Nathan's mindset may be conditioned to look at a bad experience positively."
They started with a simple black notebook. At the end of each day, the children would choose from one of five areas to document their day:
One thing you are thankful for
One thing you learnt
One favourite memory
Someone you helped or showed kindness to
One challenge you faced
Said Esther: "We were surprised to observe our children slowing down to appreciate things happening in their lives and around them."
One particularly memorable entry was an account Nathan recorded about being reprimanded by his PE teacher.
He had not followed instructions and had gone ahead to shoot hoops with his friends instead of passing the basketballs.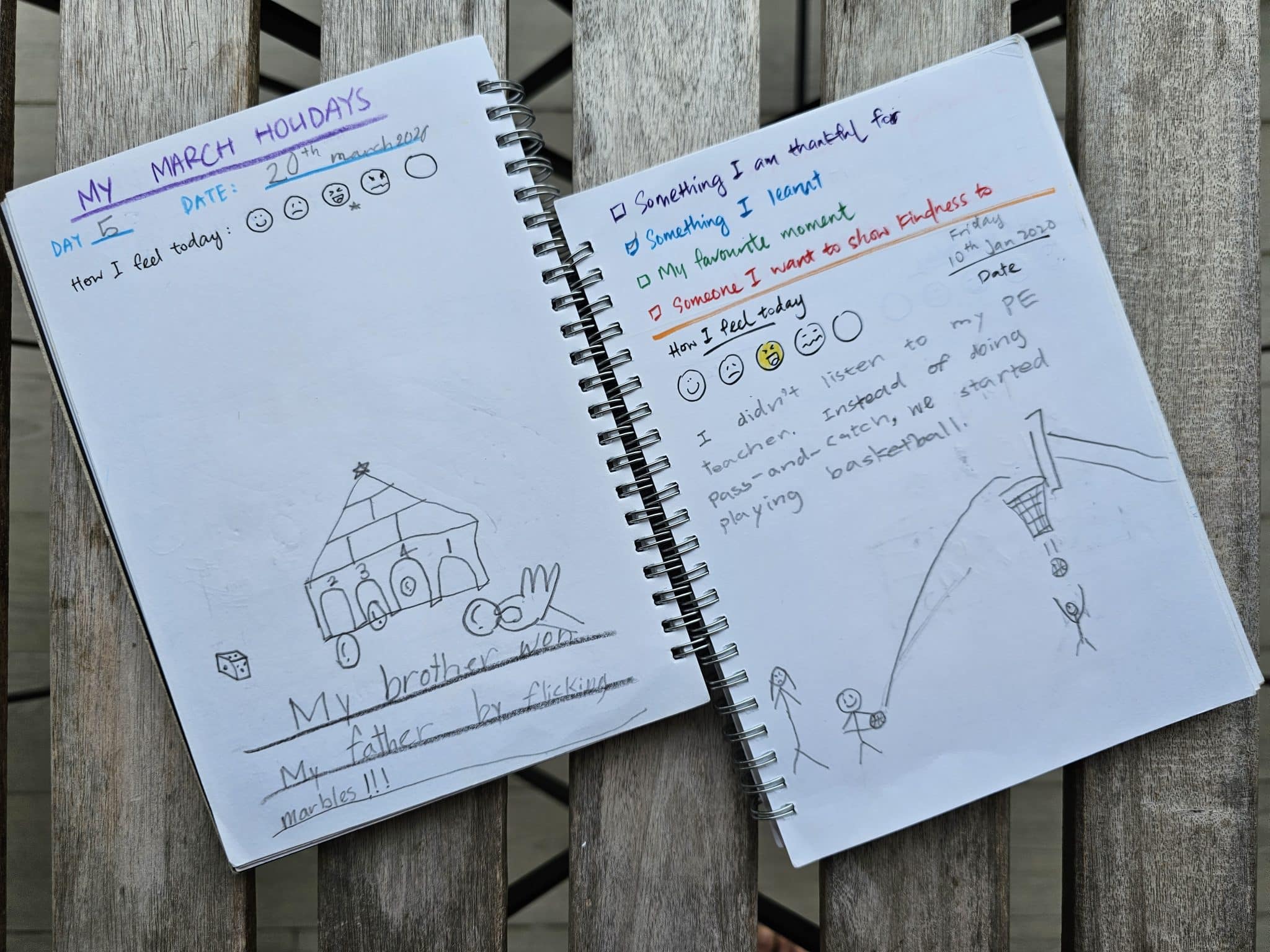 "He wrote it under the category One thing I learnt. But he told me he would have also put it under One thing I am thankful for.
"He was thankful that he could be corrected now rather than at a later point in his life when the problem might be bigger and the consequences more severe.
"Nathan could have chosen to be upset, feel unfair or even be bitter towards his PE teacher. But I am so glad that because of the journey we have taken to be thankful, his mindset may have been conditioned to look at even a bad or scary experience in a positive light," said Esther.
Three-year labour of love
Their experience with their children confirmed for the Foongs that "a habit of journalling will help each of us to build a habit of appreciating the positive things in life".
Added Esther: "It can slow us down a bit to look at the world with a different perspective and perhaps that would lead us to find joy in our everyday experiences."
They decided to create a journal for other families.
"Slowing down to look at the world with a different perspective can lead us to find joy."
Said Elvin: "We didn't just want the book to have journal pages. We wanted it to be educational, informative, fun and interactive."
That the journal had to engage children was clear. The Foongs researched ways of presenting information so that "every journal page is different with different quotes, different characters".
Together with their illustrator Esther Chan, who has a degree in Psychology, they created the 80-page full-colour thankfulness journal, A Thankful Heart is a Happy Heart.
As to why it took three years, Esther confessed: "There were many delays and distractions."
But there were also "divine rewinds" when God reminded them about the project and brought the right resources at the right time.
Said Esther: "For the longest time, I was really frustrated with the progress of the journal.
"It reminds me of how God is constantly at work in our lives."
"However, the week before we were to launch the journal, the government announced the five key shifts for Singapore. One of them was a 'renewed commitment to one another'.
"God always has the best timing. I was invited to share on CNA938 and the line 'A thankful heart is a happy heart' apparently was mentioned a few times throughout the day!
"We had people enquiring about the journal and we didn't even have the journals yet."
Added Elvin: "There's something to be said about finally holding a physical copy of the thing you've been working on for years.
"It reminds me of how God is constantly at work in our lives, too, and that, one day, we will be perfected in His presence and we will truly feel the Father's joy." 
A family experience
Parents can guide their children through the journal.
Said Elvin: "For example, they can share one thing in the day or week that they're thankful for over dinner. After dinner, they can spend 10 minutes to journal it down together."
Added Esther: "We're hoping that churches can use this resource to encourage members to develop a habit of recognising how God is present in their everyday lives.
"Being thankful is an intentional act. It's a choice to see the good and express gratitude."
"When we see how God is and has been with us, it gives us a sense of the reality of God in our lives and hope for the future."
In the works is a programme for schools and churches with a faith-based option as well as a community-friendly one to share on the topic of thankfulness. The hope is that everyone can understand that "the pursuit of happiness and success doesn't require getting or doing more, but simply being thankful for what we already have".
Said Elvin: "I'm someone who doesn't complain a lot. I just take things in my stride and go with the flow.
"But I tend to be a pessimist. I'm learning that being thankful is an intentional act and attitude. It's a choice to see the good and express gratitude for it."
Agreed Esther: "There are many things in life that we have no control over. But one thing we can control is our attitude.
"Perhaps because I grew up not having much and saw how my parents worked so hard to send my siblings and me to Singapore for our education, I am quite easily contented.
"Over the years, the trust and confidence that God will take care of me and direct my life's path (Proverbs 3:5-6) has also molded me to not covet what others have and shift my focus to what I already have."
---
RELATED STORIES:
In the midst of the storms of life, give thanks — and tell about Jesus
If you have enjoyed reading Salt&Light...
We are an independent, non-profit organisation that relies on the generosity of our readers, such as yourself, to continue serving the kingdom. Every dollar donated goes directly back into our editorial coverage.
Would you consider partnering with us in our kingdom work by supporting us financially, either as a one-off donation, or a recurring pledge?
Support Salt&Light