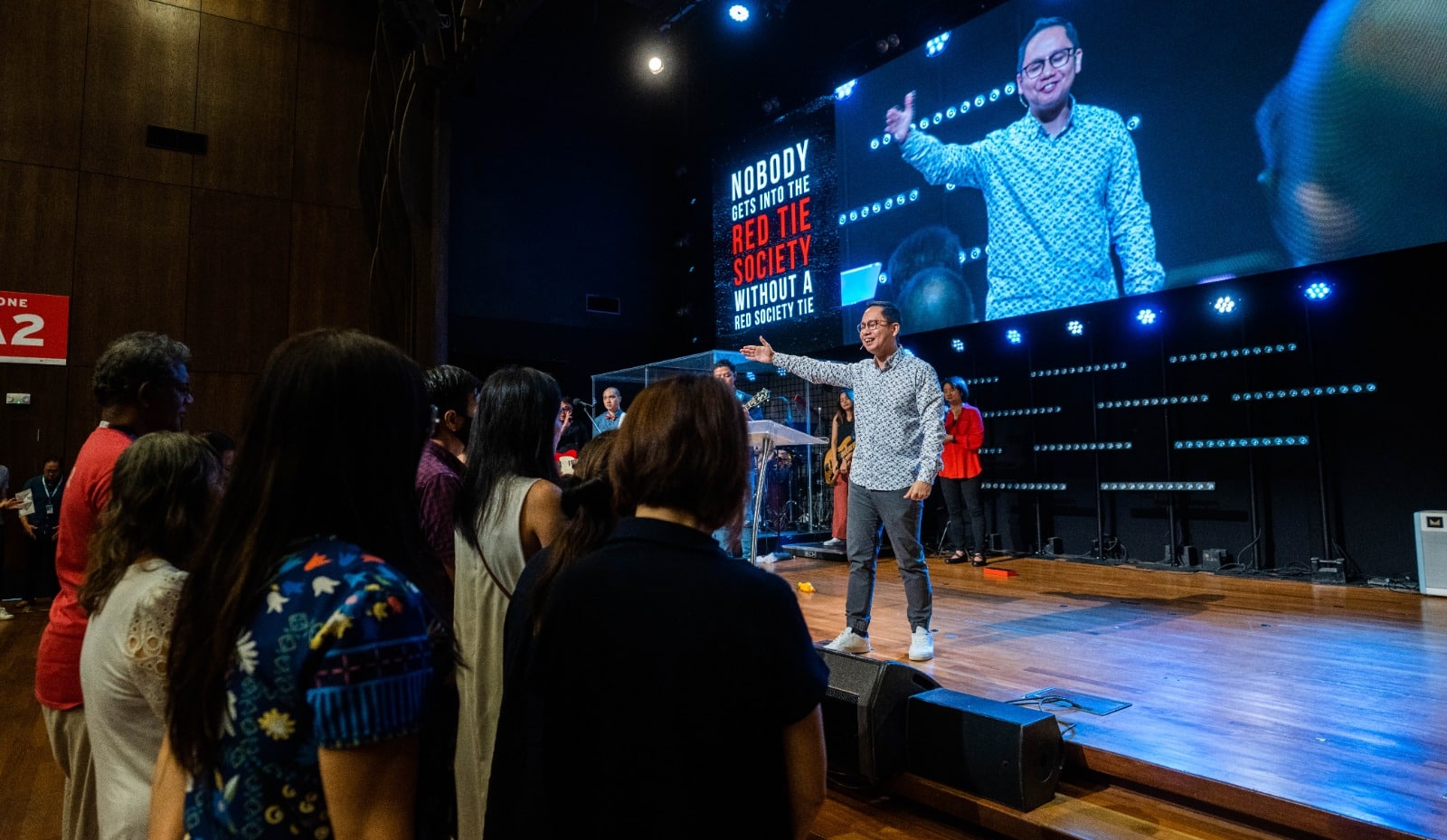 Pastor Elijah teaching the Word of God from the pulpit. All photos courtesy of Pastor Elijah Chan.
When Elijah Chan was 14 years old, he went for a youth camp in Malaysia.
The teenager responded to an altar call there – partly because he felt God speaking directly to him through the sermon, and partly because he simply wanted to follow his friends who were making their way down to the front.
"At that time, I was more interested in other things, like finding a girlfriend."
The visiting prophet prayed for him and gave him his first prophetic word: "One day, you will go into full-time ministry. You will teach the Word of God and influence people to come back to God."
It's a good word, the teenager thought to himself.
But he shelved it at the back of his mind. He did not ponder or pray about it.
Instead, he forgot about it as the years went by.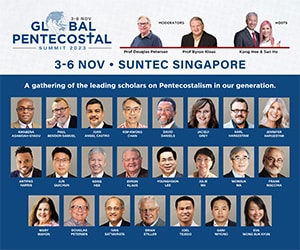 "At that time, I was more interested in other things, like finding a girlfriend," admitted Elijah with a grin.  
Backsliding and drifting away 
During his polytechnic and army days, Elijah found himself backsliding. He was hurt and disappointed by something that had happened in his former church and decided to leave it.
Though he always knew the reality of God, he did not take his faith seriously.
Seduced by the attractions of the world, he began to pick up vices such as smoking.
His parents, who were then due to be missionaries in Shenzhen, were worried and continually prayed for him.
During those three years when Elijah was far from God, he often felt empty and lost.
One day, he wrote a short note on Facebook about being disappointed with God. A friend from his former church saw it and messaged him privately. She encouraged him not to give up or walk away from the faith.
Another good friend of his who was attending Cornerstone Community Church also invited him to join him in church.
"One day, if the call of God were to touch your life … would you leave us to work in church?"
Elijah went for a service and felt the intense presence of God.
It left him crying, especially during the worship segment.
He decided to stay on and join that church.
After finishing National Service in 2011, Elijah applied to the Immigration and Checkpoint Authority (ICA) as he only needed to go for a course and training was on-the-job.
During that time, most of his family members were in full-time ministry. His parents were missionaries in East Timor and Shenzhen, while his sister was also doing mission work in Tunisia.
The ICA interview 
During his ICA job interview, he sat before three ICA officers in full uniform. They perused his job application details and remarked that his family members were all serving the church.
A female ICA officer suddenly asked him: "One day, if the call of God were to touch your life the same way that it touched your family, would you leave us to work in church?"
Elijah felt like Peter when the rooster crowed.
Elijah was taken aback at such an unusual question.
As he really wanted the job, he blurted out the "politically correct" answer: "If you give me the chance to join, I will not leave this job."
On his way home from the interview, he suddenly remembered the prophetic word he received nine years ago when he was 14.
Overtaken by an overwhelming sense of guilt, Elijah felt like Peter when the rooster crowed (Matthew 26:31–35). He felt like he, too, had betrayed his Lord by denying Him.  
"I thought I had messed up and blown my chance with God," he said. "The one opportunity I was given to testify in front of key personnel, I told them instead that I would not work in church."  
Stamping passports 
Eventually, he was hired. His job as a sergeant required him to check documents, stamp passports and helm baggage control duties. Sometimes, he also got to board ships and cruises to check for contraband substances or approve international documents.
Elijah enjoyed his work.
"It was fulfilling because I enjoyed the company of my colleagues. I planned to stay and climb up the ladder," he said.
A year into the job, in 2012, his supervisor made a passing remark that they could send him for further studies, after which he could become a senior officer.
"Do you have a full-time call in your life?"
Shortly afterwards, Elijah was going up the escalator for church service one Sunday when he bumped into his zone leader.
At the escalator landing, she stopped him and asked: "Do you have a full-time call in your life?"
"Don't know, maybe," he mumbled. She nodded and walked off.
Despite his nonchalant answer, Elijah was intrigued by her question. He wondered why she had asked him such a question; it stayed in his mind for the whole day.
Even when he was back at work the next day, he found himself still thinking about the matter.
During his lunch break, he went to the pastor's Facebook page to find out what she had been up to. He noticed that she had just enrolled herself into Tung Ling Bible School's five-month leadership programme.
Hearing the audible voice of God
As he was scrolling through her Facebook page, he heard the audible voice of God for the first time: "Next year, resign and enrol in Tung Ling Bible School."
It was a soft voice but Elijah knew it was God. He was moved and excited.
Immediately, he texted his mother to tell her what had happened. He knew she would pray for him as she had also faithfully prayed for him to come back to God years ago.
However, he cautioned her not to tell his father yet as he did not want his father to overreact. After all, his zealous father had always wanted him to go into full-time ministry.
Later that night when he was back home, Elijah's mother told him what had happened after he texted her. Immediately after his text, she saw her husband coming emerging from a room. The first thing he said to her was: "Elijah should go to bible school next year."
It was a confirmation for Elijah.
Later on, he would receive another confirmation from another pastor of his church.
"Young man, you have a full-time call. Come and see me next week."
Such divine guidance helped Elijah build up the confidence and resolve to quit his job the following year despite his fears about the unknown future.
He would have to quit a job that he enjoyed despite not knowing if he could get another job after he graduated from bible school.
His senior officer proposed for him to go on No-Pay-Leave instead, since he would only be attending the bible school for five months. Elijah declined the offer and resigned, as he knew that God had clearly told him to do so.
In bible school, he enjoyed worshipping God. Part of the programme involved students taking turns to present a 15-minute chapel devotion every morning.
When it was Elijah's turn, he gave a short sermon on 2 Peter 1 and spoke about the progression from faith to love.
"I thought I did a pretty good job, but I was met with silence from the audience," said Elijah.
Later, when he went back down to his seat, he felt a hand on his shoulder. He looked up and saw that it was his senior pastor, Pastor Yang Tuck Yoong.
Pastor Yang happened to sit in for his devotion that morning as he was due to teach the next module that they would be studying.
"Young man, you have a full-time call. Come and see me next week," Pastor Yang told him.
Elijah nodded and was, once again, excited at what was to come.
A job upon graduation 
When he went to see Pastor Yang the following week, Elijah shared with him that he was volunteering with the cell group department in the afternoons after bible school.
Pastor Yang encouraged him to continue with it.
When he graduated from bible school, the church immediately offered him a job in its training and equipping department.
"I thought I had missed my chance. But God was aligning everything and bringing it full circle."
"I was surprised and happy. I thought I had missed my chance regarding the prophetic word I had received when I was 14. But God was aligning everything and bringing it full circle," said Elijah.
"God is more powerful and faithful than our disobedience and He will bring us back to the path he has purposed for us," he added.
In 2013, Elijah started off as a pastoral assistant at Cornerstone Community Church. He was in charge of arranging training courses for the congregation.
He loved the work because he had a hunger for the Word of God. He often journaled his reflections on the Word in his diary and at times, shared it with others on social media.
As a cell group leader, he also prepared teaching materials for the group regularly. All this helped him build his foundation in teaching the Word.
Expanding his platform 
Over the years, God slowly expanded Elijah's platform to teach His Word.
"God is more powerful and faithful than our disobedience."
Four years into the job, he was given the opportunity to co-teach a training and equipping course with a deacon.
In 2018, he was invited to preach once every two weeks at the youth service.
"I was excited to bring the Word to the younger people, but there were hits and misses. I was zealous about teaching the word and had good content but did not connect well with them," said Pastor Elijah, who had become an assistant pastor by then.
He decided to take a pause on preaching at the youth service.
Pastor Elijah assumed that it was the end of preaching for him.
Two years later in 2020, however, he suddenly received an email from his senior pastor requesting him to speak at their church service at Bugis the following month.
Being just 33 years old then, Pastor Elijah wondered whether his youth was being despised.
"I was very nervous but excited because God has put in my heart a desire to teach His Word," said Pastor Elijah.
Some 18 years after he received his first prophetic word about his calling, Elijah saw how God's hand had brought it to pass despite all the detours in his life.
He has been preaching regularly in church since then, and church members have embraced his anointed teachings.
But though he is walking in his calling, the journey has not been smooth sailing.
Apart from struggling with finances and spiritual warfare, he is also learning to grow in spiritual maturity.
One year after he started preaching, he received some feedback that affected him quite a bit.
"I was told that the content was good, but it seemed I had not gone through the pruning of God. Therefore, what I spoke on seemed to be mere head knowledge," said Pastor Elijah.
Being just 33 years old then, Pastor Elijah wondered whether his youth was being "despised" (1 Timothy 4:12).
He went to God and prayed: "If this is from You, allow me to mature in You, not just for speaking but to be where You want me to be."
A journey of maturing and pruning 
In the following years, trials in life did come.
"In the right time, He will bring it to pass. A man's heart plans his way, but the Lord directs his steps."
His parents' marriage had issues. His in-laws' house rebuilding project was long-drawn and they worried over whether they were being cheated by the contractor.
"These trials disciplined and humbled me. As I go through pain, disappointments and doubts in life, I realised how near God is and how gracious He is," said Pastor Elijah, now 35.  
"Now when people say that they are struggling or have some doubts, my heart is drawn towards them," he added.
Over time, he has begun to receive a different kind of feedback – that his teaching has become more compassionate, and that he laces truth with mercy.
This is because Pastor Elijah has personally experienced the goodness and faithfulness of God, who has strengthened him through the trials he faced.
Currently, Pastor Elijah is still coordinating the training and equipping arm of the church.
He hopes to utilise technology more to disciple believers, locally and internationally, in the Word of God in order to combat false teachings in the present chaotic times.
The Providence of God 
To those who have a full-time call or a prophetic word that has yet to come to pass, Pastor Elijah reminds: Wait upon the Lord, as the gifts and calling of God are irrevocable (Romans 11:29).
"Do not strive. In the right time, He will bring it to pass."
"Do not strive. In the right time, He will bring it to pass. A man's heart plans his way, but the Lord directs his steps (Proverbs 16:9)."
Pastor Elijah speaks from experience.
"God's providence does not suspend or interrupt the natural course of things.
"Instead, He takes all the elements of our lives – our circumstances, conversations, decisions, mistakes and even disobedience – and somehow pulls all of that together to create what He exactly wills to do."
---
RELATED STORIES: 
He thought he had a "messy CV", but God led him to minister in the marketplace all over the world
The district judge who followed God's call to leave the bench and change the practice of family law
"I will bring you into a mission field without borders," God told banker Raymond Lim who took the Bible to board members and office workers
If you have enjoyed reading Salt&Light...
We are an independent, non-profit organisation that relies on the generosity of our readers, such as yourself, to continue serving the kingdom. Every dollar donated goes directly back into our editorial coverage.
Would you consider partnering with us in our kingdom work by supporting us financially, either as a one-off donation, or a recurring pledge?
Support Salt&Light