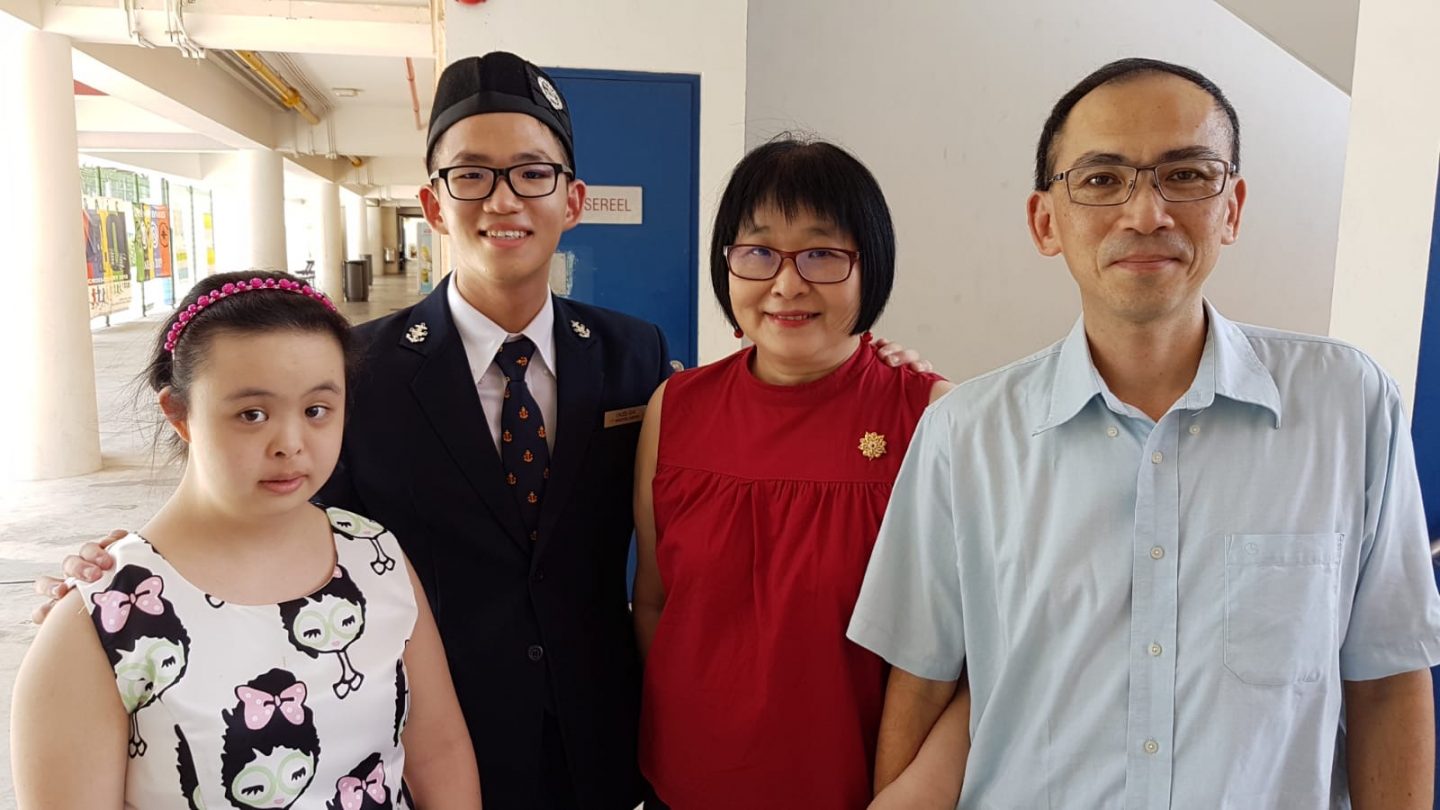 Sarah (extreme left) who has Down Syndrome, never fails to brighten her family's days with her cheerfulness, say the Gans. Photo courtesy of Mary Gan.
Their lives felt blessed so far. Then came the birth of Rachel.
Quek Kai Loo and Mun Yee's daughter was born with spina bifida, in which the spine and spinal cord do not develop properly. She would have to rely on a wheelchair for the rest of her life.
The early years were especially difficult. He couldn't go to church without crying while the rest of the congregation was singing, Kai Loo said.
"I can't do anything. God, take over."
They tried to take Rachel around in a stroller for as long as they could. Buying her first wheelchair felt like it was sealing her fate.
Every time Mun Yee wheeled Rachel through a shoe shop, her heart dropped. "She'll never be able to wear these pretty shoes," Mun Yee thought.
The first three years after Rachel's birth was spent in depression, Kai Loo said. "Why did God allow this to happen? Have we not been faithful to You?" he often asked the Man above.
Then came the point when the Queks relinquished all emotions and control over their unchosen circumstances.
"I can't do anything. God, take over," Kai Loo remembers saying.
That's when the emotional healing began.
Shining in other ways
The journey of raising children with disabilities to young adulthood and older, is one fraught with frustrations and never-ending worries, parents shared withSalt&Light.
But it is also a journey infused with powerful, protective love that can only be articulated by those who have walked through the challenges with their children.
When Mary Gan found out her daughter, Sarah, had Down Syndrome, she started blaming herself. First of all, why did she go ahead and have a child at the age of 38?
But when she and her husband, Antony, came to accept their daughter's condition, they realised what a gift she is to the family. Sarah is always cheerful and sociable, Antony said.
She is also an avenue to glorify God, said the Gans. Antony alludes to John 9, particularly in verse three when Jesus said "it was not that this man sinned, or his parents, but that the works of God might be displayed in him".
Sarah, who is learning baking at the APSN Centre for Adults, has showcased her talents on multiple occasions headlined by Singapore's leaders, including an occasion with President Halimah Yacob, said Mary. These are opportunities from God that she would not have been able to give Sarah, she realised.
When Antony and Mary argue, it is Sarah who tells them to stop, Mary said. And she would, in her quiet ways, try to prevent any outbursts in the first place, like putting her dad's used handkerchiefs strewn around the house in the laundry basket before her mum sees them.
Raising a child who may not grow to be a banker or doctor, but has shone in her own ways, has taught Antony and Mary the true value of their children.
It's not about good grades or money, Mary said. This realisation has helped the family to be unshackled from the burdens of pursuing material success.
"Seeing my friends (chase after success) for their kids looks so tiring," she said. Instead, it's about making sure they stay close to Christ, and to each other.
Caleb, Sarah's younger brother, said he wants to start a bakery some day that his sister can work at.
Disability is no accident
"If we weren't Christians, we would have collapsed," Kai Loo acknowledged. It's a supernatural peace that families have when they keep trusting God, he said. God provides for the ravens, he will provide for his people. (Luke 12:24)
Being disabled may not be a typical presentation of a person, said Rachel, who has spina bifida, but neither is it inherently bad or good.
She herself has no doubts this was how the Father made her, and in His eyes, she is perfect.
"We don't ask for people to pray for the disability to go away, but that through trials and joy we grow in Christ," she said.
"Miracles aren't just about physical healing, but a miracle is also seeing how your child has impacted other peoples' lives," Mun Yee added.
Pastor Michael Yeong, who wrote a book about living with cerebral palsy, has similar views. While Jesus did heal the sick while he lived on earth, his main focus was on spiritual poverty and to preach the Gospel (Luke 4:43), he said.
The 49-year-old pastor at Bethesda Church Bukit Arang (BCBA) was born with cerebral palsy due to a brain injury during his birth. It had been a difficult delivery for his mother, and his twin brother had died at birth.
Cerebral palsy mainly affects his legs, making it hard for him to balance, walk quickly or navigate stairs without railings. He walks with a staggering gait, and gets around on a motorised scooter for longer distances.
Despite his disability, he has multiple responsibilities at BCBA – he is in charge of discipleship and Christian education, the family life ministry, the hospitality team, funerals and bereavement, as well as heading the ministry for the elderly.
"I'm not the church's senior pastor, but the seniors' pastor," he joked.
Having a disability is no mistake on anyone's part, said Ps Yeong. Every detail in our lives – our physical appearance, emotional make-up, family background and life experience – is allowed by Him to shape us into the person we are today.
"It was not a haphazard process, but a thoughtful one," Ps Yeong said, referring to Psalm 139:13-16.
Church is for everyone
Every Sunday, inside St Andrew's Autism Centre, a small group of families gathers inside the premise's small, boxy chapel.
About 100-odd are regulars. During service, members with special needs are among those who read Scripture, sing on stage and usher congregants to their seats.
This place is called Chapel of Christ our Hope, a church plant of Marine Parade Christian Centre catering to families with members who have special needs, particularly autism.
Besides intentionally inviting these brothers and sisters to serve, the church makes sure the environment doesn't cause a sensory overload for those with autism, said its priest, Reverend David Teo.
Chapel of Christ our Hope caters to families with members who have special needs, particularly autism.
They don't use real drum sets, slides are peppered with large visual cues, and fortunately, Anglican services come with an inherent order that fits an autistic person's need for order.
Spiritually, the point of the church is to model Paul's view of what a parish looks like: "There is neither Jew nor Greek, there is neither slave nor free, there is no male and female, for you are all one in Christ Jesus." (Galatians 3:28)
"I would add abled or disabled," said Reverend Teo.
The Gohs are one of the familiar families in the service. Goh Kim Joo and Ang Hwee Chin worship at the Chapel of Christ our Hope with their 40-year-old son Duane, who has autism.
The family has long come to terms with Duane's condition, and see him as an ever-affectionate and helpful young boy, despite his age.
Right after the family comes home after service, for example, Duane make a cup of Hwee Chin's phylum husk drink. He also likes to sun the pillows and do the laundry.
Once, a school teacher was about to throw out a carton of expired bottled water. But Duane took the entire box, unscrewed each bottle and watered the plants with them instead. His teacher was very impressed, Hwee Chin said.
"Having people with disabilities involved in church and serving – not just being served – is what church should be."
The Gohs have full trust that the Lord will take care of Duane when they are gone – a reality that hits home harder each day. Kim Joo and Hwee Chin are both 74.
Nonetheless, they are concerned about Duane's future without them. They plan to put him in a home ran by the St Andrew's Autism Centre, but he has grown up by his parents' side, and it is often hard for people with autism to adapt to new environments.
Though they are younger, this same paradox of worry and faith has long been on the Gans' and Queks' minds. God is at work, but one can't help but fret: Will their child be independent enough? Will their siblings be ready to take over their caregiver roles?
Perhaps here is where the Church can proactively step in. Beyond making the church building more accessible for disabled people, the church's members should get involved in their lives, Reverend Yeong said.
This can be as simple as asking people with disabilities to share their testimonies, paying house visits, or setting up a special needs ministry.
Churches like his own, Bethesda Bukit Arang, as well as Wesley Methodist Church, Hope Church, Adam Road Presbyterian Church and Sengkang Methodist Church are some churches that have such a ministry, with programme and activities that cater to ministry members' physical and intellectual requirements so that they can grow spiritually with the rest of the body of Christ. 
Getting people with disabilities involved in church and serving – not just being served – is what church should be, said Reverend Teo. "It's nothing new under the sun!"
"Disabled people are not God's afterthought," says pastor with cerebral palsy
"Disabled does not mean unable": 10 persons with special needs ascend Mount Fuji