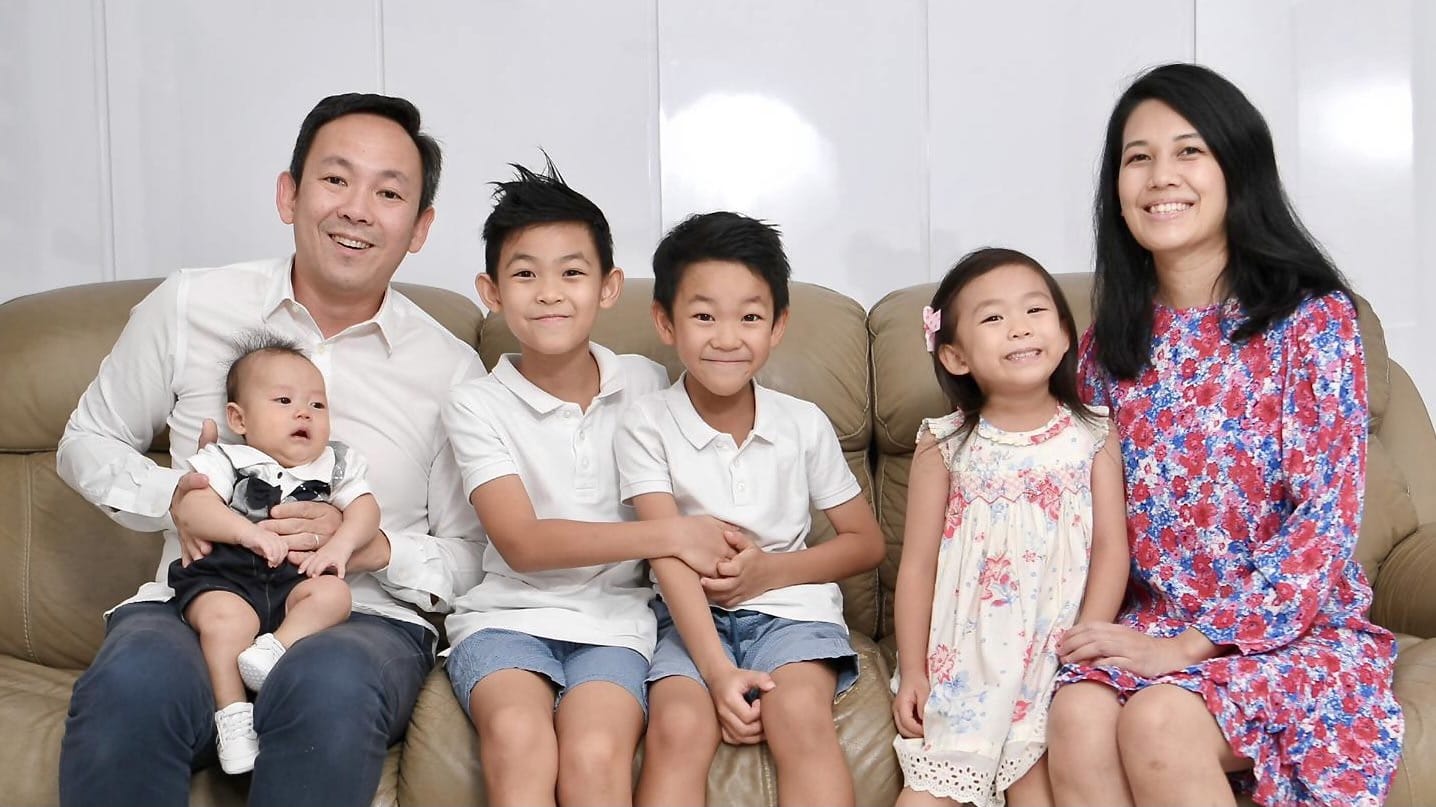 Of his time of "testing" when he thought his son was in grave danger, Bryan Tan (extreme left) came to realise that "I was meant to go through this journey to understand my place as a son, as a man, as a husband, as a father of what I have stewardship over". Photo courtesy of the Tan family.
He is now a healthy, active 12-year-old soon to be taking his PSLE. But when Michael was about three months old, he gave his parents Bryan Tan and Adriana Lim Escaño a scare.
"I thought I was going to lose my child."
Bryan, the CEO for the Centre of Fathering, had committed to a church mission trip to one of the backwater cities in Kerala, India. Husband and wife decided that they could take their oldest child with them, young as he was.
While there, baby Michael fell from a height of more than a metre and landed on a marble floor, hitting the back of his head. His head began to swell but the nearest hospital was two hours away.
"I was in shock; she was in shock," recalled Bryan during Salt&Light Family Night (June 28), gesturing to his wife next to him.
"We didn't know what to do. I remembered sobbing away both with anger and also with disappointment, with frustration, fear, anxiety and all.
"At that point in time, I was angry. I was asking God, 'Why God? Why now, why us, why is this happening? We are here to serve your people. Why is this happening to us?' At that time, I thought I was going to lose my child."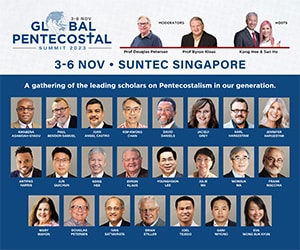 Stewards of our children
In the midst of the despair, Bryan felt with great clarity God asking him: "Would you still love Me if I took your son away?"
"I came to the realisation that I am only a steward of what He has entrusted me."
Bryan struggled to answer God.
"At the end of that moment, I came to the realisation that I am only a steward of what He has entrusted me. My son is God's child and I am just a steward.
"There was nothing I could humanly do to make things better because there was no medical care, there was just nothing. All I could do was just pray and trust.
"I knew at that point in time I had to make a decision. So, I said, 'Yes, even if you take my child away, I will honour You.'"
Bryan, who was part of the Salt&Light Family Night (June 28) panel sharing on the topic: How can I serve the church while raising my family, shared this story to underscore the struggle he and his wife have felt at times when they serve God while raising a young family. They have four children aged 18 months to 12 years.
Looking back, Bryan had this to say: "I knew deep down inside it was meant to be because I know today, on hindsight, that I was meant to go through this journey to understand my place as a son, as a man, as a husband, as a father of what I have stewardship over.
"My children are just gifts and an opportunity for me to be a father."
"How do we manage this tension between serving God and loving our family?"
On the Salt&Light Family Night panel with the Tans were husband and wife Pastors Simon and Ping Chua. The Chuas are co-founders of the New Life Community Church and have five children aged 21 to 30.
About 100 people logged in to the Zoom chat show. The majority (64%) were parents with children six years and younger. A quarter had primary-school-going children while those with teens as well as children older than 18 made up 14%. Parents of adult children were in the minority (5%). Mothers in attendance outnumbered fathers (63% vs 25%).
Asked about their greatest concern when balancing ministry and family, "time" was the top scorer.
Together, the panellists shared their experiences as parents balancing child-rearing and church service.
Manage the tension with rojak
"There is always this tension. How do we manage this tension and still serve God, and love our family and make sure that we are going in the right direction?
"We found that a rojak (Asian salad) family is the best way to do it," said Ps Simon.
The Chuas came up with this analogy several years ago that is based on Joshua 24:15: "As for me and my household, we will serve the Lord."
Explained Ps Ping: "We include the children in everything that we do. They do not just go to church. God is everywhere in their lives.
"Rojak is like all the different ingredients that you have – the fruits, the vegetables. God is the rojak sauce that is in there that puts everything together so that, in every area of their lives, God is touching it.
"That is why we call ourselves the rojak family and we have taught our children that for the longest time."
In order to serve with children in tow, the Chuas trained them to "sleep everywhere and anywhere". At home, they sleep with music on, rather than in complete silence, so that they are used to sleeping even in rowdy environments.
"There is no tension of children versus God because everything we do is worship to the Lord."
They also instituted early bed times – between 7.30pm and 8pm – so that their children were often asleep during cell group meetings or prayer meetings.
Said Ps Simon: "We involve our children as much as possible in everything we do. And in everything we do, God is in it. So, there is no tension.
"This is what I call 'avodah'. Avodah is the Hebrew word for worship. If you study the Bible carefully, the word is used in the time of Exodus, in the time when David was serving as King.
"When you refer to the word 'work' in the Bible, it is worship. When you are are worshipping God, that is worship. When you are doing work in the marketplace, that is worship.
"In everything that we do, we believe in this avodah philosophy where you are worshipping God in whatever you are doing.
"There is no tension of children versus God, ministry versus children because everything we do, it is worship to the Lord."
4 ways to make family ministry engaging
1. Make following dad and mum fun
While the Tans include their children in their ministries, Bryan tries to ensure that the children do not feel that they are being made to be part of "daddy's work".
"We try to reframe their mindsets and create narratives that will make it fun for them even though they are attending my events and they are part of the work or the ministry," said Bryan.
"We try to do things so they do not feel like God is taking them away from us."
In Ps Ping's church, the mums would take turns to watch the children and "let them have fun" during church events. The children were also free to play with their peers or "do their own stuff" while their parents served.
"They never felt that, by going to church or being part of ministry, they were deprived. And after that, we  reward them by going out together.
"We have had to be very energetic parents. We would go to the beach, cycling and have dinner, then collapse together at night out of sheer exhaustion!
"We try to make it so they do not feel like God is taking them away from us."
2. Get everyone involved
During mission trips, the Chua children are invited to pray or perform a dance.
"They will be my helpers. They are more than enthusiastic. They love it," said Ps Ping.
3. Find out how the kids feel
What Ps Simon has found helpful is to ask his children, from the time they are 10, if they minded being involved in family ministry.
Despite following their parents as they serve, they are still their parents' priorities.
"I ask them, 'Do you feel that what Daddy and Mummy are doing is stealing us away from you? How do you feel about us? How do you feel about church?'
"I would alleviate the guilt and the tension that I have created in my head about the battle between God and family by simply asking the audience most important to me: My kids.
"I ask them on a frequent basis. If they feel that anything is negative, then I have to make adjustments."
In this way, his children learnt that, despite following their parents as they served, they are still their parents' priority.
4. Show them they are priority
When his kids were young, Ps Simon would carve out an hour between 7pm and 8pm to put his children to bed. Even if cell group was going on in his house, he would excuse himself. 
"I jealously guard that so they grew up knowing they are priority, not ministry. It's not the big things but the small things that count to them.
"Then, when you do the big things for God, they don't have an issue.
"I believe that my greatest disciples are my kids. If I cannot disciple them well, then what right do I have to tell the church what to do with their life? I have no more power; everything I say is just theory."
6 tips on dealing with the guilt
1. Have a community
As his children are so young, Bryan has wondered if his model of balancing church and children means taking his children away from their childhood.
"I can't help but allow that sense of guilt to creep in. That is something I find a challenge for me when I involve my children in what I have to do. I struggle with that tension."
Understanding the seasons helps him, as does surrounding himself with godly mentors who "watch my work space, ministry space, family space and my own space to make sure I am well and coping".
He also receives feedback from his wife.
2. Tag team with your spouse
Bryan's wife, Adriana, is the founder and CEO of fashion brand Abry. 
Her husband also has a full plate. So, the couple has had to learn to support each other.
She is also the co-founder of Mums for Life.
"I have many ambitions and I am passionate about what I do. I get frustrated and disappointed that I cannot pursue all the ambitions that I want to do," she admitted.
Her husband also has a full plate. So, the couple has had to learn to support each other.
"We used to have conversations about whose work is more important and who will take the back seat."
This year is Adriana's turn because Bryan supported her last year through the birth of their fourth child.
3. Be kind to yourself
Said Bryan: "What is helpful for me is to be mindful about not being too hard on yourself.
Be able to hold the tension of children versus church.
"With all the conflicting demands of work, ministry, life and self-care – it always comes at odds. I can't have it all at the same time.
"It requires some prioritisation. It requires me to invoke my agency to make decisions, and to stick by them and embrace the consequences."
Being comfortable with holding the tension between children versus church is something Bryan has been trying to do.
4. Manage your expectations with God
Just a month ago, Adriana found herself in a "balance rut".
"I have all these ambitions and wants and desires for work, for career for expansion, for family. I want to be an active mother. I want to win Entrepreneur of the Year. I want to win awards for the company being social, sustainable, champion of good, which we did last year."
All of it took a toll on her and Adriana found herself emotionally and mentally in a pit.
"I was going through my worst in five years. I felt very tired, very drained."
"I got to know for real that God is the third string in that cord of the marriage."
She went to God. "I asked, 'Am I alone?'. Then, God says, 'You are not alone. I'm here. I'm with you.'"
Adriana started to have late night conversations with God "just pouring out my heart that I am fatigued, I'm depressed, I'm emotionally stretched".
"I came to the conclusion that sometimes the imbalance is self-caused. God never meant for me to be this way. I'm His daughter. But a lot of the imbalance struck me as self-ambition.
"Balance comes from a deep well. It comes from that emotional wellness. Sometimes, we rely on our husbands, our family members. As imperfect as all of us are, we can't sustain that.
"I got to know for real that God is the third string in that cord of the marriage. I just have to fall back on Him. I had to dig deep and rest in Him, replenish myself every day. That, for me, got my balance back."
5. Let God set the pace
Instead of listening to what the world tells her about what a mother, a woman, or a wife should be, Adriana lets God set the standard.
"It's just slowing down and tending to our heart."
"I ask, 'God, what do You want me to do? What do You expect me to do today? God what is Your day like for me?'
"I've learnt to yield, to lay that down. I have learnt to even put spaces in my day so that God can do His day through me instead of me working on my crazy plans.
"I think it's just slowing down and tending to our hearts."
6. Let God redeem your mistakes
A few years ago, Ps Ping realised that she may have said things to her children in the past that may have hurt them. Although they are now all grown up, she went to them to make things right.
"One of my daughters told me, 'If you did everything perfectly well, then we would not need God in our lives. Let us grow in God ourselves.'
That was such an encouragement to me.
"Just do your best. If you are clueless, just pray to God for the wisdom to know what to do with your kids. Don't beat yourself up.
"God loves the intentionality that you have with your kids, and the little that you do really matters to your kids and to God."
---
This report is Part 1 of the Salt&Light Family Night episode How can I serve the church while raising my children? Look out for Part 2 of the report next week.
A full recording of this episode will be available at the end of next week. You can watch past episodes of Salt&Light Family Night on our YouTube channel here.
---
RELATED STORIES:
Which comes first, church or family?: Study reveals common dilemma among Christian parents
Are you a couple with young kids serving in ministry? This is what I wish you would know
Cleaning toilets for God: A journey from pastor to full-time dad
If you have enjoyed reading Salt&Light...
We are an independent, non-profit organisation that relies on the generosity of our readers, such as yourself, to continue serving the kingdom. Every dollar donated goes directly back into our editorial coverage.
Would you consider partnering with us in our kingdom work by supporting us financially, either as a one-off donation, or a recurring pledge?
Support Salt&Light