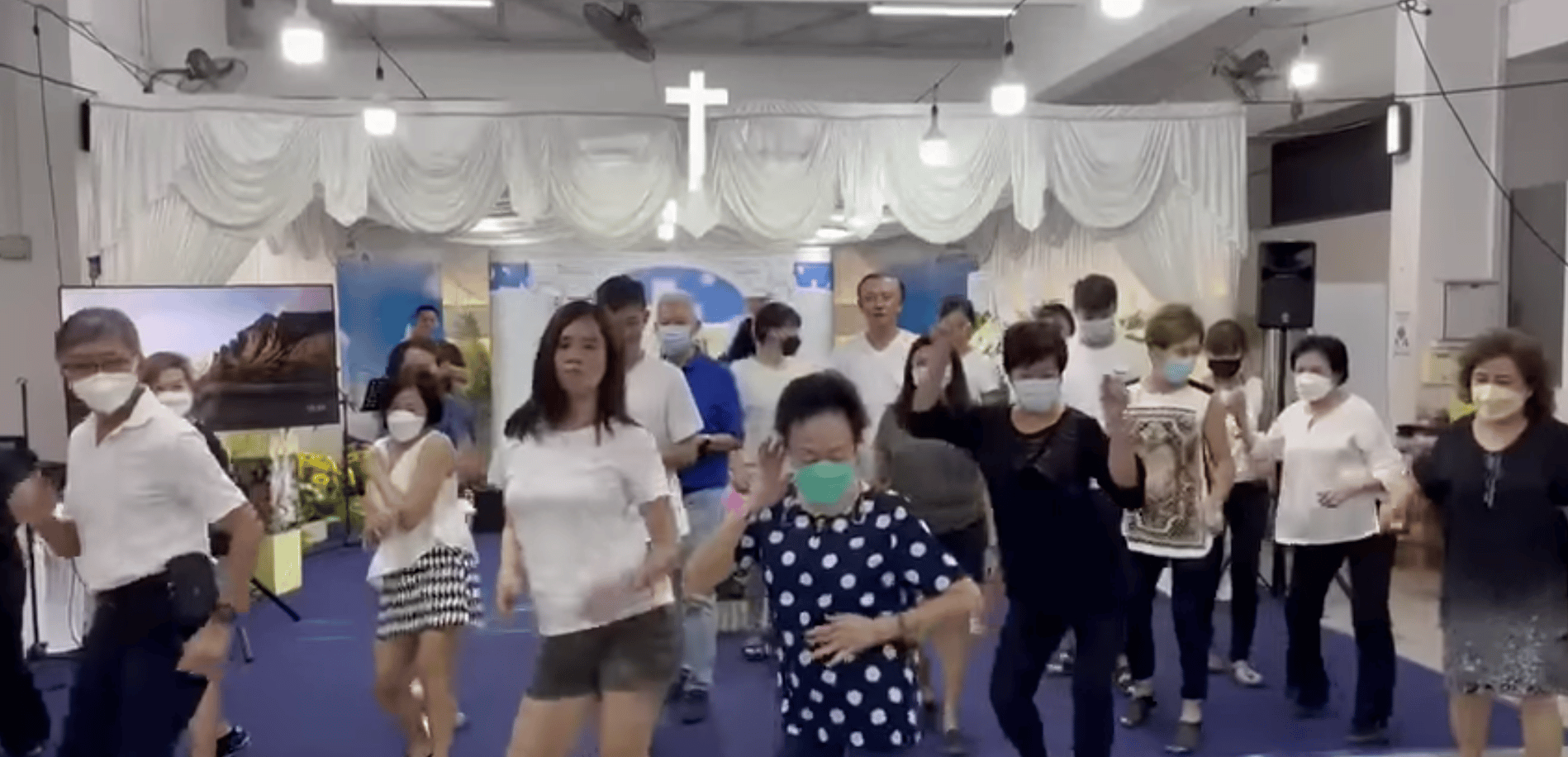 The joyful dancing at Sunny Low's funeral, where family and students participated in the Chilli Cha Cha dance that was meant to celebrate Sunny Low's 80th birthday. Screengrab from The Straits Times online.
If you're of a certain vintage, you'll have heard of Sunny Low.
The ballroom dancing pioneer shot to household fame in the 60s, and even today, his name carries star power in dance circles.
But what few know is that Singapore's "Rock n' Roll King", who passed away on May 8 this year, was a late convert to Christianity, accepting Christ at the grand old age of 77. 
It was a change that not only transformed his outlook on life, but turned his death – and recent funeral – into an outpouring of joy.
It started with a prayer
Dance runs in the Lows' blood. The eldest of seven children born to Jenny Quek and Low Poh San – known by some as Singapore's "father of ballroom dancing" – Sunny Low was born on July 21, 1940.
After Sunny came Betty – in the early days, the two siblings were dance partners – then Katherine, Kelvin, Lawrence, Paul and Carol.
When he became an adult, Sunny took up his father's mantle, both in the studio and at home.
One night the Lord said: "Roy, bring your uncle to church."
The rising star performed often, and his fees went toward supporting the family: His parents, siblings and later his children. He kept very little for himself, says his sister Katherine.
As head of both the Low household and of his dance troupe, there was distinct pressure on Sunny to deliver, adds Jovyn, the youngest of his four children.
The Lows were followers of another religion. Per the custom, every first and fifteenth day of the lunar month, Sunny would go to the temple to offer incense in exchange for blessings for the family.
Unbeknownst to him, his youngest sister Carol was praying for her siblings to come to know God, having earlier accepted Christ herself.
Her prayers were answered. Around the year 2000, Katherine converted to the faith, followed by Betty, Lawrence and Kelvin. 
It would soon be Sunny's turn.
In 2017, Katherine's son Roy heard God's promptings.
"We used to have supper often. And suddenly one night the Lord said, 'Roy, bring your uncle to church,'" says Roy, who attends Covenant Presbyterian Church alongside Katherine and Betty.
"He told me, 'You know, I should have been a Christian earlier.'"
"So I asked Sunny to go to church and he said, 'Okay, let's go.' When we were there, I said to him, 'We'll pray for everybody, we'll sing together. And he realised it was not like going to the temple."
In a video recorded before his death, Sunny speaks of this same moment. "What Roy told me was that last time, when we go to the temple, we always pray for ourselves and family. Whereas when we go to church we pray for everybody, we are like brothers and sisters. And that really woke me up."
From then on, Sunny began to attend church regularly. The family was already tightly-knit, and his conversion brought the siblings even closer, with new discoveries to talk about. 
"He told me, 'You know, I should have been a Christian earlier'," said Katherine with a laugh. "I said, 'Me too!' So we were talking about how God is so good, always looking after us. Sunny was crying a few times in church, he was so filled with the Holy Spirit."
Sunny later attended Alpha with his sister Betty. The course changed him, says Roy. "He kept saying, 'God loves me.'"
Sunny's wife Aleena also observed changes, most notably to her husband's well-established routine. 
"When the church-goers danced to his choreography, there was this emotional aspect, which was great."
"I've known him since I was 15. In our younger days, every first and 15th of the month, without fail, in the morning we'd get up, buy fruits, and then we'd go from one temple to another, from Racecourse Road to Bukit Merah," she recounts.
The couple met on August 8, 1969 – Aleena remembers it to the day – when she was scouted by her future husband as lead dancer for his school, Sunny Low Dancers (later Sunny Low Dance Studio).
The pair would go on to organise the Singapore International Ballroom Dancing Championships for 26 years.
"It was a big change for him to go to church, after having the same routine for over 50 years," Aleena says. "I was surprised. I went with him a couple of times, and I saw that there was singing, laughter, lunch and friendship. It was quite a nice sight, I must say."
A new gentleness
As regular church visits became a staple of his week, Sunny also began to contribute his talents. Naturally, he and Betty – by this point well into their 70s – taught dance to the church members.
This new environment led Sunny, whose illustrious career includes stints as a choreographer for TVB in Hong Kong, to change his choreography style to one more suited to worship.
Aleena describes his choreography to the song You Raise Me Up as "very different, very touching". "When the church-goers danced, there was this emotional aspect, which was great," she says.
Discovering God also changed Sunny's relationship with his life's very passion: Dance. Aleena describes her husband as "very, very strict".
"He used to be very quick tempered. Everything must be perfect, and if he sees something that is not done to what he wants, he gets very annoyed."
"The day that I accepted Jesus, I feel that my life is so free."
"The execution must be spot on – not even one degree off," adds Jovyn, who runs his own company, Dancexpression. "Dad achieved what he did because he was very precise. The end result was always his main focus."
But after knowing God, Sunny began to wonder if he should vary this approach.
He became gentler, his wife says. When learners made mistakes, her once fiery husband would no longer get upset. Instead, he would say, 'Never mind, we are human anyway, we are not perfect.'"
The dance king began to focus on sharing the joy of dancing with his students.
In videos of Sunny taken after his conversion, he described asking God daily for good health to keep on dancing.
"I love to teach all my students," he said. "If they can do what I teach them to do, that's the happiness I get for that day."
Living life to the full
Indeed, to Sunny, knowing God was synonymous with happiness.
"The day that I accepted Jesus, I feel that my life is so free. I'm so happy," he says in the video. "Most importantly, every day I'm happy. I'm very happy and just like a free bird, flying in the air all the time, enjoying life."
This change was noticed by all in the family, many of whom remarked on how Sunny had "lived life" in his final years. 
"After he converted, I thought that he was happier," says Jovyn. "He didn't dwell so much on what he couldn't control anymore. He focused on what was presently around him."
Roy and Aleena noticed how content Sunny was, going fishing and spending time with his four children, seven grandchildren and seven great-grandchildren.
"He had always borne the burden himself whereas, with Christ, he knew that he could just put it at the foot of the cross and let Jesus handle the rest," Roy says. "Especially during Covid, I never saw him worried."
Sunny could sense God's divine providence at work. He did not need to go canvassing for students – they signed up for his classes, even amid the pandemic. Every morning and night, he would thank God for providing. "He told me he was very, very happy," says Katherine.
"With Christ, he knew that he could just put his burdens at the foot of the cross."
This transformative joy was what strengthened the Low family upon Sunny's sudden passing in 2022.
The dance veteran had taught his students a Chilli-Cha-Cha dance in preparation for his 80th birthday dance party in July 2020, but the event ended up being postponed for two years as Covid-19 raged.
The year 2022 was to be when the party would finally be held. But one morning in May, he suffered a brain haemorrhage while on the way to his dance school. 
Roy recalls being at home when he received news that his uncle was being rushed to the hospital. 
Out of nowhere, he heard his uncle's voice calling his name. "He sounded so happy," Roy says. "When I heard him – it's strange, even though I knew he was in the hospital – I knew that he wasn't suffering."
Sunny's youngest sister Carol flew back to Singapore from the US on hearing news of his condition.
Some funeral attendees resolved to learn the Chilli-Cha-Cha steps just five minutes before the dance.
On the day she arrived, with his family gathered around his bedside, the dance legend passed on.
But the Lows did not hold a sombre funeral. Instead, they proceeded to organise a mass Chilli-Cha-Cha performance in joyful tribute to his life.
Relatives, friends, and students all joined in. On hearing what was happening, some attendees were so adamant on participating that they resolved to learn the steps just five minutes before the dance was to start, remembers Jovyn.
A video of the cheerful funeral went viral online, racking up over a million views.
Its unusual nature also helped the family, particularly Aleena and Jovyn – who are not Christian – take in Sunny's passing with greater fortitude and positivity.
"Because of how Sunny has influenced others, hopefully people don't fear death … with God, that's not the end."
"People think that funerals are supposed to be sad. But this was a celebration of life – I see that there's a difference with the Christian rites," says Aleena. " And when I saw Sunny, I thought: He's just in his sleep. He looked very peaceful."
Roy knows doing a cha-cha at a funeral could have been shocking and unexpected for many, but says that it also changed how people look at Christianity. 
"Most funerals are very sombre. It's never about realising there's an afterlife, a Christ. Christians celebrate life on earth. And our family, some of them might not be Christians, but they saw the difference," he says.
"We all do miss Sunny. But death is part of life. And because of how he has influenced and shared his life with others, hopefully people don't fear death. They're going to realise that, with God, that's not the end."
---
RELATED STORIES:
The deputy commissioner of police who was rescued from death three times: "I already saw a casket in my house."
"I am a dead man walking": He was pronounced dead by four doctors
"Cancer did not take her. I have taken her home," God whispered to a grieving mother, who would go on to fight for the next generation
If you have enjoyed reading Salt&Light...
We are an independent, non-profit organisation that relies on the generosity of our readers, such as yourself, to continue serving the kingdom. Every dollar donated goes directly back into our editorial coverage.
Would you consider partnering with us in our kingdom work by supporting us financially, either as a one-off donation, or a recurring pledge?
Support Salt&Light