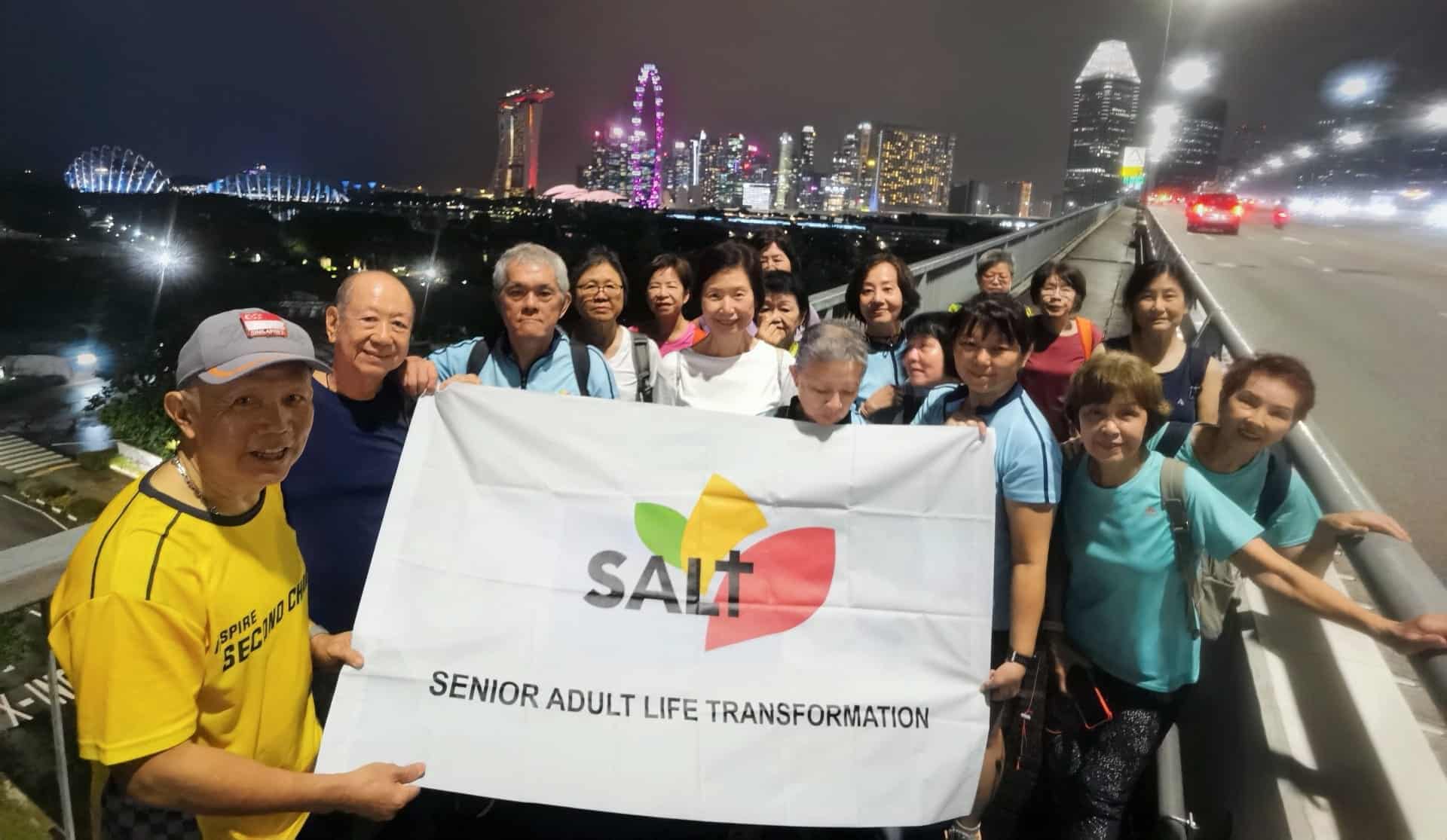 Johnson See (in yellow) co-founded SALT Fellowship to minister to the elderly holistically. All photos courtesy of SALT Fellowship.
The group of nearly 20 seniors gathering at the entrance of Kallang MRT are a lively bunch.
Dressed in their sporty best, they are about to start on a night hike that will take them through the Central Business District of Singapore. The highlight is a five-storey climb up the country's longest and tallest bridge, the Benjamin Sheares Bridge, where a spectacular view of the financial district, all aglow, awaits.
The eight-km journey may sound like a walk in the park, but for many members of the group who have celebrated their 60th birthday, it will be an adrenaline-pumping exercise.
"Few people know about this route or how to go to the start point. Fewer have ever walked this route to the highest bridge in Singapore.
"Plus, the spectacular night view will be such a rewarding climax to the hike," said Johnson See, the leader of the group and also the one who planned the hiking route.
The expedition is part of SALT-CARE, a ministry for the elderly under SALT Fellowship. SALT stands for Senior Adult Life Transformation. The registered society runs activities, events and programmes for the elderly.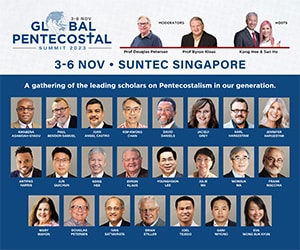 At 69, Johnson heads the CARE, or Christian Adventure Recreation Exercise, arm of SALT Fellowship. The grandfather of two is perfectly suited to the task, having spent decades hiking for leisure. He has summited several peaks including Mount Kinabalu in Malaysia and Mount Kilimanjaro in Africa.
What surprises many, though, is that he is as active as he is despite having Parkinson's Disease. The brain disorder can result in uncontrollable movements, and affects balance and coordination. There is no cure and the condition worsens over time, sometimes to the point of not being able to walk or talk.
Until then, he is determined to remain useful to God, which is why he leads walks and hikes four times a week.
SALT of the earth
SALT Fellowship arose out of both a heart for the elderly and a passion for the active life.
Johnson has always loved the outdoors. He even had his own hiking group called CARE. A pastor friend of his, Reverend Eric Kwan, whom he'd met while hiking, had a burden for seniors.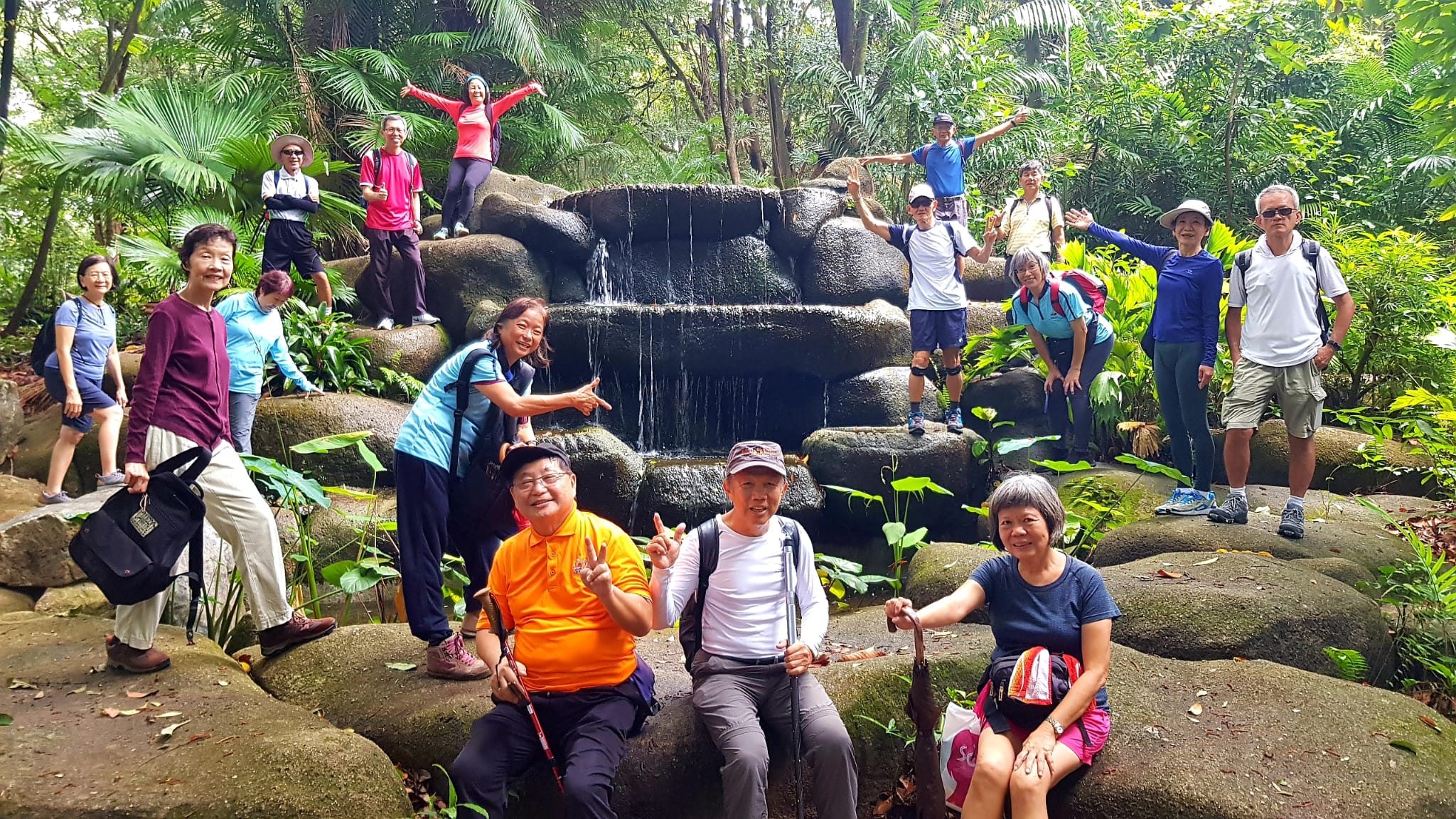 "When he retired, he approached me to form a formal ministry to help seniors. Our objective is to minister to them in a holistic way. We share the same conviction."
"A lot of people who come are so blessed and so encouraged. That's why they introduce us to their friends."
So SALT Fellowship was formed about five years ago.
Though open to seniors of all faiths, volunteers like Johnson who run the programmes are all believers.
Each session begins with a prayer and a short devotion. There is no planned programme to share the Gospel, but the lives of the volunteers speak for themselves.
Johnson often shares his testimony of how God encouraged him after his diagnosis.
"I'm an open person. I share about my condition and they feel very inspired. They get motivated. People have told me that, because of our activities, they get to see our lives.
"There was this woman who joined us a while ago. She met someone here who invited her to his church and she became a Christian.
"A lot of people who come are so blessed and so encouraged. That's why they introduce us to their friends."
Though the plan was to reach out to seniors, younger people now make up about 20% of their 400-odd members.
The blessing of activeness
​Apart from CARE which organises walks and hikes, SALT Fellowship also has other arms – creative arts, nursing home, nutrition, Parkinson, photography, ping pong, ukulele and talks. A rock climbing community was recently added.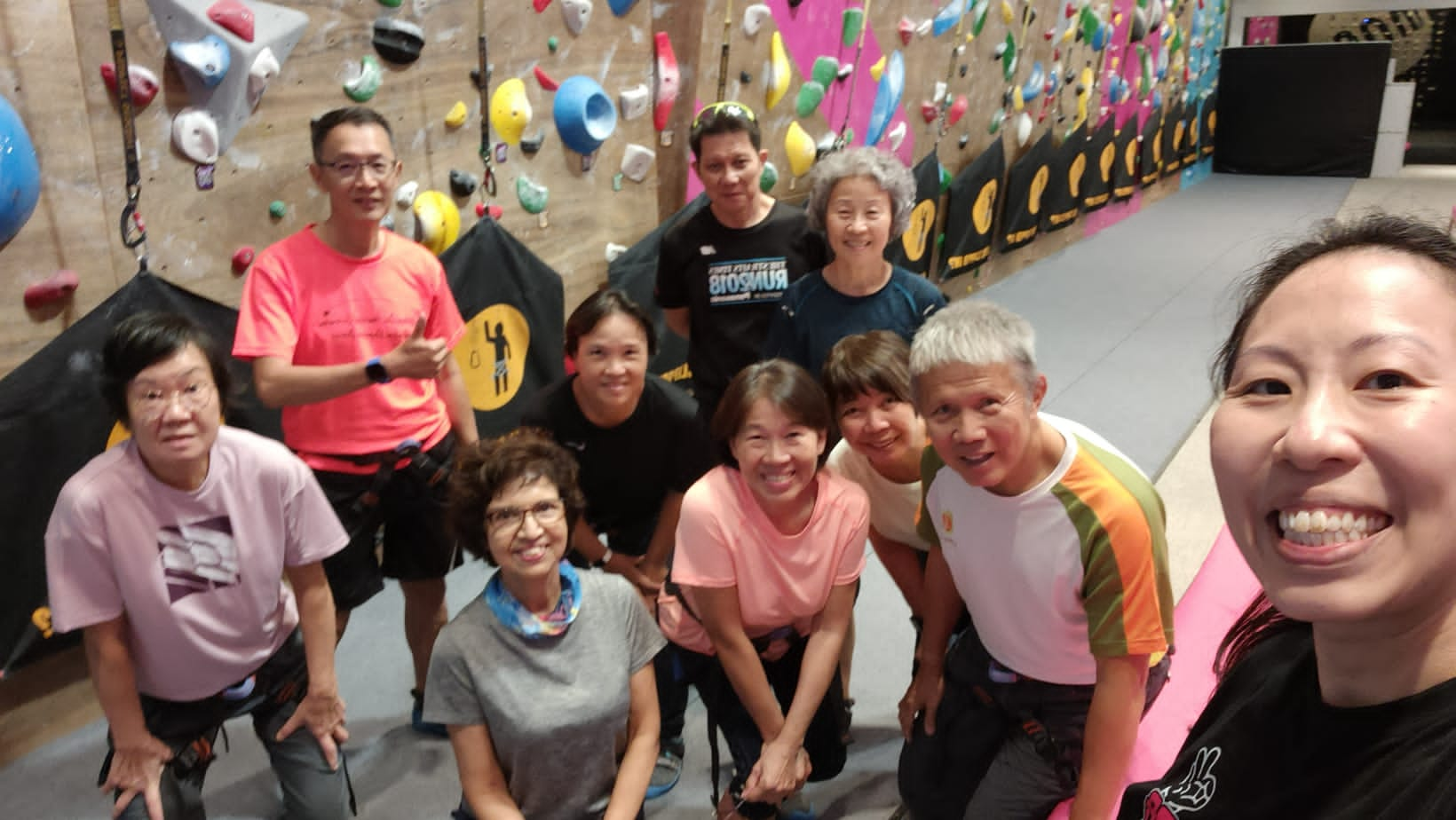 Many of the communities arose out of Johnson's personal interests.
"I used to do a lot of gardening and found it very therapeutic. I grew fruit and vegetables, and posted about them online. People would ask me for gardening tips. I realised there was an interest in gardening. So I formed a group.
"Photography was also formed because of my interest in taking pictures."
SALT-Ping Pong was created out of a need among the elderly.
"Ping pong is very good (to guard against) dementia. It helps attention and focus," said Johnson. 
"Without serving, I would be looking at my own problems."
God has been very good to provide for this new community, he added. They play every Tuesday and Thursday morning at a table tennis club.
A friend of his who also has Parkinson's Disease happened to know the owner of the club and introduced Johnson to him. When the owner found out what the community was about, he let them use the club for free.
These days, the community plays at a sports centre instead because the location is more convenient. This in itself is another provision by God.
"I never expected that SportSG would approve our application to use their space and it's also free. They block-booked the place for us.
"The latest is that they have also provided us with a place to store our ping pong gear. There is a lot of providence in all these things."
As much as Johnson has seen God's hand in the ministry, he has also seen it in his life.
"For myself, I am motivated by this ministry as well. I look at my own condition. Without serving, I would be looking at my own problems. God has blessed me in this way.
---
RELATED STORIES:
"Everything I used to do, I will do until I cannot anymore": Parkinson's didn't stop him from hiking 270km from France to Spain
"You are a declaration for God!" Encouragement to seniors that later years can be fruitful years
Giving God our golden years: 7 tips from seniors who lead the way
If you have enjoyed reading Salt&Light...
We are an independent, non-profit organisation that relies on the generosity of our readers, such as yourself, to continue serving the kingdom. Every dollar donated goes directly back into our editorial coverage.
Would you consider partnering with us in our kingdom work by supporting us financially, either as a one-off donation, or a recurring pledge?
Support Salt&Light