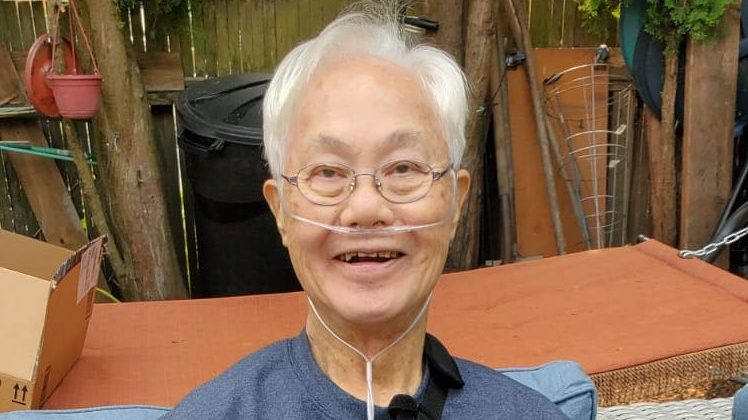 Peter Yeo lived a hard-partying, hard-drinking life until two out-of-body near-death encounters in 1992 shook him up. Photos courtesy of Peter Yeo Toon Joo.
He was flying in an aircraft over Germany in 1984 when it plunged in mid-air, flames spewing from its wings. It made an emergency landing. There were no casualties.
He's been in multiple motorcycling accidents. One was a head-on with a taxi at Balmoral Road in 1997. That collision threw him more than 5 metres, and broke his back, right wrist and clavicle, and cracked his pelvis.
Former Straits Times journalist and adman, Peter Yeo Toon Joo, now 76, has also lived through a litany of illnesses that have almost killed him – starting with hepatitis in 1960 when he was 13.
"It made breathing a struggle and turned the whites of my eyes yellow, and my urine a coffee colour," he said.
Since then, he has had two heart attacks, skin cancer, a tumour in the scrotum and more – along with uncountable medical procedures and emergency trips to hospitals.
The Singaporean has been living in Seattle, in the USA, for 25 years.
At age 48, he was diagnosed with a bone marrow disorder.
"I now have no fear of dying or death. I have had practice."
Life expectancy for the disorder is usually 10 years, his haematologist had told him. "But you will probably die from leukaemia, or from an infection with the many blood transfusions for your anaemia."
Miraculously, in June 2022, Peter is still alive, though dying from another terminal illness: An incurable lung disease. He was diagnosed with idiopathic pulmonary fibrosis (IPF) in 2006. It was expected to kill him within two to five years.
"I now have no fear of dying or death. You could say I have become used to it. I have had practice," he quipped.
The high life
The keen sportsman and avid motorcycling fan had thought nothing of biking to Penang from Singapore in one day, and all the way to Phuket in Thailand in another half day.
Until a few years ago, Peter was still pumping iron in the gym and doing 50-metre laps in the swimming pool, and looking as if he would live forever.
He has written about his numerous illnesses and miraculous survival in a book, Not Afraid to Die, which was published in March 2022.
"The slightest exertion leaves me breathless. Now, even getting out of bed causes me to gasp for air."
He was inspired by his younger brother, Anthony Yeo, who was dubbed Singapore's Father of Counselling. Before he passed away at the age of 60 in 2009, Anthony had written about how he had counselled a friend who was dying of cancer.
IPF is now the illness that now causes Peter the most distress.
"Fibrous tissues grow on the air sacs of my lungs, clog up my lung walls and prevent oxygen from passing through to my blood stream.
"Death is from asphyxiation. In layman's language, an IPF patient's body is similar to a conventional car whose engine dies when its air filter (walls of his lungs) gets completely choked by dust.
"Death is a lingering process as patients struggle daily to breathe. The slightest exertion leaves me breathless. Now, even getting out of bed causes me to gasp for air. One day I will no longer be able to breathe. I will asphyxiate and die. Like a drowning person."
In his book, Peter shares how he has stayed fit and refused to let pain and suffering put him down.
"My desire is to use my story to encourage those who are ill, in distress and live in fear of their sickness and death," he said.
He shares how trusting in "the one true God" has helped him have "peace in this life and no fear of death or the afterlife".
Pleasure but no joy
Peter became a Christian when he was 13, but strayed after becoming a newspaper reporter.
However, in the second half of 1980s, Peter became increasingly dissatisfied with his life.
"I was having a lot of pleasure indulging in my favourite weekly golf games (and after-game beer sessions), having regular evenings out on the town with friends and clients and more. I was having fun but found emptiness in that life.
"Each end of a week, I would wonder what that was all about. I had pleasure but no joy. Life had to be more than that, I felt.
"I also questioned why everything would one day end. I sought meaning in my life and found none."
Out-of-body experiences
Then, Peter had two out-of-body experiences while unconscious under general anaesthesia.
"I found myself in an eternal spiral of reflections of my past carousing life, with each ending miserably."
The first was for a nose bleed that would not stop. The second was to remove a growth in his scrotum (which turned out to be benign).
Those experiences gave him a glimpse of death.
"In the second experience I actually died, heard the voice of the devil, and found myself in an eternal spiral of reflections of my past carousing life, of wining and dining, with each ending miserably.
"I actually had flashbacks of that second near-death encounter while awake.
"When I confided in a Christian friend, we prayed together for me to receive Christ back into my life."
In 1992, Peter returned to his old church, Bethesda Church Bukit Arang, which he had left in mid 1960.
He gave up his raucous secular life for one of joy.
"Why me again?"
For the last 62 years, Peter has been afflicted with illnesses, diseases and life-threatening crises. He has not died.
Many times, he has asked God: "Why?" and "Why me again?"
He sometimes asked God to let him die.
"Then that would end my long unremitting pain in my diseased body," he said.
Peter's book also includes stories of a dying group of fellow IPF survivors he knows in Seattle – about those who refuse to die and, sadly, of the many who did not make it.
"God had prepared me by giving me a strong belief and the will not to give up. That helps me to comfort others."
"So, how did I continue to live, when others, with just one of my illnesses, had long died?
Peter believes that God has a purpose for allowing him to be so afflicted: "First, He had prepared me by giving me a strong belief and the will not to give up.
"That helps me to comfort others, believers and non-believers. We can be very ill but we need not just lie down and die." 
"Even when they kill me, I refuse to die'" was the original theme of his book.
Peter's many life-threatening illnesses and periodic races to a hospital's emergency room frequently make life hell for his wife of 52 years and constant caregiver, Rosalind Tay, 73. 
She said: "Joo's illnesses are unending. His pain and suffering often cause me much anxiety. I never know when one of his collapses could be fatal and final.
"I have come to accept that he could die at anytime. His faith in God and 'never say die' attitude help, even if it does not always provide comfort.
"I keep praying."
A better place
Peter remains unafraid of the day when he is "absent from the body, and present with the Lord". (2 Corinthians 5:8)
"If you have Christ in you – and on your side – death holds no dread. I know I will merely transition from this mortal life on earth to one that's eternal with God in Heaven.
"Dying would be merely a change of address – to a better place where there is no illness, pain, sin, evil, or fear."
"Dying would be merely a change of address – to a better place where there is no illness, pain, sin, evil, or fear.
"With confidence in our living God, what is there to fear?" said Peter.
How does he explain and accept being blighted with one illness after another despite his faith?
"Because of the tremendous peace, joy – and blessings – God has given me, and the number of times He has brought me through life-threatening situations, I gradually came to accept my many illnesses and that there must be a reason for my pain."
The pain, he said, is a "a small price to pay for the peace and joy He has given me after I rededicated my life to Him".
"So, I cannot complain though I sometimes wish He would go a little easier on me!"
Peter believes that God had prepared him and strengthened his character and perseverance to continue in the faith.
"I accept all that have happened to me, even if grudgingly at times. Still, I don't understand why He had to throw so many curveballs my way or subject me to all those tough tests.
"When I eventually get to see the Lord face to face in Heaven when I no longer see dimly, I will still have some questions for Him."
---
A version of this story first appeared in Stories of Hope.
If you have enjoyed reading Salt&Light...
We are an independent, non-profit organisation that relies on the generosity of our readers, such as yourself, to continue serving the kingdom. Every dollar donated goes directly back into our editorial coverage.
Would you consider partnering with us in our kingdom work by supporting us financially, either as a one-off donation, or a recurring pledge?
Support Salt&Light