Having struggled through a divorce in the midst of recurring cancer, Marczewski has learnt how to find forgiveness and healing in the midst of suffering. Screenshot from Nightbirde's Instagram page.
The first few times she had heard them, it had been in a dream.
On the third night, at three in the morning, she woke up and went to her window to check, and there were birds outside, "singing as if the sun had come up".
In an interview on podcast platform, She Speaks Stories, Jane Marczewksi shares: "That struck me in such a profound way.
"I thought, 'I want to be like those birds who are singing as if the dawn is here, even though it is not. They know with absolute certainty that it is coming, so they will sing now in advance. They won't wait for the light to come. They'll sing now. That's what I want to embody … I am going to rejoice as if the morning is already here."
God in a secret place
Marczewksi, 30, more commonly known as Nightbirde, is Simon Cowell's golden buzzer winner for the recent season of America's Got Talent.
A picture of youth and vigour, she had radiated a kind of persevering joy and strength as she stood on stage, singing her original song, "It's Okay".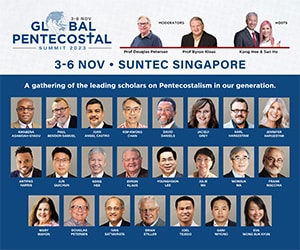 Yet moments before, when asked about her current condition, she had revealed to the judges: "The last I checked, I had some cancer in my lungs, spine, and liver." It is, in fact, the third time that she has had cancer in the span of three-and-a-half years.
"I felt like God had healed so much of my heart … And that was the moment I got diagnosed with cancer."
Growing up, Marczewski confesses to Dixon on a podcast, she had always been a people pleaser. Hyper-vigilant to what everybody wanted of her, she strove to do and be what people would accept the most.
By the time she was in college, while successful with music and popular with her friends, she found that she didn't like or even know herself anymore.
Speaking to Parker in an interview, she tells her: "I was so good at getting the praise of people, and I was so addicted to this affirmation from other people, it truly became a problem, because I just absorbed all of this attention and praise, and just gloried in being someone that was more important than everyone else.
"And that was a breaking point for me. I couldn't be in the spotlight anymore because I was actually not blessing anybody, and I was certainly not blessing myself," Marczewski admits on She Speaks Stories.
This led to a three-year break from music – a time that she dedicated to the Lord to find Him again in the secret place (Psalm 51:6).
"God doesn't spare me of thirst, but He brings water": America's Got Talent golden buzzer singer who is stricken with 3 cancers
"When I was coming to the end of the three year season, at the end of September 2017, I was gearing up and I felt like God had healed so much of my heart, and my purpose was aligning with His will, my goals with His goals, really probably for the first time. And I was so ready to go.
"And that was the moment I got diagnosed with cancer."
He called me to look Him in the face
"September 2017 was when I was going to pick up music again," Marczewski shares on a Spotify interview, Then God Moved. "Getting the cancer diagnosis had really set me into a deep questioning with God.
"I had set myself apart for Him for three years because I wanted to be whole and healthy and in a right relationship with Him, but He had let it (cancer) happen to me, exactly when I had thought that the testing was over.
"God doesn't waste our pain … Cancer is not what I wanted, but I am going to wring out every drop of good that is here."
"I was incredibly shattered and disappointed; I felt betrayed. But as I was dealing with all that anger, I felt God asking me to just do one thing, and that was to look at Him in the face.
"When we feel hurt or betrayed by somebody, the last thing we want to do is to look them in the face. Even if they are going to comfort me and explain to me, I don't even really want that. I just want to be mad and I don't want to connect with you at all. It doesn't matter what you say.
"But as I walked through that cancer journey the first time, I was obedient to that and I did look at God in the face during that time, and He just showed me so many beautiful things and He taught me so many beautiful lessons that I have carried forward, and will always carry forward."
"God doesn't waste our pain," Marczewski says in She Speaks Stories. "He doesn't waste a single thing. Cancer is not what I wanted, but since it happened to me, I am going to wring out every drop of good that is here."
"It might not be much, but I am going to keep wringing it out, because I know that He is amazing and He can make even cancer good somehow." 
The force of His unconditional love
"My core struggle is the belief that I am loved, or worthy of love without anything to prove it," Marczewski says.
"Before, I used my voice to get applause that would distract me from how empty I felt without it.
"I was met with the most powerful force of unconditional love I had ever experienced before, in Him."
"But when I went through cancer the first time, I wasn't able to be pretty, I wasn't able to sing, I wasn't able to be funny, or to work for myself," Marczewski shares on Then God Moved.
"I had actually become a burden to everyone around me. But it was in those moments when I had lost all the tools that I had in my toolbox to make myself lovable, I was met with the most powerful force of unconditional love I had ever experienced before, in Him.
"That shifted my entire paradigm about what I believed about myself, and it resurrected my spirit for me, and made me a completely different person."
Yet this was not the end of her struggles. 
Darkest despair
"I thought that I had done a pretty good job at that point, going through the fire and being purified by God. But God was not finished," Marczewski says in Then God Moved.
"The second time I got diagnosed, it was very, very different. It was a much, much darker and deeper despair than I had ever felt before.
"My marriage was totally on the rocks, and I had gotten the diagnosis on New Year's Eve. When they faxed over the results, I sat on the ground. I was absolutely shocked. It was 11 pages long, detailing all of the tumours that were in my lungs, liver, lymph nodes, ribs and spine. They were innumerable.
"I asked God, 'Please let me die fast. I don't have it in me to do this anymore.'"
"The first time I had cancer, I had two tumours – one was big and in the breast, and the other was in the armpit, so it had felt very attainable for me to beat it. I did a lot of research and statistically, I was fine. I knew I could do it.
"But the second time, there were too many tumours for the doctors to even count. I had three to six months to live. That's 12 Fridays. And a 2% chance that I would make it past that time.
"I was already super sick. It's different when you're sick with the flu and you know that you'll be better in two weeks, than when you're super, super sick, and you get news that says you're not getting better ever.
"That sent me into such a pit of despair. And I was 28.
"About two weeks after I got my diagnosis, my husband actually told me that he was leaving. He sat me down and just said, 'I'm done.' We were married for five years.
"Handling a divorce on its own can be such a life-altering experience; it can completely flatten your whole world. But dealing with that as I was facing death was way too much.
"At that point, I was so sick, I wasn't sleeping or eating. I couldn't lay down, I couldn't stand up in the shower. In those really, really dark times, I asked God, "Please let me die fast. I don't have it in me to do this anymore."
"I am here"
"There was a moment where I was in the hospital, drugged up pretty bad on a bunch of painkillers," Marczewski adds in She Speaks Stories.
"The tumours had cracked my spine so I was dealing with a lot of back pain, and I was at the beginning of the process when I had gotten the news of cancer and my marriage had just ended.
"Every day of yours was written in my book before one of them came to be."
"I was completely vegetative and in shock. I was almost in tears all the time, for probably three weeks to a month.
"But there was a moment in the hospital when I was being moved from one bed to another, and I was crying, and suddenly I heard the Lord say to me, 'Every day of yours was written in my book before one of them came to be' (Psalm 139:16), and I just felt He was saying, 'I knew this day was coming and I am here. Every one of them is written in my book.'"
"And that was such a tender moment for me."
Speaking about spiritual healing, Marczewski says in Then God Moved: "Healing happens little by little, and in unrecognisable ways. I was able to forgive because I understand that only a really broken, hurting, and lost person would be able to abandon their spouse like that.
"Just like Jesus said, 'Forgive them, for they do not know what they are doing' (Luke 23:34). That was really powerful for me.
"I read in this book about the story of a little sheep who has to travel the mountain with a broken leg, and she's following the shepherd, and feels totally unprepared for this journey. As she is going up this mountain, she meets this flower that's near a rock, and she asks this flower, 'What are you doing here? Why aren't you with all the other wildflowers?'
"Forgiveness is to say, 'I'll call it even. You don't have to come back and make it right. I'll pay the cost that it takes to heal.'"
"And this little flower says, 'It wasn't fair what happened to me. I got carried up here by someone and just dropped off, left here on the rock. My name is Bearing the Cost, but you can also call me Forgiveness. I was carried here, out of no fault of my own. Left here, far from my home, with no soil and water, but I decided to bear the cost of my own healing, and put my roots down in the rock. And somehow, a stream of water just, drop by drop, came by and watered me, and I am able to grow here in this rock and become every bit as beautiful as I was always meant to be.'
"That hit me so hard, because when we are wronged by someone, we often think that they need to come and make it right, and then we heal. But the way I came to understand it was, forgiveness is to say, 'I'll call it even. You don't have to come back and make it right. I'll pay the cost that it takes to heal.' And that's what I did."
In talking about dealing with disappointment with God, she says: "The best way I can sum it up is through the verses of Psalm 131:1-3: I do not occupy myself with things too great and marvellous for me. But I have calmed and quieted my soul, like a weaned child with its mother.
"I am able to walk through the uncertainty of this season because I've taken on this perspective. I am no longer going to demand an answer from the universe, or from God, or the people that hurt me or abandoned me. I am not going to exhaust myself, trying to understand something that cannot be understood.
"When a child is weaned, they're not begging for milk anymore. They already had enough and are satisfied by it. They are no longer asking for anything else from their mother, but just to be with her and held by her."
Redefining Favour
When speaking about suffering with She Speaks Stories, Marczewski recalls the story of Mary.
"She is called blessed and highly favoured – the most favoured of all women, she's the one that gets picked.
"The favour of God doesn't often look like what we think."
"And we all think, 'I want to be favoured and chosen by God.'
"But if you think about what Mary's story was – nine months pregnant on a donkey and she can't explain why, gives birth in a barn, and then she has to flee because somebody is trying to kill her baby. That doesn't seem like favour. But she was favoured.
"Sometimes favour doesn't come in the form that we think. We think that, if God favours me, then I am going to be famous and beautiful and have a good marriage. But the favour of God doesn't often look like what we think.
"If you think that being favoured by God means that your life is going got be easy and beautiful and perfect, you're not thinking correctly.
"His favour does not always look like that. In the end, Mary's story was beautiful and worth every bit of pain and struggle that she endured."
---
RELATED STORIES:
From brokenness and failure came the success of breakfast chain Fong Sheng Hao in Taiwan
If you have enjoyed reading Salt&Light...
We are an independent, non-profit organisation that relies on the generosity of our readers, such as yourself, to continue serving the kingdom. Every dollar donated goes directly back into our editorial coverage.
Would you consider partnering with us in our kingdom work by supporting us financially, either as a one-off donation, or a recurring pledge?
Support Salt&Light