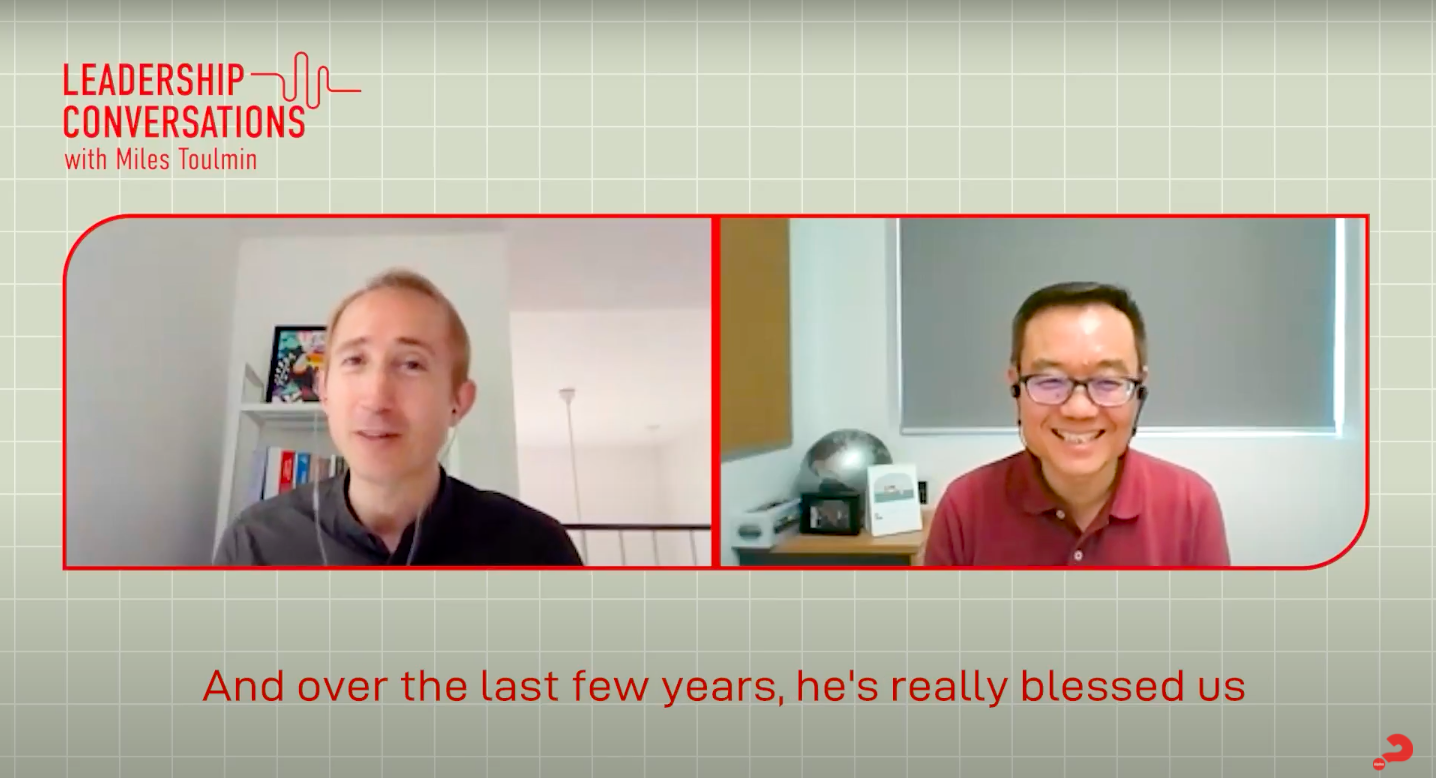 The Bible mentions "leader" over 200 times, but "servant" over 900 times, notes Pastor Benny Ho. Why, then, do we have many conferences on leadership but almost none on servanthood? Screenshot of the Alpha Asia Pacific Leadership Conversations with Miles Toulmin series.
"We believe leadership is a posture, not a position.
"And in the same way that posture can be improved, leaders can grow." So begins a new series of leadership videos by Alpha Asia Pacific.
"We hope these conversations will encourage, equip and inspire you as a Christian leader to bring hope and vision to your community during this time of global complexity," says Alpha Asia Pacific. 
The host of this Leadership Conversations video series is Rev Miles Toulmin, an Oxford University alumnus and ordained Anglican minister who, until recently, was the Assistant Vicar at Holy Trinity Brompton, where Alpha originated.
"In the same way that posture can be improved, leaders can grow."
Rev Toulmin now leads Alpha Asia Pacific as its Executive Director, and is also the Vicar of HTBB (Holy Trinity Bukit Bintang), an Anglican church in the centre of Kuala Lumpur that is home to the Alpha Asia Pacific Hub. 
The video series launched with an interview with Benny Ho, Senior Pastor of of Faith Community Church in Perth, Western Australia, and consultant to several churches both in Asia and Australia. Pastor Benny founded Arrows Ministry more than 10 years ago with the primary purpose of helping local churches to equip every member to become a minister for Christ.
In the frank and engaging interview, Pastor Benny, whose twin passions in ministry are expository preaching and mentoring, reveals the challenges in his personal leadership journey, and defines three leadership axioms that he and his church team hold fast to as they navigate the challenges of this pandemic era.
This excerpt of the interview is published by Salt&Light in collaboration with Alpha Asia Pacific.
Rev Toulmin:
We're going through an extraordinary time in the history of the Church. What are some challenges and opportunities that the Church is facing?
In Acts 2:42, the Scripture says that the early church devoted themselves to the apostles' teaching, to fellowship, to the breaking of bread and prayer.
Out of that we see that the early Church, which consisted of house churches or small groups then, was focused on three things:
1) Content
They devoted themselves to the apostles' teaching. So we've got to have the right content, to make sure that people are actually fellowshipping around the Word of God, and the correct handling of the Word.
2) Community
In the Bible, fellowship – koinonia – is a very powerful word, much deeper than friendship.
It's like two of us sitting together and drinking out of the same bowl. Yes, like hotpot! It's the kind of community that is deep, authentic and real.
3) Consecration
This is where we step into the holy grail of disciple making. They devoted themselves to consecration – to prayer and communion. That is powerful.
Every small group should be committed to these three things. And then, out of that, the Lord will add to our numbers daily those who are being saved.
What leadership tips is the Lord prompting us to embrace during this unusual season?  
In this season, apart from the fact that there's a pandemic going on, I also see quite a number of prominent leaders that are going through really difficult times.
I see leaders that have fallen from grace and things like that.
And it caused me to reflect about what leadership really is.
"We all have hidden areas of darkness in us, but it is through leadership that they get exposed."
When you input the word "leader" in the Bible concordance, the number of times that the word "leader" appears is over 200 times.
Then you input the word "servant" and it comes up over 900 times.
So it seems that, in the Bible, there's a greater focus on servanthood than there is on leadership.
But yet we have more leadership conferences and hardly any servanthood conferences!
So I asked myself: What really is leadership?
Here's my reflection on three axioms of Christian leadership:
#1: Leadership is a journey of discovering self
It was in my own leadership journey that I discovered I have certain strengths, but I also have many inherent weaknesses. It was a journey of self-awareness.
"There is no one like Jesus. He's a Servant, but at the same time a Leader."
And in my personal leadership pilgrimage, I've discovered hidden areas of darkness in my own life, including pride, insecurities, fleshly desires, egoistic tendencies.
We all have them, but it is through leadership that they get exposed.
And it takes the truth of God's Word, the loving council of mentors and the grace of God that, perhaps, will invade those areas of darkness and change us from the inside out.
#2: Leadership is a journey of discovering human nature
I have discovered that there are different personalities, different values, different perspectives, different world views that can collide in the leadership journey.
It is through all the leadership conflicts that we can really be moulded and transformed.
#3:
Leadership is a journey of  discovering
God
Jesus alone is the ultimate Servant Leader.
There is no one like Him. He's strong but yet gentle, humble but yet bold. He's a Servant, but at the same time a Leader.
My highest goal in leadership now, therefore, is not to be the fastest, the best, the strongest, but to be like Jesus.
Christlikeness really is the pinnacle of Christian leadership.
So leadership is a journey of discovery: Of myself, of others, of God.
Leadership, at the same time, is a set of principles.
"Christlikeness really is the pinnacle of Christian leadership."
It's not just an art that we can apply creatively, it's also a science. There are certain principles that define what is good leadership and what is bad leadership. Therefore it behooves us, as leaders, to be constantly learning these principles and practising them, so that we all end up becoming better leaders than we are now. 
At the end of the day I think leadership is a mystery!
Even with greater awareness, better understanding of human frailty, practice of good leadership principles, and so forth, honestly there are still moments we don't know what to do as leaders!
I think of someone like Moses – he was absolutely clear about where he was supposed to lead the people. But I think he was absolutely blur about how to get there! And that's why he ended up just following the pillar of cloud by day and pillar of fire by night. In the words of Pastor Andy Stanley, Moses was clear and also uncertain. 
I think we are clear about where we want to go, but sometimes we are unclear about how to get there. 
That may not be all bad because it therefore causes us to be more dependent on the Holy Spirit. And we inquire of the Lord as a result.
---
This excerpt has been republished, with permission, and in collaboration with Alpha Asia Pacific. Alpha is a way to inspire and equip churches to create a space where people from any background can encounter Jesus. Find out more on their website here. 
---
MORE STORIES ON CHRISTIAN LEADERSHIP:
The day he became leader of Singapore Youth for Christ, was the day he planned to hand over the reins
If you have enjoyed reading Salt&Light...
We are an independent, non-profit organisation that relies on the generosity of our readers, such as yourself, to continue serving the kingdom. Every dollar donated goes directly back into our editorial coverage.
Would you consider partnering with us in our kingdom work by supporting us financially, either as a one-off donation, or a recurring pledge?
Support Salt&Light
previous
Coronavirus
Let's unite in prayer every day at noon (12pm): LoveSingapore renews [email protected] call at critical juncture of Covid-19 battle
Next
Business
Burnt out so many times he lost count, now he helps others build mental resilience