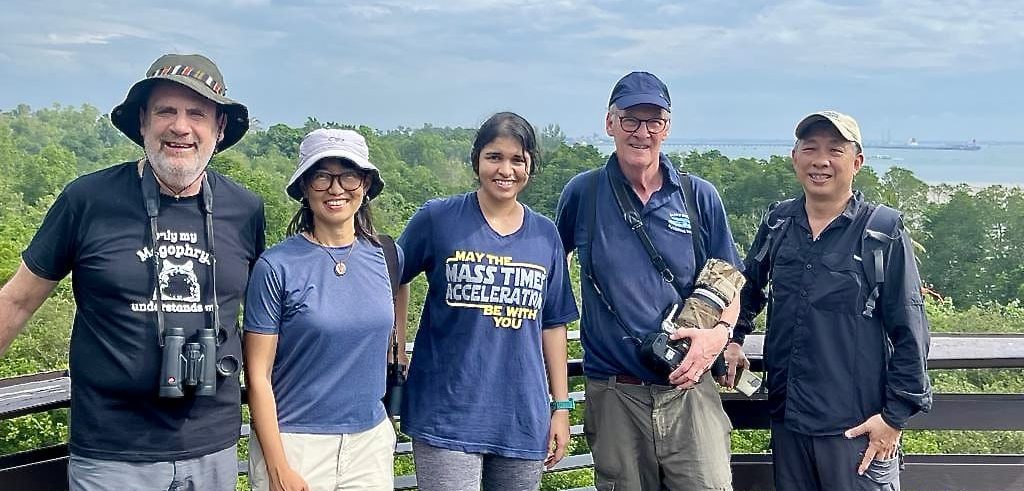 God watered the tiny seed that Peter Harris (second from right) planted into a family of Christian conservation organisations around the world. The co-founder of A Rocha is pictured with its recently retired executive director Dr Simon Stuart (left) and Singapore friends. All photos courtesy of Peter Harris unless otherwise stated.
When Englishman Peter Harris became a curate at an Anglican church near Liverpool in the early 1980s, the former school teacher did not expect ornithological distractions to be plentiful. But they were.
"Heavy autumn gales brought high numbers of seabirds to the nearby shore just as the church programme was at its busiest. It was a scramble to get to team prayers at 8.30am after a dawn foray to watch an impressive migration of finches at the estuary four miles away.
"Muddy wellington boots and a heavy Icelandic sweater do not feature in the usual liturgical kit-list," he quipped in his book, Under the Bright Wings.
The Harris family moved to Portugal in 1983, when Peter and his wife, Miranda, started a bird observatory and field study centre in the Algarve. They named their nature conservation project A Rocha (Portuguese for "The Rock", roughly pronounced "ah-ror-sha").
Today, A Rocha is an international family of Christian conservation organisations in more than 20 countries on six continents, living out God's call to care for creation and equipping others to do likewise.
A Rocha collaborates with scientists and environmentalists to conserve the world we live in and provides a forum for understanding the relevance of the Christian faith to environmental issues.
"We're knocking out the voices in the choir"
"Miranda would say that I was born with binoculars around my neck," Peter, now 71, told Salt&Light when he was in Singapore in March to meet stakeholders in the region.
"I've always been somebody who's loved nature and birds in particular. And I can't explain it because I grew up in Birmingham, a big city. My father was an engineer and nobody in the family was nature-minded particularly."  
Peter became involved in nature conservation when he was around 30, and subsequently started bird ringing.
While training to be a pastor, Peter learnt Hebrew and looked deeply into the Old Testament, and realised the richness of what it said about the land and God caring for all things.
"The first is that 'the earth is the Lord's' (Psalm 24:1). It is Christ at the heart of His creation, and it's His wonderful gift to us. But creation's meaning is to worship God. It is sacred, it is holy. Because according to Psalm 8, it's God's 'fingerwork' which expresses His care even more than calling it His 'handiwork'.  So there's a huge conservation ethic right there.
"The earth is the Lord's (Psalm 24:1). It is Christ at the heart of His creation, and it's His wonderful gift to us."
"The Bible analysis of what's gone wrong is: Our broken relationships with God translates into a broken relationship with creation, which is why Christians can't be indifferent to what's happening to creation because it's a result of sin. 
"Three thousand years before we heard the words 'marine crisis', the prophet Hosea wrote that the broken relationship with God resulted in 'lying, bloodshed and murder'.
"Hosea then goes on to say, 'Therefore, the land dries up and the birds of the air and the fish of the sea are dying' (Hosea 4:2-3) – which describes what is happening now.
"It's incredibly prophetic.
"We're knocking out all the voices in the choir one by one as we lose all the species that give their unique praise to God."
(In the last 50 years, the earth has lost 69% of its wildlife.)
As Peter's understanding of God deepened, so did his feelings for wildlife and its protection.
Peter's friends in conservation did not go to church, and at that time, churches did not talk about the pressing environmental issues the world was facing. 
Peter and Miranda did not know it then, but God was preparing them to serve and worship Him via caring for His fingerwork.   
Pray and do nothing
On an expedition to Sweden with students exploring biblical teaching on the natural world, a zoologist, Les Batty, shared his dream of setting up a Christian field centre to study wildlife in the north of England.
Since Peter and Miranda had stayed at a bird observatory in Wales some years before, they had often thought of the great potential for such a place "enriched with Christian hospitality and care".
"Away from the television, out on top of the cliffs with seabirds all around … people seemed to have space to think and to talk in a way that they could rarely do when they were surrounded by the normal distractions of their lives," Peter wrote in Under the Bright Wings.
The natural world was created, in part, "to give exactly that kind of prompting; to make us consider if there might be a God and, if so, what He might be like".
Together with Les and his wife, Wendy, the couples envisaged a house with a clear Christian character that would welcome all who were interested in natural history to take part in a series of environmental projects reaching into the local community.
"As we talked and prayed, we became aware that it was all becoming more substantial than just a good idea."
Peter suggested to Les: "There are a lot of field centres in the UK already, and not many in the south of Europe. Ditto committed Christians. Ever thought of Portugal?"
But even though they knew the Anglican church in Portugal was looking for a clergyman, would nature conservation be considered "an appropriate contribution"?
The next step was to talk to Igreja Lusitana – a branch of the Anglican Communion in Portugal. 
"All their clergy, including the Bishop, had other full-time jobs, and so the idea of an ordained warden of a field study centre seemed quite natural," wrote Peter.
"Maybe like us they were pleasantly surprised by the changes that were taking place in evangelical thinking."
Money on their porch
In order to take the idea further, the Harris and Batty families needed to go to Portugal to talk to people in conservation and the church.
But neither family had the money to pay for the trip.
"You cannot say you love Rembrandt and trash his paintings … you can't say you love Jesus and be indifferent to the plight of His creation."
"We decided to put our convictions to the test and so we went ahead and booked the air tickets," wrote Peter.
"As the days passed, money began arriving in extraordinary ways … including the night when several houses in our road were broken into, while £100 in £10 notes lay in an envelope on our porch."
They were still short of £700 when Miranda got a phone call from the travel agent reminding her that the tickets had to be paid in full by the end of that afternoon. She assured the agent that they would get the money.
"Miranda's faith had been frightening, but the phone call from friends moments later to say that they had £1,000 to give us 'for Portugal' was even more worrying."
The couple were then "more used to making our decisions in a rather commonsense fashion … and leaning heavily on the advice of good friends and respected leaders".
They would come to have "an absolute confidence in God's ability to guide" them through years of "living rather near the edge at times".
Elephant traffic lights
They named their project A Rocha (after an area called Quinta da Rocha) "because it seemed to do justice to all that we were planning – field studies, geology, and the only foundation for the whole of life, the Rock who is Christ".
Peter and Miranda had thought that they would set up a couple more centres along the Portuguese coast after 10 years. But when the internet came along, people from all over the world started contacting them about doing similar work, Peter said in an interview.
The bird observatory on the edge of a small Portuguese village mushroomed into a family of Christian conservation organisations in over 20 countries on six continents. 
Each A Rocha organisation around the world has the freedom of creativity to engage and serve the communities they are in. But all share a commitment to biblical values.
"We aim to see what the Gospel looks like when it's written in the landscape and when it's lived within a local community in long-term relationships," said Peter.
In Asia, innovative projects have included the development of a traffic light in a national park to warn motorists of elephants crossing the road to prevent elephant-vehicle collisions.
In Singapore, Friends of A Rocha had their first hands-on project eight years ago to study amphibian diversity in urban parks.
While "going frogging", the group found that their evening surveys created opportunity for people to connect faith and ecology. (Read more in God's Gardeners: Creation Care Stories from Singapore and Malaysia.)
Through environmental education, A Rocha organisations empower locals to make a difference in their homelands.
It also equips churches to understand the relevance of what God says about His creation to environmental issues. (For ideas and resources, click here).  
A Rocha works in partnership and collaboration with faith-based organisations, and also has a director of theology to ensure that their science-based vision is integrated with Biblical values.
Why do they do what they do? Why should Christians care about creation?
"You cannot say you love Rembrandt and trash his paintings.
"Similarly, you can't say you love Jesus and be indifferent to the tremendous plight of His creation," said Peter.
---
In October 2019, Miranda was killed in a road accident which claimed the lives of fellow A Rocha leaders Chris and Susanna Naylor. Peter has been serving A Rocha in a voluntary capacity since 2020.
Check back soon for Part 2 of this story on what the Old and New Testaments of the Bible say about caring for God's creation, and how A Rocha International shares God's handiwork and love with people of different cultures and faiths around the world.
---
RELATED STORIES:
If you have enjoyed reading Salt&Light...
We are an independent, non-profit organisation that relies on the generosity of our readers, such as yourself, to continue serving the kingdom. Every dollar donated goes directly back into our editorial coverage.
Would you consider partnering with us in our kingdom work by supporting us financially, either as a one-off donation, or a recurring pledge?
Support Salt&Light