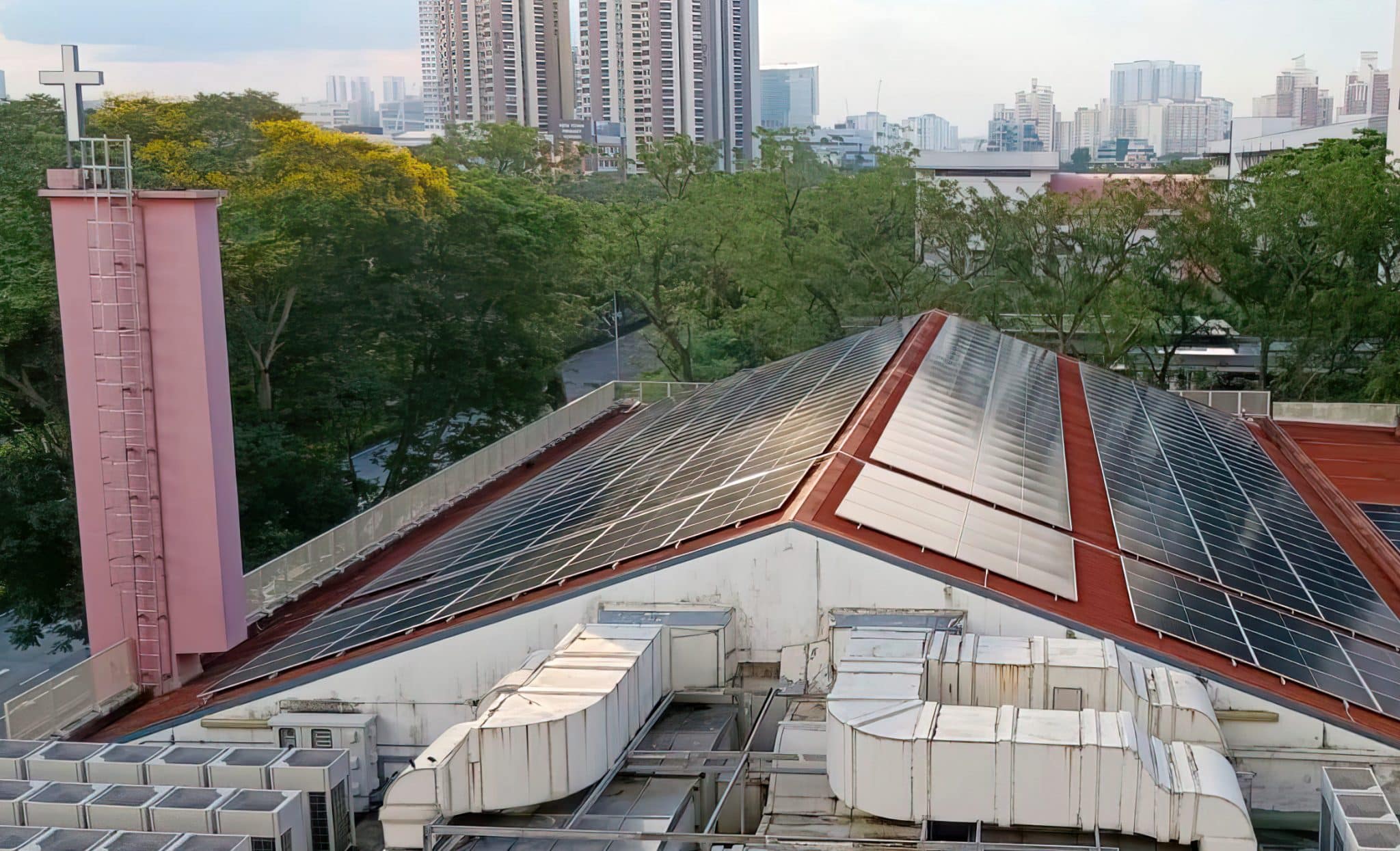 Over 300 solar panels now line the roof of COOS in Queenstown after the church embarked on a renewable energy project in 2022. All photos courtesy of Leow Foon Lee / Church Of Our Saviour.
Last September, Church Of Our Saviour (COOS) saw a significant reduction in their monthly electricity bill, averaging savings of over 30% since then.
It was the direct result of a successful renewable energy project featuring 317 newly-installed monocrystalline solar panels on the church's red gabled roof and two power inverters.
The solar panels capture sunlight and convert it into electricity that is channelled through a power inverter and fed back into the power grid which offsets the electricity used by the church.
Foray into renewable energy
In early 2021, the COOS church leadership established a Smart Green Committee to examine the potential use of renewable energy sources for the church.
The intent was to use the small excess from their Building Fund to leverage on current technology for greater efficiency and possible savings.
"Renewable energy is becoming very affordable, when it was previously not so," said Leow Foon Lee, who chairs the committee.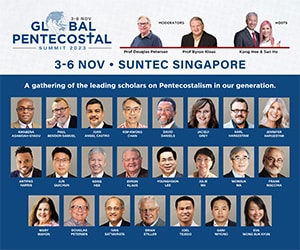 He is the head of an investment advisory firm specialising in renewable energy and is also a visiting senior fellow at the Energy Studies Institute, a think tank under the National University of Singapore.
"From a church's standpoint, we're not looking at it from a commercial perspective, because it is about the much broader consideration of creation care and stewardship," Foon Lee pointed out.
"But it is also very attractive for us because it saves us such a huge amount of energy costs."
Running ahead with solar power
Given space restrictions and current energy-generating options such as hydro or wind power, installing solar panels on the roof of the old church building was an obvious, although novel, choice.
While solar panels have become increasingly common in Singapore, the committee only knows of one other church here which has ventured into solar energy.
The committee undertook a year-long study, which even included a structural roof check, to understand the technical feasibility and financial implications of the project.
"It boils down to stewardship and responsibility amidst the issues of climate change, carbon emissions, decarbonisation."
In order to reap the full benefits, COOS chose to pay for the solar panels and installation upfront instead of merely leasing the roof space out to a renewable energy company.
The set-up is expected to last about 25 years, because the efficiency of solar panels will decline, Foon Lee told Salt&Light.
A servicing and maintenance contractor has been engaged to "tide us through the learning curve" for the first few years, he added.
Another key consideration was the payback period, which is the time needed to break even on the investment, said Francis How, who is also part of the Smart Green Committee and the People's Warden of COOS.
In the Anglican church, the People's Warden is a regular church member, elected to serve as a representative of the congregation.
"We are ultimately stewards of the resources that church members have donated," he said.
When the exploratory study was done in April 2021, calculations showed it would take about five years to break even. But at current prices, it has almost halved due to the energy price spike after the Ukraine war in 2022.
Expansion plans
Energy prices are expected to remain high, so the committee is now working on Phase 2 of the project to add another 50 solar panels on a raised platform.
However, they are also embarking on other green initiatives "as long as they make sense and bring about a greater good", said Francis.
For example, they are also considering heat-reflective paint to reduce air-conditioning energy consumption, motion-sensor LED lights and electric vehicle initiatives.
"We have to understand that in the natural world, everything is interconnected."
"Saving energy is as important as generating it. It boils down to stewardship and responsibility amidst the issues of climate change, carbon emissions, decarbonisation and all these things," said Foon Lee.
It is about the "broader sense of sustainability" that the church is engaging in.
"We have to understand that in the natural world, everything is interconnected," he said.
Using biblical references, Foon Lee pointed out that the principle of the Sabbath and even the Jubilee year in Leviticus 25 is, in a sense, about sustainability.
He also mentioned how Proverbs 12:10 specifically references the care of the need of animals as the deed of righteous men.
Highlighting the interconnectedness of our world and the growing trend of companies reporting on ESG (environmental, social and governance) goals, Foon Lee said: "Why should a church be any different?"
---
FOR MORE STORIES LIKE THIS:
"Born with binoculars": How former clergyman Peter Harris came to equip others to care for "God's fingerwork"
They sold everything to work in the garbage landfills of Cambodia
"Business in the Bible is intended for the welfare of the people": Sustainability leaders at The Gatekeepers Dialogue
If you have enjoyed reading Salt&Light...
We are an independent, non-profit organisation that relies on the generosity of our readers, such as yourself, to continue serving the kingdom. Every dollar donated goes directly back into our editorial coverage.
Would you consider partnering with us in our kingdom work by supporting us financially, either as a one-off donation, or a recurring pledge?
Support Salt&Light