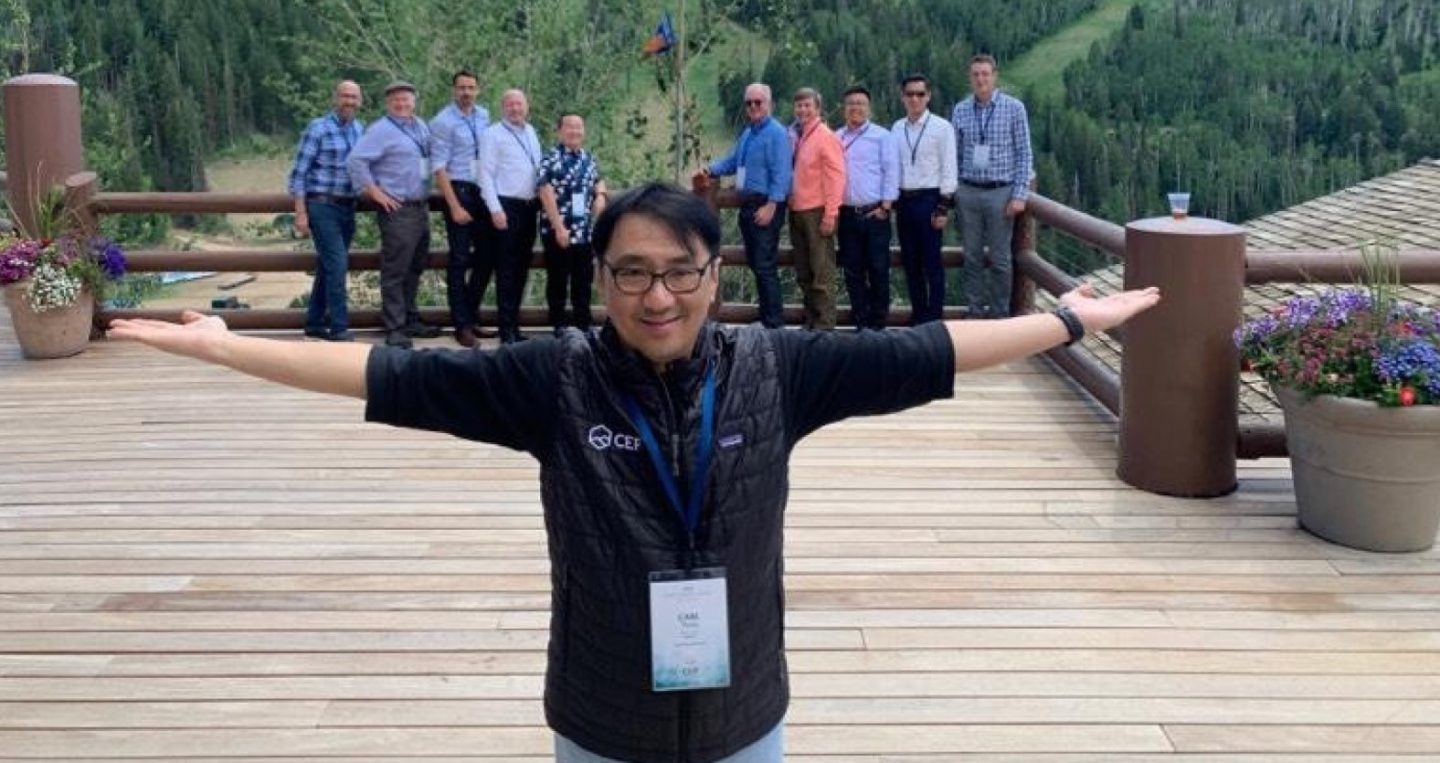 Fast-talking Carl Thong's life changed through his wife's prayer. He is pictured here at the Christian Economic Forum in Utah, 2019. All photos courtesy of Carl Thong.
By all standards, investor Carl Thong lived a charmed life. He's well-educated, well-travelled, well-spoken. His life had few failures. Or so it seemed.
He was "a crazy guy" who lived the hard-partying fraternity life of a college boy at a liberal arts university in the US. 
On graduation, he easily found a job – as a medical consultant.  
"I only opened the door when I needed Him as an insurance policy."
"I was doing very good work, real fun work," Thong, now 52, recalled.
He secured a green card without event, moved to different parts of Asia – including Japan – to work before starting his own business in Malaysia. Even when he ran out of money mid-way and had to close the company, he still managed to land on his feet.
"I was then hired by a Fortune 500 company as a CEO for one of their IT companies because I could speak good English," he laughed.
"So, I became a CEO at a very young age – 31." 
Work hard, party hard
Thong led a glossy life that seemed to be on an upward trajectory.
He went on to start his own businesses – a nutritional supplements trading company and a medical call centre.
"She prayed: 'Only God can change you'. I said: 'Fine, put Him to the test.'"
Just like when he was in school, hard work and hard partying went hand in hand.
"I always felt that because I worked hard, I deserved to have fun. If I have a lot of fun, I will be happy. If I'm happy then, over time, I will find joy. If I have joy, I will find peace," he shared.
"I never did any drugs or abuse alcohol. But I started having relationships outside my marriage."
The tipping point came when he returned from a business trip in Hong Kong one day in 2013 to find that his wife had left him, taking the children with her. 
His first thoughts were: "Okay, as long as I get the kids back, I can find another wife."
But deep down, he loved her very much.
All sales talk?
Thong managed to convince his estranged wife, Jessie, to have dinner with him. 
"I'm very good at talking. I'm a salesperson," he said of his intention to talk her back home. What started as a bid for reconciliation resulted in a prayer that would change their lives.
"She prayed: 'Only God can change you.'
"I said: 'Fine, put Him to the test.'" 
A few days after that dinner and "all out of ideas", Thong decided to attend a little church – All Saints' Church – his wife, a long-time Christian, had once taken him to.
While never very religious, Thong was familiar with Christianity. As a child in Indonesia, he was educated at an international school run by a missionary's wife even though his father and mother were of two different religions. 
"I grew up with a bunch of missionary kids and I had no idea what that meant." He thought their parents had "an overseas posting".
"Be careful what you pray for."
Thong attended Sunday School, spent a lot of time with his Christian classmates, and even got his first Bible when he was age nine.
"My best friend Doug gave it to me. He wrote inside: 'Dear Carl, I hope you pray every day.'
"Actually, it was a Bible his mother gave him. He crossed his name out and he gave it to me." 
Because Thong has lived in so many cities and has moved so often, he doesn't have many things from his childhood. This Bible is the only thing he's really kept. The precious memento is reminder that "God is persistent".
A white light
He did not see it then, but that visit to the church was God's answer to Jessie's prayer.
"Be careful what you pray for," Thong said wryly of his wife's prayer.
He listened to the pastor speak.
"Within three minutes of him preaching, the whole room became white. I thought I was very tired, not getting enough sleep, stressed out. It was white and God spoke to me: 'Carl, I love you'. That was it."
He tried to ignore the experience but God was not about to give up.
"That same night, the same message came. I went to sleep crying.
"The next morning, I woke up with complete peace, which is weird. How is it possible for me to be at peace when my wife just left me?" he said.     
"I got so thirsty for understanding who this guy Jesus is."
Within a week, Thong who had filled up a visitor's form at All Saints Church, was invited to lunch by Rev Lewis Lew, who was then the Priest-in-Charge.
That lunch turned into a chance for him to hear about God once more. By the time Rev Lewis talked about Jesus' teachings about baptism, Thong's heart turned. Though not entirely.
"I said: 'Okay, let's baptise me. How much?'" 
Thong explained: "You see, I was still very transactional. Not relational because that was my life then."
Looking back, Thong says that he can now see God's hand working intimately throughout his life.
"God was knocking on my door for 45 years. But I only opened the door when I needed him as an insurance policy."
It took eight months for Jessie to see the change in him. She saw that his words finally matched his actions, and that he realised that "I was not Lord and I don't control my own domain". She agreed to move back home.
"She didn't think I could change, but God changed me." 
Mission in the market
The man who once channelled his drive into work now also channels it into his faith.
"After I got baptised, I got so thirsty for understanding who this guy Jesus is," said Thong.
So, he earned himself a Master in Theological Studies and is now working on a doctorate in church leadership. 
"He's my Father in heaven. He's not going to leave me alone."
Thong turns over his mobile phone to show Salt&Light a verse stuck to the back: "It says: 'Love the Lord your God with all your heart and with all your soul and with all your mind.' It didn't say love God with a little bit of your heart. It says all."
 Thong also serves as a priest warden in All Saints' Church while still running his businesses.
"In this specific season, my calling is very clear. It's the marketplace." 
Thong owns several businesses. They include a leadership and sales development firm, an edtech company Teach-n-Learn, and a few fintechs.
He also sits on several boards.  
Explaining his decision to continue with his businesses instead of working in church, he did a quick calculation: "You spend 60 years in church – say 40 weeks a year, one-and-a-half hours a week. That's 4,000 hours over a lifetime.
"But you spend 40 hours a week at work, 48 weeks a year for 40 years. That's almost 80,000 hours.
"I believe the marketplace is a wonderful opportunity to express God's love."
For Thong, that expression comes in the form of starting, investing and growing companies, and ensuring that a Christian environment is evident in each.
"It didn't say love God with a little bit of your heart. It says all."
Thong believes in allowing his staff to correct him. He tells of an occasion when he lost his temper and spoke harshly to a staff member, only to have the man gently tell him he was wrong, albeit after much prayer.
"I told him: 'Thank you for calling me out. I apologise. I'm wrong.' This correcting is valid and I need to be mindful.'"
Business has dropped because of the COVID-19 situation. Thong has had to shut down his Malaysia office because of the Movement Control Order. Both Christian and non-Christian staff are worried. 
But Thong is not worried. "I trust in God. He's my Father in heaven. He's not going to leave me alone.
"Instead, I pray: 'You are obviously teaching me something. Let me understand it. Help me express that understanding to the rest of my staff.'"
Happy priorities
These days, apart from being committed to living out his faith at work, Thong is determined to live out his faith at home. "For me in this season of life, I've got a few priorities. My first priority is to figure out how to be a parent of two teenage kids." 
"The other is to be a better husband. That's a job I can't fail at, not anymore. I pray a lot for that.
The man who once partied hard now lets his family set the pace: School runs in the mornings where he can talk to his children, game nights with his son, K-drama binges with his daughter or Netflix dates with his wife are now his idea of a great time.
"I realised now I shouldn't have focused on fun and happiness to get peace. When I became a Christian, I found peace.
"If I have peace, the natural outcome of peace is joy. Joy is demonstrated by happiness and happiness in behavioural action is fun."
A father, a church leader and a businesswoman share how God picked them up after painful mistakes
"Why can't I be the businessman totally given to God?": When Ronald Seet returned to the 'world'