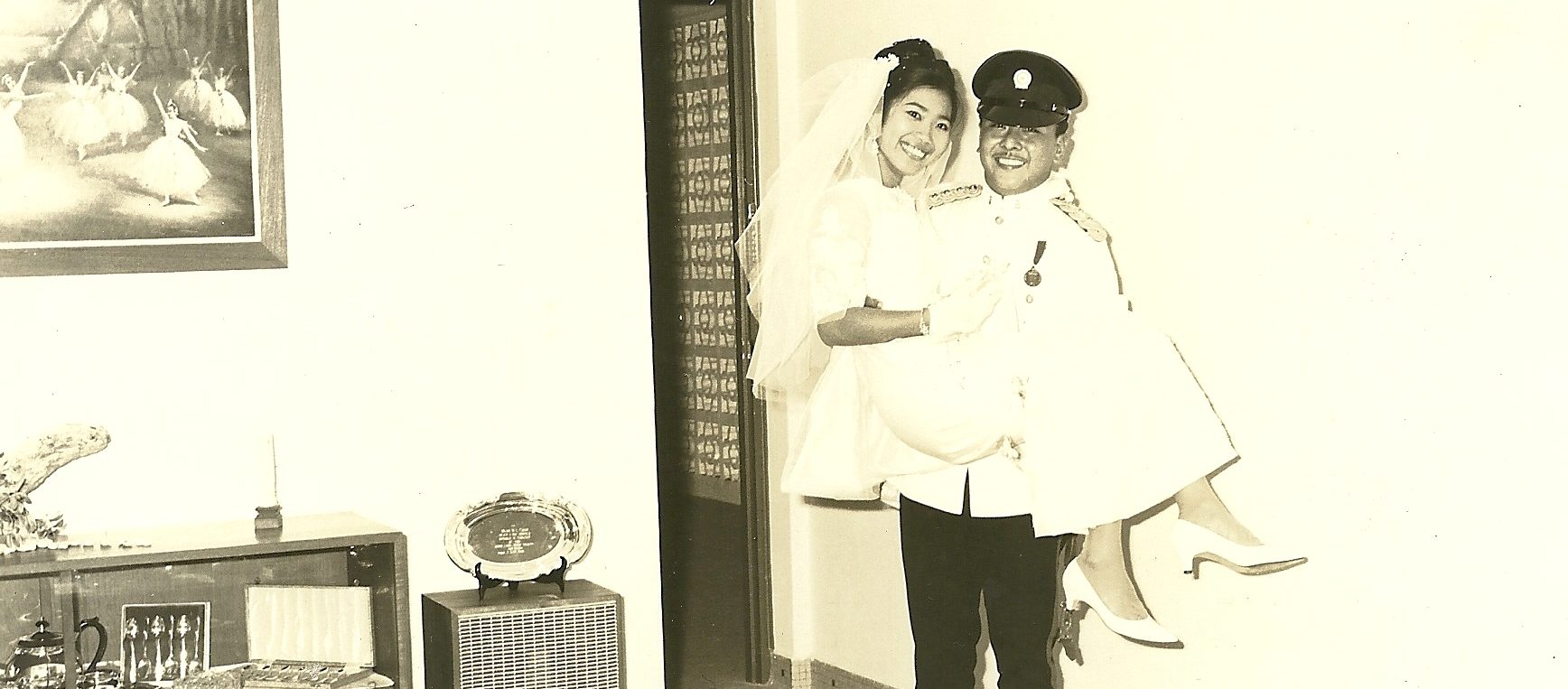 A 1966 wedding photo of Lieutenant-General (Retired) Winston Choo and his wife Kate. Unpredictability may have been a constant in the career of the first and longest-serving SAF chief. But, at home, Kate's faith kept the family strong, he said. All photos courtesy of the Choo family unless otherwise stated.
He parachuted, dived, ran with his soldiers, and went into the trenches with them.
The first and longest-serving chief of the Singapore Armed Forces (SAF) trained his soldiers hard. But he also spent long hours listening to their problems and getting to know about their families.
In his care for them, he would come to recognise "the importance of wives and husbands supporting their spouses in the military and being by their side so that they could undertake their tasks with confidence". 
"While I worried for his safety, I had to live by faith and trust that the Lord would watch over him."
Lieutenant-General (Retired) Winston Choo, now 80, admits he did not have much time for his own family, as he was away on seemingly endless courses, operations and official engagements aimed at building up Singapore's Armed Forces.
But he couldn't have held everything together if not for his wife, his "forever love and tower of strength", he said in his recently-released A Soldier at Heart: A Memoir.
In his recollection of life as a soldier, diplomat and humanitarian (he was chairman of the Singapore Red Cross), Gen Choo's memoir also gives a glimpse of the challenges military families face.
Mrs Katherine "Kate" Choo, 79, has been behind and beside him – through the threat of death, the disappointments, disruptions, distance – and even a delay in their wedding. 
Young love
He was 13, she at 12 when they first met.
He was in the Boys' Brigade and she was in the Girls' Brigade at Prinsep Street Presbyterian Church.
He knew from the get-go that "this was someone special whom I wanted to be with … I found her very likeable and very kind, with never a nasty word for anybody," he wrote.
She "patiently tolerated the changes that came along with my life as I did not have much time for her". 
When Salt&Light caught up with Gen and Mrs Choo at their home in early August, Mrs Choo, 79, told this reporter that she had enjoyed their 3.5 years in Australia when her husband accepted the posting as Singapore's High Commissioner after he retired from the military.
Gen Choo chipped in fondly: "She's a natural diplomat's wife. I'm not a natural diplomat.
"Ask her to scold somebody, she doesn't want to scold anybody. You've never got a mean word for anybody," he teased gently.
"I don't know how she became a teacher," he said as she playfully swatted him.
Giving up a job she loved to raise their two children and run their home almost single-handedly was one of countless sacrifices she made in support of her husband.
Behind the scenes, Mrs Choo also interceded for her husband's safety and salvation. (In Part 1 of this story, Gen Choo admitted that in the army he used to only pray when he needed help. This changed when his first grandchild was born.)
"Then and now, God's always been here for me": Singapore's first top military chief General Winston Choo
"Kate kept our family and me spiritually strong. I must admit that I have not always been devout, nor did I lead an exemplary Christian life. But she never faltered and she ensured that we kept our faith," Gen Choo wrote.
The couple will celebrate their 55th wedding anniversary later this year.
"I can say that if I had three stars, she should have been given four," he has said more than once.
Would he come back alive?
Some three years after they started dating, Gen Choo, then a 23-year-old platoon commander, was deployed to Sabah during the Konfrontasi (Confrontation, Indonesia's opposition to the formation of the Federation of Malaysia) at the end of 1964.  
"Some soldiers from other units had already been shot and killed in Sarawak and Sabah by then," he wrote in his book. 
Mrs Choo told Salt&Light: "Before he left, he told me that he hoped he would come back but wasn't sure if he would.
"There was nothing I could do except to pray for his safety."
How did she cope? 
"I have not always been devout, nor did I lead an exemplary Christian life. But she ensured that we kept our faith."
"Work kept me occupied and I went about my life as per usual; I didn't want to worry him unnecessarily.
"While I worried for his safety, I had to live by faith and trust that the Lord would watch over him. Also, whenever I needed help, my parents were always there for me."
She found comfort in Philippians 4: 6-7: "Be anxious for nothing, but in everything by prayer and supplication, with thanksgiving, let your requests be made known to God; and the peace of God, which surpasses all understanding, will guard your hearts and minds through Christ Jesus."
"The verse still speaks to me today."
(Another favourite verse is 1 Corinthians 13:13: "And now abide faith, hope, love, these three; but the greatest of these is love."
"I'm a romantic person," she admits.)
Istana first, wedding later
With the "danger money" – an additional allowance for the Sabah mission – the young soldier could afford to buy his sweetheart an engagement ring soon after he returned to Singapore. 
The couple got engaged just two months before Singapore declared her independence from Malaysia on August 9, 1965. Whatever Kate's fiancé did from then on would be on behalf of the brand new Republic of Singapore.
He was called up for an interview with Singapore's first President, Yusof Ishak, who was looking for an aide-de-camp (ADC). The ADC had to be a bachelor and live in the Istana.
When then-Captain Choo said that he was getting married, President Yusof Ishak told him: "If I choose you, postpone your wedding."
The young couple's plans to be married within the year were put on hold. His fiancée took the disappointment stoically, wrote Gen Choo.
State secrets
There should be no secrets between a couple, goes the commonly held marriage advice. How does one navigate this with a spouse bound by a career of the most sensitive nature? 
"The secrets, I had accepted a long time ago," said Mrs Choo.
"I never, ever asked him about his work. So if there was anything he wanted to tell me, he would tell me. If he doesn't tell me, I don't ask.
"The secrets, I had accepted a long time ago."
"Because I know in this job, there are things that he cannot tell me. And it's best not to know"
Their relationship and marriage survived his frequent absences on official business.
This was in an age before emails or smartphones existed. Before Skype, WhatsApp and Facetime allowed families – separated by the oceans and time zones – to talk, laugh, cry together, and send photos and videos of the children's growing up years. 
"If I hear from him, then I hear from him. If I don't, there is nothing I can do," said Mrs Choo.
The constant student
Young Winston may have joined the military to "stay away from studies" (he preferred the outdoors), but he found himself back in school – and away from his family – attending course after course throughout his military career.
Mrs Choo was six months pregnant with their first child, Karina, when her husband was sent to Blandford in the UK in June 1968 to be formally trained as a signals officer. Her parents insisted that she moved back to the family home," so I had all the support of my parents, my brothers".
Her parents would also babysit for the couple, spending the night with the children, Karina and Warren, when the Choos attended official dinners.
Mrs Choo joined her husband for five out of the twelve months he was attending the US Command and General Staff College at Fort Leavenworth, USA.
"I waited for Warren's second birthday, before going," said Mrs Choo. "My parents moved in and looked after the children. So I had peace of mind knowing that they were in good hands."
Sending him to Kansas was part of Singapore's first Minister for the Interior and Defence, Dr Goh Keng Swee's, plans to boost the professional qualifications of the 29-year-old soldier he had earmarked to head the Singapore Armed Forces.
Gen Choo wrote: "I did not share with her the strain I felt at the prospect of heading the SAF as I did not want her to worry."
When he was overseas on course, the couple wrote to each other almost every day.
"Phone calls at that time were so expensive. Mobile phones did not come till very late in our lives," said Gen Choo.
Letters were their only link to each other.
"I used to write a letter every day on my small typewriter despite having to study."
His wife's letters were a source of encouragement.
"When you are away, receiving a letter is so precious," said Gen Choo, who lived in an officers' mess in Blandford.
The mail service at that time was not optimal. "Sometimes letter number 3 will arrive before number 2," said Mrs Choo with a chuckle.
"I still have his letters," she added.
The gift of a year
Waiting for her then-boyfriend as he risked life and limb in Sabah was not to most difficult period for Mrs Choo.
"My toughest time was when he was studying at Singapore University," she said of his three-year course in military history from 1978 and 1981.
(There were no university graduates among those who had joined the military before Independence. Gen Choo was one of the few who had 'A' Levels. The Minister of Defence wanted the heads of the SAF to receive a university education.)
During the three years, Gen Choo was working and studying at the same time. The children were about 7 and 9. 
"He would come home, have a drink, go and study," said Mrs Choo.
After official social functions, he would return home to rest and ask his wife to wake him up at 11.30pm so that he could continue studying till 4am or 5am. In the morning, he would change into his shorts for a morning run before changing into his uniform and going to work.
"It was tough for the family, it was tough for me. I went around almost like a zombie."
"He was in this study by himself. I could only go in and out to bring him drinks or snacks," said Mrs Choo. "The children had to be kept away, no disturbing, no noise," recalled Mrs Choo.
"It was tough for the family, it was tough for me," Gen Choo told Salt&Light. "I went around almost like a zombie.
But there was "a light at the end of the tunnel". At the end of the three years, Gen Choo would be doing a master's degree at Duke University in the US.
"I was looking forward to going to North Carolina as a family," Mrs Choo said. "That was a prayer answered." They had never gone away for an extended period as a family.
That year in North Carolina was "God's gift", said Gen Choo. It was "the one time, after all these years, we did something as a family".
"We had a very good year," said Mrs Choo. "Over there, Winston had time to spend with the family. He was just a student. When class ended, he came back on time, and spent time with the kids. That was really wonderful.
"He was not only Dad to our kids," Mrs Choo said.
"A lot of kids there were without their fathers," said Mrs Choo. "Winter time they were with their mothers.
"He was like a surrogate father to them. They used to come and knock on the door and ask, 'Is your Pops at home?'
"They were not looking for Warren or Karina, but for him."
The Wives' Club
As part of his care for his officers, Gen Choo saw the need to provide moral support for their wives.
"The SAF trained a lot overseas. We were worried because the wives were here on their own while their husbands were overseas training. If they had problems, they had no fall-back support."
"A lot of wives were not working … we needed something to bring them together to provide moral support for each other."
When he became head of the SAF in 1974, he got funding to start a club for the wives of officers. "If one wife had a problem, the other wives would be there to help her out," he told Salt&Light.
"I asked Kate, 'Do you mind doing this?'" Gen Choo shared.
"It was difficult because back then, it did not come naturally for wives to want to gather," said Gen Choo. "In those days, a lot of wives were not working. All the more reason we needed to have something to bring them together to provide moral support for each other."
Trying to get members in the first few years was "very tough", Mrs Choo told Salt&Light. "Membership wasn't compulsory. Because the husbands were of a certain rank, many were afraid that there was going to be rank-pulling and that the wives would be treated that way." 
Mrs Choo used to receive phone calls from wives complaining about why their husbands had to go away for extended periods of time. "Getting together helped them to understand that they were not alone. All of us were going through the same thing.
"Because the husbands were of a certain rank, many were afraid that there was going to be rank-pulling."
"We never really talked very much about their husbands. It was just getting together and taking their minds off their loneliness, and helping them to make the best out of it."
As for fears of rank-pulling, Mrs Choo said: "Actually, I never really knew who their husbands were. So whenever I came back home from a meeting, and was telling Winston what happened, he would ask, 'Who's the husband?' I wouldn't know because I only knew the women by name!"
Wrote General Choo in his memoir: "She was very successful in the Wives Club mostly because she was approachable and the wives saw her as one of them." 
Murukku and belachan for troops
The wives met every Saturday.
"We realised that we also had to cater for the children, so we arranged for the kids to have swimming lessons while we had our meetings.
"We found different ways to keep them with us and not leave them at home."
The wives valued the company, and soon wanted to meet in the middle of the week as well, said Mrs Choo. "While we had 'handwork' sessions, our kids did their homework." 
Some of these sessions involved baking goodies for significant occasions, like Christmas and other festivals, to boost the morale of soldiers on duty in Brunei or Taiwan.
"We would make the fruitcake mix together, and take it home to bake as there were not enough ovens. We prepared and packed all this and the Air Force would send them over to the troops," she said.
The women also made murukku, ikan bilis, and sambal belachan for homesick troops.
Said Mrs Choo: "I really enjoyed the time with them. There was a lot of bonding."
To this day, she goes for lunch every few months with friends she made from the club. They include wives of the CDFs (Chief of Defence Force) who came after Gen Choo.
Brooches for wives
"Whenever I gave a speech, I would always end up by thanking the wives and the spouses," Gen Choo told Salt&Light. "That became an important thing for me."
The wives of regular and reserve officers are now honoured with special brooches when their husbands get honourable mentions.
"I'm very gratified to see that happen," said Gen Choo. 
"I regret to say Kate never got one," he said, as the practice was instituted only after he retired from the military.
"I can only give her brooches from me," he quipped.
Gen Choo is listed in the Singapore Book of Records as our most decorated soldier. "If I could, I would give her my awards," he said.
Over the 18 years while her husband was CDF, Mrs Choo and the Wives Club made about six trips to neighbouring countries for their own R&R (rest and recreation), minus the children and husbands.
"I had a bit of problem because each time the trips were over-subscribed," said Mrs Choo.
"I prayed, 'God, please help' because I didn't want to tell anybody, 'You cannot go'. And every time, the numbers would come down, and we would have enough space for everyone." 
The new diplomat
As Gen Choo's chapter in military closed, a new chapter in the lives of the Choos opened when he accepted the offer to serve the country as High Commissioner to Australia. 
"We had just moved from the quarters to here (their current home). I hadn't finished unpacking. So as I was setting up house here, we had to leave and set up house there," Mrs Choo recalled.
Gen Choo wrote that he was told two things about Canberra. "I was warned that I would freeze to death and I would be bored to death. How wrong they were."
"It was fun," Mrs Choo told Salt&Light.
"It was nice because, finally, it was just the two of us together," she said. Their daughter had graduated and had started work. Their son was studying in the US.
"I found the pace much slower and we could really relax and do things that we wanted to do. Like stained glass and porcelain painting which I never had the time to do here." 
Mrs Choo was "like a mother to the embassy staff and a grandmother to their children", said Gen Choo, who recalled being "thrown in the deep end of the pool" and often found himself engaging the local media whenever Singapore was misrepresented or "vilified". 
Meaningful moments
Looking back on his 30-over years in the military, Gen Choo said he would do the same things over again, but differently.
"When they made me chief in 1974, the children were 4 and 6. I had no time for them. It was hard on the family." 
Reflecting on what he would have done differently, Gen Choo said: "I would put family ahead. But at that time, the job, the mission, the task, came first."
Now as he mentors the young officers, he tells them: "Your job, your career is important. But not at the expense of a balanced family life."
His daughter Karina Choo told Salt&Light: "There was never any doubt about his love for us. He tried to make the moments he could be around meaningful.
"And he's certainly more than made up for lost time after he retired."
---
A Soldier at Heart: A Memoir, $35 (before GST), published by Landmark Books, is available at major bookstores. Gen Choo's share of proceeds from its sale will be donated equally between his church and the Boys' Brigade.
---
RELATED STORIES:
"Then and now, God's always been here for me": Singapore's first top military chief General Winston Choo
"I'm grateful to Him for the many blessings in my life": General Winston Choo, Singapore's first top military chief
If you have enjoyed reading Salt&Light...
We are an independent, non-profit organisation that relies on the generosity of our readers, such as yourself, to continue serving the kingdom. Every dollar donated goes directly back into our editorial coverage.
Would you consider partnering with us in our kingdom work by supporting us financially, either as a one-off donation, or a recurring pledge?
Support Salt&Light