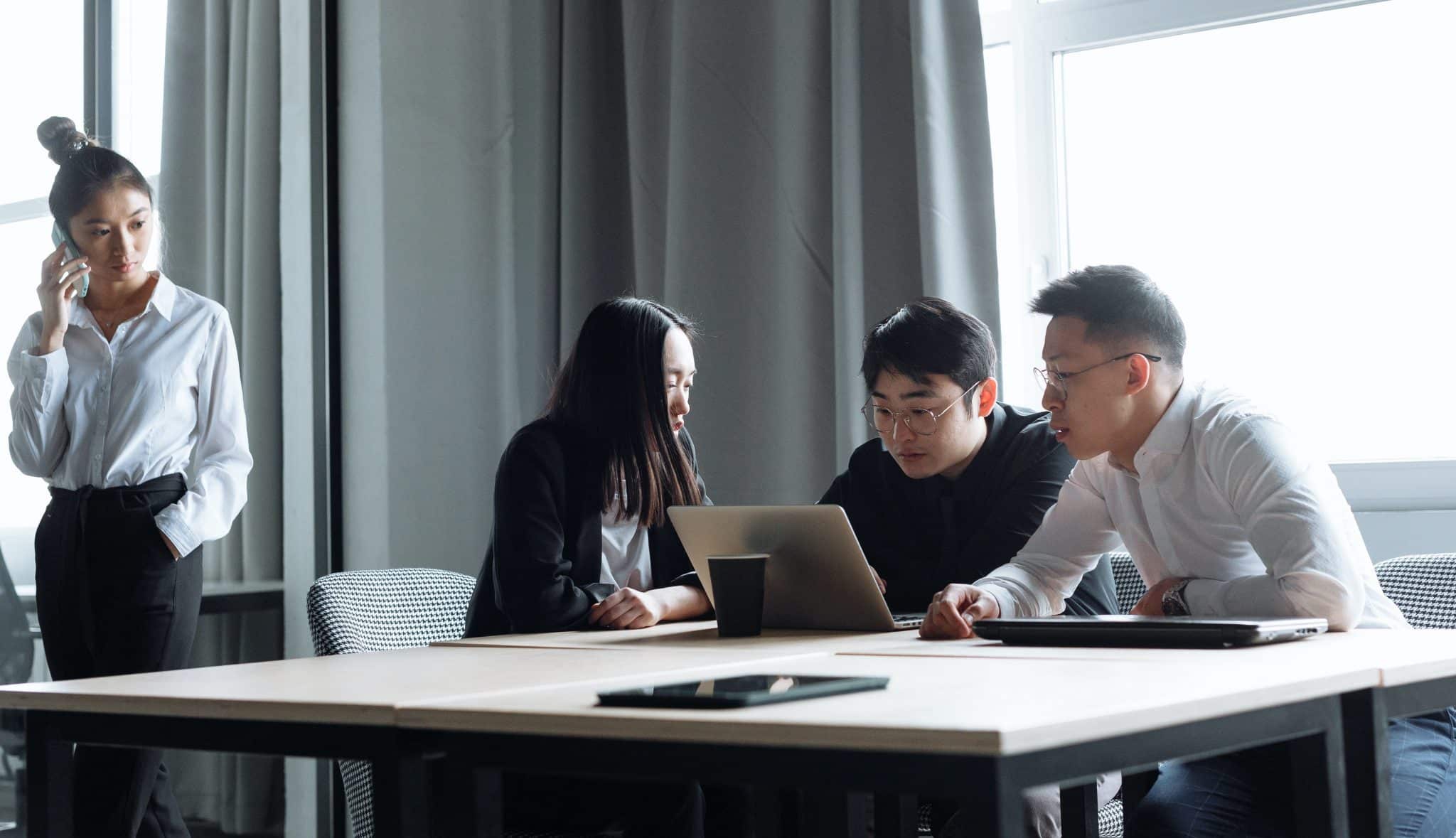 "True leadership is an act of love and service. Lead out of a posture to give, not a position to get. God uses people to grow His people to bring out the best in others," writes Abel Cheah in this reflection on leadership. Photo by Thirdman on Pexels.
Dear leader, are you longing for your team to step out of their comfort zone and enter a new season of effectiveness?
Here are four questions to contemplate as you prepare yourself and your team for positive change. (Note: these are also the often unspoken questions your team is asking about you.)
1. The Chart Question: Are you helping to set a growth path for your team's vision and culture?
In the Gospel of John, Jesus said to His disciples: "I have told you these things, so that in me you may have peace. In this world you will have trouble. But take heart! I have overcome the world." (John 16:33)
The task of charting the course is to, firstly, define reality ("You will have trouble" – the core issues, challenges), and then to shape a new reality together with others (Take heart and step into your purpose, because Jesus has overcome the world).
Begin with a ruthless determination for truth. We can't defeat what we don't first define.
Max De Pree, best known for being the CEO of Herman Miller, once said: "The first job of a leader is to define reality, last to say thank you and, in between, to be a servant." During his tenure, Herman Miller became one of the most profitable Fortune 500 companies.
We can't defeat what we don't first define. So, begin with a ruthless determination for truth. 
Plans fail for lack of counsel, but with many advisers they succeed. (Proverbs 15:22)
Identify what the problems are, reach out to "counsel of the wise" or mentors for feedback, collect as much evidence about the reality as possible (Nehemiah 2:11-16), desire the truth and study the data. The truth will set you free.
Then, from a posture of honest, transparent introspection and evaluation, begin to chart what that new reality could look like. Charting involves vision-casting and culture-setting.
Vision is critical because it provides direction – it aims at a "What" and "When", and anchored on a "Why". But vision alone doesn't actually make things happen.
It's people who make things happen, combined with a healthy, high-performing culture. It's been said "without vision, the people perish". The reverse is true too: Without people, the vision won't last.
Your team culture is the "Who" and "How" of the team. It represents your team's collective character and personality; it is revealed and grown by whatever you celebrate and tolerate within the team.
So chart a new culture that propels the vision, which leads us to the next point.
2. The Communicate Question: Are you listening and speaking kindly, clearly and openly to your team?
Culture cannot grow in an environment of a trust deficit. Teams grow on trust, and trust grows with communication, over time.
How do leaders communicate an inspiring vision and grow the culture through their communication? Through stories, songs and statistics.
Stories are the narratives we perpetuate in our teams. These are the tales and testimonies we celebrate. Whatever we shine a light on tends to grow.
Jesus was a leader who was tender in moments of care, and honest in moments of challenge.
Songs are the rhythms and patterns we repeat, and the feelings that they evoke: What are the collective habits we allow ourselves to do repeatedly? Are there practices in the team that we tolerate which we know deep down will eventually cost us our excellence, care for one another and collective sense of purpose?
In contrast, are there rituals we practise that build a culture of encouragement and excellence within the team?
Some practical steps to celebrate wins:
Start team meetings with thanksgiving. Make it personal, call people by name and thank them for something they did (even better if it was unseen!). Then teach the team to do the same by making it a team meeting ritual.
Wall of appreciation. Encourage the team to write notes of gratitude for team members to appreciate them for something they did recently.
Publicly acknowledge the parts of the team that often go unnoticed to encourage others to boldly make things happen
Are there practices that we tolerate which we know deep down will eventually cost us our excellence, care and collective sense of purpose?
Statistics are measured by facts and numbers: Do our goals and targets reflect who we want to be at our best? We tend to attain what we measure.
In Jesus' ministry, He communicated frequently, consistently and empathetically. For three years of His earthly ministry, Jesus spent most of His waking and sleeping moments with His disciples, often explaining the meaning of His teachings, coaching them moments after public ministry, much like a post-game debrief  (Mark 4:10-12).
He was inclusive in His relationships (Mark 2:13-17), and communicated His expectations with clarity (Luke 18:22) and with love (John 8:11). He was tender in moments of care, and honest in moments of challenge.
He communicated His values and love through questions that revealed deeper truths ("Do you want to be well?" John 5:6), that moved His team into greater faith ("Where can we buy enough food for them to eat?" John 6:5) and that invited vulnerability ("Do you love me?" John 21:16).
3. The Care Question: Do the health and growth of your team matter to you as much as their performance?
All growth happens between a floor of care and a ceiling of challenge.
Care creates the foundation of safety from which all worthy, lasting endeavours can be built upon. If leadership only involves challenge and lacks care, the building collapses under a shaky foundation.
Great leaders are ladder-carriers and not ladder-climbers.
Care creates the foundation of safety from which all worthy, lasting endeavours can be built upon.
They lead by becoming servants to make big people, instead of directing servants to make big things. How do we build people? Start by establishing a culture of genuine care.
Are your people flourishing?
Is there joy and safety in the team?
Do people know they are loved and appreciated?
Are all voices valued around the table?
As an example, invest in weekly one-to-ones with your team. There will be issues, feedback, feelings and sentiments that not everyone will be comfortable sharing publicly, so create the spaces where they can discuss these things with you. Start every check-in with a spacious "how are you" — ask them about how they are doing, what their needs are, their "highs and lows", challenges and triumphs.
Then, listen intently and take notes because these are your prayer points for them over the week, and the basis of how you will show care to them.
Seek first to take care of the well-being of the team before making them do things you can't do on your own. In the kingdom of God, the little and the last are the most precious and prized.
Jesus said, in Matthew 19:14: "Let the little children come to me, and do not hinder them, for the kingdom of heaven belongs to such as these."
4. The Challenge Question: Do you have high expectations for the team and yourself, because our God is a great, big God?
William Carey famously said: "Expect great things from God. Attempt great things for God."
If we believe the words of Ephesians 3:20-21, our leadership must embody an expectation of a God who can do great things through His people. The only logical response to the resurrection story of Christ is a healthy expectation of a God who is powerful, present and relevant to the needs of society today.
True leadership is an act of love and service. Lead out of a posture to give, not a position to get.
Be audacious in your expectation for growth. Challenge is essential for growth, and it starts with having a healthy degree of high expectations and audacity for yourself and your team.
Where are the areas that God has already given you, that can flourish even more for the encouragement and blessing of others?
Who else can be invited on the journey?
How are you communicating the expectation for growth to your team? (Refer to point 2 for Communication)
What gifts might they have that could contribute to the body of Christ?
Yet, note the order of William Carey's words. First, "expect great things from God". It is Him who is able to do far more than we are capable of. Then, and only from this place of a reliance on His power, we are to "attempt great things for God".
Strengthen the floor of care. Raise the ceiling of challenge. Communicate the way forward with clarity and purpose, and pray for wisdom to know where the starting point of reality is, to chart out where the next reality could be.
True leadership is an act of love and service. Lead out of a posture to give, not a position to get. 
God uses people to grow His people to bring out the best in people. Don't be afraid to ask Him for big, bold and crazy things out of devotion to Him.
Faith pleases God! Keep asking. You will be on the right path if you keep asking these four questions on your leadership journey.
---
This article first appeared in Alpha Asia Pacific, and is republished with permission.
Alpha is an effective form of evangelism when done by and through the local church. By focusing on the essentials of the Christian faith, it opens the door for Alpha to be used in almost any context so that everyone has the opportunity to see their friends' lives transformed by the gospel. Churches are now able to run the Alpha sessions online through various video conferencing platforms. To find out more, go to https://asiapacific.alpha.org/.
---
FOR MORE ARTICLES ON LEADERSHIP:
To succeed, invert your leadership pyramid: Temasek Holdings Chairman Lim Boon Heng
From start-up to unicorn: Grab co-founder Anthony Tan on what keeps him accountable
If you have enjoyed reading Salt&Light...
We are an independent, non-profit organisation that relies on the generosity of our readers, such as yourself, to continue serving the kingdom. Every dollar donated goes directly back into our editorial coverage.
Would you consider partnering with us in our kingdom work by supporting us financially, either as a one-off donation, or a recurring pledge?
Support Salt&Light