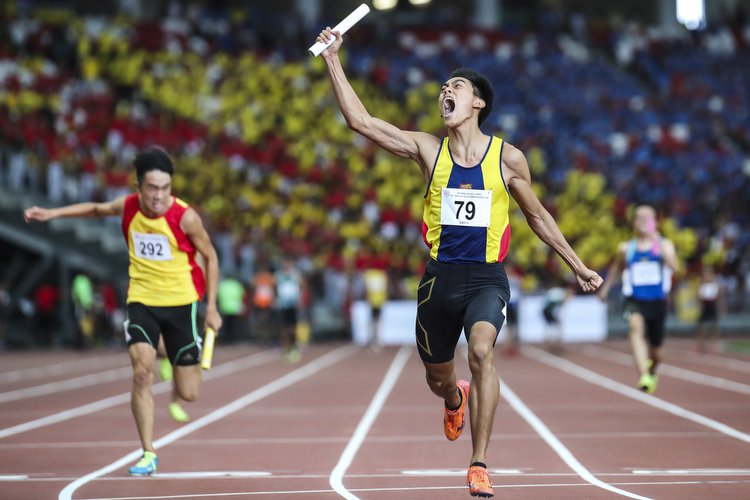 Anglo-Chinese School athlete Joshua Lim, whose track and field journey Red Sports has been following since he was in Primary Four. Photo by Lim Yong Teck on Red Sports.
On July 5, 2012, when eight young boys from Fajar Secondary School took to the basketball court for a division-level match, little did they know that more than 50,000 people would eventually read about their hard-fought win against Yuan Ching Secondary on indie local sportscaster redsports.sg.
What they did know was this: They wanted to play ball.
The Fajar Secondary School C Division boys were smaller than their opponents.
They were eight boys playing against an opponent with a full 12-man team.
They were coming into this game after being roundly thumped three games in a row 61-12, 42-20 and 37-29 by other schools.
These boys were the ultimate underdogs and when Red Sports reported their gutsy game, the number of readers who read and shared the story climbed steadily 'til it passed the 50,000 mark, to the astonishment of even the Red Sports team.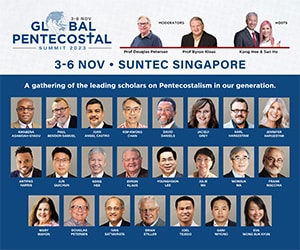 "You come this way but once. Red Sports remembers with you" is the slogan that accompanies each Red Sports story on its website, Facebook and Instagram pages.
The photo of the small but scrappy Fajar boys pays tribute to the truth of that statement.
Conviction behind the content
Red Sports was set up just over 11 years ago in February 2007 by Leslie Tan, known affectionately within the sports fraternity in Singapore as Les, or Uncle Les. 
Having been a school athlete himself, Uncle Les experienced the lack of a local sports scene in Singapore. And as a Christian, he saw the absence of a culture that gave due recognition to the various talents of young Singaporeans.
Armed with a background in television sports presentation, marketing and branding, and driven by a passion for young people and sports, Uncle Les stepped up to the plate. 
The mission of Red Sports was clear. Uncle Les wanted to "bring the passionate, vibrant world of Singapore sports to light" and make it "a home on the web" for athletes in Singapore, especially young athletes.
Red Sports is about building a community where people respect, honour and appreciate the giftings that they see in each other – even long-time rivals.
At the time, school sports was not widely reported and Uncle Les, who was then 38, left the comfortable confines of corporate life in Nike to kickstart this project.
He was convinced that the endeavours and achievements of young athletes in Singapore needed to be recognised and affirmed. And in so doing, it would build relationships and a kingdom culture of affirming another's identity.
The founder of Red Sports says: "We are all created in the image of God so everyone, regardless of what school they are from, and what ability they have or do not have, bears the mark of our Maker. In Singapore, we prize academics disproportionately. Our children are blessed with many gifts, including the gift to move. We are designed to move and some of us move much better than others. So, we want to celebrate that gift on Red Sports." 
Building community
But more than just boasting of athletic abilities, Red Sports is about building a community where people respect, honour and appreciate the giftings that they see in each other – even long-time rivals.
In Red All-Stars polls that seek out nominations for the best players, it is common for the winner's votes to come from players from different schools.
The sports community and a culture that Red Sports is building is not revolutionary – it is merely an expression of love for one another (1 John 4:11) that has taken on a more active form in the digital space. 
In match reports, while huge wins are celebrated, the other team is never put down nor jeered at. Especially in sports with intense rivalry like rugby, where the alma mater still cheers for the younger players, the respect that each team accords the other is applauded.
In the recent National B Division Rugby Championship final, ACS(I) lost to St. Andrews for the first time in four years. However, in the report on Red Sports, both teams held each other in high regard.
Grit is acknowledged, sportsmanship and passion applauded. It is a community of relationships built on the respect of another's identity. 
"We are our collective stories written on the fields and courts of Unity Secondary, Jurong Secondary, Victoria Junior College, Catholic High, Anglican High, and all the other schools across the island.
"I'm driven by the need to do something meaningful for society. Telling the sports story of my fellow Singaporean makes this website worth doing for me," says Uncle Les.
Lighting the fire
On redsports.sg, Uncle Les candidly lays out the challenge:
"Will you help me with this project? It is a daunting project, but we must try. If we fail, at least we tried something … Perhaps you and I are where we are in our lives for such a time as this. We need to seize the opportunity. With REDSPORTS.SG, we will strengthen our nation's morale, culture and identity. We tell our fellow Singaporean athletes that they are important, that this is a special time in their lives and their sporting moments are captured for posterity."
For the boys of Fajar – as they have been called – their names and exploits in 2012 have been forever memorialised on the web. Six years on, their story can still be read on redsports.sg and continues to be told through the public's "likes" and "shares".
Today, while Uncle Les has stepped out of the immediate operations of running Red Sports, volunteers in the RED Crew keep it going. Since 2007, over 130 young men and women have risen to the challenge and contribute their time and energy to the mission of Red Sports.
In its own way, the mission of Red Sports has gone beyond one man's desire to influence culture. Each sports story that the volunteers report on have contributed to a chorus of voices that paints a collective celebration of the unique giftings of sports people in Singapore.
It is influencing a generation, one story at a time.
If you have enjoyed reading Salt&Light...
We are an independent, non-profit organisation that relies on the generosity of our readers, such as yourself, to continue serving the kingdom. Every dollar donated goes directly back into our editorial coverage.
Would you consider partnering with us in our kingdom work by supporting us financially, either as a one-off donation, or a recurring pledge?
Support Salt&Light