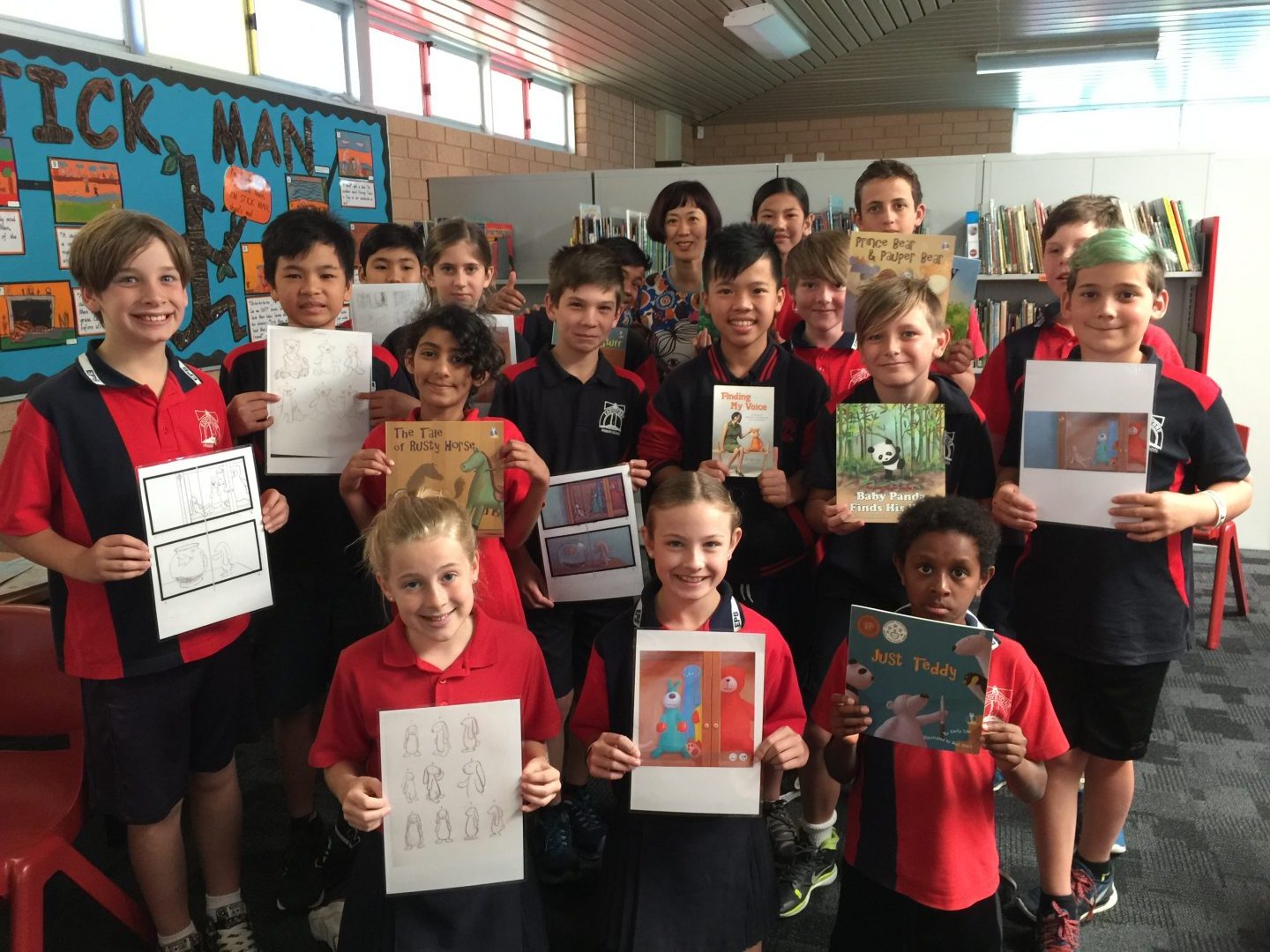 Emily (centre back) was invited to Perth's AWESOME arts festival as a guest author.
What do a children's book on talking bears and a Singaporean woman's struggle with a rare voice disorder have in common?
Plenty, going by the life story of children's author Emily Lim, 47.
"I fell sick right after my wedding at 28. Suddenly I had trouble speaking and my voice gradually went from bad to worse," Lim tells Salt&Light. "After about six months, people had trouble hearing what I was saying. I sounded breathless as if I were having an asthma attack." 
She would go on to consult various doctors who discounted her poor voice clarity as a result of the high-stress corporate director job she held in the hotel industry.
Finally, after seeing an ear, nose and throat specialist who had encountered cases like hers in the United States, she was diagnosed with Spasmodic Dysphonia, a rare voice disorder that affects the vocal muscles and interferes with the ability to produce voice. 
At the time she was not ready to embrace the condition that would profoundly impact her life.
"For the first few years I wanted to pretend it wasn't there and tried to hide my condition at work. I would tell my colleagues I had the flu and came up with all kinds of excuses. But the more I tried to hide it, the worse my voice got. My anxiety and stress over speaking at meetings further compounded my struggle."
She even avoided talking about her condition with those closest to her.
For years her family pretended they could understand her and, rather than correct them, she simply played along.
Sink or swim?
Lim also found herself confronting a spiritual crisis. While she had accompanied her husband to church for years, she was not sure where she herself stood with God. 
Worse, her voice would wax and wane, leading her to question if it strengthened when she had faith and disappeared when she struggled to trust God.
To manage the situation, she opted to go for painful botox injections that temporarily improved the quality of her speech.
Eventually, she decided that the easiest way to deal with her condition was to temper her hope of being healed with the acceptance that the disorder might be a lifelong affliction. 
That journey lasted 10 long years. 
Throughout that time, Lim desperately clung to her job, which had become the source of her identity and a lifebuoy during her illness. 
But God had other plans. 
"Only when I was ready to really let go without any safety in sight could God work in me."
Her company ended up being sold off to an American investor in 2005 and Lim was paid out. This provided some respite, but her trepidation about the future remained.
"Was I going to sink or swim? I think it was only when I was ready to really let go without any safety in sight could God work in me. When I finally let go of my job, I could allow myself to be filled. On hindsight, I didn't give up much, but at the time, it looked like everything."
Living by John 10:10
In 2006, she began reading the Bible and seeking to understand God's character. Delving into Scripture, she found great comfort in Romans 8:1.
She decided that rather than feel condemned, her perspective needed to shift.
Taking a step of faith, she was baptised the same year. At her pastor's prompting, she also signed up for a Disciple course being held at her church, Barker Road Methodist, the following year.
It proved to be the breakthrough she had been longing for.
While she had largely given up the dream of a miraculous healing, an encounter with a participant at the Disciple course who prophesied that she would recover, gave her grounds for renewed hope.
Another crucial step in her faith came in the form of a book, Living in the Overflow, by Kenneth Hagin, which is premised on John 10:10, Lim's favourite verse.
"John 10:10 was my breakthrough verse and I continue to live my life by it," reveals Lim. "It reminded me of the power of the cross. That such a heavy price was paid so I could live a full life, made me realise that I could live an abundant life through Christ." 
The 34-week Disciple course was especially meaningful because her parents who attended the course with her spoke honestly about how her condition had affected them. It was the first time since her diagnosis that they had talked about it.
The frank discussions helped heal the distance that had formed and Lim discovered how important it was to be vulnerable and share about one's struggles.
That year, she took part in a children's book competition, won a grant and became a published author.
Stories of hope
Her first book, Prince Bear and Pauper Bear, tells the tale of two bears and the twists they encounter in life. Prince Bear, a perfectly sewn teddy assumed he would have a great, smooth-sailing life while Pauper Bear, a voiceless bear whose maker hadn't stitched him a mouth, longed to be heard and loved. By the end of the story, he is restored, repaired and has found his voice.
Unbeknownst to Lim, she had based the book on her personal journey.
My first reaction was, 'Oh no! Do I really have to share my story?' But I did and every time I shared, my voice grew stronger.
"It was only when I had to promote the book that I realised I had written my own story into Pauper Bear's life. My first reaction was, 'Oh no! Do I really have to talk about it?' But it occurred to me that maybe I was meant to share my story. So I did just that and every time I shared, my voice grew stronger."
Her debut book garnered praise and won her a bronze medal at the 2008 IPPY Awards. However her second manuscript about a rocking horse's journey of self-discovery was not as well received, with friends suggesting that the topic was too complex for children. 
She was discouraged but continued to seek confirmation. A few voices stood out for her: One was her goddaughter's. She was seven years old and understood exactly what the book was about. Another was her husband's. He told her to ignore others' opinions and get the book out.
The Tale of Rusty Horse was published in 2009 and Lim went on to be the first Southeast Asian winner of a gold medal at the Moonbeam Awards.
"I felt God was telling me to stop being so hung up on human validation, which was what the book was about; Rusty was too concerned about crowd approval. In the end, he realised he should be at peace with who he was. He was a rocking horse and that's what he was made to be."
Wifi to heaven
There would be one more big challenge in Lim's life.
In March 2016 she heard a voice prompting her to do a breast self-examination. That's when she found a pebble-sized lump in one of her breasts.
"From that day, there was an unclogging of my Wifi to heaven," Lim says with some wonder. "I started hearing God very clearly on many issues since my diagnosis." 
"I realised that chemo was a time in the 'wilderness' for me to seek God and feed on His Word three times a day as one of my 'medicines'."
On June 1, 2016, she went into mastectomy and reconstruction surgery "without fear and came out without pain".
Her husband, Ben, who is on the board of Children's Cancer Foundation, shaved his head in support of Lim's baldness from chemotherapy, as did her father and three godchildren. 
"We used this bad episode for good," smiles Lim. "My Botak Brigade of five loved ones raised over $30,000 in pledges for Hair for Hope. 
"I realised that the chemo period was a time in the 'wilderness' for me to seek God and feed on His Word three times a day as one of my 'medicines'. I have learnt to be a Mary instead of a Martha."
In March this year, Lim's doctor told her that her surgical wound has healed completely and she has crossed a critical two-year window.
"For me, all the bad things I accumulated over the years have been cut off and cleaned out and a new season has come."
The mission of LittWorld 
In 2015, Lim began volunteering with LittWorld, a triennial conference organised by Media Associates International (MAI) that aims to train writers and publishers around the world to produce gospel literature in their native language. It was the first time the conference was held in Singapore.
Lim refers to LittWorld as "missions through the written word" and considers herself blessed to be part of such a unique ministry. In her capacity at MAI, she has travelled to Indochina to train writers who are now in the process of publishing children's picture books based on their personal stories. 
This year, LittWorld 2018 is being held in Singapore for a second time, with speakers, publishers and writers attending from the USA, Europe, Africa and Asia. 
Despite trading a lucrative and seemingly more glamorous job for an uncertain career as a children's book author, Lim does not pine for the past.
In 2017, she wrapped up a stint as writer in residence for the National Arts Council and completed the manuscript of her first children's chapter book.
"I have no regrets or reservations because my life is so much better than I could have ever imagined. When I was in the middle of my struggle and had no idea what lay ahead, all I did was look down and see myself stuck in a tiny boat in the storm. I had no idea about the amazing places I was headed."
If you have enjoyed reading Salt&Light...
We are an independent, non-profit organisation that relies on the generosity of our readers, such as yourself, to continue serving the kingdom. Every dollar donated goes directly back into our editorial coverage.
Would you consider partnering with us in our kingdom work by supporting us financially, either as a one-off donation, or a recurring pledge?
Support Salt&Light