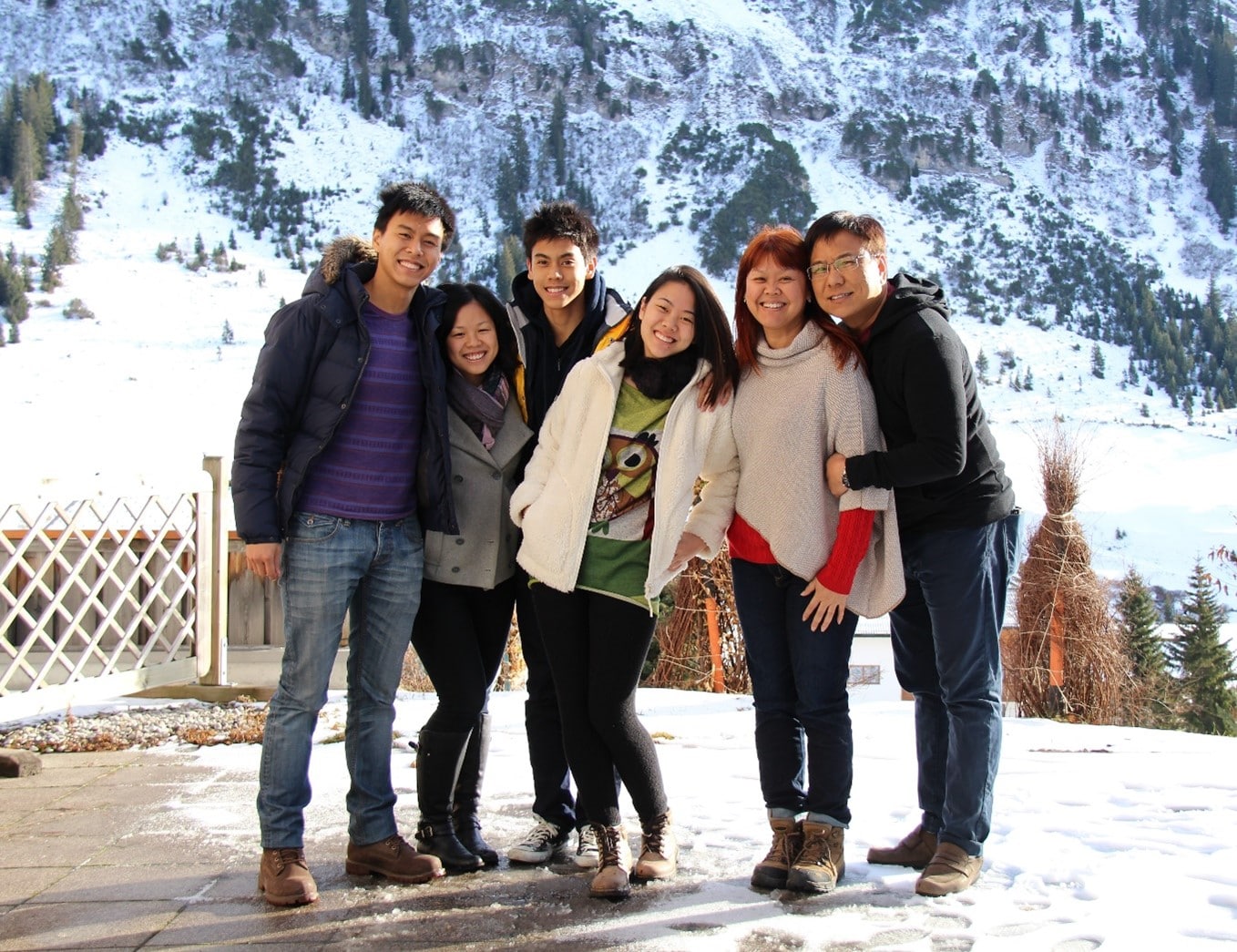 Bernard Lim (right) with his family. After investing in property and losing six figures, Bernard developed a greater empathy for those in financial crisis and a deep burden to educate the Church on how to manage money God's way. Photo courtesy of Bernard Lim.
Bernard Lim, 58, calls it "my journey in financial crisis". But it was really a wake-up call that became a turning point in his life.
In the 2000s, flying high in his career in the financial industry, Bernard began investing heavily in property. To finance his buys, he borrowed and over-leveraged, planning to flip the properties for a profit.
He calls it "my journey in financial crisis". But it was really a wake-up call. 
But the financial crisis hit in 2008. The most serious one since the Great Depression in 1929, its effects worldwide were devastating. Economies slowed down, housing markets suffered, unemployment soared and businesses failed.
Bernard suffered a double whammy. As his insurance business floundered and his loans became almost unserviceable, the value of his investments plunged. He found himself deep in debt.
To stem his losses, he sold his properties but still ended up losing a hefty six figures. The episode left him with a great empathy for those in financial despair and led him to start Wealth Hub Pte Ltd, a training and consultancy company for financial coaching, as well as a social enterprise offering bursaries and pro bono financial counselling to the needy.
Last year, to help the Church navigate financial matters, Bernard founded and organised the N5 Collective Conference 2021. The event brought together over 30 Kingdom-minded finance experts to share about managing wealth the Kingdom way. 
To stem his losses, he sold his properties but still ended up losing a hefty six-figures.
"What to do in a financial crisis, when they are out of a job, when they are in debt, should they take up debts?" Bernard said.
"I realised that there were not many sources of answers for the Body and that bothered me a lot."
Bernard was on the Salt&Light Family Night (April 26) panel to share tips on how to teach children to manage money God's way. With him were Samuel Pei, 40, and his 12-year-old son Asher, as well as Klaudia Yeo, in her 50s.
Samuel is the co-founder of KC Group, a retail business that has more than 100 hair and beauty salon outlets across Singapore. Klaudia is a chartered financial consultant and a certified ACTA trainer. In the last 25 years, she has built up a client base of more than 1,000. She also conducts talks on financial literacy in schools and churches.
Nearly 200 people joined them, many of whom were parents (close to 80%). When asked about their top concern about managing money biblically, stewardship and financial wisdom came out top.
Here are eight attitudes towards money the panellists shared that they practise and pass on to their children.
1. Pursue God
One of the most popular questions posted by the viewers on Slido was: How do you manage finances biblically while spending on your own pleasure?
Said Samuel: "Think of it as a relationship between a father and son. It is always the desire of the father to bless the son. When the son is enjoying something nice, the father is happy.
"God loves us and wants us to enjoy the fruits of our labour. When God blesses us, He wants us to also enjoy His blessings."
The issue then is not whether God wants us to "scrimp and save" and live with the "bare minimum" or not but the attitude of our hearts.
"God loves us and wants us to enjoy the fruits of our labour."
"How we deal with money is a reflection of the state of our hearts. For where your treasure is, there you heart will be (Matthew 6:21).
"When we are chasing money all the time, our hearts are caught up in it. There is no more room to pursue God."
But when the focus is on God, then the desire would be for the things that concern God.
"Then, we wouldn't want to get into unnecessary debt, not to buy things that we cannot afford. In a way, it is living simply, buying what we really need and not what we want.
"God wants us to take care of the marginalised and there are many verses that teach us that if we are doing well, it is also our responsibility to look out for the poor. If we open our eyes, they are all around us."
2. Know the Father's heart
Another heart attitude that would settle the question of whether it is acceptable to spend on pleasures comes from the Parable of the Talents (Matthew 25:14–30), said Bernard.
"When we know Him, then we know that God wants to bless us."
When the master returned, the servant who was called wicked said that he knew the master was "a hard man". As Bernard read the parable again and again, he realised that the servant never knew the master. Had he really known his master, he would have known how to steward the talent given to him.
"If we have the wrong idea of who God is, we will always be struggling with the question: Is it okay to buy this, is it okay to buy that? We have constant struggles because we do not know God enough.
"God wants us to know Him. When we know Him, then we know that God wants to bless us in what He has gifted us to do and God wants us to be a blessing to others."
3. Have God's perspective
"The definition of success has to be seen through the lens of when we are facing God at the end of our lives, what is His response to us?" said Samuel.
"Success is not about how much money we have. God loves everyone rich or poor."
"We can't bring a single cent with us when we go to Heaven. What's going to remain is when God looks at us and sees whether we have been a good and faithful servant to Him. And that is the true sense of success.
"Success is not about how much money we have. God loves everyone rich or poor."
Samuel teaches his children that how the world sees things is a reality but there is also God's perspective, and that they should have "parallel vision" – being aware of the world's views while choosing God's perspective.
4. Realise your worth
The pursuit of success as defined by the world can give us an unhealthy view of money. But we should not be ignorant of the world's perception of success either, said Bernard.
"Instead of saying it is rubbish, it should be brought into proper perspective."
Explaining how that works, Bernard talked about three concentric circles. The outermost circle is "valuables", the next circle is "values" and the innermost circle is "value".
"The world looks at success from the superficial standpoint of valuables as wealth.
"Then, there are people who look at right values as success – hard work, responsibility, generosity, accountability, knowing how to defer gratification. But pre-believers also believe in these.
"What is the difference between us as a child of God and a pre-believer? It boils down to value.
We should not be ignorant of the world's perception of success.
"We appreciate that we are ultimately children of God. Strip away the valuables, and the values, what are you really worth? If you have nothing, are you still a success?
"If our identity is in Christ, in the eyes of God, we are already a success."
It is from that understanding of our worth that we should then work outwards to have the right values. If valuables should come as a result, then it is "a matter of stewardship".
How that stewardship is exercised comes down to something Bernard dubbed "MAD for money".
M stands for Motivation. Why do you want money? There are two sources of motivation: External which comes from others or from social media, and internal.
A is Accountability. There is personal accountability, which is what a person will or will not do even when no one is watching as well as interpersonal accountability, being answerable to someone else about the use money.
D is Discipline which includes documentation, recording how money is spent; and deferred gratification, the willingness to wait to satisfy a desire.
Together, they form a guide on how to steward money.
5. Settle your heart
"When you get a pay rise or a windfall, what is your first instinct about what you do with your money?
"Because what we do with it, what we think about what we do with it, is very telling about the condition of our own hearts," said Bernard.
Added Samuel: "I got to learn this quote from my small group leader and it stuck to my heart: Use money and love people. Not the other way around, which is what the world does a lot of the time – to use people and love money."
6. Present a united front
In the years that Bernard and his wife have coached couples to prepare them for marriage, managing finances well together is one of the things that they emphasise.
"Don't keep secrets. Authenticity and transparency promote trust between couples." 
Likening a couple in marriage to two wheels joined together by an axle, and finances as one of the spokes of the wheels, he said: "If you don't manage finances well and the spoke breaks, then on the other side of the wheel is your spouse and the axel becomes very unstable and that's where marriages break down."
One key concept of sound financial management, continued Bernard, is financial fidelity, being open with each other about how money is managed.
"Don't keep secrets. Authenticity and transparency promote trust between couples. That trust is covenantal in nature. It is built on the covenant of marriage which is unbreakable in the eyes of the Lord."
For Samuel, one way to practise financial fidelity is for couples to have a joint account.
"It doesn't make sense to have a joint bed but not a joint account," he noted.
A joint account prevents couples with different earning powers from making comparisons about which spouse contributes more to the household and which spouse makes the greater sacrifice.
"It doesn't make sense to have a joint bed but not a joint account."
"For me and my wife, we use the pocket money system. Whatever I earn, I throw into a joint account and I get pocket money from it."
This is especially important if the wife is a homemaker.
"If you put money with your wife, it does provide a certain sense of security for her which is something men don't quite comprehend enough.
"When the money is with the wife, she feels safe and that creates a positive energy in the marriage."
Klaudia has a joint savings account with her husband which cannot be touched except for big ticket items.
7. Start now
To the viewers who have older children – about half of them – Bernard had this encouragement: "It's never too late to teach your children about finances."
Samuel agreed: "For myself, I only began to get serious about managing my own personal finance when I stepped into uni.
"There's always time to add value to your children's journey in learning about money."
8. Stand in faith
On the issue of the difference between being prudent and having an "orphan mindset", always fearful of not having enough, Samuel said: "It requires faith to balance between saving and spending."
This is especially true of the parental instinct to leave an inheritance for the children.
"It is something very common especially in the Asian context. But for Christians, we can approach it a bit differently by passing on the legacy of our faith and the trust in our Lord Jesus Christ.
"Having faith means that if God can do it for us in our generation when we started with nothing, we are going to trust God that He is going to provide for our next generation as well."
---
This report is Part 2 of the Salt&Light Family Night episode on balancing work, ministry and life. You can read Part 1 here.
A full recording of this episode will be posted on the Salt&Light YouTube channel at the end of the week. You can watch past episodes of Salt&Light Family Night on our YouTube channel here.
---
RELATED STORIES:
Banking head honcho now works with villagers and ex-convicts
"Enjoy it but don't die for it": Pastor Benny Ho shares 3 ways we can have a right perspective on wealth
Thinking of writing a will? Here are 3 ways you can leave a God-honouring legacy
If you have enjoyed reading Salt&Light...
We are an independent, non-profit organisation that relies on the generosity of our readers, such as yourself, to continue serving the kingdom. Every dollar donated goes directly back into our editorial coverage.
Would you consider partnering with us in our kingdom work by supporting us financially, either as a one-off donation, or a recurring pledge?
Support Salt&Light