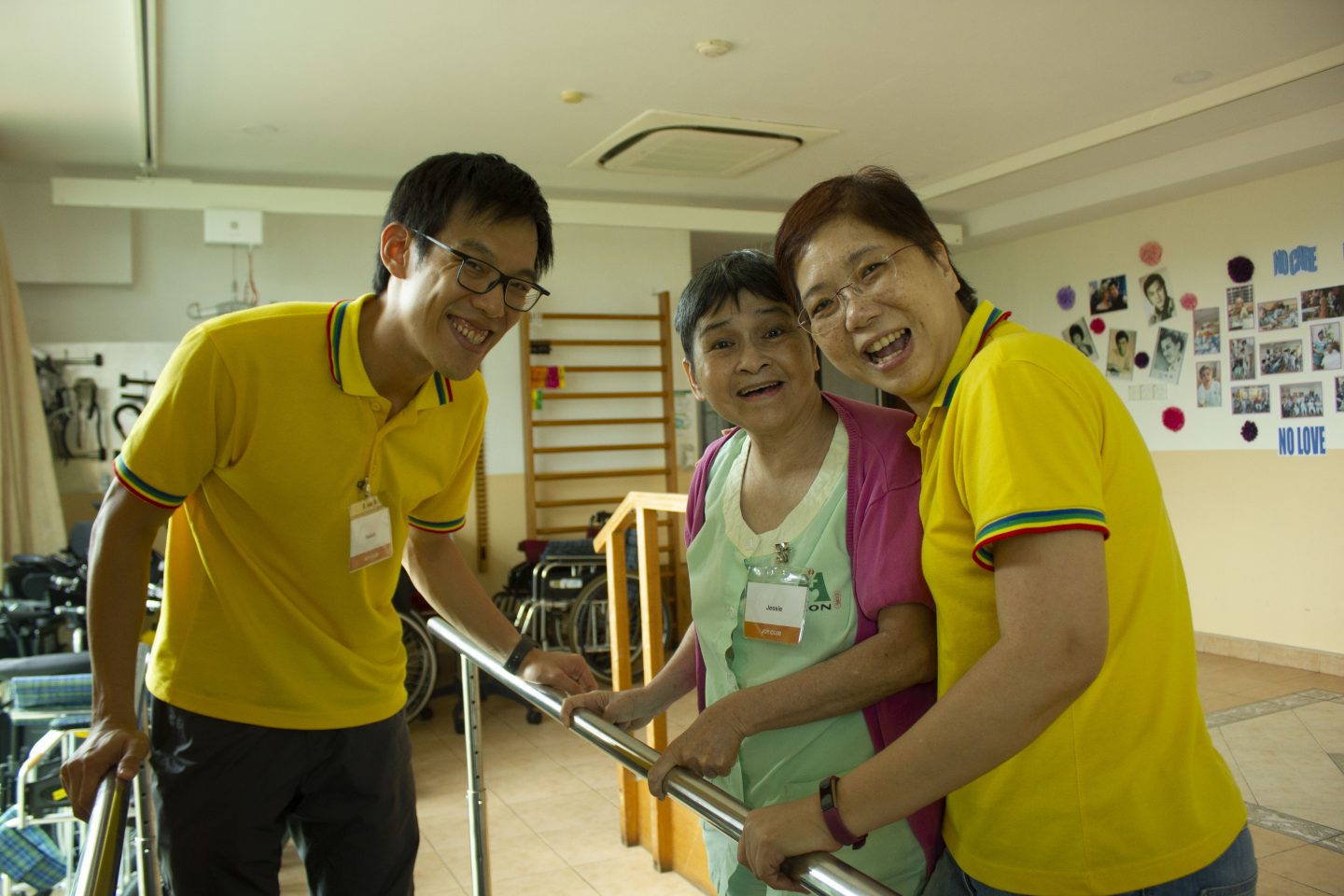 Go For Your Mountain 2018 is a sporting event looking to embolden the elderly to dare to dream by harnessing intergenerational solidarity. ProAge founder Isaiah Chng (left) was inspired to organise this event after witnessing the hopelessness of the elderly in nursing homes. Photo courtesy of Empower Ageing.
Strapped into a harness, she strains forward, urging power into her limbs. Next, a burst of energy, culminating in a single, explosive movement. This is power training, done by the likes of Usain Bolt and other top athletes. 
The GYM Challenge is an event that hopes to empower the elderly to age well by partnering with communities.
And now, frail elderly in nursing homes. 
Go for Your Mountain 2018, otherwise known as the GYM Challenge, is an event that hopes to empower the elderly to age well by partnering with seniors, families and communities to encourage the old and the young alike to pursue their dreams.
The GYM Challenge 2018 is jointly organised by non-profit organisation Empower Ageing and social enterprise ProAge, and will see seniors scale Mount Faber alongside family and friends on September 29, 2018.
As part of their mission to encourage elderly to go for their mountains, since June a team from Empower Ageing has been working in conjunction with ECON Medicare Centre and Nursing Home to train four frail seniors ranging from age 60 to 80 to prepare them to climb Mount Faber. Examples of some exercises they do include outdoor walks, power training and weight training. 
What is GYM?
The Go for Your Mountain (GYM) Challenge consists of two climbs, each tailored to meet the needs of the elderly with different levels of fitness. Climb 2 will be slightly shorter and catered to frail elderly, with both climbs ending at the summit of Mount Faber.
The activity itself will see teams of young and old scaling Mount Faber together. Each team must have at least one member aged 55 years and above, and can be of the following team sizes: 
Hero: 2 pax
Legacy: 3 pax
Tribe: 4-6 pax
Isaiah Chng, who founded both ProAge and Empower Ageing, was inspired to organise this challenge after a conversation with one of the elderly he met during his visit to a nursing home. 
Dare to dream
The first thing the uncle he was visiting said to him was: "I'm no use. I have no purpose in life." It struck him that this defeatist mentality was frighteningly common amongst seniors, and he felt burdened to do something about it.
Chng felt moved to re-read the story of Caleb in Numbers and Joshua. Though it was a story he was familiar with, while reading it again, the way in which Caleb claimed his inheritance stood out to him. 
Chng saw that this dream gave Caleb a life purpose. Even at 85, he was bold and ready to go into battle.
"When God spoke to Caleb, He gave him a dream," said Chng. This dream showed Caleb that God intended for Hebron to be his inheritance.
Caleb was 40 when he received this promise, and 85 when he drove the Anakites out of the land to claim it (Joshua 14:6-13). 
Chng saw that this dream gave Caleb a life purpose. Even at 85, he was bold and ready to go into battle – a posture that stood in stark contrast to that of the elderly in Singapore.
The problem, Chng realised, was that families were side-lining the elderly at home and feeding into their pessimism.
The uncle he met at the nursing home had gradually slipped into reclusion because of the prevailing view that the elderly are fragile and unable to learn or achieve more. 
Chng hopes that GYM will pierce through the prevailing negativity surrounding ageing to catalyse a paradigm shift.
When the seniors reach the peak, besides a sense of achievement, "their family members will start to say, wah! how come my father can do this?" 
Everybody's mountain is different.
According to Gracia Sim, head of publicity for the GYM challenge, before training began, some of the frail seniors could barely stand unassisted.
Many are now able to walk 70-90 metres independently without stopping, making significant strides towards conquering their own mountains.
Across generations
The team behind GYM has also developed a pre-GYM activity that is available online, designed to promote inter-generational solidarity by encouraging the old and young to each fold a "GYM mountain origami" and share any dreams they might have.
Questions and activities are printed on the origami sheet, providing prompts to facilitate bonding.
The prompts range from simple activities like "Create a new handshake that you can greet one another with" or personal questions asking about dream careers, favourite kuehs (traditional desserts) and greatest achievements. 
"GYM is about society believing in the potential of seniors, so that they too believe in themselves."
At the centre of the mountain is a pledge to believe in seniors' dreams. 
They conducted this activity with about 10 Republic Polytechnic students at a senior activity centre. Pairing one student with a senior, many relied on the origami mountain for one or two questions, after which conversations flowed naturally, according to Sim who facilitated the event. 
At the start of the activity, Sim asked what the students thought about seniors. Words the 18-year-olds threw out included "awkward", "weak", "slow". These were myths dispelled by the end of the session.
To Chng, GYM is about society believing in the potential of seniors, so that they too believe in themselves.
"I saw how a dream activated Caleb and so for our older generation, we need to activate them with dreams." 
Keen to GYM?
Sign up for the event here. Online registration ends on September 16. Alternatively, register at Mount Faber on the day itself. Depending on the size of your team, registration for the run costs between $35/pax to $40/pax.
If you have enjoyed reading Salt&Light...
We are an independent, non-profit organisation that relies on the generosity of our readers, such as yourself, to continue serving the kingdom. Every dollar donated goes directly back into our editorial coverage.
Would you consider partnering with us in our kingdom work by supporting us financially, either as a one-off donation, or a recurring pledge?
Support Salt&Light