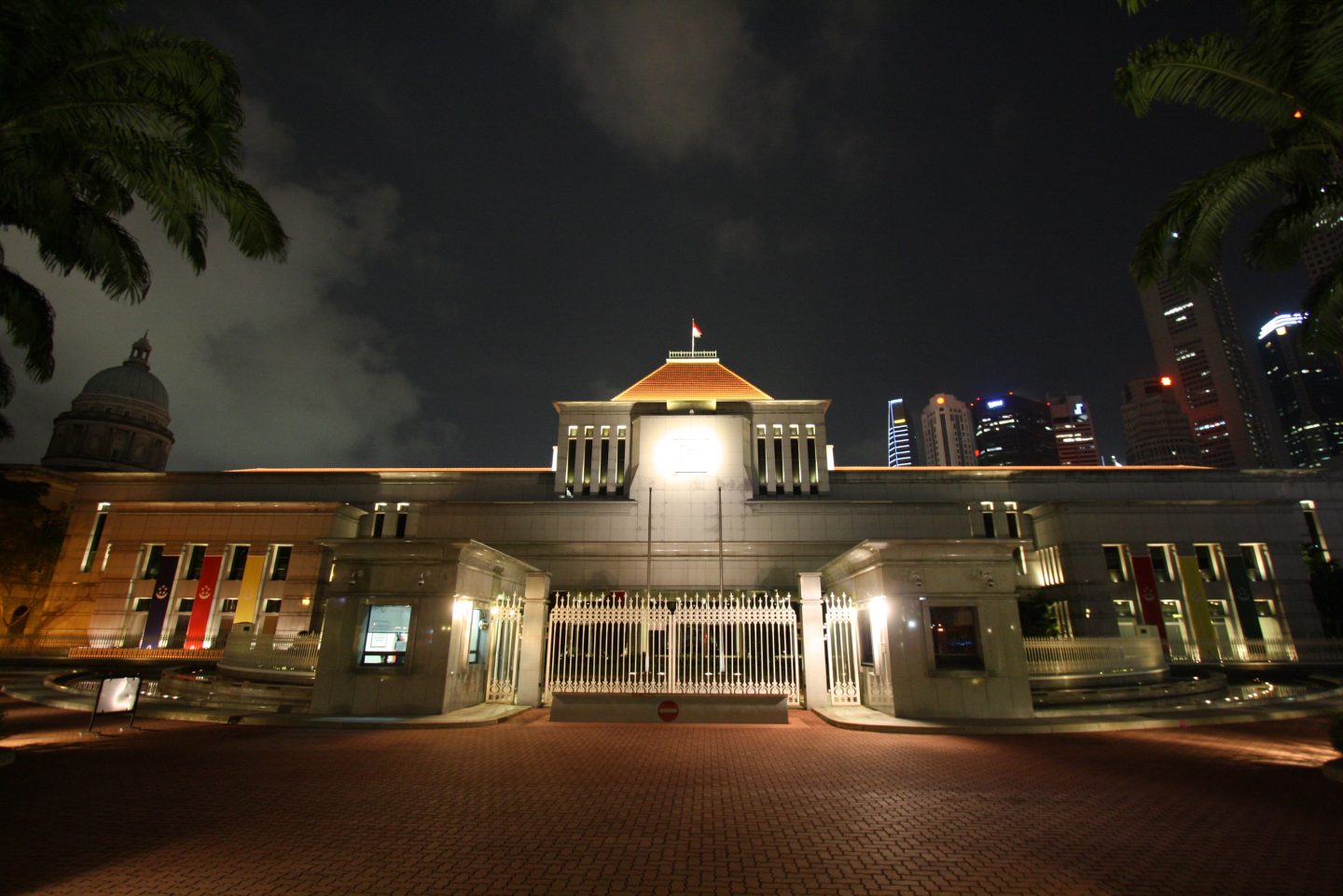 Photo by Kojach on Flickr.
The ruling by the Indian Supreme Court to strike down Section 377, thus legalising consensual gay sex in the country, has sparked off fresh debate over a similar rule here in Singapore.
On Monday, disc jockey Johnson Ong Ming filed a court challenge against Section 377A of the Penal Code, a law that criminalises acts of "gross indecency" between men.
Ong's filing comes after online survey findings among 750 Singaporean Citizens and Permanent Residents found that 55% of Singaporeans support Section 377A, compared to 12% against the statute. 
Online petitions, both to keep and repeal 377A, were launched over the weekend, with the "keep" petition nearing 100,000 signatories at time of writing.
Several high-ranking government officials have also voiced their opinions on Section 377A.
Professor Tommy Koh, Ambassador-at-Large at the Ministry of Foreign Affairs, called for the LGBTQ community to challenge Section 377A, while Chief of Government Communications Janadas Devan wrote on Facebook that he personally hopes Section 377A will "disappear one day".
Minister for Law and Home Affairs K Shanmugam said that any decision on Section 377A will be for Parliament to decide.
One of the arguments raised in favour of keeping the statute is the possible ramifications of removing it. 
Salt&Light spoke to several law professionals to discuss possible legal, economic and social implications of repealing Section 377A.
Those interviewed are: Lee Ee Yang, the Managing Director of Covenant Chambers, Jonathan Cho, an Associate Director at Covenant Chambers, and a senior civil servant with extensive experience in the legal sector, whose name has been withheld.
How will a repeal affect family laws in Singapore?
LEE EE YANG: We could see a greater lobbying for homosexual couples to be accorded the same marital rights as heterosexual couples. From what we observe in other jurisdictions, decriminalising homosexual sex is the first step.
After that, the LGBTQ community may ask that the age of consent for heterosexual and homosexual sex be equalised, then for anti-discrimination laws based on sexual orientation be enacted, and lastly for marriage and child adoption rights to be granted to same-sex couples.
"Repealing Section 377A means we will have to relook at the laws surrounding alimony, divorce, child adoption and children."
We already see this in different jurisdictions, like the US, UK or Canada. For example, in most parts of the UK, gay marriages were legalised in 2013. Before that, since 2004, same-sex couples in the UK could enter into same-sex civil partnerships.
Repealing Section 377A means we will have to relook the laws surrounding alimony, divorce, child adoption and children.
JONATHAN CHO: We may also have to reconsider criminal provisions which involve marriage relationships. For instance, the recent Penal Code review proposed the lifting of marital immunity for rape, where a husband may potentially be prosecuted for raping his wife. Clearly these issues relating to marriage relationships are being revisited and reconsidered. If so, we may also need to consider the dynamics between different provisions (ie, whether fresh provisions need to be created or provisions removed), if homosexual relationships are considered marriage relationships in future. 
SENIOR CIVIL SERVANT: The current laws under Singapore's Women's Charter, which generally and traditionally favour the wife in terms of maintenance and interest in matrimonial property, may also need to be amended, as there will no longer be a clear definition of "wife" in a marriage.
The laws currently suggest that care and control of younger children in divorce cases should generally be under the care of the mother. This may have to be reconsidered as the definition of "mother" in a marriage could become unclear.
An example of other Penal Code provisions that may have to be changed would be Section 354 on the outrage of modesty, as existing case history would have to be re-evaluated.
Could the freedom of religious practice be curtailed?
LEE: In Singapore, Article 15(3a) of the Constitution states that every religious group has the right to manage its own religious affairs. Every major religion is allowed to regulate their own practices. Of course, it is subject to limitations. Religious groups can't refuse to pay tax, for example.
"I am not so certain that religious leaders can be compelled to officiate a gay wedding if their beliefs don't permit them to."
But if it comes down to an issue such as officiating a gay wedding, I am not so certain that religious leaders can be compelled to perform one if their beliefs don't permit them to. 
CIVIL SERVANT: The experience in some countries is that religious communication, whether verbal or written, that expresses or implies that homosexuality is wrong, could be considered hate speech and discriminatory.
In the American experience, this has led to frivolous court cases filed against florists, bakers and pastors who refuse to participate in gay weddings on the basis of their faith.
The choice for religious men and women to refuse to officiate homosexual weddings or unions could be removed because the basis of their refusal would be considered unlawful.
How might business practices, or the economy, be impacted?
LEE: If we look at the case of the Colorado baker who refused to provide a wedding cake for a same-sex marriage, the Colorado Civil Rights Commission ruled against him because of the state's anti-discrimination law. So there was legislation that dealt with discrimination.
In that sense, just the repeal itself will not result in a similar case in Singapore. Anti-discrimination laws based on sexual orientation need to be enacted first. 
But this could be possible if there is legislation enacted after the repeal to regulate such practices.
CHO: In her 2007 speech in Parliament, Professor Thio Li-Ann mentioned some of the health risks involved in homosexual activities. As far as that is concerned, our healthcare system and infrastructures will have to consider how they are equipped to handle such risks.
CIVIL SERVANT: Apart from laws, some of the Singapore Government's policies may have to be revisited. For example, male foreign spouses of Singapore men will also have to be considered for Permanent Resident status and eventually citizenship, like female foreign spouses of most Singaporean men.
Same-sex couples will be entitled to the same housing policies as heterosexual couples, so the rules there will need to be addressed. This will have implications on the property market.
Does the law set or reflect the moral standards of society?
LEE: Laws reflect the values of society. So one argument against the repeal is that you are sending a signal that this kind of conduct is okay. But the petition and surveys show that the majority of Singaporeans are still not comfortable with repealing Section 377A, and these views are represented in Parliament.
Petitions on their own cannot bring about change, but they are regarded by the Government as important in shaping Singapore's legislation.
CHO: One of the things that Parliamentarians also look out for are areas of sharp rises in crime rates, or the proclivities of the common man.
For instance, the Penal Code review committee has proposed new offences to deal with voyeurism (ie, peeping Tom/upskirt video cases) amid a rise in such cases. But you don't necessarily need to hear from the ground first before laws are reconsidered or enacted to bring about changes, although there is always public consultation. 
Such review committees are typically made up of judges, civil servants, people from the criminal bar, and perhaps even other professionals. Every review involves a thorough and robust process, which also includes hearing the voice of the public.
LEE: There is a vigorous mechanism behind every Penal Code review, and after that, they solicit feedback via public consultations, before reviewing the proposals again. However, for this round of the Penal Code review, the government has made it clear that Section 377A is not the subject of the review.
Are petitions really able to bring about changes? Not on their own, but they are regarded by Parliament as important in shaping Singapore's legislation. In 2007, there were two petitions – one to repeal Section 377A, another to keep. Both were cited in the debates.
In 2014, there was a case arguing that Section 377A violates Article 9 and 12 of the Constitution, or the rights to equal protection under the law, and life and liberty. Is Section 377A inhumane?
LEE: The arguments from the LGBTQ camp is that homosexual acts are not immoral because they are not causing any harm. Their activity is done in private. But we have to ask ourselves: What is the definition of harm?
For example, in the case of pornography, someone watching pornography in the privacy of his or her own bedroom can say that any effects of it will be on him or herself.
"Society has to ask itself whether it is ready to welcome changes if Section 377A is repealed."
If they are not causing any harm to anybody else, why do we stop the distribution of obscene materials? Because we take a broader concept of harm. If I allow people to buy and sell pornography freely, my children will inevitably be vulnerable to greater exposure. 
CHO: On the point of harm and the issue of pornographic materials being distributed, I think most would agree that the proliferation of such materials will have an impact on children as they grow up – what they perceive as right and wrong, as you are exposed to certain kinds of acts that you think are normal. This, in turn, could lead to a rise in sexual offences of a specific nature. 
LEE: So if homosexuality becomes mainstream, our educational curriculum will have to be adjusted to cater to such a value-system. Our healthcare system will also be affected. Society has to ask itself whether it is ready to welcome these changes.
If very few people have been prosecuted because of Section 377A, why is this law so significant?
LEE: Section 377A is a signpost. It spells out society's norms and values. As some key ministerial figures have stated before, keeping it shows that Singapore is still a traditional, conservative society with Asian values.
CIVIL SERVANT: Section 377A has the effect of dividing society according to their views on homosexuality.
Right now, keeping it is in keeping with the apparent views of the majority.
Removing it will only lead to more infighting – society will be further polarised.
Where there is division in the community, the safety and social infrastructure that we know will be dissipated. 
If you have enjoyed reading Salt&Light...
We are an independent, non-profit organisation that relies on the generosity of our readers, such as yourself, to continue serving the kingdom. Every dollar donated goes directly back into our editorial coverage.
Would you consider partnering with us in our kingdom work by supporting us financially, either as a one-off donation, or a recurring pledge?
Support Salt&Light