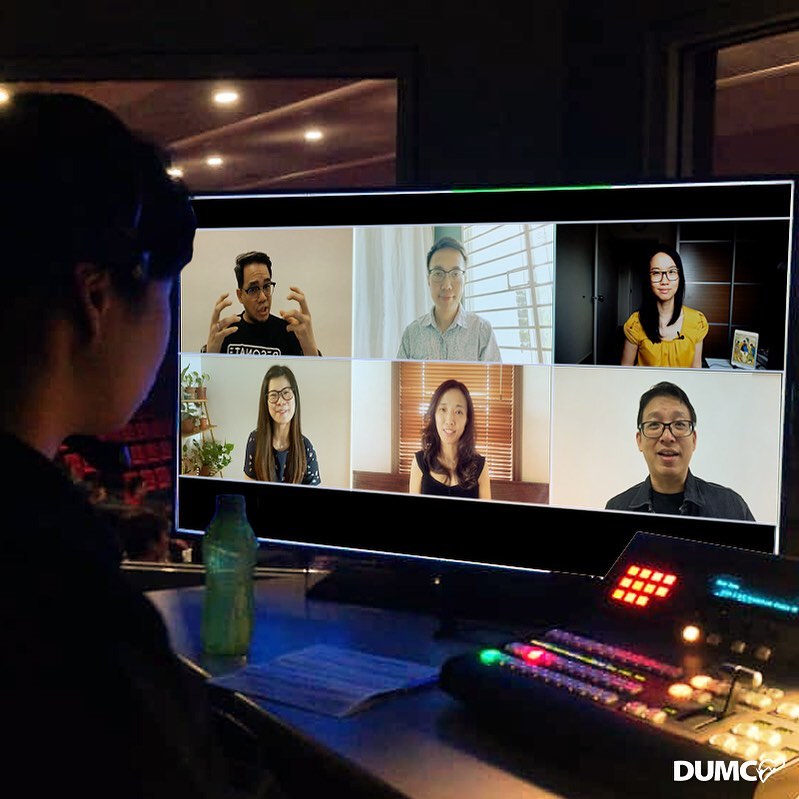 Damansara Utama Methodist Church Preachers Corner in August 2020, which aired devotional sharings from preachers every weekend during the lockdowns.
Last year was a rollercoaster year of ups and downs. There were periods of intense fear accompanied by long periods of extreme boredom. The pandemic came like a thief in the night and took us by surprise.
We were aware of some early storm warnings which were sounded in Wuhan, China, about a new coronavirus, initially named the novel SARS-CoV-2, because of its close resemblance to the SARS virus.
Alarming news started coming in rapidly.
The pandemic came like a thief in the night and took us by surprise.
Different countries were reporting cases, and the global spread was impressive. Countries were putting their populations under lockdown. We observed healthcare facilities being overwhelmed in Italy and Spain as the virus spread. We were celebrating the Chinese New Year of the Metal Rat, and paid little heed until the storm hit. The rapid sale of toilet paper amused us, until it was time for us to rush and buy.
Our government informed us that we needed to "flatten the curve", not referring to weight control, but to contain the spread by lockdowns which would allow time for our healthcare facilities to be expanded. What brought the message home was the lockdown on March 18, 2020, when the Causeway was closed and we were all restricted to our homes under a national Movement Control Order (MCO).
Since then, we have experienced MCO, Extended MCO, Recovery MCO – at this time of writing, a nationwide State of Emergency has been declared because of the increasing number of cases.
We are back to MCO in five states and the federal territories of Kuala Lumpur, Labuan and Putrajaya. This MCO will run from Jan 13 to Jan 26. 
Hard hit
A pandemic disrupts the function of society by revealing, removing and resetting it.
The Black Plague which almost decimated the population of Europe in the 14th century laid the foundation for modern Europe. Whether this pandemic will result in improved revitalised Malaysian churches remains to be seen.
What it does is move Malaysian Christians to question if we have become complacent, settling into our own comfort zones. Aside from the occasional foray to the outside world, most of us are quite happy doing church and have come to terms with its challenges.
What we did not, or refused to, realise was how broken we and our churches are.
For many Christians, the Sunday service was the sum total of their faith.
The church is broken through being inward-looking, and existing on a form of "cheap grace" without the need for accountability, commitment, and involvement by getting our hands dirty. A few Christians do most of the work while the rest sit back and criticise. More efforts are spent looking after the welfare of church members than in reaching out to the poor, exploited, sick, and destitute around. Many of the Christians are not even aware of the millions of migrant workers in the country, nor of those who are living with disabilities and needing help.
The pandemic removes all the props and reveals our brokenness.
With the lockdown, all churches are not allowed to hold their services and meetings on-site.
This was a shock to the churches in Malaysia. No one was prepared for this. For many Christians, the Sunday service was the sum total of their faith.
There was a deep sense of depression and lamentation in the church at that time (A webinar Moving Beyond Lament: Biblical, Pastoral, and Spirituality Perspectives was held to explore this).
Unfortunately, the lamentation was not one of biblical repentance and seeking the Lord, but of not being able to do church the way we are used to.
The lamentation was not one of biblical repentance, but of not being able to do church the way we are used to.
For the first half of the year, many churches did not do anything except to wait for things to get back to "normal".
During this early period of the pandemic, bigger urban churches that are more tech-savvy moved online faster than the smaller and rural churches. These churches are also more active on social media. When the middle of the year came and Christians began to realise that the virus was not going away anytime soon, they began to review their situation and reset the way they did church.
Christians in Malaysia faced a lot of challenges when they started to do a reset in the new pandemic era.
The lockdowns have caused a lot of economic hardships as the economy has literally come to a standstill and needs to restart. Workers had their pay cut, overtime allowances trimmed and even retrenched or sacked. Thousands of families dropped below the poverty line. Jobs are hard to find. Churches and faith-based organisations are hard hit, and some are forced to close.
The great reset
However, in the midst of the doom and gloom, some interesting trends appeared during this resetting period:
1. Churches going digital
More and more churches are moving online. Churches have expanded their services with direct streaming, and YouTube and Facebook Live. The smaller churches are starting online services. What is encouraging is that the larger churches who have the expertise are training the smaller churches on how to stream their services.
The infrastructure for the Internet is not well developed in Malaysia. Internet available is spotty or non-existent in many areas. Many smaller churches, especially indigenous churches in East Malaysia, are connecting and even conducting their services on their mobile phones, by email or Whatsapp.
2. Revitalised community life
The small groups in churches seem to be revitalised. Even as Christians cannot meet for church services, they become more active in small, or cell, groups. Many use the media platforms Zoom, Google Meet, or Lark.
Attendance in small groups has gone up. They even have members joining in from overseas. More Christians have taken up leadership in these small groups, which is a very encouraging trend indeed.
3. Digging into the Word
Christians have become more ecumenical as they begin to attend services and listen to sermons and teaching outside of their denominational borders. Many have expressed wonder and awe at the exposure of different traditions of Christianity. Others feel they are receiving better teaching and have deepened their knowledge of the Bible and Christianity.
With more time on their hands during the lockdowns, some have taken up theological courses from institutions around the world.
The pandemic has pushed Malaysian Christians to become global Christians in new and meaningful ways.
4. Partnerships are flourishing
There seems to be a new level of collaboration between the churches in Malaysia. When the first wave of the virus in Malaysia was contained and there were indications that on-site church services may be resumed, a group of Christians collaborated to draw up the first guidance of Standard Operation Protocol (SOP) for the reopening of churches.
This document is distributed free and became the basis of the draft SOPs of many denominations, not only in Malaysia but also in other countries. (A webinar Guidance for Churches in the Post-Covid Era, was held to share information amongst church leaders.)  
5. Caring for those in need
Many churches are involved in buying and bringing groceries to the poor during the lockdowns. It is heartening to note the innovative ways in which churches are reaching out and meeting the needs of our neighbours in these difficult times.
A group of churches in Johor Bahru receives regular shipments of a few tonnes of unsold vegetables from Cameron Highlands. They repack these in one of the church compounds, and give them out to about 6,000 poor families in the area.
Another church looks after 600 families and makes sure they have enough food and their children receive an education.
Yet another church reaches out to the Orang Asli villages in the interior of Peninsular Malaysia.
6. Turning Godward
Finally, with the uncertainty, anxiety, and threat of the virus, many Malaysian Christians are drawing closer to God. When all our delusions of control have been stripped away, we realise how dependent we are on our Lord.
When all human machineries have failed to control the virus, we are left with only our faith. Prayer meetings are better attended than before. More Christians are reading the Bible and attending Bible studies.
Interest in spirituality has shot up.
When all human machineries have failed to control the virus, we are left with only our faith.
The journey is not over yet. The virus is still rampaging the country. While there is the promise of the vaccine, none has been sighted on our shores yet.
Malaysian Christians survived the Covid-19 pandemic of 2020. We are still here. And amidst the tremendous challenges of 2020, we have been encouraged by signs of greater unity, greater seeking, greater faith.
As the Church, like the rest of Malaysia, hunkers down into an unprecedented State of Emergency, will you take a moment to pray for us?
May the God of all grace continue to make us strong, firm and steadfast. (1 Peter 5:10)
---
RELATED STORIES:
"Pandemic is not an interruption but a disruption," Covid survivor Pastor Wilson Teo tells leaders at Pastors' Summit 2021
It takes work to rest: Reverend Edmund Chan on the "strange principle" of rest during Covid-19
If you have enjoyed reading Salt&Light...
We are an independent, non-profit organisation that relies on the generosity of our readers, such as yourself, to continue serving the kingdom. Every dollar donated goes directly back into our editorial coverage.
Would you consider partnering with us in our kingdom work by supporting us financially, either as a one-off donation, or a recurring pledge?
Support Salt&Light