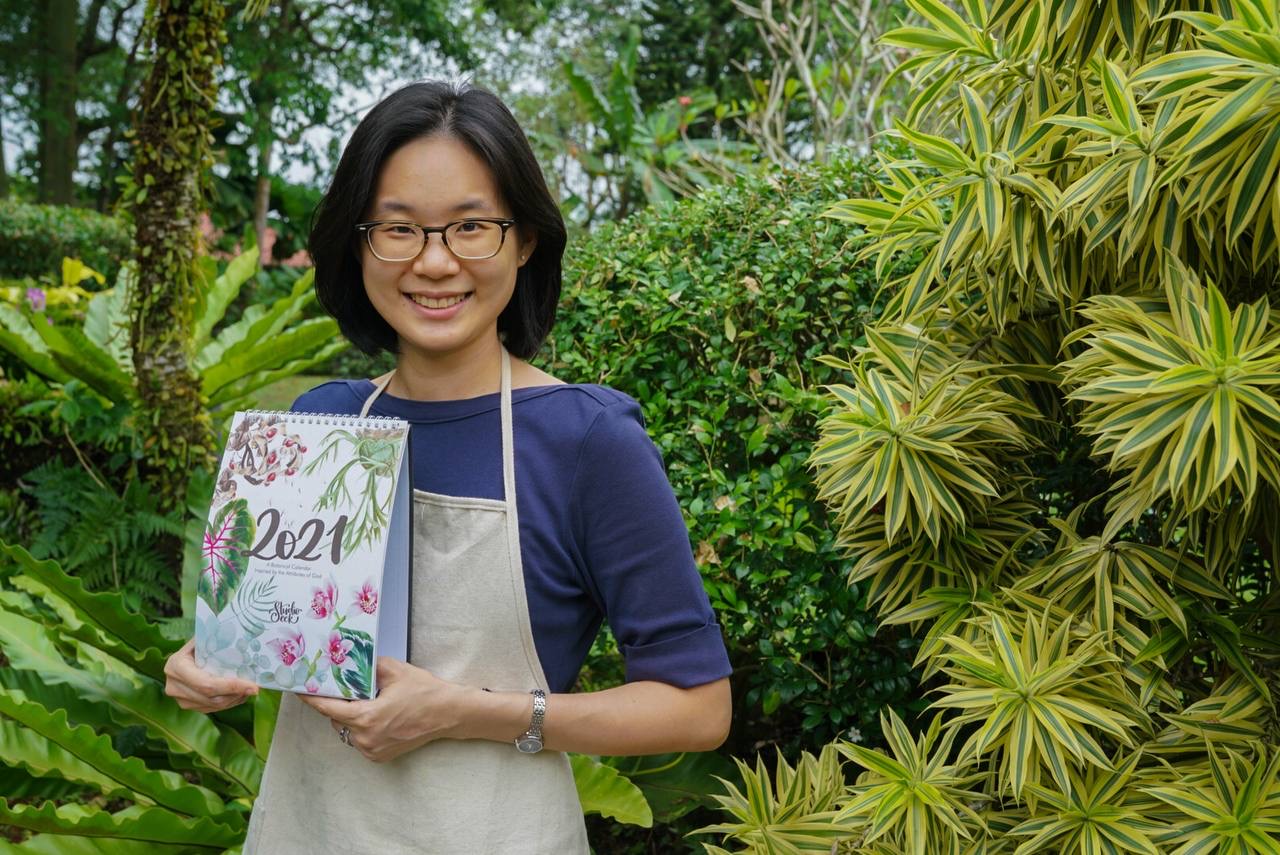 Artist Emily Seck sought inspiration from God's flowers and greenery in painting her uplifting 2021 calendar. All photos courtesy of Emily Seck.
A commonplace life, we say and we sigh,
But why do we sigh as we say?
The commonplace sun in the commonplace sky
Makes up the commonplace day.
The moon and the stars are commonplace things,
And the flower that blooms and the bird that sings;
But dark were the world and sad our lot,
If the flowers failed and the sun shone not.
And God who studies each separate soul
Out of commonplace lives makes His beautiful whole. (FW Boreham)
The commonplace plants that we see our way home, at the nearby park or along our neighbour's corridor. It could be the angsana tree that dispersed peculiar-looking seeds that once tickled us as a child. 
The commonplace plants in her parents' garden were the inspiration behind her botanical-themed calendar to bring God's encouragement to people.
It could be the saga seeds that we so faithfully collected and stored them away in precious bottles. Perhaps, it could also be the orchids that bloomed one day and lifted our spirits after a hard day at work.
For Christian artist, Emily Seck, 34, these commonplace plants found in her parents' garden were the very inspiration behind her botanical-themed calendar that aims to bring God's encouragement to people as they go through the year of 2021.
For the month of January, for example, Isaiah 43:18-19 impressed itself upon Seck: "Remember not the former things, nor consider the things of old. Behold, I am doing a new thing; now it springs forth, do you not perceive it? I will make a way in the wilderness and rivers in the desert."
She eventually landed upon the idea of featuring succulents and air plants which do not require too much water – a reminder that even in seemingly dry periods of our life, God guides us through the deserts and will sustain us, she said.
For December, the month of Christmas, Seck wanted to commemorate the birth of Jesus and she decided to paint saga seeds – seeds reminding her of babies who are small but powerful.
The chosen verse was John 1: 14: "And the Word became flesh and dwelt among us, and we have seen his glory, glory as of the only Son from the Father, full of grace and truth."
She added: "The bright red saga seeds also bring back some childhood nostalgia and picking them always felt like Christmas to me."
A gift
The idea to put together a calendar containing verses and watercolour paintings of plants for every month of the year came to Seck in September last year, after much encouragement by her parents.
While she had always enjoyed painting as a child, with art easily becoming her favourite subject in school, she lacked self confidence.
She always saw herself as an "average" student, having been at the bottom of her class before. She felt that her academics could not measure up to her brothers, one of whom was a chess champion. 
She often could not find the right words to say and envied others who could speak eloquently. But she soon realised that God had given her art as the language of expression.
"If there is one thing God has given me that I can do with great confidence, it is the ability to draw and paint," said Seck, who emphasises the joy of using God's gifts for His glory.
She eventually pursued an architecture career while taking on small art projects, such as calligraphy of Bible verses, during her free time. With the birth of her son in 2019, she decided to take a hiatus to spend more time with her young child.
Even while on a break, she never stopped exploring ways to bless others through her gifts.
During the Circuit Breaker period last year, for instance, she offered friends and followers on her social media accounts a free postcard she designed that could be sent to someone who might need a pick-me-up during this season.
She had toyed with the idea of publishing a calendar, but was often held back because of the need to print them in large quantities. When the idea was broached in September, she was concerned about being left with many potentially unsold calendars when January 2021 rolled around.
God, however, continued to steer this "dream project" of hers and finally saw it to fruition.
Even while on a hiatus, she never stopped exploring ways to bless others through her gifts.
Just a few days before Seck had to confirm the order with the printers, she caught up with a friend whom she had not met in a while. After sharing her dilemma, her friend suggested putting out a pre-order list for an indication of the potential response. This allowed her to lock in a number with the printers with greater assurance.
Next, her husband and father, whom she had least expected to offer creative advice, urged her to change the initial minimalistic cover to something more vibrant.
"I learnt that I should be receptive to seeking help and listening to advice," Seck said, adding that making the cover more colourful was a good move on hindsight.
God's timing was also perfect in orchestrating the entire process from printing to delivery to her house a few days earlier than expected. This allowed her to pack and send off the thousands of pre-ordered calendars before the 11.11 sale, which Seck only realised later could have caused delays to her deliveries.
Suffering from pain in her wrists during the early days of motherhood, she was forced to go through her various paintings very slowly, with plenty of rest in between. But God frequently inspired her with new ideas of the plants to paint and deposited accompanying verses in her mind as she took walks with her son in the neighbourhood.
Words in season
When she finally amassed the various paintings to put them together for the calendar, she was fully convicted that His strength is indeed made perfect in her weaknesses.
"He was just guiding me each step of the way, from having a pre-order to getting the deliveries out on time. I was also blown away by the response and I saw this as God's way of encouraging me," said Seck, who had decided to discard a profit mindset towards the project and focus solely on glorifying God.
Still, for other mums who are intending to start a home-based business, she acknowledged that there would inevitably be tension between having high sales vis-à-vis treating the business as a passion project.
"Know your client – who are they and how God wants you to help them."
A lot of prayer is involved, she said, adding that she, too, struggled with a huge income loss after leaving her stable architecture career to become a stay-home mum. Taking this path had been a leap of faith, but she constantly grounded herself in God's Word, trusting that God would always provide.
She recommends to other budding entrepreneurs to never stop learning. She had enrolled in an art business course online and joined a community of mothers running businesses to trade ideas with them.
She urged home business owners to recognise the unique gifts that God has given them. And "know your client – who are they and how God wants you to help them", she added.
She hopes that people who have received the calendar will be encouraged by God's promises as they walk through each month of the year.  
As the calendar project comes to an end, she is now exploring other art mediums to bless her clients in different ways. She is also open to collaboration opportunities.
There will be uncertainties ahead, she said, but the young mum is undeterred.
"I know that when my heart is anchored on His purpose, He will provide what I need at the perfect time," she said with a smile.
---
RELATED STORIES:
"Each person is a perfect gift from God": Bethel Church healing pastor and father of disabled daughter
"Each person is a perfect gift from God": Bethel Church healing pastor and father of disabled daughter
Beyond access ramps, "Let Us Consider" how to truly include the differently abled
If you have enjoyed reading Salt&Light...
We are an independent, non-profit organisation that relies on the generosity of our readers, such as yourself, to continue serving the kingdom. Every dollar donated goes directly back into our editorial coverage.
Would you consider partnering with us in our kingdom work by supporting us financially, either as a one-off donation, or a recurring pledge?
Support Salt&Light