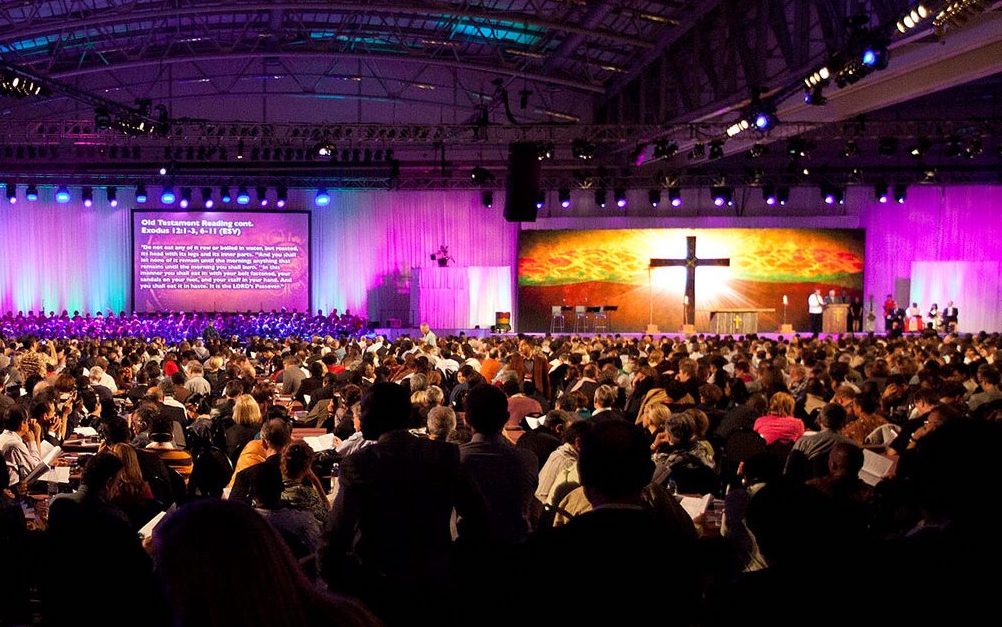 The Lausanne Congress in Cape Town 2010. Photo by the Lausanne Movement.
Thousands of key global mission influencers who serve God's mission in multiple contexts from every nation on earth will gather for the Fourth Lausanne Congress on World Evangelization in 2024.
The Congress will be held in Seoul, South Korea in September 2024, announced Global Executive Director and CEO of the Lausanne Movement, Michael Oh, yesterday (May 4).
"The global church is at a critical point in needing to consider both its unity and witness in the world as we seek to achieve the vision of seeing the Gospel reach every person … in every sphere of society," Oh said during his announcement to leaders from across Asia who met together at the Incheon campus of Onnuri Community Church yesterday.
"Through the process of listening and convening, we will call the church to collaborative action for the sake of the kingdom of God."
50th anniversary of Lausanne Movement
The Seoul 2024 congress is an expression of the Lausanne Movement's commitment to accelerating global mission and will mark the 50th anniversary of the Movement.
"We believe that this will be a pivotal moment in Christian history with the Fourth Lausanne Congress being hosted in Seoul by Korea, Japan, and the broader Asian church, in close partnership with leaders from across Asia," Oh said.
Started in 1974 by Billy Graham who gathered over 2,700 Christian leaders from 150 countries in Lausanne, Switzerland, the Movement has become an international convener and trusted platform for global missions. Its stated objective is to "connect influencers and ideas for global mission".
"Seoul 2024 will be a celebration of the Gospel and our loving, forgiving, and gracious God."
Those who attended the first international Congress included well-known leaders such as John Stott, theologian and author of the best-seller book, Basic Christianity.
That Congress helped Western churches rebalance their emphasis and commitment to greater social responsibility alongside evangelistic efforts.
It was also there that the Lausanne Covenant, which affirms the Nicene Creed and is widely regarded as one of the most important documents of the evangelical Church today, was written and adopted by the over 2,700 evangelical leaders in attendance.
Since then, the Lausanne Movement has birthed a Global Workplace Forum where like-minded Christian working professionals meet, and a Younger Leaders Gathering (YLG) which brings together influential evangelical leaders between the ages of 25-35.
Being faithful
September 2024 will be the fourth time in history that leaders have gathered on such a scale.
"We simply want to be faithful in how we are called to live in and love the world in our generation."
Since 1974, only two other congresses have been convened in Manila in 1989 and Cape Town in 2010.
"Seoul 2024 will be a celebration of the Gospel and our loving, forgiving, and gracious God who has invited us to join His mission in the world.
"Our prayer is that the world would look beautifully different in the years and generations ahead because of Seoul 2024."
Oh concluded: "We simply want to be faithful in how we are called to live in and love the world in our generation."
---
MORE ON MISSIONS:
"Make God's greatest concern our greatest concern": Missions movement Antioch21 relaunched
"We need to change the whole way we do missions": OM's Global South Initiative director
"No risk means no need for faith": Leaders at Courage Calls conference on challenges and failures in answering the call to missions
If you have enjoyed reading Salt&Light...
We are an independent, non-profit organisation that relies on the generosity of our readers, such as yourself, to continue serving the kingdom. Every dollar donated goes directly back into our editorial coverage.
Would you consider partnering with us in our kingdom work by supporting us financially, either as a one-off donation, or a recurring pledge?
Support Salt&Light