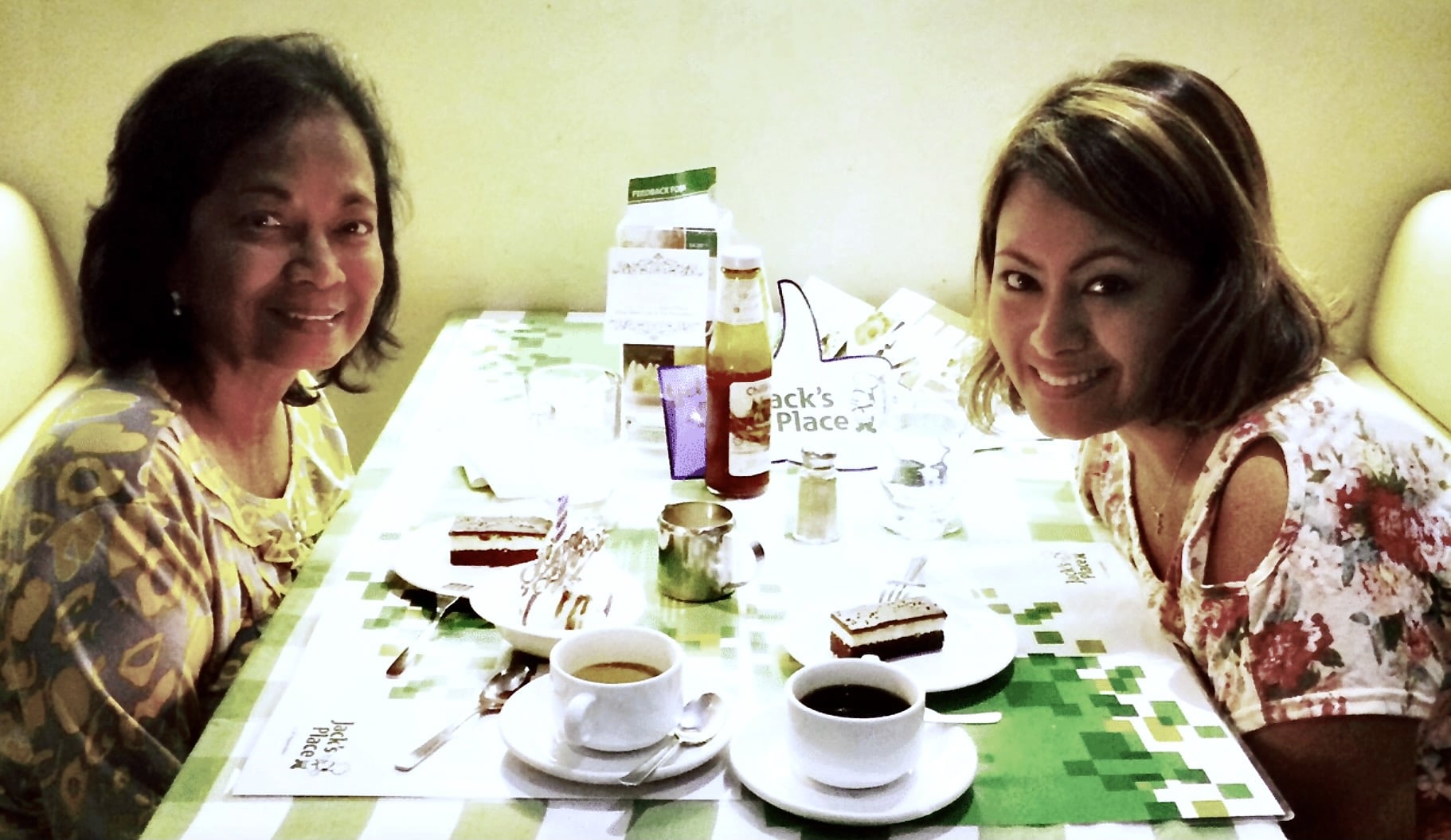 Rev Daphne June Lau (right) with her mother, Rev Evelyn Elizabeth David-Lau, at one of their favourite restaurants. Ps Daphne's mother passed away during a routine medical procedure. Her death devastated Ps Daphne till she learnt to manage her grief. All photos courtesy of Rev Daphne June Lau.
Chinese New Year of 2017 was a joyous one for Daphne June Lau and her family.
Her mother's side of the family had joined them for the reunion dinner, something that did not happen every year. On the second day of the celebrations, almost everyone in her extended family dropped by for a visit.
"Our house is usually open on the second day of Chinese New Year. Sometimes, one family would come or a few. Sometimes, nobody would come. It's unpredictable.
"That year, everybody was gathered in my house. We had a lot of fun," said Daphne who, as a Worship Pastor and Missions Director at Eternal Life Assembly, is an ordained minister with the Assemblies of God of Singapore.
But things would take a turn for the tragic. In the early hours of the next morning, she received a call from her younger brother, actor-singer-playwright Dwayne Lau.
"He said, 'Mum can't breathe very well.'"
They rushed her to the hospital where doctors discovered that there was fluid in her lungs. Her heart function had also dropped to just 30%.
It came as a shock to the family because her mother had always been quite healthy. Although she had had a stent put in her heart a decade earlier and had diabetes, she had led an active life at age 75.
"She was always going for walks and would often visit her sister who has dementia."
The unexpected
Doctors drained the water out of her mother's lungs and she "looked like she would pull through".
Over the next few days, Ps Daphne had plenty of time to spend with her mother in the hospital because she had taken leave hoping to go on a vacation with her family.
"I hung out with her, played games with her on the phone."
Her mother was even well enough to receive visitors.
She was the wife of Rev Dr Patrick Lau, who had served in Calvary Assembly of God for over 40 years and had been the former General Superintendent of the Assemblies of God. 
"We thought that she would pull through."
As Rev Evelyn Elizabeth David-Lau, her mother was a pastor in the church herself. As a result, Rev Evelyn was a woman well-loved and respected by many.
"A lot of people came to visit her. She was very happy about that," said Ps Daphne, 47. 
Because it was the Chinese New Year holidays, even Ps Daphne's aunt, her mother's younger sister who lived in Canada, was in town and able to visit.
Doctors scheduled Rev Evelyn for an angiogram to treat her heart issues. There was little to suggest that she would not recover.
"We thought that she would pull through," said Ps Daphne quietly.
The good-byes
On the morning of the procedure, Ps Daphne woke up from a dream that had unfolded in three scenes.
In the first scene, a medical personnel in white told her: "Your mum didn't make it. I'm very sorry."
In the next scene, Ps Daphne saw herself panicking over the news. The final scene was a heart monitor revealing a flatline.
"I rarely dream stuff like that. But when I do, I call someone as a form of accountability. So, when I woke up, I called a pastor friend of mine to tell her, 'Pray with me. I'm scared.'"
"She touched my face tenderly, very sayang (lovingly)."
At the hospital, the family gathered to pray. Then, her father did something he had never done before.
"As he left, he said goodbye to my mum. Normally, he doesn't say it. He usually just goes, 'Ok, going already ah.'"
Those would be the last words the husband and wife of 45 years would exchange. 
Looking back, Ps Daphne felt it was a small mercy that her parents got to say good-bye. But there was more.
She and her brother stayed on to get her mother ready for the angiogram.
"We did her hair, massaged her and put lotion on her. Then we told her, 'We're going to see you soon.' And we prayed again.
"As I sat in front of her, she reached out to me and she touched my face tenderly, very sayang (lovingly), like she was saying "Thank you, I love you". She had not done that to me in a very long time.
"It didn't mean so much to me till she passed away. Then it became a memory that was so fresh, so important."
Clearing out her mother's belongings afterwards, Ps Daphne would find a figurine she had given her mother a long time ago that depicted the same touching scene between mother and child.
"It was the exact image that she left me with. It is very precious."
"I couldn't pray her back to life"
What would have been a procedure to save her mother's life became the very thing that took it.
"My brother and I were waiting for the call from the doctor. When it came, the person said, 'Are you the daughter? Can you come to this place because your mother is in a critical condition.'
"My mum always reminded me that it was the Lord who had given me this new lease on life."
"I froze because it was like a playback of what I had dreamt in the morning."
When she was eventually told that nothing more could be done for her mother, Ps Daphne "screamed and collapsed to the floor". Then, she demanded to be brought to her mother's side. She intended to pray that her mother would be revived.
When Ps Daphne was two, she had had a very high fever that triggered a critical episode of fits. When brought to a paediatrician, he gave her an injection. Instead of getting better, she started foaming in the mouth.
"My eyes rolled back and I stopped breathing. My parents begged God to give me another chance. Slowly my colour came back and I was healed. They had prayed me back to life.
"My parents, my mum especially, always reminded me that it was the Lord who had given me this new lease on life and that I should honour Him.
"When I got news that my mum was not making it, I immediately switched gears to pastor mode. I was going to pray for her. I believed that God could revive her, God could heal her."
None of that happened.
"I was very disappointed and very upset. Why can't I pray my mum back to life?"
Instead, the family got the chance to say their good-byes before the monitor showed a flatline, just as Ps Daphne had seen in her dream. God had been preparing her.
A mother's legacy  
The faith Ps Daphne was raised in would anchor her in the weeks that followed. Her mother, who was a homemaker when Ps Daphne was growing up, spent a great deal of time with her and was instrumental in schooling her in the Word of God from childhood.
"My mother was a Sunday School teacher and had gone to Bible school. She would tell me Bible stories.
"Her own mother had taught her to memorise Psalm 23. My mother, in turn, taught me to memorise Psalm 23 when I was three or four."
At her mother's wake, God would give her a revelation that made Psalm 23 "so real".
"I would always see her in her room on her knees next to her bed praying."
As she shared the events leading up to her mother's passing to a colleague, "every scene flashed through my mind", except that, this time in each scene, she saw a "white figure standing with me". The assurance that the Shepherd was with her, and that though she "walked through the valley of the shadow of death" she would "fear no evil", comforted her greatly.
So, at her mother's cremation, instead of deep fear, both Ps Daphne and her brother felt immense gratitude.
"We started saying 'thank you' verbally. It was a strange feeling of deep grief, and deep joy and peace, because we do not grieve as those with no hope (1 Thessalonians 4:13). That whole period was very intense."
Her mother was also a deeply prayerful woman, something Ps Daphne has always appreciated.
"I would always see her in her room on her knees next to her bed praying. She would pray for me and teach me to pray about the many decisions in my life."
Musically gifted, Ps Daphne's mother loved to sing and had taken singing lessons. She had played the organ for the church as well. She was the one who gave Ps Daphne and her brother a love for music that has shaped their ministry and career ever since.
As young as 12, Ps Daphne was already playing the organ for the church. To date, she has two albums of self-penned songs.
She also earned a Master in Worship Studies at the Robert E Webber Institute for Worship Studies and is pursuing a Doctor of Worship Studies there.
A grief overwhelming
Although Ps Daphne came to terms with the fact that "it was really the Lord calling her home", the grief that she experienced from her mother's death was palpable.
"I missed her. I know she is in a better place but I wanted her here now."
For a year, she could not lead worship at wakes like she used to. Once, when she was supposed to be part of a cremation service, she experienced something that seemed like a panic attack.
Every time she encountered a difficulty, it would inevitably lead back to her grief over her mother – "Why did you die?"
"My breathing got heavier and heavier. I told my pastor I had to go. He graciously allowed me to go back and not follow through to the cremation."
A lover of dressing up and of bright colours, especially sunny yellow, Ps Daphne stopped wearing makeup and wore only blacks and blues.
"I felt sad, like I had I fallen into a deep pit. I was in deep grief."
Little things would trigger memories that would pain her all the more. Less than two months after her mother's passing, Ps Daphne was leading the hymn, Holy Holy Holy Lord God Almighty, at the 8th Triennial World Assemblies of God Congress when it dawned on her that she was singing the same text as her mother in heaven (Revelation 4:8).
"Heaven and earth became one for me."
Normally fit as a fiddle, Ps Daphne began falling ill once every two weeks. She eventually landed in hospital and was given a month of medical leave.
"I think it was my body reacting to grief. I would get sick with cough and flu and fever."
She took up painting, something her mother did with great flair. But it was merely a distraction. Every time she encountered a difficulty or became sad about something, it would inevitably lead back to her grief over her mother – "Why did you die?"
Then, an anonymous donor paid for Ps Daphne to attend several sessions at  Whispering Hope Singapore a consultancy that uses the Grief Recovery Method® (GRM) to help those who have experienced loss. Reluctant at first, Ps Daphne was amazed when she attended the sessions and read the assigned materials.
"I could replace everything I had lost until I lost my mother. How do I replace a mother?"
"When I read it, I thought, 'Oh my goodness! I understood what this whole thing is about.' I realised that I felt this way because we are not given permission to grieve. We are not taught to understand and identify this emotion."
Instead, most are taught to distract themselves with activities or replace what they have lost.
"I could replace everything I had lost until I lost my mother. How do I replace a mother? I only have one Mum and she was gone."
GRM helped Ps Daphne understand her grief and debunk the myths attached to it.
"People would tell me, 'Be strong. Take care of your dad.' But I didn't feel like being strong. I couldn't be strong. I needed the permission to grieve."
The programme also gave Ps Daphne handles to manage her emotions.
"Writing and talking about it helped. Sharing about it helped."
The sound of recovery
As part of Ps Daphne's recovery process, she wrote a song in 2018 about the importance of loving now "while we have the chance to do so, keeping offences short, cherishing our loved ones".
"I was holding back the tears as I was instructed to look at the family photos."
Love Now, first featured in her brother's solo show, A Date With Dwayne, was written after Ps Daphne attended a wake in which the person's children regretted not knowing her better.
"I reflected on my own mum's life and her wake and funeral. How totally different it was. My mother lived a loved life."
Over a thousand had attended her mother's wake, testifying of how her mother had touched their lives.
She had paid for one person to go on a mission trip and had ministered to scores of domestic workers over and above her many ministries in church.
Of the song Love Now and music video that came of it, Ps Daphne shared: "It was extremely surreal watching this music video being streamed live on the CCIS 2020 Global Edition programme. It really has been a fulfilment of another dream in my heart.
"God has been doing a healing work."
"There were moments in the filming when I was holding back the tears as I was instructed to look at the family photos on the piano. There was even a moment when I felt her smile was so real and that she was so happy with this production.
"It's hard to pen that feeling, but at that time it felt so real.
"She's missed dearly but her legacy lives on."
In a Whispering Hope free ebook featuring real-life stories of grief recovery, Ps Daphne calls her journey through grief a "work in progress".
"I think about her on her birthday or during certain events. Sometimes, I do call out 'Mummy' to see how it sounds again, or I have imagined conversations with my mum. For a while, I would go to her favourite café, Delifrance, and eat her favourite sandwich – tuna croissant."
But she no longer feels pain associated with the memory of her mother's passing. This Mother's Day, Ps Daphne will be preaching her first Mother's Day sermon since her mother passed away.
"For me to do that, I know God has been doing a healing work."
---
To read more of Ps Daphne's story and other stories of grief recovery, download Whispering Hope's free ebook of stories. A free 30-minute phone consultation is also available on its website.
---
RELATED STORIES:
"I needed to know if God still loved me": Heartbroken widow who lost her husband, but went on to found a place for those who grieve
A pastor and his wife celebrate their miracle child amid the grief of five miscarriages
If you have enjoyed reading Salt&Light...
We are an independent, non-profit organisation that relies on the generosity of our readers, such as yourself, to continue serving the kingdom. Every dollar donated goes directly back into our editorial coverage.
Would you consider partnering with us in our kingdom work by supporting us financially, either as a one-off donation, or a recurring pledge?
Support Salt&Light